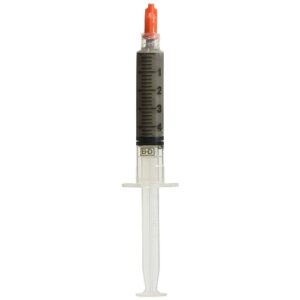 T4 new industry standard
Contains Silver
Two dispensing tips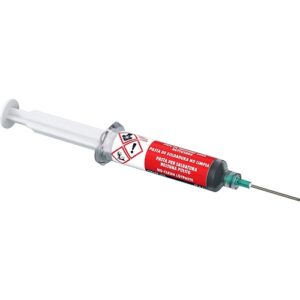 Pneumatic Dispenser
No Clean Flux
Excellent Wettability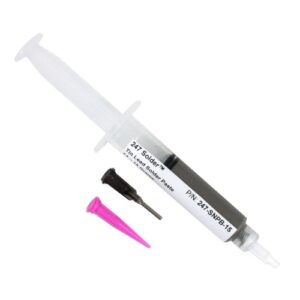 T4 new industry standard
183C 361F Melting Point
Two dispensing tips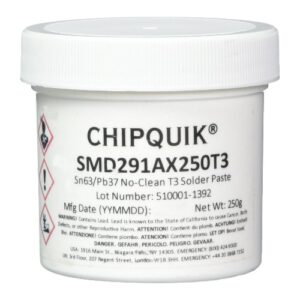 Leaded
No Clean
Jar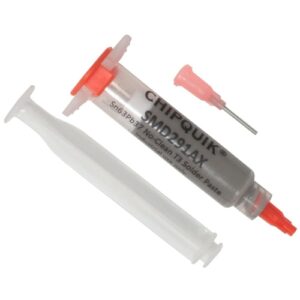 Alloy: Sn63/Pb37
Synthetic No-Clean
Flux Classification: REL0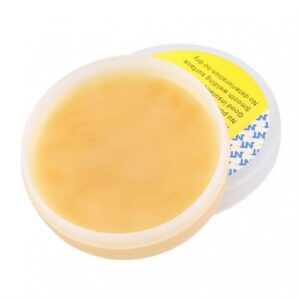 Clean
Prevents metal oxidation
Acts as a wetting agent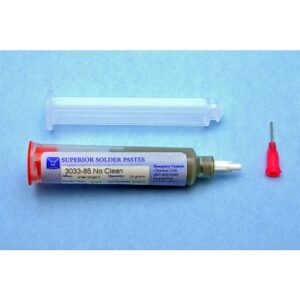 Contains a No Clean Flux
96.5 / 3.5 Tin/Silver
Comes with Plunger and Tip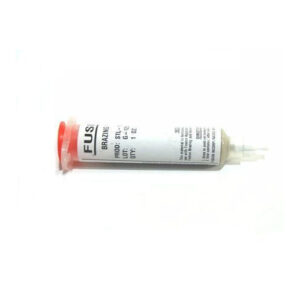 Lead Free
Cadmium Free
Has a strong flux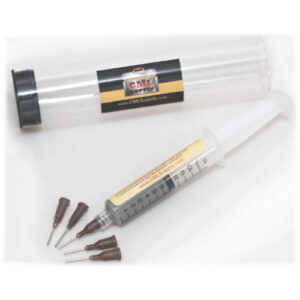 35 grams of solder paste
5 19-gauge dispensing tips
63/37 Tin/Lead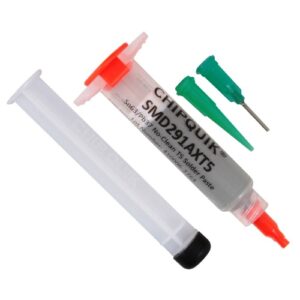 No clean
T5
15g
---
Choose the Best Solder Paste
Customer's Choice: the Best Rated Solder Pastes
956 users answered this survey. Please help us improve this review!

76.67% of users selected Temperature Solder Paste, 7.64% selected MG Chemicals, 4.5% selected 247 Solder, 7.74% selected Chip Quik Electronic and 3.45% selected CHIP QUIK SMD291AX. Every month we analyze your answers and change our rating.
---
What is Solder Paste
Solder pastes are a type of aqueous or solvent-based chemical material, made up of tiny solder balls that, when combined with flux and other chemical products, make what is called solder paste.
Solder paste usually requires cold storage and brought to room temperature when ready to be used.
Solder paste is widely used in SMD component electronics, SMD just means Surface Mounted parts, but also in traditional electronic component soldering, and is generally used to improve solder quality.
The solder paste is usually applied using a stencil or directly to the areas to be soldered, and allows, among other things, to eliminate the possible rust existing in the metallic components improving the quality of welding, but it also acts as a heat concentrator and this allows its distribution to be much more homogeneous.
The tiny solder balls mentioned earlier, come in different sizes, T3, T4, T5, etc. the higher the value, the smaller the solder balls.
As on the market, you can find a great variety of pastes. Therefore, here you will find reviews of wonderful options and the buyer's guide to learn more about them.
Chip Quik SMDLTLFP Solder Paste Sn42/Bi57.6/Ag0.4 No-Clean Lead Free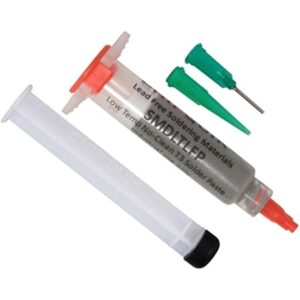 If you are looking for a low-temperature,
No LEAD
, No-Clean solder paste, this Chip Quik paste is excellent. This solder paste for electronics can be used for prodotypes or production where the use of soldering pastes based on SAC alloys is not possible due to temperature-sensitive components or circuit boards.
If you need RoHS compliance use this paste, otherwise use the Leaded version as it is easier to work with and has a lower melting point.
It comes in a syringe with two dispensing tips. It allows you to control the amount of paste you need. Moreover, they help to accurately apply soldering paste only to the needed places. As it contains silver, it has less brittle join and you do not need high temperatures to melt it. It melts at around 281 Fahrenheit/138 C.
Pros
This flux soldering paste has the lowest soldering temperature being No Lead;
No need to clean the paste after soldering;
With this paste your welds look shiny.
Cons
It is not compatible with an automatic air-paste dispenser.
---
MG Chemicals – 4860P-35G
While dealing with electronics, it is very important to apply a small amount of flux to the needed areas. Craftsmen often use pneumatic dispensers with precise control. MG Chemicals offers you 4860P-35G flux paste in a syringe that is compatible with such devices. If you prefer to get more flux per purchase, this brand has larger jars.
This solder paste contains lead. It saves the amount of time you need to wait before starting the soldering process. Moreover, the melting temperature is also lower. It is safer to work on vulnerable pieces. With MG Chemicals 4860P-35 G paste, you heat your tip to 360 Fahrenheit.
Pros
You do not need to apply much force to use get the past outside of the syringe;
It can be used not just for soldering but also for surface mount, rework, component bonding, etc.;
This flux does not cause corrosion to metal details.
Cons
It has a strong chemical smell and it is not very good for sensitive noses.
---
247 Solder SnPb Leaded Solder Paste
In case you do not want to spend too much money on a nice soldering paste, there are always more affordable options. On the market, you can find 247 Solder SnPb paste of a fair price and quality. It arrives in a syringe with two dispensers. To melt it you just need a temperature of 361 Fahrenheit.
SnPb means that flux contains tin and lead. This type of flux is not that popular but it can impress users with proper corrosion resistance. Moreover, it is suitable for dealing with electronics. SnPb has nice electrical properties that allow making solder joints that will endure mechanical strength.
Pros
It does not require cleaning after soldering;
Flux is compatible with hot air guns and flame torches;
The solder paste wets in a short time.
Cons
This flux cannot be stored for many years.
---
ChipQuik Leaded Solder Paste for Electronics – Professional Grade
Solder paste for soldering is often sold in syringes. However, when you need more amounts of its jars is better. ChipQuick offers a nice solder paste that you can get in a jar of 8.8oz. This brand exists for many years on the market and it delivers various soldering equipment.
This is a Leaded paste focused primarily on electronics. As it belongs to a no-clean category, you may not worry about corrosion. There can be small residues, which do not require cleaning after soldering.
Pros
The jar has plenty of flux paste for a multitude of soldering tasks;
You can store it in a fridge or freezer to prolong its shelf-life; (they have a TS version, thermally stable, does not need refrigeration)
It does not require high temperatures to melt.
Cons
To apply flux paste you need to use a small tool, which is not included in the purchase.
---
ChipQuik SMD291AX
Another nice product from ChipQuik for soldering is SMD291AX soldering paste. It arrives to customers in a syringe.
It is primary application is reworking. With a small nozzle, you can easily apply enough amount of paste to the place and then begin soldering. It is suitable for electronics as flux paste does not cause corrosion and you do not clean it.
Pros
It is suitable for repairing electronics;
Flux easily melts even using right after fridge;
You can use the syringe without a nozzle to apply more flux at a time.
Cons
The paste needs more force to push it out.
---
Best Solder Paste for Stencil and SMD
If you want a solder paste that can work well with your stencil, I can strongly recommend:
1. ChipQuik TS991AX500T4 – This is thermally stable (no refrigeration needed). It comes in a jar, which is best because, before each use, you need to stir it well. To do this, I use a flat head screw bit tip and my cordless drill.  Makes for a perfect stir stick and easy clean up.
I like the T4 size because it works well for my 0402, WFBGA, and small pitched parts.
Also, you may need to add a bit of flux to re-hydrate the paste after a long time of no use, so, I use the ChipQuik SMD291 no-clean flux for this. Just squeeze a small amount into the jar and stir.
Make sure you don't add too much. Too liquid/runny and you will get poor solder flow when it comes out of the reflow oven. If the paste is too dry, you will get clumps and your parts may not stick to the board from the pick-n-place.
How to Use Solder Paste
Solder paste is usually applied using a stencil. The stencil is a piece of thin metal with cut outs that lets the paste through to sit exactly on the solder pads of your PCB.
Then a pick-n-place machine places your parts on the area where the paste is.
You would put a small row of solder paste on your stencil, then, putting slight downward pressure, use a scraper to slowly pull the paste along the length of your PCB panel. Then gently lift up the stencil and you are done.
The Buyer's Guide
Solder pastes are specific substances with a paste-like consistency that are used to fix parts. They have certain advantages and disadvantages, as well as application features. The main field of application of flux paste for soldering electronics. It can be used for:
Micro soldering, with or without lead;

Integrated circuits;

Soldering of various components, SMD or circuits;

Cleaning debris and residues.
Types of Flux on the Market
Solder pastes are distinguished mainly by 3 characteristics, the type of flux, its packaging, and its shape.
Flux Types
Rosin Flux. It incorporates acid components derived from coniferous rosin, mixed with solvents. Rosin fluxes are used with a tin-lead alloy to solder electronic parts because they do not leave a corrosive residue. However, you should keep in mind that they do leave a sticky residue that attracts moisture and dirt and that you should clean with liquids such as trichloroethane.

Organic Acid Flux. This is a mixture of acids mixed in alcohol or water without rosin, inorganic components, or solvents. Normally, they have a maximum of one-third of the traditional flux. Its use is limited to cases where the rosin flux is not active enough. One of their advantages is that they do not usually leave residues and can be cleaned with water. The truth is that most fluxes used in electronic devices are of this type.

Inorganic Acid Flux. This type is also a mixture of hydrochloric acid, zinc chloride, and ammonium chloride. It is an active type of flux and is often used to weld metals such as bronze, copper, or even stainless steel with tin and lead alloys, in domestic plumbing work, or also in industrial environments.

Brazing flux. It is completely different from the previously mentioned ones, and its composition of chemical elements is much more complex. However, its use is similar. You mainly use it to remove rust from the parts to be welded.
Varieties of Shapes
Although the most common form in which you will find solder paste is liquid, you should know that there are up to four different ways to find this product on the market:
Aerosol;

Paste;

Liquid;

Dust.
Packaging Type
Perhaps one of the lesser-known aspects is the packaging of solder pastes. It is important to consider it so that its application is as comfortable as possible. In the market, you will find three types of packaging:
Syringe;

Jar, can, or bottle;

Marker pen.
Use tips
Security. Always use safety tools when you are going to use solder pastes. Remember that it is a chemical element that can harm you and therefore you must exercise extreme precautions during its use in all senses.

Storage. Each manufacturer has its storage requirements, but remember that these types of products should be stored in places at cool, but not extreme, temperatures. Make sure to avoid direct sunlight or in areas with high temperatures.

Before using it, you must make sure that 24 hours before the solder paste must have been at room temperature, otherwise, you will not be able to use it correctly and you will lose all the properties of the solder with a flux that the product gives you.
Any welding hobbyist will tell you: buying a new solder paste is like choosing a new car. There are so many options to consider. Honestly, every welding specialist or amateur will tell you that only 3 features actually matter when you buy these necessary elements:
Lead-based or lead-free structure;
Alloy ratio;
Water-washable or no-clean;
I decided to focus on these three parameters as well. I picked 30 different products and tested them in equal conditions, more or less. The results are reflected in the rating you see on this page. The choice wasn't that hard but there are a few factors a seller may hide or "forget" to mention when you buy this paste.
Is Soldering Paste the same as Flux?
No. solder paste contains tiny balls of solder mixed with a flux agent. Flux by itself contains no solder and is just a paste or gel needed for soldering.
How did I select 3 major products for my rating?
Temperature Solder Paste is fully compatible with T4 industry standard;
MG Chemicals has a great "wettability" rate and useful dispenser;
247 is another T4 industry standard paste, with 2 dispensing tips;
Other picks in my list are also good, at least, according to my tests. All brands are reputable enough to recommend – ChipQuik, Grade, Silver Easy, Kester, etc.
Actually, you should ask yourself before buying – what strengths, properties, operating temperatures, preferred method of soldering, different metals, and compatibility with welding machines do I need? You may ask your questions here, be happy to help if I can. Make sure to leave your comments about this guide. I can make mistakes and bad choice that is why I try to update each written review regularly. Thanks for reading!
Video Tutorial: Using Solder Paste
---
What is Solder Paste used for?
Solder paste is made of tiny solder balls mixed with flux and is used in soldering parts to a blank circuit board. The solder paste melts once put in a reflow oven and the parts are soldered to the board.
Solder vs Solder Paste
Solder comes in a wire-like spool, while solder paste comes in a jar and is made of tiny solder balls mixed with a flux agent.
---