If you are engaged in professional or amateur electrical repair, then you probably know what a soldering iron is. This is the main and indispensable tool without which no master can perform high-quality electrical repairs. Using soldering iron does not take much time during the soldering of the block and electrical circuits.
---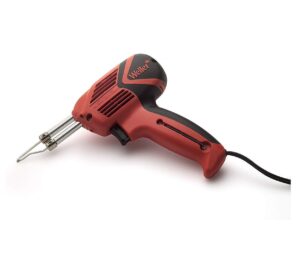 Features of Weller 9400PKS:
Power: 140W/100W
Voltage input: 120V
Temperature: up to 900F
---
After soldering a part, you leave the soldering iron on and take the next part or wire. The soldering iron will be pumped in for a long time, it radiates heat uselessly and in vain consumes electricity.
When performing such soldering work, inspect an impulsive soldering iron. This type of soldering iron works differently and significantly saves energy by not radiating heat in vain.
The pulse soldering iron has some differences from traditional devices used for soldering. The impulse soldering iron got this name because it works in a pulsed mode. After pressing the button to turn on the heating, the pulse soldering iron quickly heats up to the desired temperature. Heating time does not exceed 10 seconds. After completing the necessary work, the soldering iron turns off.
The tip of a pulse soldering iron is a conductor. A current flows through it, as a result of which the heating of this element begins.
A conventional electric soldering iron is a device with significant inertia. The tip of conventional soldering iron has a copper rod. This element is heated by a contact method using heat transfer from a nichrome spiral heated by an electric current.
An ordinary soldering iron can heat from 2 to 10 minutes. This brings inconvenience to the master because he must wait, and the soldering iron will not turn off automatically and will continue heating.
Pulse soldering irons are similar in design to guns. The power button is located so that you can turn it on with your index finger. At the end of the "trunk", there is a loop of copper wire. This is the tip of a pulse soldering iron, without which the soldering iron will not function.
To make it as convenient for you to solder as possible, the developers of the pulse soldering iron have provided a backlight. It is near the tip and turns on when you press the power button. A regular soldering iron also has a backlight. This is a low voltage incandescent lamp. They equip modern models with freely available LEDs. If it burns out, we can easily replace it.
---
Weller 9400PKS User Manual
Having problem? Download Weller 9400PKS 120V Dual Heat 140/100W Universal Soldering Gun instructions.
---
Weller 9400PKS
This is one of the most common and affordable pulse soldering iron models. This soldering iron can mount and dismantle electronic parts, circuits, boards, wires, and more. The pulse soldering iron has a 100-140 W transformer. Its tip heats up quickly, within 5-10 seconds, which facilitates fast soldering.
They equipped the soldering iron with a tip as a heating element. They made it from steel wire. It is convenient to solder radio components, wire connections using such a tip. They can also use it for tinning small areas on radio boards. A pulse soldering iron is economical, consumes a minimum amount of electricity because the current passes through the tip only during the operation of the soldering iron. They secure the tip with a screw. They install an LED under the tip. It turns on automatically as soon as you solder work. They make the body of heat-resistant, affected-resistant plastic.
The impulse soldering iron of this brand allows you to solder in hard-to-reach places. He has a rather long cord, an elongated tip. A large amount of work can be done with such a soldering iron. The heating element sets the fast heating of the soldering iron temperature. Using such a high-quality device, you can perform minor repairs of household electrical appliances, install lamps when wiring connectors, when laying electrical networks, and other repair work of small equipment.
Pros & Cons of Weller 9400PKS
Pros
High-quality impact-resistant plastic. The soldering iron does not deform, does not lend itself to temperature;

Easy to operate;

Ultra-fast heating, the soldering iron tip reaches the required temperature from 3 to 10 seconds;

Equipped with LED lighting;

Ease of removing the soldering iron nozzle using threaded connections;

Ergonomic rubberized handle for comfortable work;

The power button on the body allows you to significantly save energy;

Weller soldering iron work guarantee 7 years;

Two trigger positions control power;

They provide the structure of the pistol with pull-out protection.
Cons
The soldering iron is pretty heavy;

Some technicians find it inconvenient to perform soldering work because the tip has a round profile.
The quick-heating soldering iron of increased power 140-100 W is required when high-speed, high-temperature point exposure is required.
This soldering iron is quite heavy, and this is its major drawback. The built-in transformer adds weight to it. But the speed of heating the tip compensates for such a disadvantage as a colossal weight. Waiting for the tip to warm up is a maximum of 10 seconds. As soon as you press the "Start" button, the powerful heaters turn on and bring the temperature of the soldering iron tip to the melting point. This will allow you to quickly perform repairs, solder the wiring to the terminal, dismantle a burnt-out diode, transistor, various radio parts, and perform delicate soldering work.
There are many varieties of soldering tools for carrying out different types of soldering work. They can differ in power, heating rate, the principle of operation, and so on. A type of soldering iron, based on a transformer circuit, operating in a short-term mode after pressing a button, is in demand when you need a quick set of power.
The sting heats up due to the transmission of voltage through the heating elements. This type has a high level of efficiency. They achieve this indicator because the tool works only during soldering, unlike network counterparts. The power is 100-140 W.
Besides, intermittent rather than permanent operation has some other advantages:
They extend the service life.

They reduce carbon deposits on the sting.

Saves time, which is especially important for professional use. For example, when repairing household radio equipment and appliances, when every minute brings money and this model of a soldering iron contributes to this.
They make the shape of a pistol for a comfortable hold. To get started, you must press the button on the handle. After that, the tip will begin to warm up and you can begin soldering or disassembly procedures.
---
Buyer`s Guide
The target audience of the pulse soldering iron is people who have decided not to hire a specialist. These are those who performed minor electrical repairs at home or solder small parts. The pulse soldering iron is not designed for dimensional repairs and is not intended for high-precision work. When choosing a pulse soldering iron, pay attention to the following:
Choose a pulse soldering iron with a comfortable grip. It should be comfortable for you to hold the soldering iron in your hands and perform soldering work. If there is discomfort, then the result will not be very good;

Soldering ironworking voltage. The higher the operating voltage, the faster the pulse soldering iron heats. This means to get the job done faster.

Availability of a guarantee. The device works for a long time, but having a warranty card, you can repair the soldering iron, and not buy a new one.
Even if you are not professionally engaged in electrical repair, you will need a pulse soldering iron for home use. It is very simple to operate. You just need to read the instructions to understand how this device works. Follow all the rules of use, and you will not have to pay specialists for minor repairs – you can do everything yourself.
Video Guide: How To Use Weller 9400PKS
Conclusion
Among the extensive selection of soldering equipment, a pulse soldering iron deserves special attention. A hand-held power tool has one indisputable advantage – it is a quick readiness of the soldering tip.
---