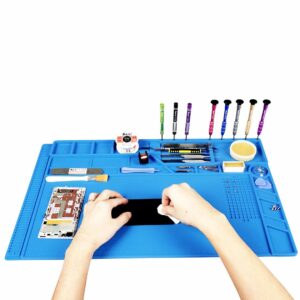 21.6 x 13.8 Inches
3 magnetic parts areas
High Quality Silicone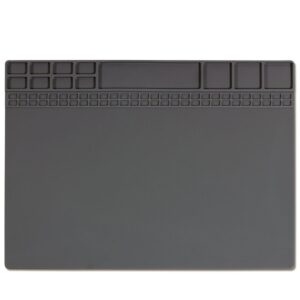 15.9 x 12 Inches
68 slots
Heat Resistant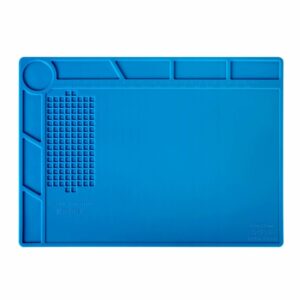 13.8 x 9.8 Inches
Heat Insulation
Multi-Function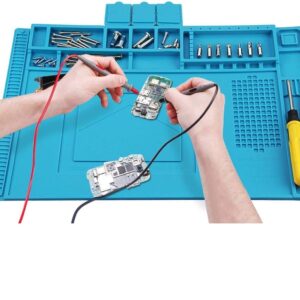 17.71 x 11.81 Inches
Silicone Heat Insulation
Non-Slip and Non-toxic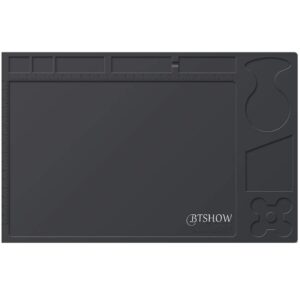 12.8 x 8.1 Inches
High Quality Silicone
Non-Slip and Non-toxic
---
Choose the Best Soldering Mat
Customer's Choice: Rated Best Soldering Mats
178 users answered this survey. Please help us improve this review!

82.02% of users selected Kaisi 21.6 x 13.8 Inches, 5.62% selected CEATECH 15.9 x 12 Inches, 3.93% selected Kaisi 13.8 x 9.8 Inches, 1.12% selected Xrime and 7.3% selected BTSHOW. Every month we analyze your answers and change our rating.
---
I can't say for all users of soldering iron tools, but me and my friends always use special silicone soldering mats for keeping all accessories and materials organized and accessible during the work. This affordable thing is very useful if you have to solder many times during a month. Below I will give a few recommendations for choosing the best soldering mats in the U.S. market.
Use a Heat Proof Mat for Soldering
A soldering mat is a heat-resistant silicone piece with compartments designed exclusively to protect the working surface from any thermal damage. Let's say you have a wooden working surface that you like – if you drip hot solder (accidentally), the surface will be spoiled because the solder can easily reach 500 degrees. But this won't happen if you cover the wooden desk with a silicone soldering mat.
A silicone mat also protects the hot solder or metal from flammable substances or objects and it is an excellent way to keep solder clean when working with an iron.
There are also special mats with magnetic compartments that will be very useful in disassembling electronics, or PCB repair, so you can distribute all the elements without worrying about them going anywhere.
Not all soldering mats look the same, so make sure you look for those that have such important features:
They should be made of durable, non-toxic and antistatic silicone;
It must be easily washed with soap and water;
It must be resistant to high temperatures 500℃ (about 930℉);
Such mat should provide good protection for your desktop or desk;
Some mats have sections that have a light magnetic property for screwdrivers and bents, so small parts are kept in a certain place;
Opt for the mats with the compartment for keeping parts;
A mat should have a few small sections to help you group screws, chips, and small parts;
It should be suitable for the use with a soldering iron or hot air gun;
The mat should not slide on your desk;
Choose the mats that are not susceptible to corrosion, so they can be washed directly with soap and water or cleaning with isopropyl alcohol;
Top 5 best soldering mats for making your workplace organized and clean:
Kaisi is a silicone mat with 3 magnetic parts;
CEATECH is a rather compact mat with 68 slots for different parts and accessories;
Kaisi is a mat with great heat insulation and many functions;
Xrime is a rather small mat as well, but it is also insulated from heat, also it's non-slip and non-toxic;
BTSHOW is made of very quality silicone, also non-toxic and non-slip;
Interesting Video: Workbench Repair Mat – Unboxing and Review
I hope you find my review to be useful. I hope that you will start or continue using silicone soldering mats to keep your working place clean, safe and organized.
Please share in the comments – what accessories do you use when soldering? Thanks for reading this website!
---