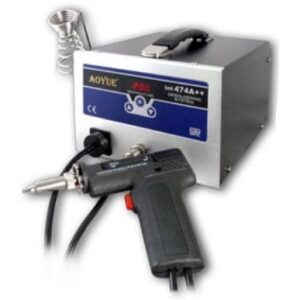 80 Watt heater
150-380 ºC (302-716 ºF)
Built in vacuum pump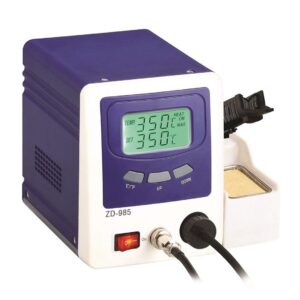 3.15A
160-480 ºC (320-896 ºF)
Dual LCD display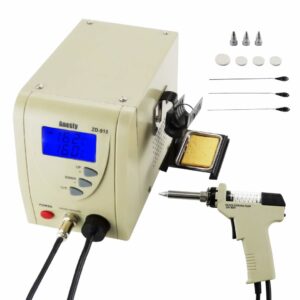 140 Watt
Temperature: 160-480 ºC
PTC ceramic heater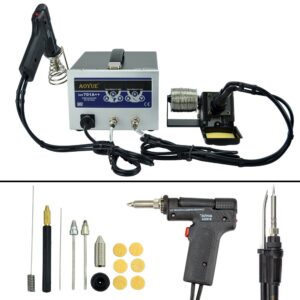 70 Watt
Temperature: 200-480 ºC
Long life heater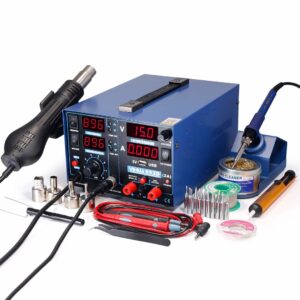 75 Watt
Temperature: 100-480 ºC
PID temperature control
---
Customer's Choice: the Best Rated Desoldering Stations
[survey_answers id="741918299″ style="plain" data="score"] users answered this survey. Please help us improve this review!
[survey_answers id="741918299″ style="piechart" legend="true"]
[survey_answers id="741918299″ qid="1″ aid="1″ style="plain" data="answer_percentage"] of users selected [survey_answers id="741918299″ qid="1″ aid="1″ style="plain" data="answer"], [survey_answers id="741918299″ qid="1″ aid="2″ style="plain" data="answer_percentage" init="true"] selected [survey_answers id="741918299″ qid="1″ aid="2″ style="plain" data="answer"], [survey_answers id="741918299″ qid="1″ aid="3″ style="plain" data="answer_percentage"] selected [survey_answers id="741918299″ qid="1″ aid="3″ style="plain" data="answer"], [survey_answers id="741918299″ qid="1″ aid="4″ style="plain" data="answer_percentage"] selected [survey_answers id="741918299″ qid="1″ aid="4″ style="plain" data="answer"] and [survey_answers id="741918299″ qid="1″ aid="5″ style="plain" data="answer_percentage"] selected [survey_answers id="741918299″ qid="1″ aid="5″ style="plain" data="answer"]. Every month we analyze your answers and change our rating.
---
Don't let the technicalities of desoldering stations bog you down. If you're moderately serious about soldering, you are going to need one of these machines in your workshop. How do you choose one desoldering station when the internet presents you with thousands? That's easy; we already did the leg work. Check out our top five options below, and let us know what you think in the comment section at the end of the page.
Aoyue 474A++ Digital Desoldering Station – Editor's Choice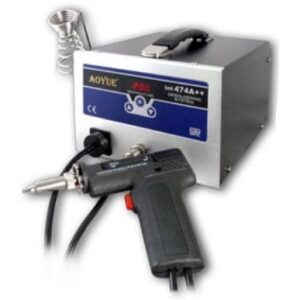 Topping off our list of top desoldering stations is the Aoyue Int474A++. This digital station boasts an 80-watt heating element and a powerful vacuum pump. The station's digital controls make it easy to calibrate temperatures and other settings.
The Aoyue can be set anywhere between 302 and 716 degrees. As such, you can use this device to remove all different types of solder.
We love that this system has an adjustable auto-sleep function. You can even adjust the sleep timer. We also found that this setup was easy to clean. The system consists of a square foundation with push buttons and a coiled wire desoldering gun holder. Keep in mind that you will need to install the holder on your own time. The desoldering gun, vacuum accessories, and power cord disconnect for storage and maintenance.
While the name of the station is difficult to pronounce, the station is user-friendly.
Pros
Pros
Wide temperature range, going from 302 to 716 degrees
Removal fuse for improved safety
Removal accessories make for easier cleanup sessions
Digital controls are easy to toggle
Ergonomic desoldering gun makes for more precise applications
Cons
Cons
Knockoff of popular brands
---
Zhongdi Desoldering Station with Easy-to-Read LCD Screen – Most User Friendly Option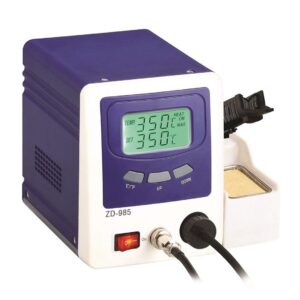 We love the bright, user-friendly design of this Zhongdi Desoldering Station. This lightweight device features two lines, including one for heating and one for vacuuming. It also has a powerful ceramic heating element.
The device can achieve temperatures between 320 and 896 degrees. With that said, the element that stands out most is the LCD screen. You can use the buttons to dial in a precise temperature. The screen enables you to keep track of this and other important settings.
The Zhongdi Delsoldering Station includes a desoldering iron, a wire gun holder, three desoldering tips, and three cleaning rods. Each desoldering tip has a unique hole circumference. The kit also includes several replacement filters. Omit, we found it quite easy to maintain this desoldering system. Its bright blue body and high-quality LCD screen are desirable additions to nearly any soldering workshop.
Pros
Pros
Includes several attachments, including replacement filters and custom tips
High-quality ceramic heating element
Weighs less than 6 pounds
Nice aesthetics and bonus LCD screen
Wide temperature range
Cons
Cons
---
Anesty's Professional-Grade Desoldering Station (ZD-915) – Best Budget Pick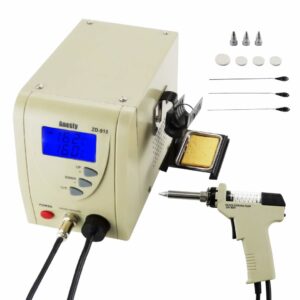 If you're looking to save a few bucks on your new desoldering station, check out this affordable station. Anesty's Professional-Grade Desoldering Station is designed to remove lead-free solder. It has a PTC heating element as well as a vacuum.
The on-board buttons and LCD screen make it easy for users to toggle between settings.
We love the look and feel of the holders that are mounted on the side of this system. We're also quite fond of Anesty's 1-year warranty. Who doesn't love a company that stands by their products? The kit comes with several money-saving accessories, including extra filters, desoldering tips, and cleaning rods. This product is suitable for a wide range of desoldering jobs, including small electronics repairs and welding.
Pros
Pros
High-quality PCT heating element works alongside sensor
LCD screen and on-board temperature toggles
Comes with a variety of desoldering tips and replacement filters
Ergonomic sponge and desoldering iron holders
Wide range of temperature settings
Cons
Cons
---
Aoyue 701A++ Dual-Function Digital Soldering and Desoldering Station – Best Upgrade Option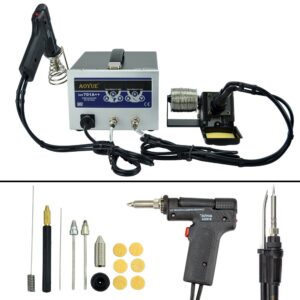 We've already expressed our approval of Aoyue products. As such, it comes as no surprise that we are sharing Aoyue's dual-functioning desoldering station. This impressive device enables you to solder, desolder, and vacuum.
It has a 70-watt heating element. The gun can produce temperatures between 392 and 896 degrees. The station's powerful pump will handle all the heavy lifting required during cleanup.
Aoyue has bulked this product up with lots of safety features. It has an accurate temperature calibration system, an adjustable auto-sleep function, and a built-in microprocessor. All the accessories disconnect for easier maintenance and replacement. The kit even includes a set of backup filters. If you are looking for an all-encompassing system, the Aoyue is a promising option.
Pros
Pros
Can create and remove joints
Affordable price considering it is a three-in-one system
Digital display and controls
Wide temperature range
Ergonomic soldering gun with lengthy cord
Cons
Cons
Not suitable for individuals who already own a working soldering station
---
YIHUA 853D 2A Hot-Air Rework Soldering Station – Best Hot-Air Rework System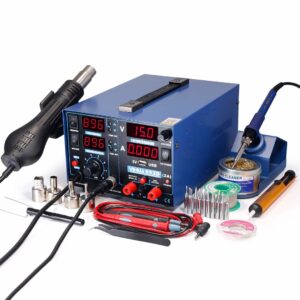 This hot-air rework system will help you desolder your electrical connections. It boasts a high-speed temperature sensor and any easy to calibrate the digital control system. PID temperature controls give users ultimate control.
You can even switch between Celsius and Fahrenheit temperatures.
The VIHUA does not have air protection. As such, the device will shut off if the fan stops. Sudden stops can be frustrating, but they help to ensure user safety. With that said, the system heats up very fast. You don't have to worry about waiting times. This system runs on 127 volts of power. It is backed by a 1-year warranty.
Pros
Pros
Three-in-one system enables you to solder, desolder, and vacuum
5-volt USB charging system
Heats up fast and maintains a consist temperature
Can switch between temperature units
Shuts off if the hot air fan stops
Cons
Cons
Inferior rubber parts warp under intense heat
---
The Ultimate Guide to Desoldering Stations
What's the Difference Between Hot-Air Rework and Desoldering Stations?
Both of these systems enable you to remove and rework solder applications. Hot-air rework systems use hot air guns to melt solder but can't remove the solder. Most hot-air rework systems are also capable of soldering. They tend to be less accurate than desoldering stations. Desoldering stations use heating elements, air pumps, and soldering irons to melt and remove solder.
Temperature Range
Pay close attention to a desoldering station's operational temperature range. Most entry-level systems reach temperatures between 300 and 900 degrees. The temperature settings will determine suitable solder pairings. It's also essential that a desoldering station has adjustable temperature settings. More sophisticated systems have temperature sensors built into their tips, reducing the need for manual adjustments.
Suction System
You can attach a suction cord to most desoldering systems. Yet, the solder is never carried into the main unit. Instead, it accumulates in the desoldering iron. The collection canister must be removed and cleaned after every desoldering session. A vacuum function enables you to melt and remove solder in one fell swoop. With a vacuum function, you can salvage a circuit board or other welding surface.
Other Considerations
Some desoldering stations come with a variety of accessories. If you are looking to make surgical removals, you'll want a variety of desoldering tips. You'll also want a kit that comes with cleaning rods, as desoldering irons are prone to clogs. You may also want to pick equipment that includes replacement filters.
A desoldering station will work faster and more efficiently when it is properly maintained. These incredible systems can save you hours. They make it easy to remove and rework soldered joints and circuit board applications. If you are someone who enjoys tinkering with electronics, a desoldering station is a wise investment.
Desoldering Stations – FAQ
What two methods are commonly used to desolder?
If you need to replace a component, it is necessary to remove solder joints. Ideally, it is sufficient to reheat the solder joint and remove the affected part. Often, however, desoldering means more effort:
When desoldering with braided copper wires or the desoldering braid, the liquefied tin is sucked up using a heated copper braid. To do this, the soldering point and soldering tip with the braid in between must be heated. The desoldering braid removes the tin almost without leaving any residue.
When desoldering with a desoldering pump, the pump is placed on the heated and liquefied solder joint. Then you switch on the desoldering pump and the pump sucks up the tin from the solder joint. A slight residue of tin remains here. Again, proceed carefully so as not to damage the workpiece when the pump is triggered.
The de-soldering with a soldering station with an electric pump is considered to be the cleanest solution. There is a hole in the desoldering tip of the device. The device sucks the liquefied tin into this hole.
What temperature should I desolder?
If you need to desolder something you should take into consideration not only the solder but also the item. With high very temperatures, you can easily melt tin, but there is a risk of making damages. Thus, the recommended temperature for desoldering is 707F. You should elect the soldering tip temperature a little higher than when desoldering.
Do I need flux to desolder?
The main purpose of using flux is to remove the unwanted residue while soldering. The initial process is when you heat the tin to the liquid to make proper solder. In the desoldering process, you also melt tin to remove it. To be sure that after desoldering the area you work on is clear you should use flux. There are different types of fluxes. It is recommended to use those who are compatible with your target of soldering.
If you use desoldering braid, there are available options with or without flux and with different types of flux. Flux helps to clean the surfaces to be heated, which inevitably promotes the flow of solder. If the desoldering braid is uncoated or has already aged flux in it, it is recommended to add flux.
What is the desoldering braid used for?
Several tools are available for this purpose. One of them is the so-called desoldering braid. Its main purpose is to absorb liquid solder by capillary action through the fine mesh, similar to a wick. You only need to bring the tin together with the desoldering braid and the soldering point is gone. This requires some practice and skill. The best way to start is to press the desoldering braid lightly with the soldering tip onto the corresponding soldering point.
When the desoldering braid is completely saturated with solder and you need to remove even more, just cut that part off and continue. When you have removed all of the unwanted solder, cut off the used part and the braid is ready to be used again. However, this is not ideal when a large amount of solder needs to be removed. In this case, it would be easier to start with a desoldering station or pump and then use desoldering braid.
The finer the individual wires of the desoldering braid, the better it works. The thin strand at the top has a higher suction force than the wide one. The quality of the desoldering braid is higher, the finer it is spun. There are significant differences between the manufacturers. You should not use too short a braid, because the soldering braid conducts the heat surprisingly quickly, otherwise you can easily burn your fingers.
Be careful when repairing devices that contain charged components (batteries, capacitors, etc.). The desoldering braid can easily cause short circuits. If you do not have a desoldering braid at hand, you can also use the braided shield of a BNC or NF cable, which usually works very well.
Desoldering gun or iron?
Each of the options has its benefits. Desoldering guns easily reach high temperatures, which makes the soldering process faster. Nevertheless, hot air can heat the unwanted parts. By using desoldering iron, you need to be very accurate to remove only the needed solder.
What do you do if the solder won't melt?
Solder is a low melting material. If it does not melt, you should check if the soldering tip provides enough temperature. The iron tip can be unclean what leads to temperature leaks. As a result. You do not receive the right temperature while setting up your soldering tip. You can make it higher, but you should be careful not to damage the item. Thus, it is highly recommended to keep iron tidy. Another option is to use a heat gun, which is very easy to use.
Video Tutorial: How To Desolder Electronic Parts
Wrapping Things Up
A quality desoldering station is an indispensable workshop accessory. We've done our best to include a variety of the highest-rated desoldering stations, including multi-functional systems and budget-friendly options. We hope our suggestions provide you with a smooth consumer experience. Do you have a favorite desoldering station? Let us know about it in the comment section.
---