---
Dremel VersaTip Butane Soldering Iron will bring the crafting skills to the next stage in a shocking way. Apart from the conventional stuff it should normally do, you can now try it with anything you think it should do.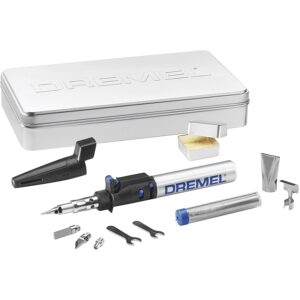 Powered by liquid butane lighter fuel
Operating temperatures of 1022° F – 2192° F
Ideal for wood burning, pyrography, soldering, shrinking, cutting, heating, and other hobby craft projects
For individuals engaging in innovative and comprehensive tasks that involve accuracy and flexibility along with portability, the Dremel 2000 01 VersaTip may be the perfect soldering torch. It comes in a package of 14 components that provides 7-in-1 capabilities. Switching the tips out when required is quick, so you can switch from one job to another.
For better storage and transport, a top cap covers the weapon. To get the temperature that you like, the flame slider is adjustable. It is simple and convenient to recharge, so you can get ready for work.
The Dremel 2000-01 Soldering Torch is specifically developed to provide the consumer with as much flexibility as possible, especially as it has plenty of phenomenal attachments for shrinking, heating, soldering and even hot cutting.
---
Dremel 2000-01 VersaTip Soldering Iron User Manual
Having problem? Download Dremel 2000-01 VersaTip Soldering Torch instructions.
---
What is included in the kit with the Dremel 2000-1 VersaTip device?
A few soldering tips for different tasks (the wide tip, 203, hot air tip, 201, 202, and 6 replacement tips);

A few accessories for better maintenance – a cleaning sponge, wrenches, storage tins and a solder;

The protective cap;

The carrying case;

Deflector;

A cutting knife;

A shaping knife;
Major features of the Dremel 2000-1 soldering torch:
In-built ignition trigger;

The operating temperatures range between 1022F – 2192F;

Flame lock on/off;

14 useful accessories and attachments in one kit;

Powered by any liquid butane fuel. A full tank (0.31 ounces) burns for 75 minutes of non-stop work;

The slider for flame control;

Faster refill with a filing valve;

Lightweight. Weighs only 4.75 ounces when empty;
Performance
For pyrography, soldering, shrinking, cutting, cooking, and other hobby & art ventures, cordless butane soldering torches such as the Dremel 2000-1 VersaTip soldering iron may be suitable. It may also be good for brazing, copper pipe sweating, and releasing captured nuts/bolts.
The cutting knife is not terribly sharp, but it provides an outstanding knife for cutting nylon when coupled with the heat from the butane when avoiding the feathering that happens with a conventional sharp cutter. The shaping knife features an edge for plastic cutting. The deflector is built around the wiring to shrink insulation. The hot air tip provides 1256F to components, while the big tip blower is ideal for extracting paint for surface preparation.
A few examples of how you can use the Dremel 2000-1 VersaTip soldering iron: 
You may use it as a kitchen gadget for grilling, caramelizing and toasting;

For small repairs of electronics, rope cutting, paint stripping;

For defrosting the frozen pipes;

For various plumbing works;

For various fishing applications;

For fixing a PC hard drive or a video game console;
The Dremel 2000-01 device would also help parents, particularly if their children appear to play harsh with their electronic toys. You can quickly weld wires back to their original location to restore the toy to its original glory, instead of trying to chuck toys with broken electrical systems into the garbage.
Possible issues and limitations:
The safety lock can be easily unlocked;

The fill valve may leak;

The fumes of gas burning may contain dangerous chemicals such as Diisononyl phthalate;

Igniting may take a few tries. A more reliable ignition happens at a higher setting than recommended in the manual;
The restrictions on the Dremel VersaTip are mostly related to its run time. 75 minutes of low heat would enable heavy users to fill up a few times a day. Although for others, that might be uncomfortable, the torch is still quite efficient. It would cost about $5 for a 5.5-ounce canister of Bernzomatic butane. This amount should fill the VersaTip at least 15 times.
Recommendations for users
How should you use the Dremel 2000-1 VersaTip soldering iron: 
Refill.

An easy process is to fill in the VersaTip. It's the same concept whether you've ever refilled a butane lighter. Push the uniform filling tip easily to the fitting of the tank and press them together. To do this in a well-ventilated place, the directions claim. Filling the device could take up to 10 seconds, but it only took about 7 seconds before the butane began to pour out of the contact. That's how you realize the tank is full;

Switching tips.

To turn out the tips, you'll need the wrenches used. It's just a threaded component that, however, is very easy to turn out. If you're using some of the tips, a flame diffuser has to remain in place. The manual provides you installation guidance about how to do this, however, it came with my device and the pre-installed soldering tip;

Ignition.

It needs a little bit of practice, but the prevention of unintended illumination is intuitive. Before pressing down to try ignition, you have to press forward on the safety lock. You should slide the lock switch on while in the down place (whether it is illuminated or not), then begin pressing on the ignition until it is lit;

How to grip.

There is more than one method to grip the VersaTip, but for precision applications, you can prefer a pencil grip. Shift your fingers away from the starter if you're using it with the safety lock on and remove any of the awkwardness of putting a finger over it. For both precision and non-precision purposes, this was a convenient working position. To prevent a pressure point that is generated by the plastic guard across the neck, you may catch yourself slipping your grip down only marginally;
Storage tips: 
It's simple to bring in your tool bag or backpack protected by an elastic band for users who mainly use it as a soldering tool. Just hold in there, too, a can of butane refill. The provided carrying case is good and does a fine job of storing the tips safely, but keeping your grab and go kits is a bit heavy.
Pros and Cons of Dremel 2000-01 VersaTip Soldering Iron
Pros
Versatile;

2-year warranty;

Self-ignition button;

Comes with many maintenance accessories;

Many attachments are included;

A durable carrying case (made of aluminum) is included;

Adjustable temperature;

Safety lock;

Affordable;

Quick refill;

Cordless butane soldering torch

;

Refillable tank

;

Offers versatile accessory range to solder

;

Integrated ignition trigger with safety lock for easy start up.
Cons
Won't cope with serious wood burning;

Too powerful for precise jewelry soldering;

The cutting knife could be sharper;

Some replacement parts are hard to find;

Ignition can be tricky at first;

May turn off when turned vertical;

Replacement tips are not available.
In brief, it is an all-in-one device that aims to reduce the number of resources in your toolkit that you use. It also has a stylish and trendy design that will make you happy to show it to members of your friends and relatives.
---
The Buyer's Guide
A butane torch, like the one offered by Dremel here, is a reliable one. It is one of the most useful tools for implementing several applications. They range from light projects for the home to cooking delicious dishes. The torch is easy to use and fires at temperatures of up to 1430 ° C, which is sufficient to melt various metals such as copper and aluminum.
It must be selected efficiently, either for use for cooking purposes or construction/industrial purposes. So, one has to keep these major things in mind in order to invest best in this butane torch:
Ignition
With an easy push of a button, select the butane torch lighter that is easily triggered and extinguished. There should, therefore, be an extremely quick on/off ignition that is extremely useful and convenient without stress for users.
Burning time
That is the amount of time a butane torch flames, and with various versions, it is different. It relies on how well the fuel is used by the torch and how much fuel this torch will carry. The burning time usually varies from 30 minutes to 2 hours (normal household), whereas modern torches vary from 3 to 5 hours.
Flame adjustment
To serve your function, the flame adjustment lever/switch in the torch lighter will enable you to have full control over the strength of the flame (how large or small the flame has to be).
Safety lock
The safety lock is a must-have choice for any who are new or novice users to avoid any unintended triggering of the torch, particularly when having children in your house. So, search for this protection lock on this butane torch, either fresh or daily users.
Versatility
From welding, brazing, culinary applications, to camping fire, it should be a flexible device to conduct different tasks.
Design
A portable butane torch lighter that offers an ergonomically built handle for easy use is often best to aim for.
FAQ
What type of fuel should be applied with the Dremel soldering iron?
The Dremel torch uses the standard butane gas that can be found in the most supermarket chains, hardware stores, and home centers.
How much time does this Dremel torch burn before refueling?
Based on use, exact run times can differ. A variety of different variables, including the intensity of the blaze, is strongly dependent on the run-time of every Dremel tool. The runtime of operating the instrument on a low flame would be significantly longer.
What to do if the device isn't igniting?
Be sure that the tool has the Flame Guard triggered. Without the guard in the right location, it will not burn.
Video Review: Dremel 2000-01 VersaTip Butane Soldering Iron
Final thoughts 
For individuals who want to know how to apply a soldering iron and others who have used a soldering iron in the past and are looking to upgrade their obsolete and less resilient devices, the Dremel 2000-01 Soldering Torch may be a great device.
---