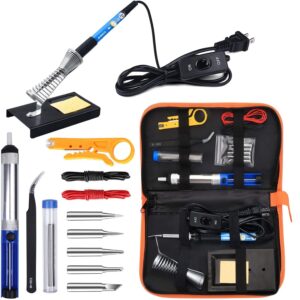 Work Voltage: 110V
Power: 60W
Temp Rang: 392℉ - 842℉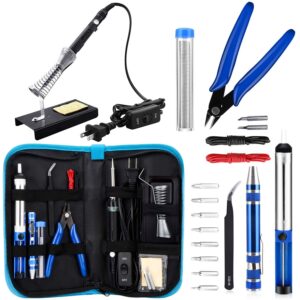 ON-OFF Switch
Power: 60W
Temp Rang: 392℉ - 842℉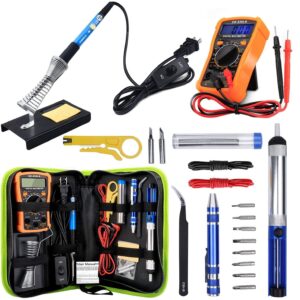 Work Voltage: 110V
Power: 60W
Temp Rang: 392℉ - 842℉
---
Choose the Best Anbes Soldering Irons
Customer's Choice: the Best Rated Anbes Soldering Irons
20 users answered this survey. Please help us improve this review!

70% of users selected Anbes 14-in-1 Set, 25% selected Anbes 8-in-1, 5% selected Anbes 15-In-1. Every month we analyze your answers and change our rating.
---
Since 2017 the Hong Kong brand of affordable electronics and electric tools Anbes releases top-notch soldering irons. Most devices come in kits along with soldering accessories. 
Pros of Anbes soldering irons:
Efficient;

Durable;

Versatile uses;

Portable;

Include replacement tips and screwdrivers;

Decent temperature range;

A PU carry bag;
The Anbes devices come with a range of attachments that will come in handy when you begin your soldering ventures, which is vital for people who want full control over any project they work on. It's a top candidate when it comes to the best soldering iron because it has so many cool features and advantages.
And below you will find the comparison table with 3 best Anbes soldering irons. Check the buying guide and product reviews before making a final decision.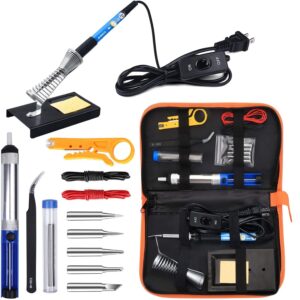 This Anbes soldering iron set is a powerful and full-fledged kit recommended for anything from circuit board welding to repairs to jewelry welding. The PU carry bag is suitable for carrying tiny tools and can be transported everywhere.
Burns are prevented due to the stable iron's foundation, anti-scalding silicone, and heat-insulated handle. The pump has an aluminum body and a high-pressure vacuum tube that makes it simple to operate with only one hand. For instance, this feature comes in handy when you need to clear solder from a PCB.
Pros
Has a nice carrying bag;
14 tools included;
Heat-insulated base;
Comfortable handle;
The temperature range is easy to adjust;
Safe to use;
Dual spring stand;
Good for beginners;
Warms up quickly;
Cons
Only for small and medium projects;
The whole body heats eventually;
Won't help with thick wiring;
The stand has an opening that is too wide;
The Anbes package comes with a plethora of accessories that prove to be incredibly useful. This package is perfect for those who want complete control while still providing access to a range of fascinating features. The set is good also for first-timers because it is straightforward to use and comes with a detailed manual. Its sturdy bag helps to store other parts of the kit.
---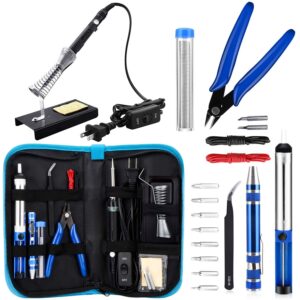 This is an upgraded version of the previously described classic soldering kit by Anbes. The 15-in-1 kit includes multi-use screwdrivers and an on/off switch. The power to change the temperature has been granted by this package.
This device has a temperature regulation knob that varies from 392 to 842F. The iron is also small and secure in the hand, with an enclosed handle that saves the user from getting burnt.
Along with the aim of reducing energy and power usage, it often speeds up job hours thus producing successful performance.
The anti-slip handle has a safe grasp when operating and is easy to wear. The cutter helps you to sever the cable without needing to rotate it. It is simple to use thanks to the advanced magnetic base and its 8 removable parts.
Since it provides a PU leather pack, holding the different tool tools is no longer a problem. It's nice to have everything intact, and it's easy to ship without destroying the contents.
Pros
The switch for turning on/off;
The adjustable temperature knob;
Affordable;
Advanced ceramic tech;
Upgraded accessories;
Easy storage;
Good for fixing radio equipment;
Lightweight;
Cons
Cheap build;
Doesn't include wire strippers;
The cord may give a little shock hit;
Hard to get the max temperature;
It has a very simple on/off switch that can be switched on/off at any moment, enabling you to stop long hours of work while both saving electricity and maintaining great soldering. The stand effectively prevents the iron from overheating at high temperatures or falling to the bottom, guaranteeing soldering protection.
---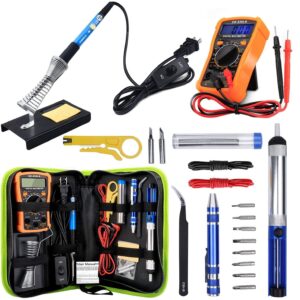 The Anbes 15-in-1 soldering iron kit includes many useful tools and accessories like a digital multimeter, desoldering pump, tweezers, stand, electronic wires, wire cutter and stripper.
By maintaining the transistors, the digital multimeter (DMM) helps to skip simple faults and provide high precision in the job. Readings are shown on the computer, and details may be stored for further usage.
It contains a screwdriver in addition to the multimeter and the two test leads for attaching the circuit for the test. It easily dissipates heat and cools off much faster with 8 separate tips and a reliable soldering iron.
Pros
Includes many improved soldering accessories;
The ceramic technology;
Portable;
Heats up and cools down quickly;
Accurate readings;
Has a LED indicator;
On/off switch;
Energy saving;
Easy to use;
Cons
Its zip bag is flimsy;
Good only for small electronic jobs;
The solder tip is not very precise;
This Anbes iron is FCC and RoHS-approved, and it is free of all harmful or polluting materials. It can be used to fix dyers, numerous electronic and chipboard uses, welding, jewelry, instruments, watches, wiring, cell devices, computer hardware, small electronic works, TV capacitors, and other products.
---
The Buyer's Guide
Tools and accessories
The Anbes kits have a lot to offer when it comes to choosing the best soldering kit. These kits come with a slew of helpful features that render them much simpler to use:
1) Wire stripper
This tiny handheld instrument is used to cut the insulation from a wire that has to be soldered. It is made up of two opposed blades that mimic scissors and have a notch in the middle. Until soldering, the insulation on the electric must be stripped in order to allow interaction with the wire for soldering. This stripper or cutter is securely kept in its own Anbes kit's strap.
2) Soldering stand
A basic stand typically consists of a heavy-duty metal base and a spring holder – they are normally detachable. ANBES soldering iron package contains a soldering stand that is large enough to accommodate a soldering iron, as well as a circular sponge and is lightweight. The spiral and the black foundation are constructed of heavy-duty metal. This soldering stand is better than any other because its primary purpose is to protect the consumer from getting burnt as well as harm to other objects.
3) Anti-static tweezers 
This is a little instrument used to pick up items that are too compact to be picked up by human fingertips, such as computer bits. Tweezers with a surface mount have two third-class levers attached at one fixed end to the pincers at the other. The soldering iron kit's anti-static tweezers are well earthed and made of stainless steel that is acid-resistant and rust-resistant. Its coating is plated with an anti-static coating, rendering it suitable for some work, such as those that need the material not to stick to the tweezers and those that may be harmed if treated by hand.
4) Digital multimeter (DMM)
The fact that the Anbes soldering package contains a digital multimeter is one of the most enticing aspects. The optical multimeter includes a numeric indicator as well as a graphical bar that represents the calculated value. This is meaningful since each metal has a maximal voltage or current that it will move through. When soldering, make sure the voltage, current, and resistance of the material you're dealing with aren't harmed.
5) Solder wire
The most popular perishable material used in manual soldering is solder wire. It is offered in few sizes, as well as lead-free and leaded models.
6) Solder wick
You may find it as a desoldering braid. Use this wick to remove solder from the joints. It's used to clean waste solder from soldering irons.
7) Flux pen
Flux Pen is picked as a substrate to avoid solder breading and to assist in the flow of solder through the required component.
8) Solder vacuum pump
The pump is used to suck and loosen solder from joints, and it's particularly handy when touching up through-hole parts with the right soldering iron for electronics.
Power wattage
It is often safer to use an iron for electronics that has at least 30 watts of power since a low wattage needs longer to heat up and therefore to dip the temperature. Though, most Anbes soldering irons have a power wattage of 60W. 
Temperature adjustment
The Anbes devices are temperature sensitive, necessitating various soldering iron temperature settings.
Handle
To perform delicate and long-term work, the keeping handle of soldering iron should be compact and convenient.
Interesting video: Anbes Soldering Iron Kit Unbox and Review
Final thoughts 
All Anbes kits are by far the perfect option for DIY designs. They're actually the greatest in terms of time management because all of the provided gadgets are convenient to use and you won't have to waste any time setting up the stand. The Anbes iron package is unquestionably worthwhile. If you're searching for an electronics soldering package, this one has what you'll need. It's vital to learn some useful soldering tips after you've bought this package in order to get the most out of it.
---