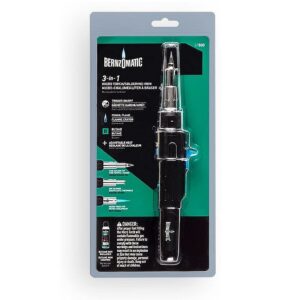 Adjustable flame control
3-year warranty
Convenient ignition switch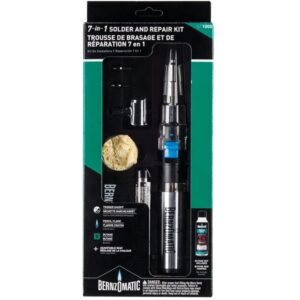 Adjustable flame control
Material: Steel
Durable carrying case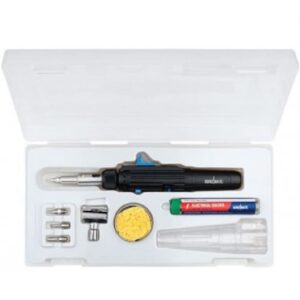 Adjustable flame control
Material: Metal
Durable carrying case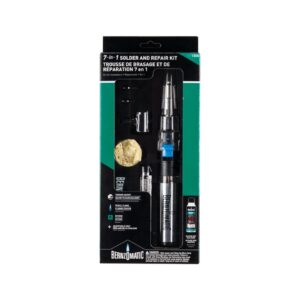 Adjustable flame control
7 in 1
Durable carrying case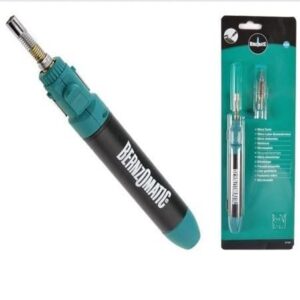 Adjustable flame control
Burns 80 minutes
Uses Butane fuel Refillable
---
Choose the Best Bernzomatic Soldering Iron
[modalsurvey id="586404654″ style="flat"]
Customer's Choice: the Best Rated Bernzomatic Soldering Irons
[survey_answers id="586404654″ style="plain" data="score"] users answered this survey. Please help us improve this review!
[survey_answers id="586404654″ style="piechart" legend="true"]
[survey_answers id="586404654″ qid="1″ aid="1″ style="plain" data="answer_percentage"] of users selected [survey_answers id="586404654″ qid="1″ aid="1″ style="plain" data="answer"], [survey_answers id="586404654″ qid="1″ aid="2″ style="plain" data="answer_percentage" init="true"] selected [survey_answers id="586404654″ qid="1″ aid="2″ style="plain" data="answer"], [survey_answers id="586404654″ qid="1″ aid="3″ style="plain" data="answer_percentage"] selected [survey_answers id="586404654″ qid="1″ aid="3″ style="plain" data="answer"], [survey_answers id="586404654″ qid="1″ aid="4″ style="plain" data="answer_percentage"] selected [survey_answers id="586404654″ qid="1″ aid="4″ style="plain" data="answer"] and [survey_answers id="586404654″ qid="1″ aid="5″ style="plain" data="answer_percentage"] selected [survey_answers id="586404654″ qid="1″ aid="5″ style="plain" data="answer"]. Every month we analyze your answers and change our rating.
---
The fire within is the motto of the U.S. brand Bernzomatic that produces soldering irons. Almost all Bernzomatic soldering irons operate on propane and butane. Their devices are promoted as powerful mini-torches with pinpointed flames for soldering jobs.
Benefits of Bernzomatic soldering irons:
Continuous flame;

Safety locking mechanisms;

Adjustable temperate and flame range;

Refillable;

Very small and portable;

Fully compatible with butane fuels;

All devices come with a 3-year warranty;
If you are interested in the benefits of these soldering irons, check the following guide. The comparison table of 5 Bernzomatic soldering irons will help to make a decision before buying. As well as the buying guide at the end of this review. 
Bernzomatic Torch Butane 5.5 Oz– the best for heavy-duty tasks!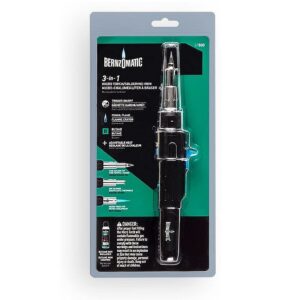 Like all Bernzomatic mini-torches, this soldering iron is very small and lightweight. However, thanks to the power generated by butane the device can heat the solder to 2300F. It is easy to refill a 5.5 Oz canister and then immediately apply the iron.
Unlike other models, this mini-torch has 3 adjustable settings: hot air blower, pinpoint flame and a standard soldering iron.
Pros
3 different modes;
Convenient ignition switch;
Adjustable temperature and flame control;
Child-resistant ignition;
Cons
Limited warranty;
Requires refills;
It was built for precise work such as fine soldering, restoring jewelry, art projects and wire shrinking sun. The electric ignition is simple to use, and a continuous flame lock holds the torch controlled while working.
The strong butane flame gives the pinpoint direct fire, precisely when it is required. The ST500, due to its small size and efficient performance, became a go-to fire starter for consumers.
---
Bernzomatic Micro Torch Kit Butane ST1000 – the best for versatility!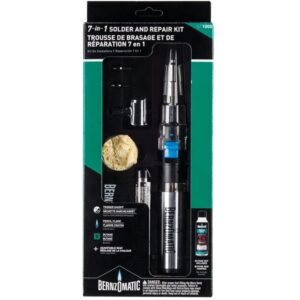 This Bernzomatic cordless soldering iron set is intended for precise function, including extensive electrical soldering, restoration of jewelry, art projects and heat shrinking steel.
Seven interchangeable settings are included in the 7-in-1 butane-based iron: fine solder, micro torch, hot air blower, wide solder, heat shrink along with chisel point tips.
Pros
Self-ignition feature;
Flame and temperature adjustment;
Comes with a sponge and solder;
A few interchangeable tips;
Has a durable carrying case for easy transportation;
Offers 7 different modes;
Corrosion-resistant grip;
The viewing window for fuel level;
Cons
Compatible only with Bernzomatic 5.5 oz butane fuel;
Doesn't include butane fuel;
Flame control enables a precision flame to be fine-tuned, electrical ignition makes the lighting simple and the constant flame lock holds the torch illuminated when in operation. For a thorough job, this iron has a pencil flame.
---
Bernzomatic 368600 Cordless Butane Micro Torch Soldering Kit – the best for the price!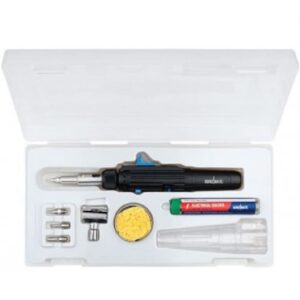 The Bernzomatic 368600 cordless micro-torch is useful for crafts, hobbies, cooking and DIY tasks. The lightweight kit includes a soldering iron (micro-torch), a sponge, 0.6 ounces of electrical solder and a sturdy carrying case. The included mini-torch could not be bought separately.
With this device, igniting the flame is as easy as squeezing one button. If you really want the flame to cease, the same button turns off the ignition. This makes it convenient to start and stop, which ensures that the gas will last longer and that the torch will have less risk of causing a safety issue.
Pros
Economical on fuel;
Easy to ignite;
Safe;
Durable carrying case;
Lightweight;
Cons
Doesn't include the compatible fuel;
Ignition issues may happen;
Slow heating;
One of the best features of this soldering iron is a low price. In addition to being very secure, the controls make it simple for the consumer to change the size of the blaze and even to lock the button for continuous usage. The trigger may be locked to avoid unintended ignition and extra protection.
---
Bernzomatic Micro Torch Kit Butane– the best for fine soldering!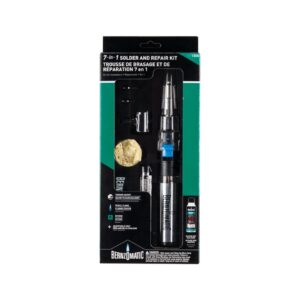 This mini torch has been specially crafted for precise jobs, like fine soldering, jewelry repairs and art projects. The manufacturer recommends using this soldering iron for delicate soldering jobs – crafting, jewelry repair, heat shrinking wires, electrical devices.
Like most Bernzomatic devices, this mini-torch has 7 interchangeable modes. The flame adjusting feature enables a fine-tuned precise burn, the electrical ignition makes lighting simpler and the continuous flame lock holds the torch illuminated when in operation.
Pros
Easy-to-use ignition switch;
Adjustable flame control;
Pinpoint flame for delicate jobs;
Safety mechanism;
Has a cleaning sponge;
Cons
Doesn't come with replacement parts or fuel;
Cheap plastic sliding;
The fuel tank capacity is low;
The refill valve is flimsy;
It is a nice budget-friendly device recommended for DIYers and hobbyists.
---
Bernzomatic ST100T Soldering Iron– the best for fuel tank capacity!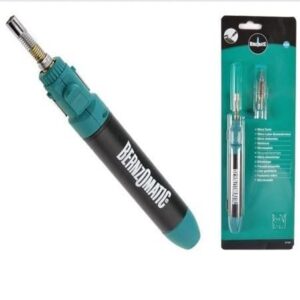 This propane-based torch by Bernzomatic is recommended for soldering copper pipes, heating frozen pipes, rusted nuts and brazing jobs. This system comes with an automatic ignition that is simpler and more efficient than a spark, and a fire-spreading tip that reduces the heat for loosening paint and caramelizing sugar. It is lightweight and easy to apply.
Also, it burns fuel slower than most similar tools.
Pros
Can burn up to 80 minutes before the refill;
Durable;
Adjustable pinpoint flame;
Portable;
Easy to clean;
Made of cast aluminum;
Cons
Doesn't come with butane fuel;
Flimsy trigger igniter;
It's a lot easier to light easily than other burners, and it's safe. It put enough heat out to steam up a one-pound tool fast enough to patch a hole in a soft secure gas tank.
---
The Buyer's Guide
The Bernzomatic cordless soldering irons are becoming more and more common. Cordless gas-based devices are the best option if you have any fieldwork to do in areas without connection to an electrical socket. It's a smart thing to bring such an iron with you, even in a tent, on a camping ground, or in a vehicle with simple equipment.
Here is how you should choose a gas-fuel based tool:
Ergonomic design
Pay attention to the design of the handle when selecting a soldering iron. A convenient soldering iron would provide one with greater working ease, so it is best to obtain a system equipped with, for example, silicone handle overlays. It is better to use a device with a convenient grip and sturdy handle. 
Soldering tip and shape
A portion of the iron that is responsible for transmitting thermal energy to the soldered workpiece is the soldering tip, the hot feature at the end of the soldering iron. It wears off fairly fast, becoming the most 'industrious' part of the soldering iron. Make sure the matching soldering tips are simple to obtain and replace while purchasing a soldering iron. In this way, it would be easy to substitute it without any complications in the event of harm to this part.
In different sizes and forms, soldering tips are usable. The chisel, mini-spoon, hoof and conical tips are the most common. Note that you should also pay attention to compatibility with your soldering station when selecting a soldering tip, apart from its form.
The scale of the soldering tip should be adjusted to the soldered element. The bigger the soldered part, the more powerful the heat transfer should be to the soldering tip. In essence, the shape of the tip influences the solder distribution on the soldered surface-mini-spoon is the most flexible and suggested choice for beginners.
Safety
Now that you know what instruments and materials are required, it is time to explore how to remain healthy when welding.
Soldering iron can hit temperatures of up to 800F, so understanding where the iron is at all times is really necessary. To help avoid unintentional burns or injury, we often suggest that you use a soldering iron stand.
In a well-ventilated place, make sure you're welding. There are gasses produced that are hazardous to your eyes and respiratory system when the solder is heated. It is advised that you visit places such as Integrated Air Systems for air filtration using a fume extractor, which is a fanning device with a charcoal filter that collects the toxic solder smoke.
In the event of unintentional hot solder splashes, it's still a smart idea to wear the safety goggles. Finally, make sure your hands are washed after soldering is finished, particularly if lead solder is used.
Power
For a wide variety of applications, soldering irons are used. It's important to choose an iron that has an acceptable temperature range if you're trying to create connections on a circuit board or want to weld metal jewelry.
Temperature
It's also essential that iron gives you comprehensive control over the production of its temperature. Many butane-based irons have a knob that can be rotated to raise the temperature of the quantity or decrease it. The regulation should have the specific and well-regulated control over the temperature of irons.
Several butane soldering irons also feature a blowtorch tool. Blowtorch functions allow irons to heat up well above their typical temperature of soldering. With the temps rising above 2,000F, the devices with blowtorch features could be used to fix leaky pipes, strip paint, or even make foods like creme brulee.
Burning time
For users seeking to perform long operations, burn time is a crucial factor. While most butane irons are quick to refuel, to eliminate expensive interruptions, it helps to schedule your soldering period. Most of the mentioned soldering irons give burn time that is 30 minutes or longer. Some of them still boast hour-long burn periods.
Ignition and heating time
Keep a sharp eye out for a device that readily ignites and rapidly heats up. It does not take longer than 30 secs for an electrical ignition to generate a lucrative burn. Melting time often matters. In reality, most solder melting times are approximately one minute at most.
Sponge
Using a sponge will help keep the soldering iron tip neat to remove the produced oxidation. Oxidation tips appear to turn black and not tolerate solder like they did when it was fresh. You could use a standard wet sponge, but this manages to shorten the life of the tip rapid expansion and contraction. Also, when a wet sponge is wiped out, the temperature of the tip will drop temporarily. The safest choice is to use a brass sponge.
Final thoughts 
Bernzomatic soldering irons would not fail you. Their devices can be efficient and are made to endure difficult environments. That is why you may find these mini-torches in every shop and all over the work sites. It could be a smart idea to invest in Bernzomatic equipment and save a couple of bucks if you are searching for a powerful butane mini-torch.
Useful Video: BernzOMatic Butane Cordless Soldering Iron Review
---