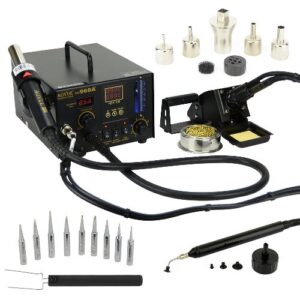 4 in 1 repairing station
Digital display
Built in Air Flow gauge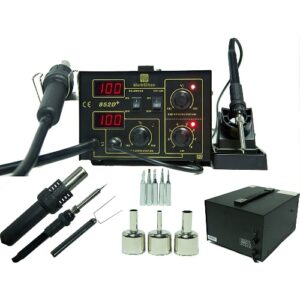 Fast Heat Up process
Sensitive Components
Large LED Displays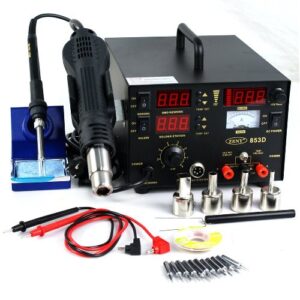 4 Nozzles
1 Sponge to wipe
1 De soldering Wick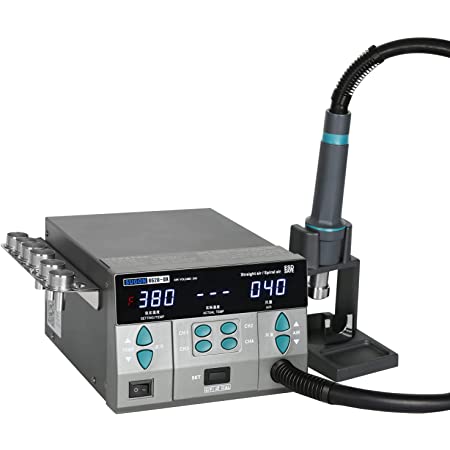 Built in vacuum Pickup tool
1000 watt metal heater
Long Life heat Element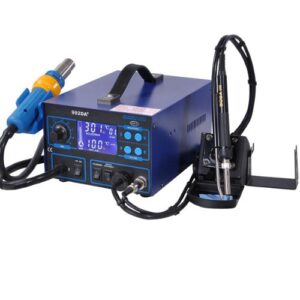 LCD dynamical display
Fume extractor
Digital PID technology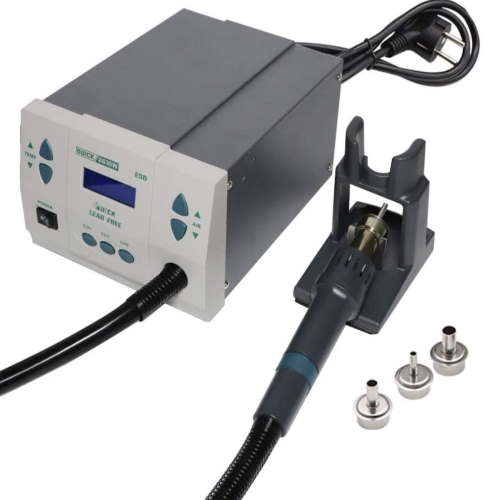 Professional Grade
1000 Watt, 110v
LED Display + 3 Memory
---
[modalsurvey id="474246422″ style="flat"]
Customer's Choice: the Best Rated Hot-Air Rework Stations
[survey_answers id="474246422″ style="plain" data="score"] users answered this survey. Please help us improve this review!
[survey_answers id="474246422″ style="piechart" legend="true"]
---
Even if you occasionally solder/desolder electronics and gadgets, then you have probably heard about the benefits of using hot air rework stations.
With the help of these machines, you may quickly and precisely attach or remove delicate SMD components such as SOICs, BGAs, ICs, PLCCs. Such devices are widely applied in pre-heating, lacquer removal and heat shrinking jobs.
After several weeks of tests and research, this guide includes details of the best 6 hot air rework station reviews.
Check the buying guide at the end if you want to learn what factors are important to consider when you purchase one of these devices for home or professional use.
Aoyue 968A+ – All-in-one SMD Hot Air Rework Station with Soldering Iron!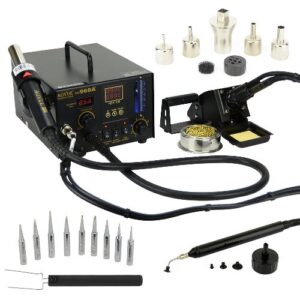 Compared to other hot air rework stations in the U.S. market, this gadget has special adjusters for voltage and temperature.
If you seek thermal flow protection, this stylish black machine can fit your requirements.
Includes 550 Watts hot air and a 70 watt soldering iron to make it all-in-one complete rework station.
Pros
In-built airflow and temperature control
A lifetime warranty
No overheating
A plastic case
Special adjusters for voltage
Innovative digital display
Safe protection from the unstable thermal flow
Energy-saving
A quick and simple change of nozzles (30 different types)
Auto sleep function if you leave the gadget open or working by accident
Cons
Not as user-friendly
A bit bulky
The leads for the in-built iron are short
A noisy pump
The digital display is not fully transparent
Aoyue 968A+ is a 4-in-1 soldering station that is appreciated by professional solderers for the option to maintain a constant temperature. It combines 4 features in 1 device: a soldering iron, a smoke absorber, a vacuum pickup and a hot air releaser.
It has an in-built microprocessor to control temperature and airflow. The system can automatically inform you about breaking down the acceptable level of temperature.
YIHUA 862BD+ – the best for temperature control!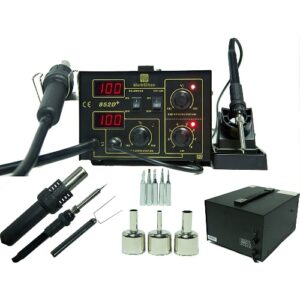 This lightweight 2-in-1 soldering station is capable of controlling the temperate range in both °F and °C at the same time. So you could use this gadget to work abroad.
Besides the advanced temperature control, this machine is quite versatile.
It comes with an adjustable digital display and protection. You may use this gadget to work with temperature-sensible components and PLCC, QFP, SOIC, CHIP, BGA elements.
[tds_info]
Tips for the users:
you may change the functions of this machine with a single push of the button. The system cycles every 20 milliseconds to detect the temperature more accurately.[/tds_info]
Pros
Outstanding PID temperature control in both °F and °C
Adjustable dual LED display
Noise-free operation
Adjustable air flow
Lightweight
Easy setup and launch
Stylish design
Dual-core microprocessor
A pliable silicone cord
Includes 4 nozzles
Cons
The temperature readings can be inaccurate when the heat is too high
Only one-year warranty
Besides versatility and temperature control, this station has an ESD safe design to guard the sensitive components against overheating. Also, it has an automatic hot air gun function to eliminate the heat automatically when the gun is placed in a holder. It can work within the temperature range of 392°F – 896°F.
YIHUA 8786D 2-in-1 – the best for portability!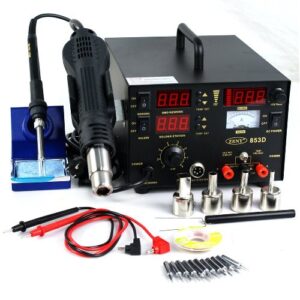 Another YIHUA's soldering station is the 2-in-1 8786D I model with the smart cool/hot air conversion. Besides this gadget has digital temperature correction along with the sleep function.
This application is appreciated for the anti-static design that prevents leakage or static damage.
[tds_info]
Tips for users:
if the hot gun's fan stops working, the program will set an alarm and cut off the power supply to prevent any accidents.[/tds_info]
Pros
Affordable
Adjustable cool/hot air flow
Anti-static design
Automatic digital temp correction
SMT double-panel tech
Good for the use in harsh environments
Programmable hot air gun
Includes 10 changeable iron tips
Cons
Made of cheap materials
Only one-year warranty
Not very accurate readings
This budget-friendly gadget is good enough to get any soldering job done. It heats up quickly and has great portability.
SUGON 8620DX 1000W – NEW! 6 Nozzle SMD Rework Station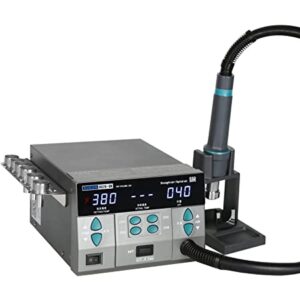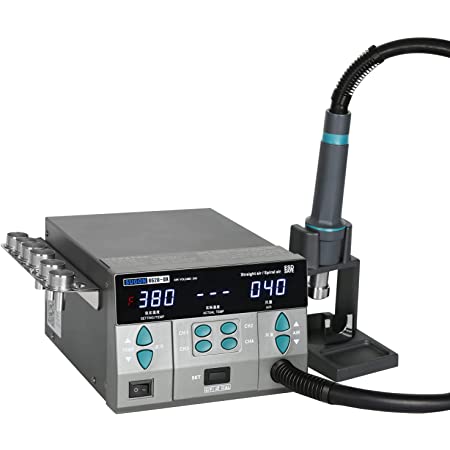 If you seek the long-life heating element, consider testing this new machine. Besides the powerful 1000-Watt metal heater at 110V, it has an in-built vacuum pickup tool and ESD microprocessor for better temperature control.
To deliver precise adjustments, it has an integrated digital airflow gauge.
This new Sugon unit has a super fast heat up. I also love the 6 nozzles for precise focus on your PCB parts.
And 1000 Watts of power!
You will also like this system for the in-built auto cooling process when you place the wand in the holder. This greatly increases the life of the heating element.
Pros
Very durable heating element
All-digital display with touch control
6 Nozzles
Auto cool-off option
4 Memory Channels
Comfortable handle to use
Quick heating up
Cons
Only one-year warranty
The plastic is a bit sticky
This gadget includes the nozzles suitable for the work with a wide range of part sizes, like: QFP, SOP, PLCC or SOJ elements.
YIHUA 853D 2A – the best for extra functions!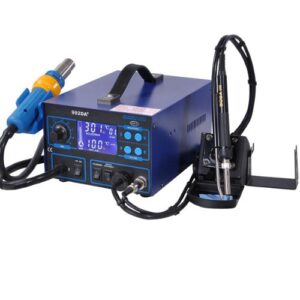 If you need a really versatile soldering station for hot air rework, pick this Yihua model.
It is equipped with a removable (a rare feature) soldering iron that you may replace. Also, the system has a 50-Volt test meter for measuring DC voltage.
The unique 3-in-1 design includes a 110v, DC stabilized power supply and rework station.
Pros
Affordable
Celsius/Fahrenheit conversion
PID temp control
Manual and automatic hot air gun
Automatically turns off the power if the gun stops working
The insulation for better leakage protection
Cons
Only one-year warranty
Inaccurate calibration
The package includes a few nozzles, anti-static tweezers, and 10 changeable soldering tips. You may use this appliance to work with QFP, SOIC, CHIP, BGA, PLCC, SMD, etc. It can be especially great for repairing mobile phones.
Quick SMD 861DW – Professional Hot Air Rework Station!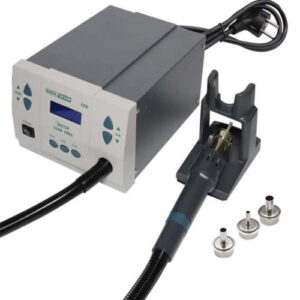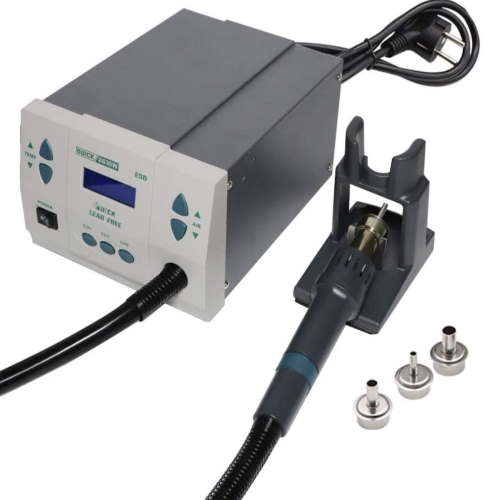 If you need a really versatile soldering station for hot air rework, pick this Quick model. The system has 3 memory heat and air speed memory. 1000 Watts.
This is the one on my bench.
A professional-grade system, and has a great cool-down feature once you put the wand back in the holster. This unit has the power to heat up larger parts and PCBs.
See more on using this Quick hot air rework station below.
Pros
Celsius/Fahrenheit conversion
Digital LED air flow and temperature control
Manual and automatic hot air gun
Magnetic wand shut off
Best for SMT & SMD work
Cons
Only one-year warranty
A bit pricey
The package includes a few nozzles. You may use this appliance to work with QFP, SOIC, CHIP, BGA, PLCC, SMD, etc. It can be especially great for repairing mobile phones and larger PCBs.
The Buyer's Guide
In this review, I showed you my top 6 of the best hot air rework (reflow) stations. Surely, you will see a single page of my tests' results that took about 10 days. I tried to cover the most popular and recommended models in the U.S. market – from cheap to more expensive professional appliances.
My focus was to deliver the most useful hot air rework stations with desoldering options. I picked only the most reputable brands for comparison. Here is what I managed to find out:
Aoyue 968A+ SMD – this is a real "beast" among hot air rework stations, a 4-in-1 machine with the digital display and airflow gauge. The price is also very reasonable – under $180;
Mark Ethan + SMD – another 2-in-1 appliance with sensitive components and a large display;
Sugon 8610DX SMD – has 6 nozzles and a fast response, love it!;
Quick SMD 861DW – best professional grade;
Such all-in-one appliances become very popular among professional electricians, technicians, and hobbyists. I can understand and explain the interest: hot air stations are faster, more versatile and precise. My fellow soldering experts agree that any good hot air rework station can be an irreplaceable tool for reworking PCBs.
You've probably noticed that almost all stations come with SMD options for removing/attaching SOICs, QFPs, PLCCs, BGAs and ICs. If you seek more advanced options, the most useful extra features are interchangeable nozzles and automatic/programmable temperature control. You may also pick the model with a vacuum pump because all jobs will be finished faster and with fewer risks.
Widely applied for pre-heating, heat shrinking and removal of lacquers the hot air rework stations are really multi-purpose devices. These relatively small and modern appliances are very common among professional electricians and welding hobbyists.
To invest in a high-end hot air rework station you should look for the following features:
Material
The build and overall quality of the hot air rework station must be sturdy enough to provide stability and durability for a few years. The materials have to be checked before buying.
Look for the devices made of metal allows, preferably steel or heat-resistant materials. Also, keep in mind that all gadgets have elements made of sturdy plastic.
Display
During the soldering jobs, you have to check the measurements and values. That is why all hot air rework stations have a display to read the input and output values. You won't be able to use the device effectively if the display shows inaccurate readings.
Contemporary stations have either an LED display or dual digital LED display or LCD or LED for tight temperature and airflow tolerances.
Weight
Hot air rework stations should be lightweight because most hobbyists may prefer to carry these gadgets to different job sites. Consider investing in a lightweight gadget that weighs from 3 to 11 pounds. Lower weight is the most beneficial if you seek portability.
Temperature control
Most stations have the temperature control feature by default. You should be able to adjust the temperate quickly and easily. Preset memory channels is a huge benefit.
I can't stress enough how nice it is to hit a button and change temperature and air speed instantly when you are working on different part sizes.
Heating time
You need to check how much time is required for the hot air stations to heat the soldering station's tip. The tip and heating element should heat up quickly. (This is quicker in the higher wattage stations)
You don't have to waste time waiting for the device to heat up. You may want to invest in the gadget with a quick heat recovery function, higher wattage.
Safety
You can't underestimate the safety issues. It is an essential feature to look for in hot air rework devices. Each gadget should have overheating protection. Check if the station has an ESD safe design.
Hot Air Rework Station vs Heat Gun
You can certainly use a heat gun to heat up larger parts and circuit boards, and it is cheaper than a hot air station. However, a heat gun is large, like a hairdryer, and you can't get the ease of control or motion that you can with a real hot air station.
The hot air rework station also has digital heat control and controlled air flow with special nozzles that can put out heat quickly in the area needed.
Rework Station vs Soldering Station
A rework station can and should contain a hot air system and a soldering station. Do not be confused by the wording, removing parts from a circuit board and putting new ones on is called rework, and you can use either hot air or a soldering iron to complete the task.
Best Hot Air Rework Stations – FAQ
How do hot air rework stations operate?
Besides industrial uses, most multi-purpose hot air soldering stations can be excellent at repairing mobile devices, tablets and other electronic devices.
What are the main advantages of a hot air soldering station over a soldering iron?
The option to adjust the temperature. Temperature conditions can be adjusted straight via a digital display;
The soldering stations have a microprocessor control for the safest temperature range;
With one soldering station, you can solder a device with dozens of different alloys;
Both irons and stations have replacement tips for different jobs. But most stations include these tips unlike the irons;
The choice of a soldering device depends on a number of technical specifications and your soldering tasks. The main advantage of hot air rework stations is many in-built elements that replace smaller devices: a hot air gun, a soldering iron, thermal tweezers, etc.
Also, each hot air rework station has the heating element. You may choose between a ceramic or nichrome heating elements. Ceramic parts are higher in the price – they can serve for years, but there is a risk of failure at the slightest crack. Nichrome elements are cheaper but they won't serve for a long time.
Powerful airflow in such rework stations is created whether by the pump installed in the housing unit or a compact fan in the handle. Both options have certain advantages and disadvantages.
To improve the air flow in your hot air station, you can buy various nozzles for the compressor. However, be sure to adjust the air pressure when you change nozzles.
Once you put on a smaller nozzle, this is better for targeting a smaller part/area, but will have increased air pressure which may blow the part of the board.
A hot air gun is connected to the unit only with a power cable. It can heat more powerfully but you should regulate the airflow.
A top-notch hot air rework station should be compact. It is better to invest in a gadget that can work with any power network. In such a way, you will be able to carry this appliance whenever you need – take it to remote locations or work at home. Connect the gadget to any infrastructure. Your task is to find gadgets with a wide range of temperatures and adjustable nozzles.
How to use hot air rework stations?
One of the major features of all hot air soldering stations is use-friendliness. Even beginners will be able to use this gadget easily:
Just turn on the power (find the On/Off button);
Wait until the station heats up to the required temperature level;
Then check the airflow levels and pick the one you need, according to the adjusting nozzle;
To adjust the nozzle, place it closer to the chip or cable that you should repair/remove;
Do the work by checking the machine's display;
Turn it off;
Let the gadget cool down after the work and clean;
Most models have adjusting buttons for increasing the flow. The manufacturers can give you the instructions on how to achieve more accurate jobs
A few tips for working with such soldering stations
Make sure to remove all plastic parts before soldering;
Do not adjust the airflow too high, especially when soldering the small details. A strong airflow can inflate the adjoining elements and you won't be able to install them once again;
To speed up the process of soldering mini elements, for example, micro USB connectors, you can use the alloys suitable for low temperatures. At first, you should seal the contacts and leads with a conventional soldering iron;
If you have a turbine-type station, then try to keep the hot gun away from powerful magnets when working. A hot air gun includes something like a Hall sensor. If this sensor is affected by a strong magnetic field, then it may fail;
A malfunction of the hot gun that pumps the airflow is very dangerous because the spiral can burn out due to the excessive heat;
What is a hot air rework station used for?
A hot air rework station is used to melt solder for adding or removing parts on a circuit board. A soldering iron will do the same thing, but the hot air must be used when the soldering iron can't reach the part, like underneath, and hot air must be used.
A hot air station can almost always be used where a soldering iron can be used, but a soldering iron can't always be used where hot air is needed.
Rework stations are designed for finishing or repairing printed circuit boards. They can be used for SMD components with surface mount or through-hole components. This includes QFP and SOP package devices. For repair and prototyping, and any application where a printed circuit board component needs to be removed or adjusted, this hot air rework station is ideal.
Such units often have a LED display to indicate the rework temperature, giving you control and confidence. A rotary dial also allows the selection of the air control and two push buttons to increase or decrease the temperature.
Which is the best SMD rework station?
One of the options that you should consider is the RS PRO soldering station. It consists of a hot air station also fitted with a hot air gun. The temperature is microprocessor controlled using a closed-circuit design that provides high power as well as rapid heating.
Other features of this bench include an LCD, adjustable airflow and volume, and brushless motor design with less than 45dB noise level.
RS PRO strives to be your brand of choice when it comes to reliability and value for money. When you buy tools, you are looking for versatility and reliability. That is why this is a tool that suits various soldering and desoldering tasks. Whether you are a professional electrician, plumber, builder, or handyman, RS PRO is a nice option.
What is BGA rework station?
BGA refers to the chips packaged in the BGA packaging process. The I/O terminals of the ball grid assembly are distributed in circular or columnar solder joints.
The advantage of BGA technology is that although the number of I/O pins increases, the pin spacing does not decrease, but increases, which improves assembly efficiency.
Although its power consumption is increasing, the BGA can be soldered by a controllable collapse chip method, thus improving its electrothermal performance. There are fewer plastic components in such stations and the signal transmission delay is low while the frequency of use is considerably increased.
There are four basic types of BGA: PBGA, CBGA, CCGA, and TBGA. Usually, the bottom of the package is connected to the weld ball array as the inlet/outlet inlet/outlet end. The diameter of the solder balls varies from company to company due to the lack of corresponding standards.
From the point of view of BGA assembly technology, the BGA has more advantages than the QFP device, which is mainly reflected in the fact that the BGA device has less stringent requirements for mounting precision.
Speaking about advantages BGA no longer has pin warping issues similar to QFP, and its coplanarity is also good with QFP and other devices. Compared to QFP, BGA has a much larger output spacing, which can greatly reduce the problem of solder joint "bridging" caused by solder paste printing defects. Also, BGA exhibits good electrical and thermal properties,
The main disadvantage of BGA is that it is difficult to detect and repair solder joints, and the reliability of solder joints is strictly required, which limits the application of BGA devices in many fields.
How does a BGA rework station work?
The BGA station reaches high accuracy of soldering due to several nozzles that guide and circulate hot air. It allows users to reach an even heat distribution. It also helps in directing hot air to a specific place where you need to perform work without difficulties.
Is Yihua a good brand?
Among various Chinese brands, Yihua is a good one. It cares about delivering satisfaction to customers by making reliable and easy-to-use products. Moreover, you can find a good option without paying too much.
Video Tutorial: Using a Hot Air Rework Station for Surface Mount Soldering
Final Thoughts
You have checked a few reliable, affordable and top-notch hot air rework stations. If you've never used these applications before, you should try them because they are convenient and efficient gadgets.
They really do make difficult soldering jobs easy.
Versatile use and user-friendly features along with durability make these rework stations irreplaceable.
---
Is a Hot Air Rework Station Necessary?
If you do soldering work, there will be parts that you cannot remove with just a soldering iron. A hot air station would be the only way to remove, and replace these parts.
What is a SMD Rework Station?
SMD (surface mount devices) is just a station that includes a Hot Air and Soldering Iron in one unit.
Also Check Out: