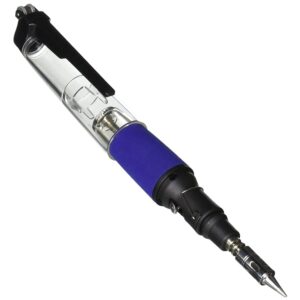 Cordless
30 Minutes Run Time
Wattage: 70 watts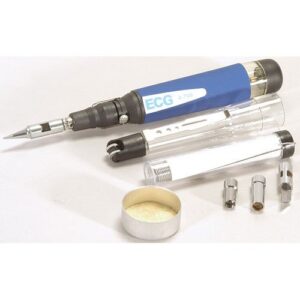 Cordless
30 Minutes Run Time
Wattage: 30/70W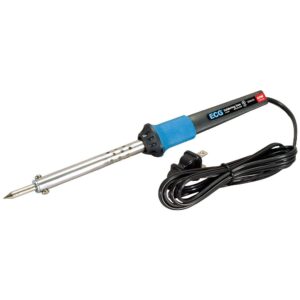 Corded
Tip temperature +860°f
Wattage: 60W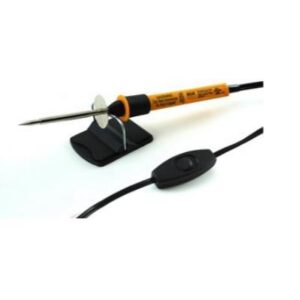 Corded
Tip temperature +680°f
Wattage: 12W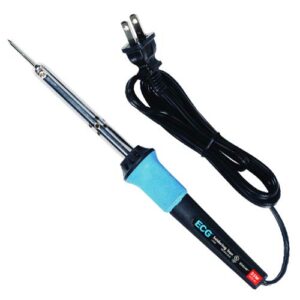 Corded
Tip temperature +464°f
Wattage: 25W
---
Choose the Best ECG Soldering Iron
Customer's Choice: the Best Rated ECG Soldering Irons
22 users answered this survey. Please help us improve this review!

36.36% of users selected ECG J-500, 27.27% selected ECG J-700KT, 22.73% selected ECG J-060, 4.55% selected ECG J-012 and 9.09% selected ECG J-025. Every month we analyze your answers and change our rating.
---
The Electric Corded Ergonomic brand is more known to U.S. citizens as ECG. Being a division of the NTE brand, this manufacturer presents budget-friendly soldering irons with a bunch of useful features. Almost all irons by this brand are based on butane fuel. That is why they are cordless and portable. However, some ECG irons are corded and powered by an electric source. In this review, you will find a few corded and cordless soldering irons produced by this brand.
Benefits of using ECG soldering irons:
Affordability;

The lineup includes corded and cordless soldering irons;

Many features;

Most devices come in sturdy carrying cases;

Different devices with various wattage and temperature ranges;
Check the following reviews with the pros and cons of top 5 ECG soldering irons. The major specifications are compared in the table below. The buying guide reveals the key factors to consider when choosing an ECG soldering iron. 
ECG J-500 Butane Soldering Iron and Torch – the best for portability!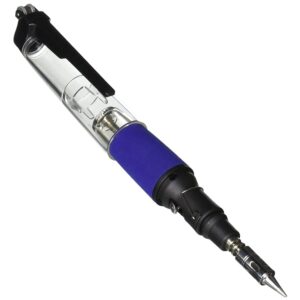 The ECG J-500 butane iron is equivalent to a 70-Watt corded device. It can work as both a soldering iron and mini-torch despite its compact size. For a technician who is always on-the-go or a small workshop, its portable design is perfect. In 20 seconds, it achieves soldering temperatures between 410F and 750F. A 1 mm soldering tip and a torch attachment are provided.
Pros
Lightweight;
In-built igniter;
The see-through window of a fuel tank;
A few interchangeable tips;
Cons
Works only 30 minutes before refilling;
The switch issues;
This device can live in very hot to very cold temperatures. Also, you may literally use it on the road. It gets very quickly to heat up, has a generous fuel capacity for its size and appears to have a robust design.
---
ECG J-700KT Butane Solder Iron/Torch Kit – the best for versatility!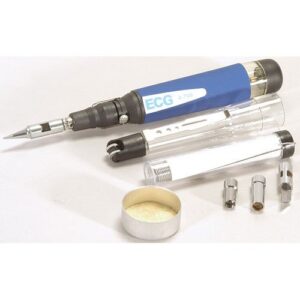 The ECG J-700KT butane soldering iron is only the part of the versatile kit. Besides the device, users will also get a protective cap, 1-mm conical tip, hot blower tip, torch tip, a sponge, solder, stand and sturdy carrying case.
Pros
In-built igniter;
Over 120 minutes of work before refueling;
Easy to transport;
A few tips included;
Good for different uses;
Cons
Limited 1-year warranty;
The product is not sold in some states;
This kit's soldering iron provides plenty of temperature for soldering, and each load-up lasts a long time. Also, pretty quickly it heats up. For heat-shrink tubing, the heat blower tip is designed perfectly.
---
ECG J-060 Electric Corded Soldering Iron – the best for the design!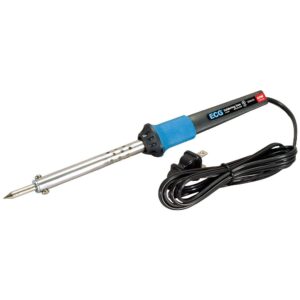 This corded iron ECG J-060 is a 60-Watt device powered by an AC power source. A conical needle tip and ergonomic style are some of the finest characteristics. Working with this iron for several hours is more than tolerable. There is a good safe handle on this soldering iron that is easy to grip.
Pros
Approved according to UL and C UL standards;
The maximum temperature is great for a 60W device;
Can fit any toolbox;
Includes a soldering iron stand;
A long cord – about 5 feet;
Cons
Limited warranty;
Limited mobility during work;
This advanced 60-watt device includes a replaceable blade, an ergonomically crafted rubber handle and a nickel-plated copper tip. Provides a working temperature of 860F with short heat time and rapid heat recovery.
---
ECG J-012 Miniature Electric Corded Soldering Iron– the best for small jobs!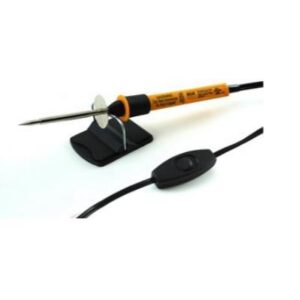 This ECG J-012 mini-iron is an electric corded device that has an in-built on/off switch. Besides the iron, the kit includes a conical needle tip and safety stand.
This 12W iron is highly recommended for delicate jobs – think of crafts, jewelry and other small DIY tasks.
Pros
C UL and UL listed and approved;
Includes a safety stand;
Good for small and delicate jobs;
Has an on/off switch;
Great for novices and elderly people;
Cons
Limited temperature range;
Cleaning can be tricky;
This miniature 12-watt soldering iron works almost flawlessly. However, keep in mind that it requires washing around the heating element after each use.
---
ECG J-025 Electric Corded Soldering Iron– the best for the price!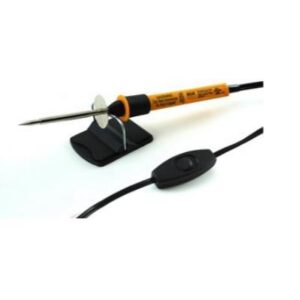 This advanced 25-watt iron features a replaceable tip made of copper and an ergonomically designed handle. It may heat up to 464F with a quick heating time and cool down. It may be recommended for computer electronics that are quite sensitive to unstable temperatures.
Pros
Budget-friendly;
UL approved and listed;
A long cord – 5 feet;
Comes with a replacement tip;
Heats up quickly;
Cons
Not good for guitar electronics;
The temperature range is average;
To get a professional grade product for this reasonable price is a rare opportunity. Also, you may apply this device on various occasions.
---
The Buyer's Guide
Here are the things to be considered while shopping for a soldering gun or iron:
Major types of ECG soldering irons:
Corded devices

typically use electricity as a major source of power. They are quite limited in portability but more powerful that fuel-based tools;

Cordless tools

are butane-based devices that have to be refilled from time to time. It means additional expenses for fuel refills. However, these tools are more portable and maneuverable;
Application
Soldering irons/guns must be chosen for the purpose for which you would use them. For most common uses such as electronics applications, hobby DIY projects, a 30-Watt soldering iron would be appropriate for this purpose.
However, for larger work, such as joining large areas, a soldering gun with more wattage will be required. The wattage of such welding arms typically varies from 200 to 400 watts. Soldering guns for heavy-duty tasks are designed as a drilling machine with a trigger that has been made available to heat the device.
There are many areas and applications where ECG soldering irons can be used: 
Heating of pipes, joints, rusted system elements, etc.;

Cutting through plastic elements. Many modern devices won't just quickly and accurately cut through plastic materials, but also weld them, if necessary;

For removing old paint and varnish coatings from surfaces;

Soldering parts with an open flame device, when the temperature rises to a thousand degrees. In addition, special hard solders should be used;

Repair of car parts, including electrics, outside the garage and workshop. For example, it is convenient to use a gas soldering iron when repairing equipment on the side of the road.

Fine soldering of microcircuits with a pencil-design iron by ECG. A "pencil" style refers to a small soldering iron that works even when there is no access to electrical power;

Electricians and installers, who often perform work on remote job sites that are not connected to electricity sources, pick these tools;
Size and shape of tips
Choosing the correct style/shape of the tip is critical and depends on the job you plan to do. Furthermore, the size is also an essential parameter since, if it is too tiny, the heat can't be transmitted effectively and, if it is too high, you will overheat and destroy the circuit board.
Soldering irons work with the supply of several tips (bits) such that the consumer has the ability to add the correct amount of heat to the various sizes of the items being soldered. Soldering irons have this option to support multiple tips.
Implementing the proper temperature is highly necessary when welding fragile components such as PCBs. Excessive heat will quickly destroy PCB tracks.
Fuel tank capacity
The uptime of the equipment directly depends on this parameter. Please note that the smaller the tank's volume, the more often you will have to refuel the soldering iron.
Adjustable flame control
This option allows you to set the flame power depending on the type of material being processed.
If the job does not require high temperatures, a multipurpose flame is suitable. For a point concentration of thermal energy, use the "pencil" design. The vortex flame device is suitable for applications where significant surface heating is required. The torch is designed for rough work.
Temperature controls 
Most soldering irons provide only 3 default temperature options: 
Temperature-controlled devices.

These irons allow you to be certain that the soldering iron tip maintains the correct temperature, but they're more affordable than the basic soldering iron;

No temperature-controlled devices

. Such instruments are typically the least pricey and appropriate for household soldering, plugin and ready to go after they've been warmed up;

Soldering stations.

Soldering stations are premium-grade control units and soldering irons in one device. It is the most expensive device of a soldering iron — usually it provides automated temperature measurements, customizable iron temperature, and a variety of other features. It could be the best pick for professional electricians;
Final thoughts 
ECG soldering irons are probably not the first pick when it comes to these devices. Nevertheless, they are cheap and easy to use. ECG irons are quite versatile and can be picked for various heavy-duty tasks or fine soldering projects. Most experts advise buying ECG soldering irons only for fine soldering and small projects. However, some of these devices were built for heavy-duty tasks. 
---
Video Tutorial: ECG Lead Repair
---