---
A standard soldering iron is usually a bit limited in its functionality. Most models do not have a temperature adjuster, and you will not be able to turn off the soldering equipment by pressing a button.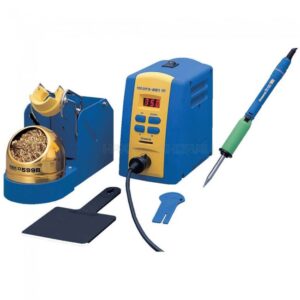 Features of Hakko FX-951:
Wattage: 65W
Voltage input: 120V
Heats up in 20 second
An electric soldering iron needs a separate stand, and it is difficult to estimate the temperature of the tip without special tools. Therefore, plain soldering irons are not always handy for repairing complex electronic devices. The use of a soldering station greatly simplifies such tasks. It is simple and convenient to use, although the device itself is quite complex and consists of several components.
---
Hakko FX-951 User Manual
Having problem? Download Hakko FX-951 Soldering Station instructions.
---
Today, you can find two types of these devices on the market:
Contact stations. These are normally used for the simplest soldering tasks. These are usually equipped by a special heat control unit. The device temperature is regulated by the current power that is transmitted to the heating tip. The latest models can fix the temperature when the tip touches a board or solder. At this moment, the control unit switched on to recoup heat losses.

Contactless stations. Here, a flow of hot air is responsible for the soldering process or heat radiation. These devices are can be of two types: hot air appliances (the result is achieved when   a high-temperature blower focuses air on the working surface) and infrared appliances (the soldering process happens thanks to infrared emitters)
Both types have their own application scope. A lot of amateurs prefer contactless soldering devices, but both of the above types are equally popular.
Today we will review a contact soldering station Hakko FX-951 and its main characteristics.
Product Description
The Hakko company has been constantly improving its products. And Hakko FX-951 soldering station proves the progress, being well-built and very powerful. The device is sturdy and ergonomic. It is made from quality materials – metal, ceramic, silicone rubber and high-temperature plastic. The tool is easy to use and allows you to set temperatures intuitively. The sleep mode feature and the ability to change the tips make the station very convenient. This is a digital soldering station, able to maintain a constant temperature, that is, providing more uniform heating and soldering process.
Technical Characteristics
Dimensions: 5.1 x 3.1 x 5.1 inches

Weight: 2.6 pounds

Voltage: 110 volts

Special feature: sleeping mode

Temperature range:  from 400 to 850 F◦, you can control the temperature change on the display
HAKKO FX-951 station has several adjustable parameters:
You can display temperature in ° C or ° F;

Time to switch to a standby mode;

Low-temperature warning threshold value;

Access mode for changing settings.
Product Construction
As a rule, a typical station includes a soldering iron, a control block, and a fan.
With regard to Hakko FX-951 model, it comes with the following components:
Key card – 1 pcs

Removable soldering tool – 1 pcs

Power cord – 1 pcs

A special stand for the soldering iron – 1 pcs

Cleaning sponge – 1 pcs

1-year warranty certificate.
Pros & Cons of Hakko FX-951
Pros
Auto switch off if the device is idle for 30 minutes;

Low-temperature alarm;

Special locking card that protects from unauthorized access;

Very low heating time;

1-year warranty;

Audible alarms to indicate temp status
Comes with the wire for sleep mode function
Control and information for the tip temperature
High quality
Cons
No soldering tip is included;

You cannot use the device without a control card.

Does not come with a tip
---
Buyer's Guide
What are the benefits of soldering stations compared to traditional soldering irons connected to the mains? There are some vital functions that directly affect the process quality and result:
The ability to regulate the heating level of the device. It allows conducting the process with higher precision and smooth mode switching. 

Protection from overheating.

The ability to fix the temperature of the tip and its automatic increase to maintain the required mode.

Additional elements. These can be special accessories designed for solder remains cleaning and hot air guns for covering bigger areas.
Soldering station purchase is quite common today. It is widely used by certified electricians and engineers, but amateurs who like to create DIY projects also often buy it. However, if you have never used it before, you may struggle with the choice of the right station without knowing its main configurations, their differences, and features of work.
Material of heating element. Manufacturers more often use nichrome or ceramic heaters for this purpose. Nichrome is not the best solution as it is not very durable. Ceramic heaters provide much better heat distribution. Despite the high price, they warm up much faster.

Adjustable temperature range. It is one of the most important characteristics of a soldering station. The simplest models often fail to maintain a stable temperature. In this case, with insufficient heating of the soldering tip, the solder alloy cannot be evenly distributed around the targeted area. It leads to a poor connection of the soldered elements. To eliminate such a defect, soldering stations will be more suitable as they provide sufficient temperature for soldering all types of surfaces and materials. The ability to regulate and preset temperatures will allow you to use a soldering station in a wide variety of conditions with the best results.

Heating time. A traditional soldering iron takes from 5 to 10 minutes to heat up to a temperature sufficient for reliable melting of the solder and soldering. Besides, the temperature of the tip falls and you need to constantly warm up a soldering iron. Soldering stations do not have this drawback. They heat up in seconds and maintain the temperature. The recommended heating time is 10-20 seconds.

Power. This parameter is the first one to consider when buying the device. It is crucial if you are engaged in soldering delicate details tablets, smartphones and other gadgets.

Voltage and power. The choice depends on the work for which you are using the soldering station. For soldering circuit boards, a power of 25-40 watts is sufficient.

Ergonomics. When selecting a soldering station, opt for models with compact sizes. It will allow you to be engaged in long-term operation without quick hand fatigue.

The ability to buy accessories and spare parts. A good soldering station should have replaceable accessories and supplies. You may need several configurations of tips and nozzles for the air heater. And it is important to check if these are available on the market to purchase separately. 
Video Guide: How To Use Hakko FX-951
Conclusion
Nowadays, our homes are literally overloaded with modern electronic devices. And quite often, we face the need to repair or restore microcircuits of miniature size. A traditional soldering iron is absolutely useless in this case, but soldering stations can be really helpful. With Hakko FX-951, it becomes possible to adjust and maintain the temperature. You can easily change tips in a soldering station. Moreover, a sleeping mode will prolong the life of the tips, preventing them from oxidization. Overall, this soldering station has all the basic features necessary to get the best soldering results without special preparation.
---