---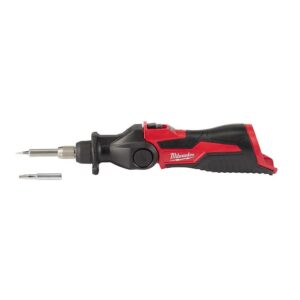 Features of Milwaukee M12 Soldering Iron:
Maintains Optimized Temperature
18 Second Heat Up Time
Easily Switch Between Chisel and Pointed Tip
---
Milwaukee M12 User Manual
Having problem? Download Milwaukee M12 Soldering Iron instructions.


---
We're going to go over Milwaukee's M12 soldering iron. This is model number 2488-20. This unit comes with two different heads. It has a chisel and a pointed head. Those are easily interchanged while the unit is cool. It has a three position head. When you turn it on, it gives you the battery fuel gauge on the tool and then it tells you if it's green blinking, it's heating up. If it's green, it's ready to go, and if it's red, it's telling you it's still hot, so be careful when you put it away.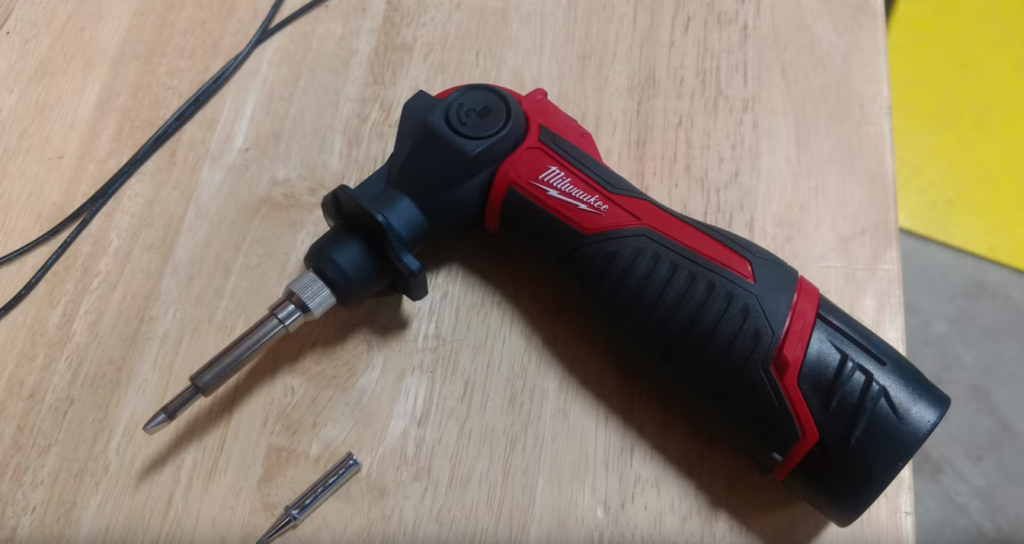 Milwaukee says this unit heats up in 18 seconds. We timed that out, and it came out to be about 21 seconds. The unit is 90 watts and what is really good about it is it has an led light on it because you can always use more light when you're soldering, especially if you're blind. Light doesn't necessarily help, but if you're working up under the dash or something, that light is going to come in handy.
As it got hot, we got right around 230 to 220 degrees at the time it was saying it was warm. It works out quite well. Its battery life is going to depend on obviously what battery you have in it. The higher amp hour battery, the longer, but we could chew through a two amp hour battery, 20, 25 minutes-ish is where we were at soldering with it.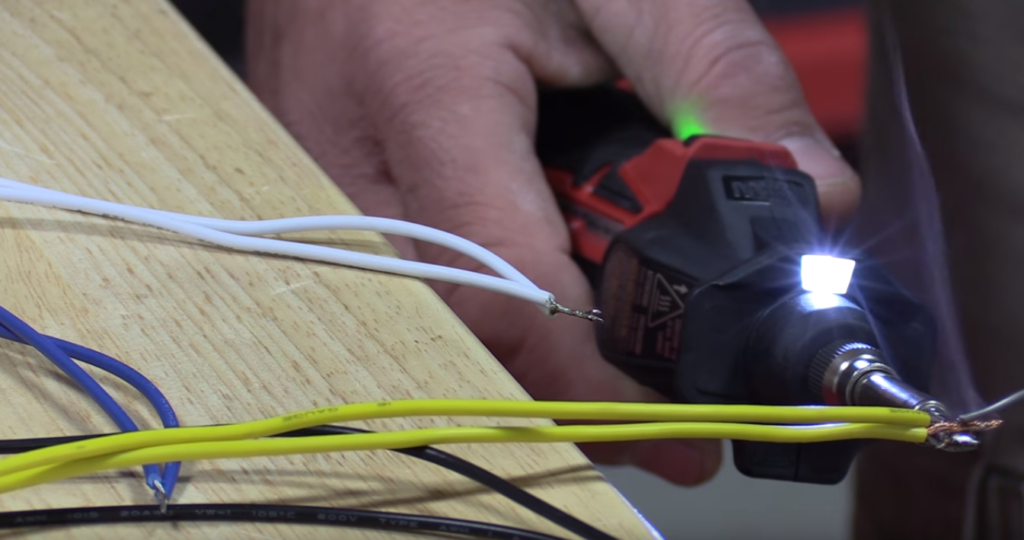 It doesn't have a stand, so you got to wrap it around or pinching of ice, something to let it cool down, so you don't burn yourself or something else. If you're in tight places, you're always worried about where that soldering iron is because it's hot in so many different places.
Milwaukee M12 Soldering Iron for Hobbyists
For the guys working on small circuit boards and stuff with the needle point tip, it's just going to be handy.
It takes a few minutes for the unit to cool down, for you to change tips. It cools down quite quickly, but the red light will stay on because there's a lot of heat that's built up in this little rubber area and that's what keeps that unit on. You can touch that tip fairly quickly afterward. You don't have to worry about burning something or yourself.
If you're looking for a new soldering iron and you're going to do a lot of smaller stuff, this is the ticket. Check it out.
Video Guide: How To Use Milwaukee M12
---