---
When looking for a quality, high-performance soldering package, technicians want portability. And, the Power Probe butane soldering iron kit provides exactly what everyone needs. Portability and efficiency are two of the highlights that allow you to take the unit everywhere you go. It lets you use the soldering system in places that are more difficult to access with a compact cordless setup.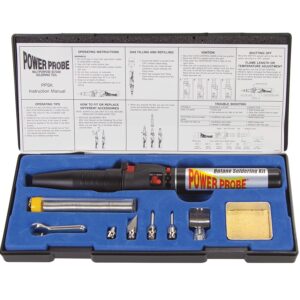 Watt: 120

BTU: 500

Max Temp [Torch]: 2500 °F

Max Temp [Soldering]: 950 °F
Aside from portability, when compared to other related units, its efficiency still shocks everybody. It goes up to a temperature of 950 degrees Fahrenheit at its height. If they are alloys or plastics, this is enough to operate on a variety of products.
One of the strongest butane soldering kits currently available on the market is the Power Probe device. It has special characteristics that involve an electronic ignition and a flame change that is lacking in other butane soldering kits.
For someone who has been on the quest for a really good soldering iron for more extreme industrial ventures, the Power Probe kit is a nice choice. This all-inclusive package contains everything you can want from a soldering iron and allows first-time users to find things simpler.
Besides the soldering iron, the kit includes: 
Decent rosin solder;

A few replacement tips – 3 soldering and 1 injection tip;

2 adjustment wrenches;

A cleaning sponge with a tray;

A 14.4-ounce carrying case for keeping the device and all the accessories;

A hot knife;

A heat shield;
Not to mention, it also comes fitted with a lot of details in the manual. And its retro style is quite enticing.
Major features of the Power Probe butane soldering iron:
Electronic ignition system;

Flame adjustment options – from 1/2 to 2-1/2;

The full tank capacity is enough for 2 hours before refilling;

The maximum temperature hits 2500F for a torch mode and 950F for a soldering iron mode;

Completely heats up in 20 seconds;

Uses 120 watt and 500 BTU;

Use in any direction;
---
Performance
The included heat shrink tubing is applied to a wire on or off the vehicle. In any place, this Butane Soldering Kit can be used and it will hold a constant flame.
The soldering iron by Power Probe can be used for operating on circuits and circuit boards, with flexible output control and variable heat output.
With this quick to use and sturdy soldering package, you can quickly weld loose joints, wires or splice cables together with the provided strong core rosin.
A few examples of using the Power Probe butane soldering iron: 
When installing/setting up an appliance;

To repair the device malfunctions;

For assembling electronic components;

For vehicle wiring;

Sheet metal soldering;

Pyrography;

Different fragile jobs;
For beginners, we strongly suggest this butane soldering iron pack. Several soldering essentials come with the Power Probe pack. To repair small appliances, cars, and even watches, you can use this package.
The Power Probe kit is a fantastic model to pick from if you are searching for a product that can be used for both personal DIY projects and technical activities. The choices are relatively limitless for this well-rounded instrument as a soldering iron that can operate on everything from delicate electronics to cars.
Possible issues and limitations:
Be careful when using any plastic materials. It is highly flammable;

Consider using with caution near the printed circuit boards;

The striker can be affected by air moisture;

The propane leak is possible. Double-check before and after each use;
Recommendations for users
How to clean the tip of the Power Probe butane soldering iron: 
Stainless steel or brass wool may help to clean the iron's tip. Stainless steel wool, although the brass one is less abrasive and smoother, is tougher and has a longer life;

A ball of metal wool is another common alternative. A metal timber prevents all pollutants, equivalent to brass and stainless steel. All you need to do is dab the tips into the wire. Keep the iron tightly when harsh residues are available;

Add more friction by rubbing the tips against the wool. Don't hesitate to let the strokes vary.

Clean the tip with fresh solder after a few minutes of upkeep to prevent oxidation and other possible problems;
Pros and Cons of Power Probe Butane Soldering Iron
Pros
Quite compact;

Versatile;

Many useful features and accessories;

Portable;

Includes a durable case;

Flame and temperature adjustment;

Easy to refill;

Works in any direction;

Works through wind and rain;

Quickly heats up;

Good for using in small and narrow places;

Can cope with fragile jobs;

The tips are easy to replace;

Safe;

Adjustable Flame Length: .5″ – 1.25″

;

Butane Fuel Type with electronic igniter

;

Organized Durable Case

;

Accessories Tips and Attachments Included

;
Cons
The replacement tips in the kit are cheap;

Doesn't include a stand;

Some parts are expensive;

Compared to other devices, needs refills more often;

Won't cope with serious jobs;

Short-lived.
In this tiny portable kit, there are a number of items useful for soldering jobs. It is one of the most effective devices ever in the portable niche of top-notch soldering kits, beginning with the amazing butane-powered soldering device.
---
The Buyer's Guide
Benefits of butane soldering irons:
Accessibility.

Soldering irons with a cord may be a hassle since difficult/inaccessible places can't be entered. Another hassle occurs when power is not available. However, cordless butane-powered devices will improve your convenience;

Efficiency.

It needs additional work and time to warm up most electric soldering irons. Butane soldering irons are on the go at all times. This encourages contractors and other staff to conduct their jobs as planned;

Portability.

Eventually, the years with bulky soldering irons are finished. Online and offline, lighter or compact solutions are now available;

Flexibility.

A series of versatile tips are provided in gas-powered kits so that welders can execute a variety of jobs with ease. A high temp tip for melting metal pieces, a hot blower for shrink tubing, a warm plastic sealing knife, and a repair soldering tip are all included with the full kits;
The Power Probe butane soldering iron vs the Weller P2C butane soldering iron:
Many of the market's portable soldering kits provide about the same characteristics as the Power Probe kit, although most would provide as immersive guidance as this kit has. With that being said, the Weller P2C Butane Soldering Iron is certainly a good rival precisely because it has loads of protection features suggested for first-time consumers of soldering iron.
Because of the usage of high heat temperatures, the Weller P2C Butane Soldering Iron is SD secure, which helps to protect all its critical components from melting and injury. Another fascinating aspect of this soldering iron is that it provides a quick heating option that helps to melt solder in less than 40 seconds, allowing you the opportunity to zip quicker through projects than with most iron.
Sadly, it doesn't have as many attachments as the Power Probe soldering kit has, such as assorted soldering tips, a cleaning sponge, or a carrying bag.
FAQ
Are butane soldering irons good?
While butane irons have some advantages over their electrical equivalents, they are priced similarly. While butane can cost more than electricity, the advantages of soldering iron butane always outweigh the difference in the price of fuel.
What gas is best for soldering with this device?
To speed up the working process the brand recommends using MAPP gas for this device. At a higher temperature than the currently prohibited lead-based solder, lead-free solder melts. Burning hotter than propane, MAPP gas torches allow them a safer option for modern welding.
How to choose the right tip for the Power Probe soldering iron?
Tips for soldering come in different sizes and types. Make sure it's consistent with your iron to choose the best one. Then, decide which tip type you want. Pick the correct tip size. Smaller-size appliances can't be overlooked. For any referrals, you may even ask a buddy to save time, reduce efforts, and gain a decent investment.
Video Review: Power Probe Butane Soldering Iron Review
Final thoughts 
It is necessary to remember that it is difficult to equate this butane soldering kit with other high-end specialist versions used for large-scale applications. For small-scale soldering uses, it is supplied, and the tank does not carry too much petrol. However, when used for limited soldering requirements for which it is provided, it performs excellently. A warranty and service assurance also comes with this Power Probe kit. 
---