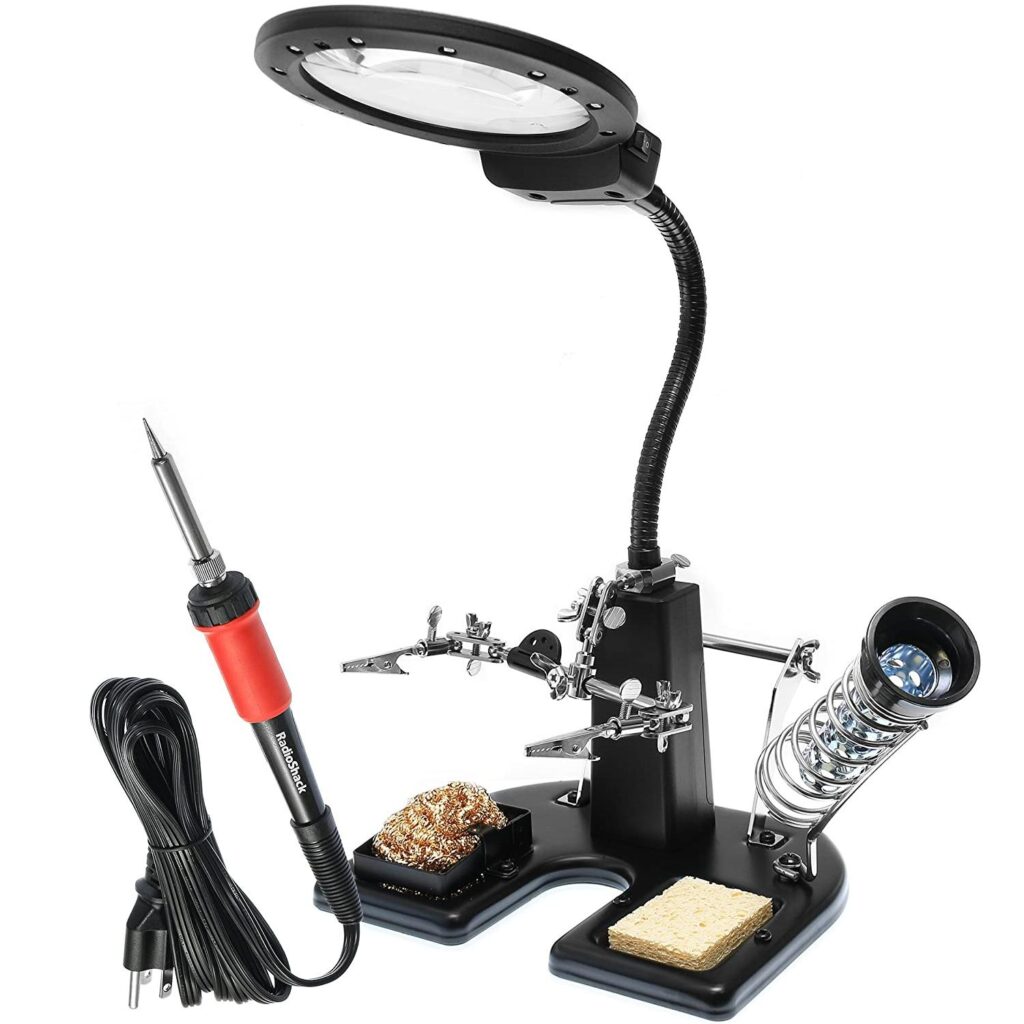 15 Watts
Bright LEDs
Dual 2/4X Magnification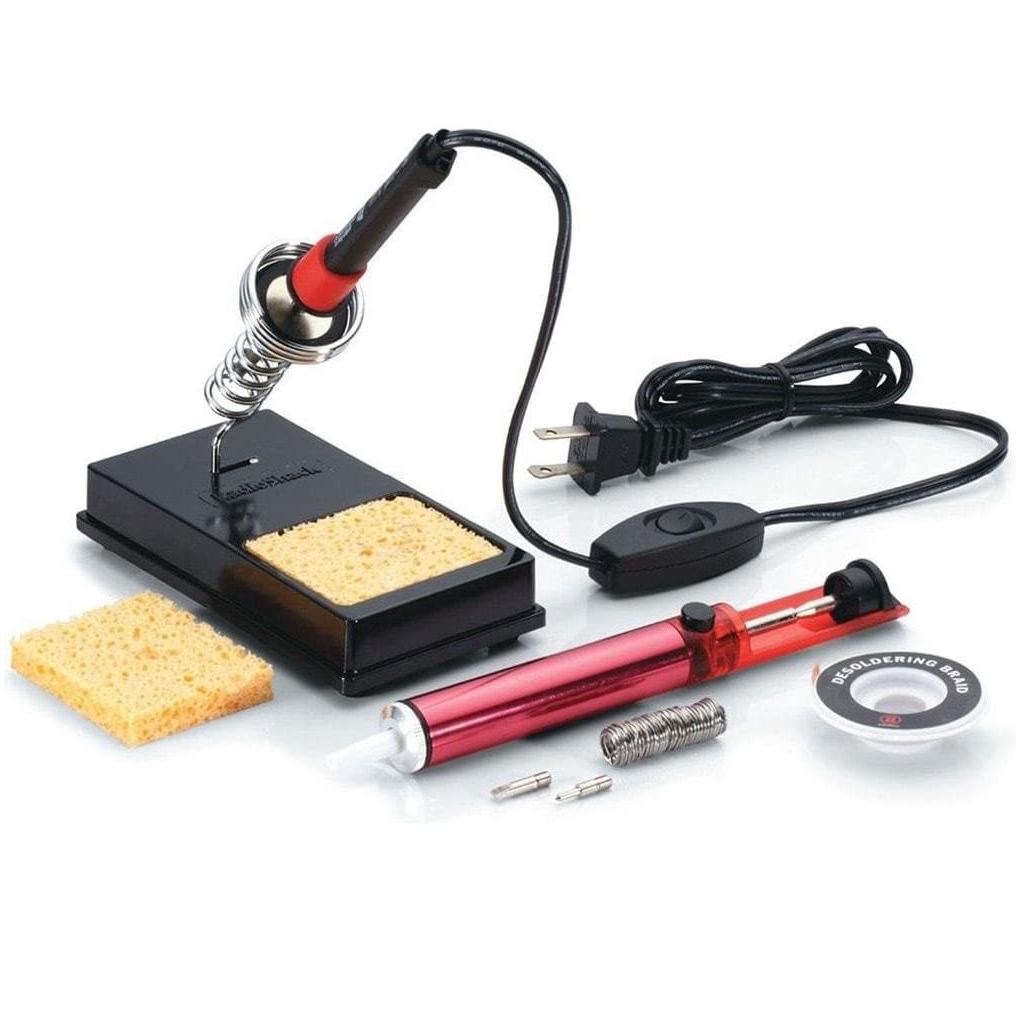 20 Watts
Rosin-core solder
Desoldering vacuum pump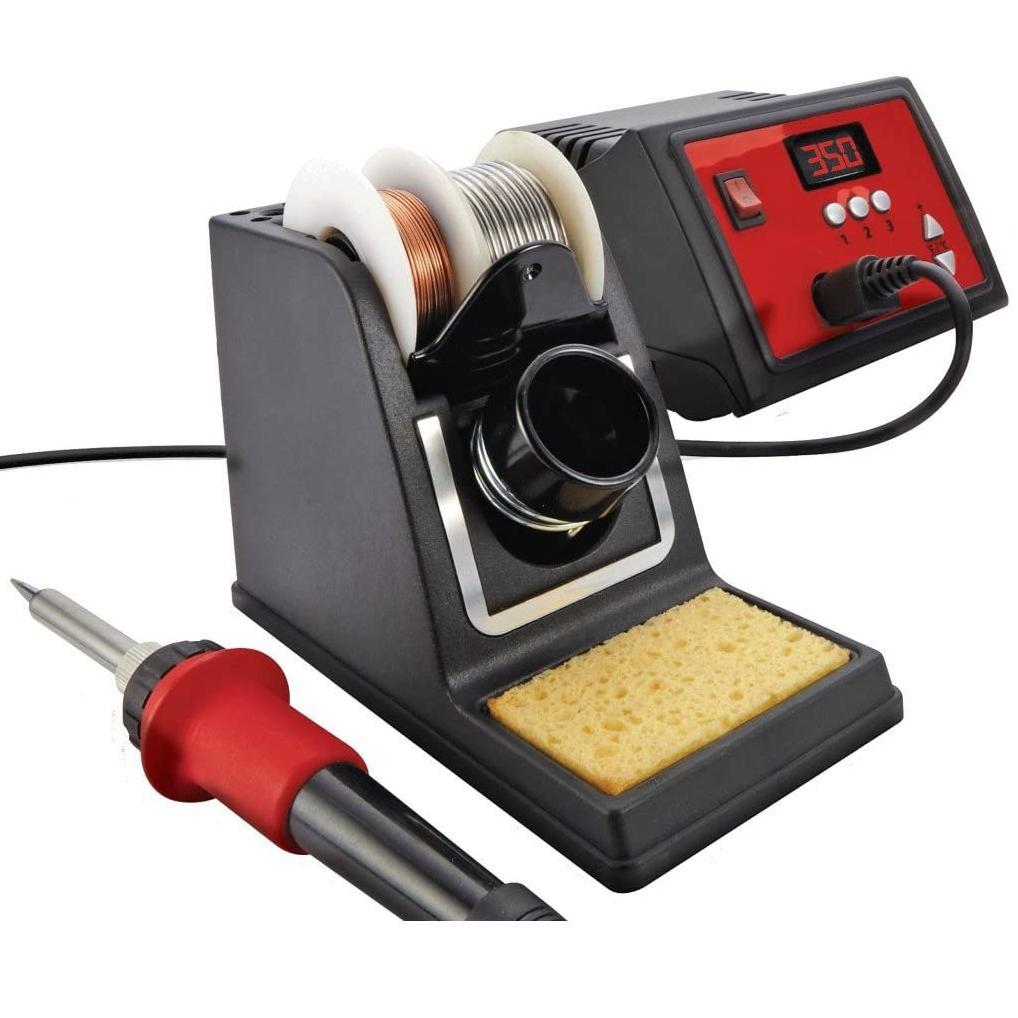 3 temperature presets
Digital LCD display
Temp range: 302ºF to 842ºF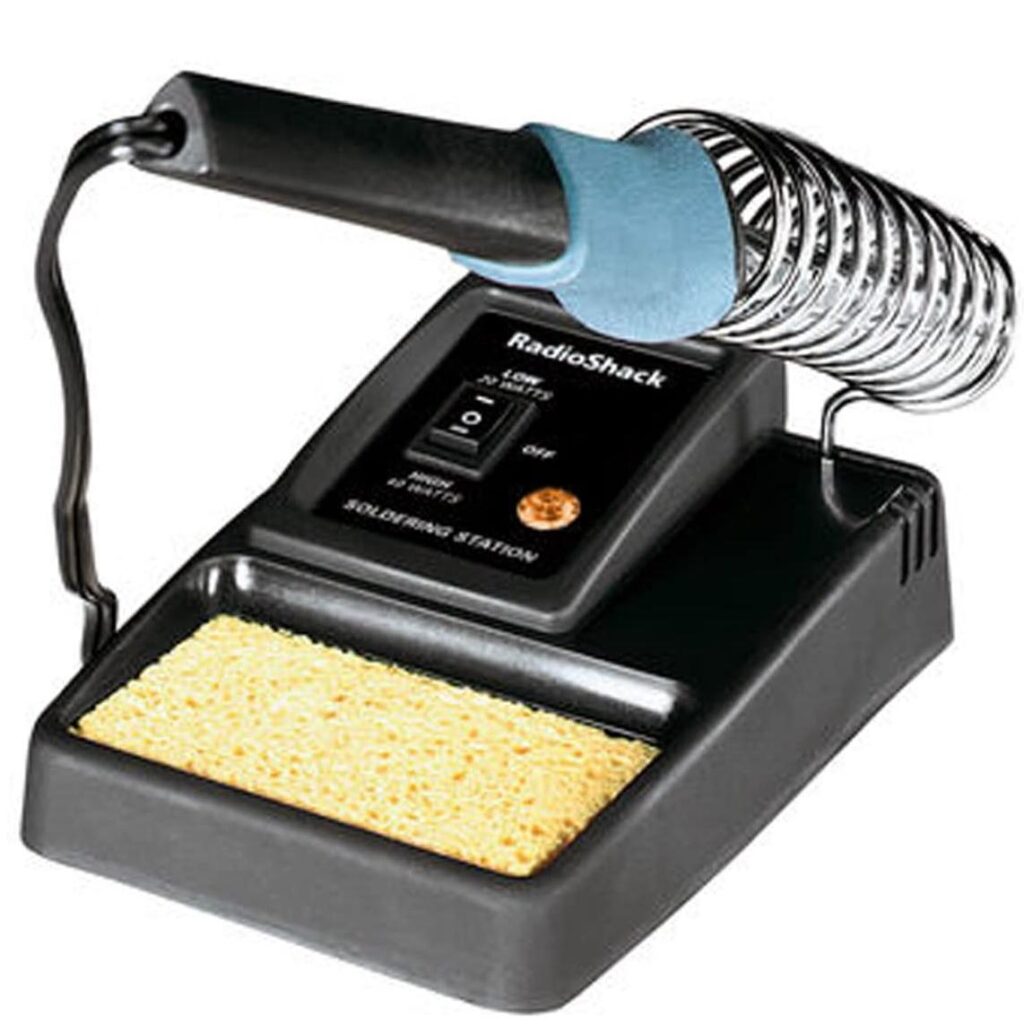 20/40 Watts
Built-in holder
Includes tip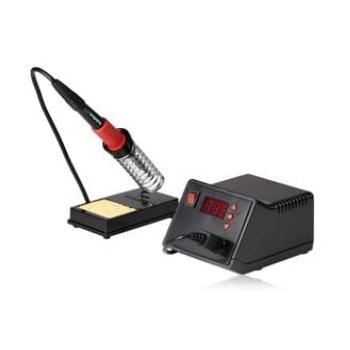 70 Watts
Digital LCD display
Temp range: 392~896°F
---
Choose the Best RadioShack Soldering Station
Customer's Choice: the Best Rated RadioShack Soldering Stations
10 users answered this survey. Please help us improve this review!

60% of users selected RadioShack Pro-Line, 10% selected RadioShack Starter Kit, 20% selected RadioShack 6400266, 10% selected RadioShack Dual-Power and 0% selected RadioShack Pro-Line 2. Every month we analyze your answers and change our rating.
---
If you're looking to buy a RadioShack soldering station, then the first thing you should do is figure out what your needs will be. There are many types and brands of RadioShack soldering stations, so it's important to understand what they all offer before making a purchase.There are many reasons why you might need a RadioShack soldering station. They are affordable, reliable, versatile and good for most soldering projects. Maybe you have been playing with some DIY electronics and want to start taking your skills to the next level, or maybe you have an old circuit board that needs fixing. Regardless of what brought you here, this guide can surely help! Read these honest reviews and buying guides that will point the way towards your perfect RadioShack soldering station.
RadioShack Pro-Line Helping Hands Soldering Station – the Editor's choice!
The RadioShack Helping Hands Soldering Station is perfect for tinkering with electronics. It's got a magnifying glass to help you solder tiny parts.
A layout pad for holding electronics boards so they don't get dirty or damaged as you work on them, and built-in clamps that hold just about anything securely in place at the right angle. And it combines the functions of several other tools – tweezers, alligator clips, screwdriver and more – into one small table/stand.
You can use this station anywhere — sitting at your desk, soldering wires, wiring components together inside a case, doing circuit troubleshooting outside of a PC case to identify failing hardware.
Pros
Great price;
Durable;
Multi-functional device;
Portable;
Cons
The thumbscrews are not tightened;
The limited range of the magnifying glass;
Give your project the love it needs with this RadioShack Pro-Line Helping Hands Soldering Station, which combines the functions of several other tools into one convenient location taking up less space.
---
RadioShack Soldering Starter Kit with 20-Watt Soldering Iron – the best for beginners!
Are you tired of messing up your electronics? With the RadioShack soldering starter kit and a little patience, you can fix almost anything! These soldering stations include an ergonomic cool-comfort grip and stand for getting in those tough-to-reach places.
You will also receive rosin-core solder, desoldering vacuum pump, as well as flux pens and solder tips.
You can finally upgrade your bedroom project from fixing old radios to digging into a more complex, but rewarding, task like an LED lamp. This starter kit is deliciously simple and gives beginners all they need for their first soldering success.
Pros
Great for beginners;
Includes a rosin-core solder;
Has some different soldering tips;
Good cleaning sponge and desoldering vacuum pump;
Cons
Many Chinese counterfeits;
Flimsy parts;
This soldering starter set has all your basic tools to get started for half the price of a professional kit. Anyone with or without experience can solder with this kit and not worry about over-heating or burning out their equipment.
---
RadioShack 60-Watt Digital Soldering Station – the best for reliability!
The RadioShack 60-Watt Digital Soldering Station makes foraging at the right temperature a lot easier, with 3 different preset levels so you can get your job done quickly whether it's an easy join or a complicated, multi-point connection.
With precise temperature settings and a digital LCD, the tool will tell you just how hot those metal pieces are in a mere instant. From simple soldering jobs like attaching speaker wires or repairing headphone cords to advanced jobs where you're building a circuit board, this tool gives creative tinkerers more control and confidence than anything else on the market today.
Pros
Reliable;
Great temperature range;
3 temperature presets;
UL-listed;
Good LCD;
Compatible with rosin-core, lead-free and silver-bearing solders;
Cons
No replacement parts;
The temp sensor is flimsy;
The RadioShack 60-Watt Digital Soldering Station has an LCD that holds the current temperature and settings as well as built-in preset temperatures to suit your needs. Say goodbye to bulky, messy irons with this sleek device!
---
RadioShack Dual-Power Soldering Iron Work Station – the best for portability!
The RadioShack Dual-Power Soldering Iron workstation is a lot more than just your average soldering iron! Made to be easy and clear for veterans as well as beginners alike, this simple yet effective device will make all of your projects easier with a 20-watt power setting or 40-watts.
It comes complete with replacement tips that are always on hand so you can keep working without interruption.
With this reliable soldering station, there's no need for time-consuming blowers dryers when it comes to perfecting the smallest solder connections. A must-have item in every garage or shed!
Pros
Lightweight and portable;
Good for small repairs;
High heating settings;
Quick heating;
Cons
The sponge is a mess;
The handle may burn;
If you're a beginner or an experienced professional, this dual-powered soldering iron station by RadioShack was created for enhancing your work. It's perfect for circuit boards, rewiring and doing other electronic jobs around the house. And with 20-watt and 40-watt power settings to choose from, it got you covered.
---
RadioShack Pro Line 70w Soldering Station – the best for the temperature range!
The RadioShack Pro Line 70w Soldering station is one versatile device! With its digital display for precisely controlling the temperature to 392-896F, you are able to find and select the exact heat setting for your specific application.
The industrial ceramic heating element quickly heats up with precision in just 30 seconds or less, minimizing warm-up times and improving user productivity.
And because it's a steel-plated product – not some cheap plastic imitation – this soldering iron will last up to 10x longer than other devices on the market!
Pros
Great temperature control;
The temperature range is up to 896F;
LCD with a few useful presets;
Good industrial ceramic heating element;
Cons
The ceramic heating element is fragile;
Won't work with chisel tips;
Whether you're repairing an old radio, building a bike frame, or building the next iPhone from scratch, this RadioShack versatile soldering station is all you need to get it done! With its digital display for temperature control and interchangeable sensor between Fahrenheit and Celsius, your projects will stay on schedule.
---
The Buyer's Guide
How to Use a RadioShack Soldering Station?
Any RadioShack soldering station is a power tool used for metalwork. It allows you to place the object in question and use heat to melt the solder that attaches it to other objects or materials.
Some of its many uses include:
attaching lids, components;

wiring connections; 

creating jewelry; 

making belt buckles; 

fixing broken electrical equipment like plug sockets;
There are various types of radio shack soldering stations and they all function the same way. However, some have more features than others do. For instance, with most models, it is possible to adjust heat levels so that no damage will occur if something gets too hot while using it (heat settings range from 450F). 
The three basic parts of the machine consist of the heating element, tip holder, and ground clamp.
You can buy a starter kit that usually includes the soldering iron, solder wire and some basic accessories. They also come with an instruction manual to help you get started as well as helpful tips on how to use them best for specific projects – like creating jewelry or fixing electrical equipment.
You will need two hands when using one of these devices, so it is important that you have somebody helping you at all times if possible (it isn't always necessary). You first remove any loose parts from the item in question then clamp it down onto your work table before inserting the tip into where it should attach while heating up again to melt more solder until securely locked into place. It's not uncommon for beginners to make mistakes because they haven't mastered the technique yet so don't be afraid of trying and failing.
In any case, you will want to use a high-quality solder for the best results – it is also recommended that you have some simple hand tools like pliers and wire cutters on hand as well in order to get them ready before starting work on your project. 
When using one of these machines make sure that all metal parts are clean beforehand or else they'll never fuse properly which can cause smoke from heated material building up inside where no air gets in. You should always keep the machine unplugged while not in use because if left plugged in there's a risk of damaging wiring connections, causing an electrical short circuit or worse – fire!
Each RadioShack soldering station comes with its instruction manual that is worth reading for more information on how they work and what you should be aware of when using them.
How to Choose a Soldering Station?
What you need to think about when choosing a soldering station will depend on your needs. If you are only going to be working with small electronic projects, then the cheapest and most portable option is all that you'll need. However, if this is not what you plan on doing and want something more versatile, we recommend looking for one of our recommended models from brands.
There are 3 main types of soldering stations:
pen style;

stand up type (most common);

benchtop type which has its built-in work surface like a lab table;
Pen-style units can cost under $50 USD while an expensive benchtop unit could set back people hundreds of dollars – but it will depend on your budget and needs.
Benchtop models are the most versatile – they allow for horizontal use like a bench, or vertical use as a stand-up solution that is great when working in tight spaces.
Many people prefer to have access to an adjustable temperature dial so that you can control how hot the tip of the iron will get before using it. With this process, you can make delicate projects without risking melting the sensitive parts. It also lets you do tough jobs with less risk of overheating the parts when they are being soldered.
There are other criteria to consider when choosing a RadioShack soldering station:
1) Performance
There are a few different types: 
low-power stations for light work like adding solder between connections or repairing small electronics; 

mid-range power stations with specialty tips and attachments for items such as pipes or metal joints; 

high-powered stations that can handle heavy jobs like welding;
2) Localized temperature 
The temperature of the iron tip is important because it will determine how well the solder flows on both surfaces of your work piece. A higher temperature setting means that more heat has been applied closer to where the two metals meet which lets solder flow better into small crevices or gaps in between pieces. 
3) Wattage 
Wattage also determines the overall heating power but not at an individual point like localized temperature does. It is better to stick to high-wattage RadioShack soldering stations with 40-60W. 
4) Cord type/length 
The cord length is a way to avoid accidentally touching the hot iron tip with your fingers because cords can get in the way of working on small projects. 
The best RadioShack soldering station for you will depend on what you need it for but we recommend getting an oven that has both localized temperature control and at least 50 watts if possible (most stations have this). And, as always, be sure not to put any conductive materials inside either side when heating up or cooling down!
5) Price
The lower budget models may be cheaper but they won't last as long. High-end versions tend to come with more features so there is some trade-off involved. Finally, think about how often you use it – if you only need one occasionally then it makes sense to invest in an expensive model since it might not get used otherwise.
The price range for these units ranges from under $100 USD all the way up to hundreds of dollars depending on what features you want to be built into them.
FAQ
Is soldering difficult?
Soldering can seem daunting at first, but with the right skill and know-how, it will become second nature. If you are new to soldering we recommend learning how to solder by completing a few simple projects like making jewelry or assembling electronic kits. After mastering these skills, your next step is working on larger, more complicated projects where you'll need a reliable RadioShack Soldering Station in order for your work to be successful.
Are soldering iron tips interchangeable?
RadioShack soldering irons are interchangeable. You will need the appropriate tip for your project, but you don't have to worry about getting it from the same manufacturer as your iron.
Radio Shack soldering tips do not come in any other shape than a conical point with a blunt end that tapers down into an opening of just under one-inch diameter. These are well suited for most general use tasks and they fit onto all standard size soldering guns. 
Tip shapes, diameters, and materials vary from one manufacturer to the next. They have a variety of uses for different types of jobs such as working with metal or electronics work.
What is the best budget RadioShack soldering station?
Previously reviewed RadioShack Soldering Starter Kit with 20-Watt Soldering Iron under $25 can be your perfect first soldering kit for small-to-medium projects. It includes rosin-core solder, cone, chisel and fine-point tips, desoldering vacuum pumps which are all useful when DIY-ing electronics projects. However, if you're looking for something with more advanced features (such as dual interchangeable heat settings), then this isn't the one for you!
What temperature is good for soldering?
It depends on the alloy you are using. Lead solder melts at 361F, and it's a good idea to keep your station below that temperature because of the dangers posed by lead fumes. Tin melts at 450F, which poses an increased risk of fire so it should be kept below 385F. Copper has no set melting point but can work between 350-400 degrees Fahrenheit depending on how quickly you need to melt the copper wire. 
The best practice would probably have one range with alloys where they won't react too much or catch fire in case something goes wrong during a job – around 400F is perfect for this purpose.
Do you require flux to solder?
A soldering iron is an essential tool when you need to solder. Solder is a metal that liquefies at high heat and becomes solid again with time as it cools down. For the molten solder to wick into joints, the flux should be applied to these areas beforehand in order for the process to go smoothly. Flux helps remove impurities from metals that would otherwise prevent any formation of good connections or make them weak. 
The best RadioShack soldering stations need some form of flux because it will help avoid many problems later on in your project-especially if you are not familiar with what needs this most (e.g., electronics).
What is the difference between 60/40 and 63/37 solder?
There are many types of solder but the two most common in RadioShack soldering stations (and among hobbyists) are 60/40 and 63/37. The difference between these two is that one has a higher percentage of tin than lead, while the other has more lead than tin. In some cases, tin might be a better material to use than copper because it conducts electricity more quickly. 
Tin is also good for high-frequency circuits or when attaching an antenna to a cable. Lead on the other hand handles heat well so it might be preferred if you're working with components that generate lots of heat like LEDs or transistors -or simply have larger connections. 
When soldering components by hand, many people prefer 63/37 because it has a lower melting point. This means that the solder will be easier to work with and take less time since you don't need as much heat in order to melt it. On the other hand, when using a RadioShack soldering station for automatic production (as is often done in factories), 60/40 might be more suitable because of its higher strength and better thermal properties. In this case, both types are equally good depending on what your needs are. 
Which tip is used for PCB soldering?
This is a difficult question because not all soldering irons are the same. However, many professionals use a pointed tip for this purpose and some prefer to also have an iron with solder in it so that they can apply heat to parts of the circuit without having any open wires or connections make contact.
The common soldering tip for PCB soldering is typically a pointed, chisel-shaped or conical shape. The cone shape allows the solder to melt and flow onto the surface more efficiently than some of its other shaped counterparts that can often be too narrow in diameter when attaching components.
Can you solder over old solder?
No. Solder is a metal alloy that melts at temperatures lower than 800 degrees Fahrenheit. If you touch the joint with solder, it will re-solidify and prevent any further flow of current. The old solder can be removed by scraping or sanding before soldering over it again to ensure an electrical connection between two points on circuit boards or other conductive materials like copper pipes or wires. 
An exception would be if there were only one contact point. For example, attaching a wire to the end of an LED light bulb – in this case, there's no need to scrape off the existing solder because when trying to attach another wire from this same junction point, they won't have access to each other anyways.
Interesting Video: Radio Shack Digital Soldering Station Review
Final thoughts 
RadioShack soldering stations are a great investment for any level of electronics hobbyist. Whether you're just getting started or have been tinkering away in your garage for years, there is something here to meet all your needs and help you take the next step towards becoming an expert designer!
---