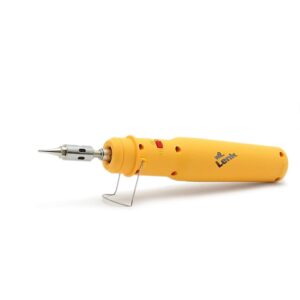 30 watt to 70 watt
Fueled by Butane
Blow Torch Feature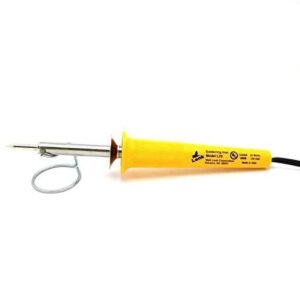 25-watt
Max temperature of 900°f
Made in USA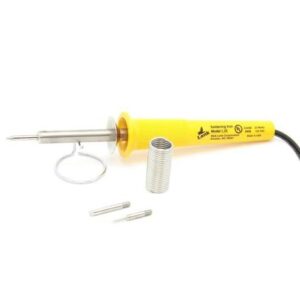 25-watt
Max temperature of 900°f
Pencil style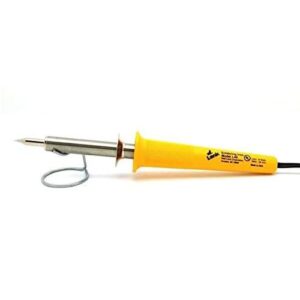 40 watt
Max temperature of 975°f
Made in USA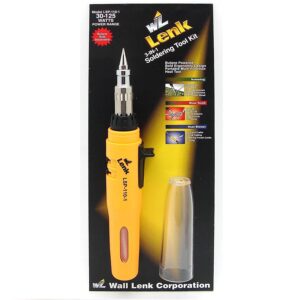 30 watt to 125 watt
Fueled by Butane
Made in USA
---
Choose the Best Wall Lenk Soldering Iron
[modalsurvey id="2133307208″ style="flat"]
Customer's Choice: the Best Rated Wall Lenk Soldering Irons
[survey_answers id="2133307208″ style="plain" data="score"] users answered this survey. Please help us improve this review!
[survey_answers id="2133307208″ style="piechart" legend="true"]
[survey_answers id="2133307208″ qid="1″ aid="1″ style="plain" data="answer_percentage"] of users selected [survey_answers id="2133307208″ qid="1″ aid="1″ style="plain" data="answer"], [survey_answers id="2133307208″ qid="1″ aid="2″ style="plain" data="answer_percentage" init="true"] selected [survey_answers id="2133307208″ qid="1″ aid="2″ style="plain" data="answer"], [survey_answers id="2133307208″ qid="1″ aid="3″ style="plain" data="answer_percentage"] selected [survey_answers id="2133307208″ qid="1″ aid="3″ style="plain" data="answer"], [survey_answers id="2133307208″ qid="1″ aid="4″ style="plain" data="answer_percentage"] selected [survey_answers id="2133307208″ qid="1″ aid="4″ style="plain" data="answer"] and [survey_answers id="2133307208″ qid="1″ aid="5″ style="plain" data="answer_percentage"] selected [survey_answers id="2133307208″ qid="1″ aid="5″ style="plain" data="answer"]. Every month we analyze your answers and change our rating.
---
Since 1864 the Pittsburg company Wall Lenk has produced household devices including a diverse lineup of premium soldering irons. All the devices are made in the United States, Pennsylvania. Exceptional quality and affordability make corded and cordless Wall Lenk soldering irons a good choice for DIYers and hobbyists. However, some of these devices can be picked for heavy-duty tasks as well.If you have never tried Wall Lenk soldering irons, make sure to buy one after reading the expert guide about these devices. Each model has a short review, the list of pros and cons to consider. Besides, you may check and compare the key specifications in the table below. Feel free to share your experience with Wall Lenk devices.
Wall Lenk LSP-60-1 SOLDERPRO Iron & Blow Torch– the best for portability!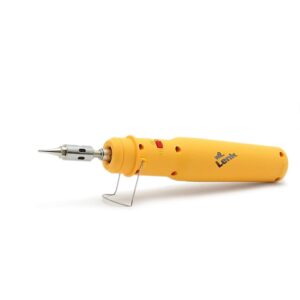 This cordless Wall Lenk soldering iron is equivalent to the average 30W – 70W electric irons. But, additionally, it can boast a blow torch feature for the pinpoint flame. It is easy to refill with any butane fuel. One of the greatest features is portability.
Just pack the turned off iron and fuel. Then use it on the road during camping trips and at remote job locations.The Wall Lenk LSP-60 device and blowtorch is the first of a modern wave of butane soldering iron bags. It is advised for light welding, hobbies, electronics. It is very powerful and can give an electrical power equal to 30 – 70 watts. The best thing is that it's cordless and really affordable. A limited guarantee of 1 year is also valid in this model.
Pros
Powerful;
Cordless and portable;
A wide range of uses;
Affordable;
A blowtorch feature;
Cons
The build quality is below average;
Has to be refilled with butane fuel;
It has a blowtorch function that you can easily use along with a reliable butane-based iron. It was strongly suggested to DIYers.
---
Wall Lenk L25 Soldering Iron– the best for temperature range!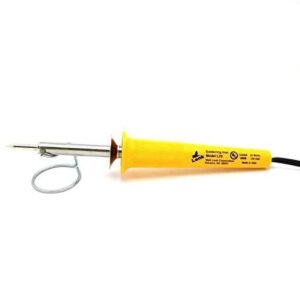 This miniature 25-Watt Wall Lenk soldering iron is supplied with a 5/32 inch pointed tip, stand, and manual. Despite its compact size, it provides a decent temperature range up to 900F.
The solder joints will look awesome thanks to the pencil type handle.
Pros
Mica-insulated nichrome heating element;
Heats up quickly for 1 minute;
Budget-friendly;
Good grip for a handle;
Secured tip;
Cons
These devices heat equally, and they stand up quite well. The handle of the pencil form is easier to use and allows improved handling and power.
---
Wall Lenk L25K 25 Watt Soldering Kit– the best for fine wiring!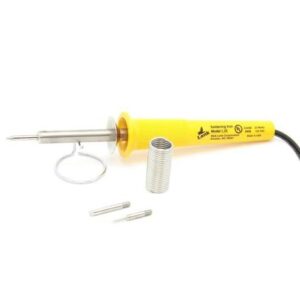 Another small but quite powerful Wall Lenk soldering iron offers the temperature range up to 900F. This lightweight iron can be perfect for fine welding uses such as fine soldering and wiring, electronics and hobbies. Thanks to the pencil type soldering iron, the L25K device is quite precise and durable.
[tds_info]
Tips for users:
compatible with small-diameter solder pastes. [/tds_info]
Pros
Impact-resistant handle;
Stainless steel shaft;
Nichrome heating element;
A long cord – 6 feet;
Comes with a few interchangeable tips;
Suitable for PCB repairs;
Cons
Supply issues are possible;
Good only for small jobs and spot applications;
This iron is light and quick to pass around, but it doesn't have enough strength to melt the weld with consistency. Therefore, it is better to use for fine wiring and spot applications. The fine pencil-style tip is suitable for precision work.
---
Wall Lenk L40 40W Soldering Iron– the best for versatility!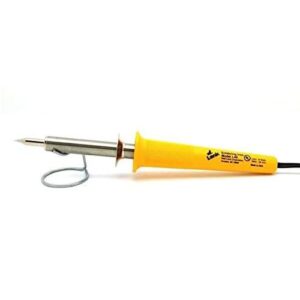 The Wall Lenk L40 soldering iron is a 40W device compatible with 1/4-inch pointed tips. Its maximum temperature range raises to 975F. Just like all Wall Lenk devices, it comes with a tool stand and detailed instruction/guide.
Pros
Good temperature range;
Lightweight;
Impact-resistant handle;
Versatile;
Has a tool stand;
Cons
Durability issues;
Replacement tips are quite expensive;
This product quickly heats up to the maximum temperature level of almost 1000F. The iron is a versatile workhorse that can be used for many types of soldering tasks: small appliance repairs, crafting, electronics and garden projects.
---
Wall Lenk LSP-110-1 SOLDERPRO Iron & Blow Torch– the best for auto-ignition!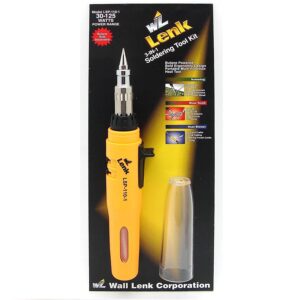 The Wall Lenk LSP-110 2-in-1 self-ignition portable butane operated torch is the perfect cordless heater for the most challenging consumer. It's cordless, easy, and secure to work under any circumstances, everywhere.
It provides soldering iron and blowtorch along with the comparable electrical capacity from 30 watts to 125 watts. You may use it in 15 seconds after the ignition.
[tds_info]
Tips for users:
If you cut the top part of the tip, so the flame of the torch is diffused to convert this iron into a full-fledged torch.[/tds_info]
Pros
The blowtorch feature;
Portable and cordless;
Quite powerful;
Auto-ignition option;
Heats up in 15 seconds;
Cons
Needs regular refills;
Limited 1-year warranty;
It has a child safety lock – a huge plus for parents who are into soldering. This 2-in-1 instrument functions well as a soldering weapon and a torch. The gas comes in without spewing out. The self-igniting feature can be beneficial for a variety of professional applications.
---
The Buyer's Guide
Major types of Wall Lenk soldering irons: 
Corded devices

. It is a hand tool used for soldering jobs. It provides heat for the melting of the solder so that it can pass through the joint between two workpieces. The soldering iron consists of a hot metal tip and an enclosed handle. Heating is also done electrically by passing an electrical current (supplied by an electrical cord);

Cordless tools

. Butane-based iron is probably a multipurpose method that is used in a number of fields such that the solder may be melted. Just like every other kit, the metal tip is heated. Previously, it was manufactured using the copper bit, but things have improved a lot now, and these days, it is accessible in all kinds of products, so that the customer's particular specifications can be conveniently met;
Versatility (suitable applications)
Wall Lenk soldering irons are mostly butane-based devices used for heavy-duty and precise soldering. Here is when you may benefit from using one of such tools: 
Repairs of malfunctioned devices in various sizes;

Installation of certain appliances or equipment;

Assembly of electronics becomes less tedious with pinpointed flame;

Sheet metal soldering;

Plastic welding;

For decorating wood and making food;
Size
The device's size is another significant aspect to remember while buying butane iron. For eg, if you use iron in a small place, it might not function in a viable way.
On the other hand, the use of mini-irons in an area that is massive may not be the right choice. Buy a butane-based iron that is appropriate for all situations.
Temperature range
Most of the butane soldering irons available on the U.S. market may heat up at a certain temperature level, but testing the minimum and maximum temperature range is of paramount importance.
For instance, several products can hit around 500F, whereas there are a few that can hit 2000 degrees. Therefore, you need to be specific about the intention of usage as well as the maximum temperature you like.
Wattage
The butane soldering iron should generate a minimum power of 30 watts. Models with low wattage are unable to sustain the temperature for a long period and hence require a longer time to heat up.
The device of 30 watts is deemed good enough, but the tip might be a little thin. It is also seen that the maximum temperature of the different irons can differ depending on the metal used.
Number of supplied tips
Only a few soldering irons are supplied with just one soldering tip. So, if you're purchasing a soldering iron, you'd have to watch out for a range of available tips. Therefore, find a tool that has at least 3 separate tips such that it can fulfill different purposes. Even if you need a tip, you'll be advised to keep other tips in the drawer as they might be handy in your home or any other circumstances.
Durability
You ought to search for the tool that is long-lasting enough to be used in many circumstances. Especially if you have plans to use it rigorously. So, pay due attention to the product's design.
Stand
With the aid of a soldering stand, hot iron can be positioned very securely at any specified position when you're operating.
Make sure that it is produced using a heat-resistant material that can present a secure platform such that the iron can be conveniently resting.
Safety
Working with gas-based fuels, electrical components and high temps is not healthy at all. Purchase, however, a butane soldering iron that comes with good protection credentials. If appropriate, opt for EDS-Safe products as they are safe. It can help to regulate the static flow of electricity and thereby minimize the risk of electrical shock.
Final thoughts 
With too many soldering iron products available on the market, choosing the right device could be a challenge. As a result, some of the best U.S. products have been included in this review to help professional users and DIYers. It is recommended that you go for the Wall Lenk soldering irons. The explanation is that they're very compact, and maybe they can get ignited just by pressing a button. In comparison, cordless versions have powerful fuel tanks.
[tds_info]
Related Reviews:
Video Tutorial: The new Wall Lenk butane torch
---