Etekcity Digital Multimeter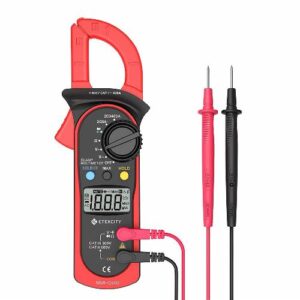 Color: Red
Voltage: 600 volts
Item Weight: 13.6 ounces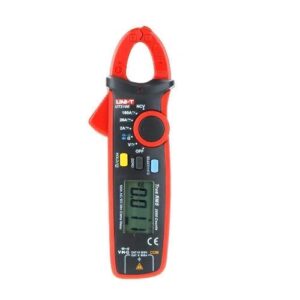 Color: Red
Voltage: 600 volts
Item Weight: 11.2 ounces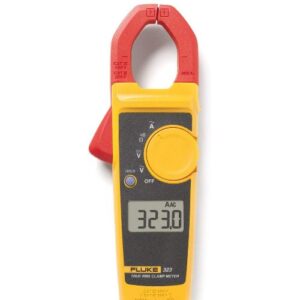 Color: Multicolored
Voltage: 600 volts
Item Weight: 1.2 pounds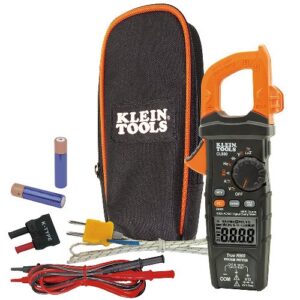 Color: Multicolored
Voltage: 600 volts
Item Weight: 12.5 ounces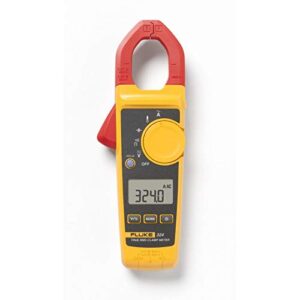 Color: Multicolored
Voltage: 600 volts
Item Weight: 1.2 pounds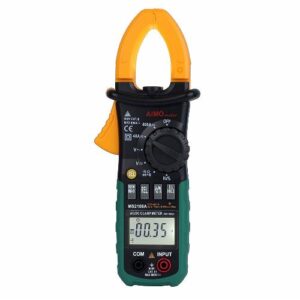 Color: Green
Voltage: 600 volts
Item Weight: 15.2 ounces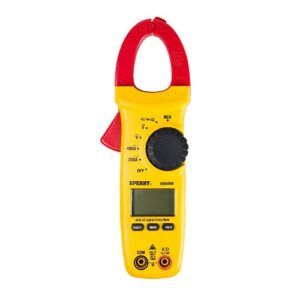 Color: Multicolored
Voltage: 600 volts
Item Weight: 10.4 ounces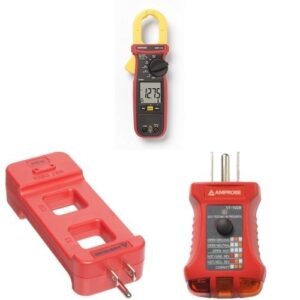 Color: Multicolored
Voltage: 600 volts
3 items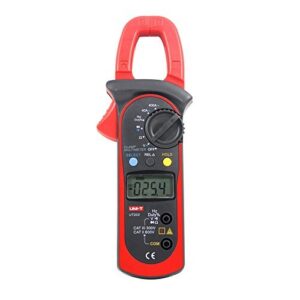 Color: Black
Voltage: 400 volts
Item Weight: 14.4 ounces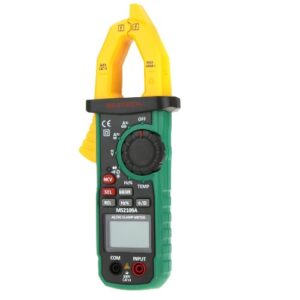 Color: Green
Voltage: 600 volts
Item Weight: 1.05 pounds
Clamp meters offer a safe, effective way to test electric currents without stripping wires. Whether you are a homeowner or a professional electrician, you can use a clamp meter to troubleshoot and resolve electrical issues.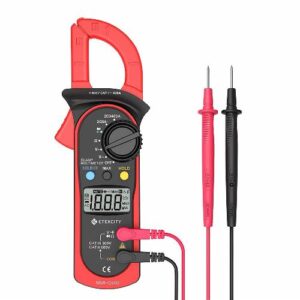 Our first impression of the Etekcity clamp meter was that it was hefty and durable. The device comes in a handy carrying case and is prepacked with powerful batteries. The clamp claws open wide. You can test an electric current without stripping a wire or breaking a circuit.
We were pleased with the clamp's auto-ranging function. What's more, readouts were accurate every time. On top of that, the bright LCD screen made it easy to view the results. We were able to use the Etekcity to test both AC and DC voltages, continuity, resistance, and diode. As such, we highly recommend this tool to both professionals and amateurs working on electrical projects.
Pros
Accurate voltage measurements
Jaws open 26 millimeters
Sleep mode after 5 minutes of inactivity
2-year warranty
Lifetime of tech support
Hold, max, and select functions
LCD display
Carrying bag included
---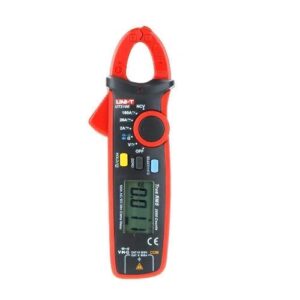 Do you want a clamp meter you can stash in your pocket? The Uni-T is a trusted clamp meter that they can wrap your hands around. It offers consistent AC and DC measurements. What's more, it rates a current's continuity and resistance. On top of that, it provides a accurate diode assessment.
The continuity reading is complemented by an audible buzzer. On top of that, it has the potential to store multiple readings. Despite its small size, the Uni-T has a jaw capacity of 17 millimeters.
The Uni-T automatically shuts off after 15 minutes of inactivity. It also has a low-battery indicator that kicks in when it is putting out less than 2.5 volts. The device is powered by two AAA batteries. It has an easy-to-read LCD screen. While it can only measure up to 100 amps, we still consider it to be one of the most versatile clamp meters on the market.
Pros
Small and portable
AC and DC voltage measurements as high as 100 amps
Lighted display
Multiple modes (max, min, zero)
Measures resistance
Diode
Cons
Limited current measurements
---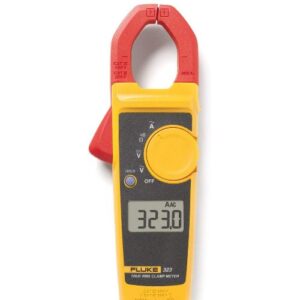 Are you looking to upgrade an obsolete electrical meter? The Fluke 323 has an impressive capacity to measure currents. This meter can register AC currents as high as 400 amps. It also offers AC and DC voltage measurements. On top of that, the Fluke provides dead-on resistance ratings. Its hold feature lets you recheck previous readings.
The Fluke has a durable shell. It can withstand plenty of abuse. Its soft-shelled case goes along way to protect the screen and buttons. The 223 also has incredible battery life. If you need a meter that can handle regular use, the Fluke 323 is a dependable option.
Pros
True RMS conversions
Measure AC current
Measures AC and DC voltages as high as 600 volts
30-millimeter jaw opening
Measures both linear and non-linear loads
Conductivity sensor with buzzer
Includes zip-up carry case
---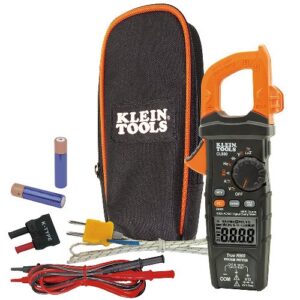 We cannot get over the fact that this brutish clamp meter can withstand a 6.6-foot fall. Of course, it offers detailed readouts too. The durable leads can be used to measure AC and DC voltages. On top of that, they hone in on a current's resistance, frequency, diodes, capacitance, and more.
The clamp even features a low-impedance mode that can be used to identify stray voltages.
This clamp meter makes it easy to make repairs and improve the safety of electrical systems. It has an onboard low-battery indicator and an easy-access battery port. Its double insulation provides users with the utmost protection. A thermocouple probe even enables users to test the temperature of wires.
Pros
RMS
Leads measure AC and DC voltages
Resistance
Diode tests
Low-impedance mode
Can withstand a 6.6-foot drop
Low-battery indicator
Includes carry case
---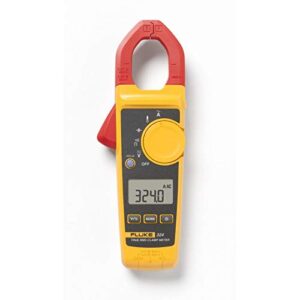 This tried-and-true meter is slim and durable. It fits in the palm of your hand. On top of that, it offers a backlit screen that is visible both indoors and outdoors. The Fluke 324 is an ergonomic electric measurement device.
It offers AC measurements up to 400 amps. On top of that, the leads can be used to account for currents as high as 600 volts. The 324 also provides users with accurate resistance, capacitance, and temperature readings.
The meter offers a gaping 30-millimeter jaw. It folds up easily and can be stored in the provided zip-up carrying case. The Fluke 324's high price makes it ideal for professional electricians. Of course, that's not to say that homeowners would be disappointed by this awesome tool. This resilient handheld clamp meter can't be beat.
Pros
AC current measurements as high as 400 amps
AC and DC voltages with a 60-volt limit
Measures resistance, capacitance, and temperature
30-millimeter jaw opening
Audible buzzer for continuity
Small and portable
Large backlit screen
Advanced RMS technology
Lead compartments and carrying case
---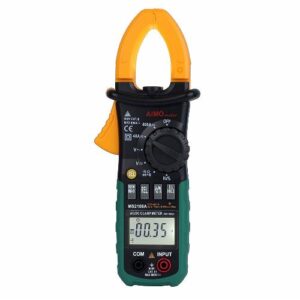 The Aimo auto-ranging clamp meter eliminates the need to turn a knob. Instead, it offers fast, accurate alternating and direct currents. The body is remarkably durable and resistant to wear. What's more, the meter offers several accurate measurements, including resistance and diode reports.
You can take this device into the field without having to worry about inferior knobs or buttons. On top of that, the Aimo has impressive battery life. While the instruction manual needs a little tweaking, it's something we can look past. At just under $50, you'd be hard-pressed to find a more accurate budget-rate meter. The device comes with one lead and a canvas carrying bag.
Pros
Measures alternating and direct currents
Measures voltages
Measures resistance, frequency, capacitance, duty, continuity, and diode
High-resolution LCD display
750-volt AC measurement limit
Over-range protection
Hold function
---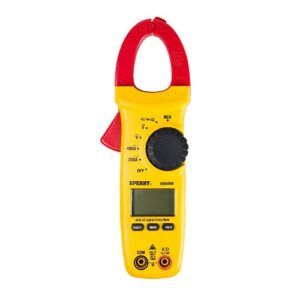 We love that the Sperry Instruments clamp meter boasts five functions. On top of that, it automatically cycles through nine resistance ranges. The meter can measure currents as large as 400 amps. What's more, it can register AC/DC currents up to 600 volts.
The clamp is a digital snap-around device that hugs an electric voltage for more accurate results.
The Sperry Instruments device comes with two leads and a pair of AAA batteries. On top of that, the set includes a durable carrying case and comprehensive instructions. Whether you're testing motor parts or home wiring, you'll have no trouble using the DSA500A. It's easy to read in all lighting conditions. Best of all, it's remarkably accurate.
Pros
Comes with two test leads and AAA batteries
Five functions
Measures AC current (400 amp limit)
Measures alternating and direct voltages (600-volt limit)
Ergonomic design
Automatic shutoff feature
Includes carrying case
---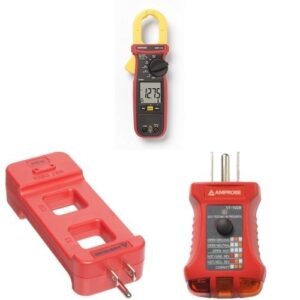 Why would you just purchase a clamp-on meter when you could get your hands on a variety of electrical testing tools? This package comes with a meter, line splitter, and socket tester. The clamp-on measuring system features is capable of commuting capacitance measurements.
It can register currents as 310 amps and voltages as high as 600 volts. The line splitter can wrap itself around both small- and large-diameter power cords. It has one- and ten-time loops for accurate measurements of high and low voltages. It is suitable for currents up to 120 volts and 15 amps. Finally, the socket tester allows you to test GFCI outlets with ease. The device enables you to identify substantial wiring in the press of a button. Like most Amprobe tools, it features UL and CSA certifications.
Overall, this package offers consumers the most bang for their buck. With an assortment of accurate tools, most homeowners and electricians can pull off dependable repairs. The Amprobe bundle is exceptionally rugged. What's more, it boasts a long-lasting battery and plenty of functions.
Pros
True RMS
Measures capacitance
Compatible with two- and three-wire power cords
Includes Amprobe meter, ELS2A line splitter, and ST-102B socket tester
Registers up to 600 volts
Measurements to nearest tenth of amp
Trusted manufacturer
Cons
Different measurement modes can be confusing
---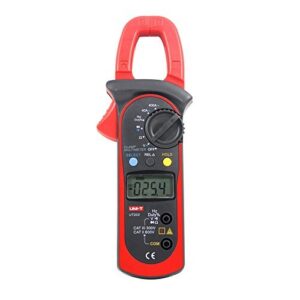 The Uni-Trend UT203 offers some of the most accurate measurements in its price range. What's more, it measures the current and voltage of AC/DC currents. With a 28-millimeter jaw capacity, we struggled to get this device over some of our bulkier wires.
When it fit, which was most of the time, we were able to garner accurate AC/DC, resistance, temperature, diode, and continuity readings.
As a bonus, this device boasts several unique modes. First off, it's an auto-ranging meter. It also has hold, sleep, and low-battery functions. On top of that, it is lightweight, durable, and compact. We'd chuck this beastly tool in the back of a truck without giving it a second thought. Of course, it also meets or exceeds all of our safety requirements.
Pros
Measures alternating and direct currents up to 600 volts
Measures alternating and direct voltages up to 400 amp
Comes with two test leads
Well-written user manual
Measures frequency
Overload protection
Ergonomic and portable
---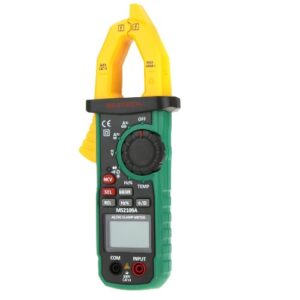 We love the look and feel of this small yet mighty clamp meter. It has an attractive green body and a bright yellow jaw. The clamp can widen to about 26 millimeters. It can test AC/DC voltage and current. What's more, it can churn out resistance, capacitance, frequency, and duty cycle results.
The Mastech has a good-sized digital display with a bright backlight. It features a low-battery indicator as well as an automatic power-off mode. You can store several data sets for easier recalls and comparisons. The Mastech takes three AAA batteries. A temperature probe and two leads are included in the kit.
Pros
Work light and back light
Low battery indicator and automatic shutoff feature
Hold and other data storage features
Thermocouple temperature measurements
Measures AC/DC voltage and current
Measures resistance, capacitance, frequency, and duty cycle
Non-contact voltage detector
---
Buyer's Guide
What to Look For in a Clamp Meter
Accuracy
Your clamp meter must offer consistent and accurate measurements. A dependable clamp meter puts out identical measurements for a single current. You can rule out accuracy issues by opting for a model from a trusted brand.
Design
A clamp meter is a handheld device. As such, it should be portable, durable, and easy to use. We recommend opting for a meter with a glowing LCD screen and distinct controls. Ensure that the device is durable enough to withstand a few bumps and bruises. Always opt for a model that works well in both dim and bright conditions. You might be testing a wire in a vehicle or a crawlspace. Where ever your electrical work takes you, you want to be well-prepared.
Features
Some clamp meters offer an assortment of data tools, such as auto-ranging, holds, and sleep functions. Auto-ranging features enable users to receive automatic readouts. This is extremely helpful if you do not know the resistance range of the current you are testing. Instead of flipping through several settings, you can simply set your clamp meter to its auto-ranging setting. Data holds are also helpful. They enable you to store and compare measurements. A meter that can store more than one measurement is extremely desirable. Of course, auto-shutoff and sleep functions enable you to conserve battery power without making a conscious effort to do so.
Measurement Parameters
Most clamp meters provide you with a measurement of AC currents. However, some meters also offer AC/DC voltage readings. On top of that, some clamp meters provide continuity, resistance, capacitance, and diode measurements or reports. Continuity readings determine whether a current is complete and connected. Resistance measures how a electric current flows through a device. It is reported in ohms. Meanwhile, a diode is a device that keeps currents flowing in one direction. Detailed readings provide users with a more in-depth understanding of electric currents. This makes for safer, more accurate repairs.
Video Tutorial: How To Use a Clamp Meter
Final Thoughts
We hope you enjoyed our roundup of the top-ten clamp meters. These incredible devices enable you to map out electrical connections without performing invasive procedures. Keep in mind that you need to have a sound understanding of electrical metrics to put these instruments to good use. With that said, the most user-friendly machines on our list were recommended by professional electricians. Before you opt for the most technical and complicated clamp meter, look for one that provides accurate and reliable metrics. On top of that, find one that's durable and easy carry. With that, you'll be set for a lifetime of electrical tests!
---