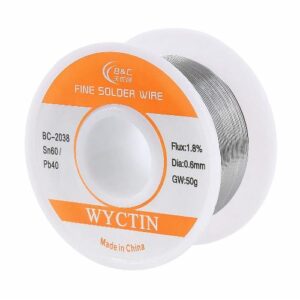 Color: Silvery
Size: 0.6mm/50g
Item Weight: 1.76 ounces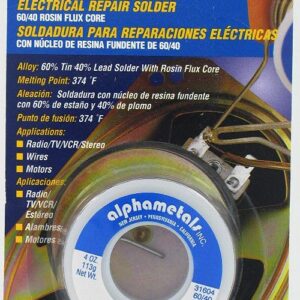 Color: Multi
Size: 4 Ounces
Item Weight: 3.2 ounces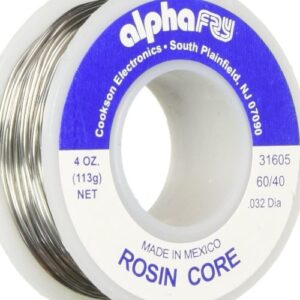 Color: Silvery
Size: 1 Pack
Item Weight: 4 ounces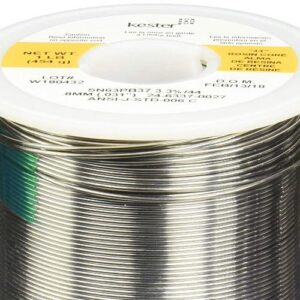 Color: Silvery
Size: 1 Pack
Item Weight: 0.64 ounces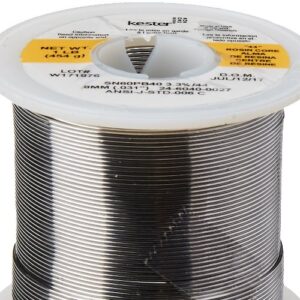 Color: Silvery
Size: 1 Pack
Item Weight: 1.1 pounds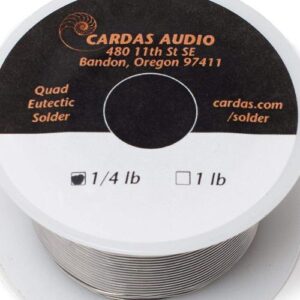 Color: Silvery
Size: 1/4lbs/113g
Item Weight: 4 ounces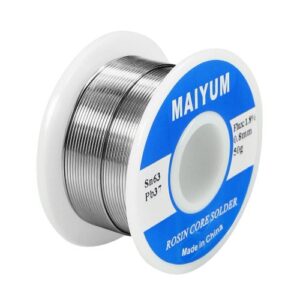 Color: Silvery
Size: 0.8mm/50g
Item Weight: 1.92 ounces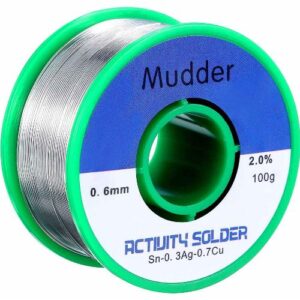 Color: Silvery
Size: 0.6 mm
Item Weight: 4 ounces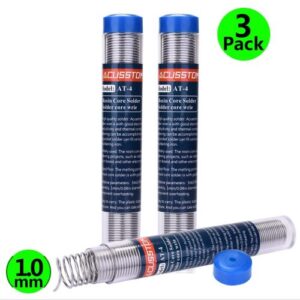 Color: Silvery
Size: 0.039 inch/1.0mm
Item Weight: 2.88 ounces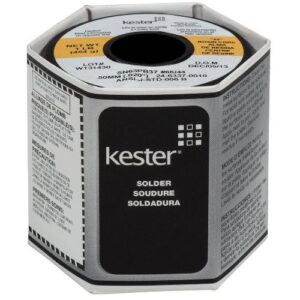 Color: Silvery
Size: 1 lb
Item Weight: 15.2 ounces
---
Customer's Choice: the Best Rated Solder for Electronics
[survey_answers id="1372359523″ style="plain" data="score"] users answered this survey. Please help us improve this review!
[survey_answers id="1372359523″ style="piechart" legend="true"]
[survey_answers id="1372359523″ qid="1″ aid="1″ style="plain" data="answer_percentage"] of users selected [survey_answers id="1372359523″ qid="1″ aid="1″ style="plain" data="answer"], [survey_answers id="1372359523″ qid="1″ aid="2″ style="plain" data="answer_percentage" init="true"] selected [survey_answers id="1372359523″ qid="1″ aid="2″ style="plain" data="answer"], [survey_answers id="1372359523″ qid="1″ aid="3″ style="plain" data="answer_percentage"] selected [survey_answers id="1372359523″ qid="1″ aid="3″ style="plain" data="answer"], [survey_answers id="1372359523″ qid="1″ aid="4″ style="plain" data="answer_percentage"] selected [survey_answers id="1372359523″ qid="1″ aid="4″ style="plain" data="answer"] and [survey_answers id="1372359523″ qid="1″ aid="5″ style="plain" data="answer_percentage"] selected [survey_answers id="1372359523″ qid="1″ aid="5″ style="plain" data="answer"]. Every month we analyze your answers and change our rating.
---
While it's easy to assume that all solder is the same, this couldn't be further from the truth.
If you ever spent time soldering electronics, you've probably come to the realization that no two solders are alike. That's because solder comes in an assortment of alloys, diameters, and fluxes.
To make things easier, we've brought you the best solder for electronics. Read along to explore ten of the best solder types and discover helpful tips for choosing the top soldering supplies.
Wyctin's 60/40 Tin Lead Rosin Core Solder Wire – Editor's Pick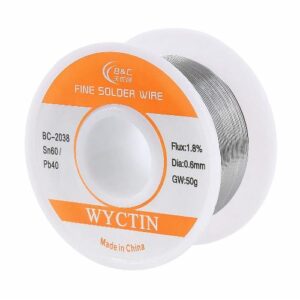 Wyctin utilizes a 60/40 blend to help users achieve durable, long-lasting, and conductive joints. Their solder melts and flows at 361 degrees Fahrenheit. At which point, its 1.8% rosin core flux expertly prepares the surface of the wire for welding.
When the Wynctin solder solidifies, it reveals a shiny, reliable joint. The Wcytin solder comes in thin (0.6-millimeter) strands that are perfect for repairing small electronics. With several meters of solder on a single spool, most hobbyists will be able to sustain their projects using a single $8 spool.
Pros
Pros
60% lead, 40%
Solid rosin core
0.6-millimeter diameter
50-gram spool
Highly conductive
High shine
Cons
Cons
---
Alpha Fry AT-31604 60-40 Rosin Core Solder –
Best Budget Pick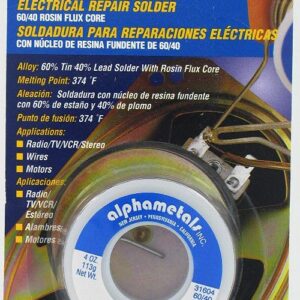 A single spool of American Terminal AT-31604 Solder contains 4 ounces of leaded rosin flux solder. With a composition consisting of tin and lead, this solder boasts the ideal composition for small electronics repairs.
What's more, it has a low melting point of around 370 degrees Fahrenheit, making for a more hassle-free soldering experience. Overall, customers agree that this solder melts well and creates strong joints.
Pros
Pros
60/40 blend
4-ounce spool
Rosin core flux
Melting point of 370 degrees Fahrenheit
0.062 diameter
Made in Mexico
Cons
Cons
A bit thick for small electronics
---
Alpha Metals #am31605 Lead Solder – Customer Favorite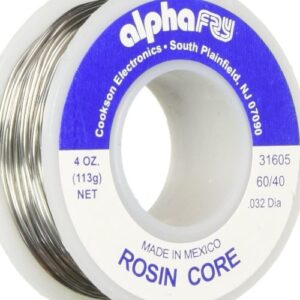 Yet another solid leaded solder, the Alpha Metals #am31605 has a traditional 60/40 breakdown. Its solid rosin flux gives it plenty of stickiness. What's more, its low 370-degree melting point makes it super easy to work with. Most customers believe that this solder is priced well considering its high quality.
Its thin diameter makes it the perfect choice for electronic repairs and DIY ideas. Overall, it flows and joins nicely.
Pros
Pros
60/40 blend
Rosin core flux
4-ounce spool
High conductivity
Holds well
Cons
Cons
---
Kester 24-6337-0027 Solder Roll – Best 63/37 Solder
If traditional 60/40 solders aren't giving you the flow you are looking for, it may be time to check out the Kester 63/37 lead solder.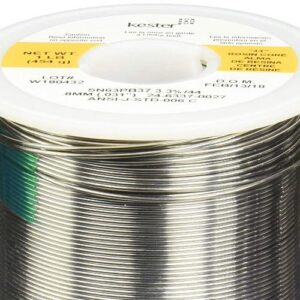 The flux cleans oxidation extremely well. On top of that, this Kester solder also has a low melting point around 361 degrees Fahrenheit, making it easier for users to heat up and secure their connections in one movement.
What's more, this solder appears shiny and crack-free after cooling. Overall, customers agree that Kester's higher-than-usual price tag pays for itself in convenience.
Pros
Pros
63% tin, 37% lead
0.031-inch diameter
66 Core flux
Rosin core flux
Conductive
Shiny and crack-free
Available in other diameters
Cons
Cons
---
Kester Solder 32117 24-6040-0027 60/40 Solder – Wettest Action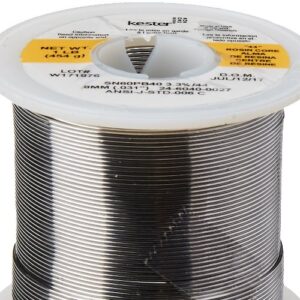 If you're a fan of Kester solder, then be sure to check out their highly conductive 60/40 wire. This incredible soldering product has a quick-melting rosin core flux that expertly cleans and prepares the surface of wires. The wire has a standard 0.031-inch diameter.
It comes in a 1-pound spool. As such, most hobbyists can buy one and consider themselves stocked for the year. It's no wonder the military chooses Kester for most of their soldering needs.
Pros
Pros
Rosin core flux
Suitable for home projects
Rosin melts well
Creates strong joints
Shiny when cool
Diameter is well-suited for small electronics
Cons
Cons
---
Cardas Soldering Wire Quad Eutectic Silver Solder – Best Eutectic Solder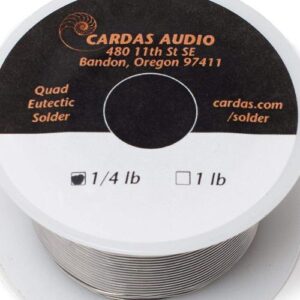 This quad eutectic solder is a premium, industrial-grade product. In fact, it is the number-one choice of many longtime hobbyists and professional electricians. We love that this wire shows barely any resistance.
What's more, it is super easy to apply. This is definitely a solder that can be used in a wide variety of applications.
Pros
Pros
Made from Sn, Pb, Cu, Ag
Highly Conductive
1/4-pound roll (92 feet)
0.032 solder diameter
Melts around 364-384 degrees Fahrenheit
Industrial-strength joints
Clean, shiny connections
Cons
Cons
---
Maiyum 63/37 Solder – Best Midrange Leaded Solder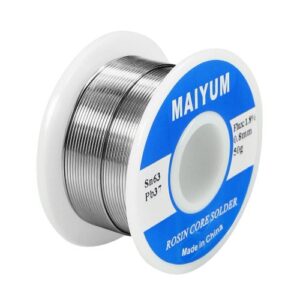 This 63/37 lead solder 0.8mm (0.0315″) has surprisingly solid staying power despite its low price. The rosin flux flows well, creating super shiny, crack-free joints. A 50-gram spool of this premium product will enable you to complete an extensive amount of electronic projects.
If you're used to working with inferior lead-free solders, you'll find the Maiyum solder far easier to work with.
Pros
Pros
63% tin, 37% lead
Solid flow
Perfect for small electronics
Rosin core
50-gram spool
30-day money-back guarantee
Cons
Cons
Only available in small spools
---
Mudder Lead-Free Solder Wire – Best Lead-Free Solder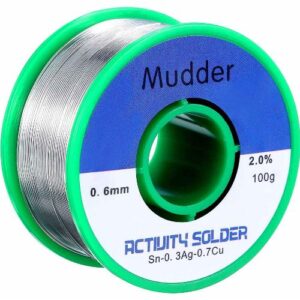 If you're concerned about the environmental impact of lead, you'll be happy to know that Mudder makes a premium lead-free solder. This wire has a 0.6-millimeter diameter and comes in 100-gram spools. It's super easy to work with. However, it melts at between
419 and 428
degrees Fahrenheit.
Of course, it heats evenly and flows well the easiest possible applications.
Pros
Pros
Lead-free for safer applications
Made from Sn, Ag, and Cu
High electrical conductivity
Rosin core flux
Comes in a variety of thicknesses
100-gram spool
Many possible applications
Cons
Cons
High melting point
Smokes during melting
---
Tabiger 3-Pack of 63/37 Lead Solder Wire – Best Packaging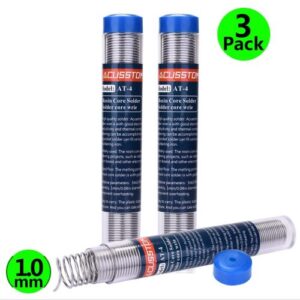 We were sold on the Tabiger 63/37 lead solder when we saw the packaging. These unspooled solder sections come in moisture-resistant plastic spools. Users can easily toss them into their pocket for an on-the-spot soldering solution. Of course, the solder is the best quality.
It's perfect for small electronic repairs and other DIY projects. What's more, its 63% tin, 37% lead composition ensures that it melts quickly and sticks well. Unlike some of the other products we reviewed, it doesn't produce a bad odor or smoke when melted.
Pros
Pros
Three pack
Comes in plastic tubes
0.8-millimeter diameter
63% tin, 37% lead
No odor
Melts at a low temperature
Easy to work with
Cons
Cons
---
Kester 24-6337-0010 63/37 Solder – Best Solder for Audio Electronics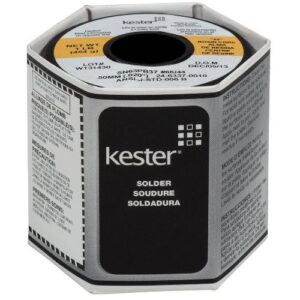 Wrapping up our list of top solder wires, the Kester 24-6337-0010 offers extreme conductivity and control. It has a solid rosin core flux that works well on small electronics. What's more, it comes in a whopping 1-pound spool. This wire is a great way to bulk up your soldering kit for all of your upcoming projects and repairs.
Overall, this Kester wire produces strong, shiny joints that will last a lifetime. We've used this when reworking RF and Audio boards and it's great to work with.
Pros
Pros
1-pound spool
Packaged nicely
3.3% rosin core flux
0.02 inch diameter
63% tin, 37% lead
Shiny and crack-free when cool
Well-known, reliable brand
Cons
Cons
---
Buyer's Guide
If you're shopping for solder, you probably already understand that it is a soft metal material that is used to create conductive joints.
What you might not know is that solder varies depending on its composition, size, and core. These characteristics all play an imperative part in the soldering process.
Oftentimes, amateur hobbyists fail to properly research solder. As a result, they are often stuck with the hard-to-use, inferior products that come in beginner soldering kits.
Check out the section below to become a self-taught solder expert!
How to Choose the best Solder for Electronics
Let's start with the basics. One of the biggest misconceptions about solder is that it is wire. While solder looks a lot like wire, it is actually thin metal tubing with a rosin core/flux inside.
Manufacturers use a variety of alloys to create solder. The compositional breakdowns vary between lead and lead-free varieties. Lead solder is actually made from a combination of tin and lead.
The most common type of lead solder is composed of a blend of tin and lead. However, a 63% tin, 37% lead variety is also available. This is often referred to as eutectic solder because it converts directly from a solid to a liquid.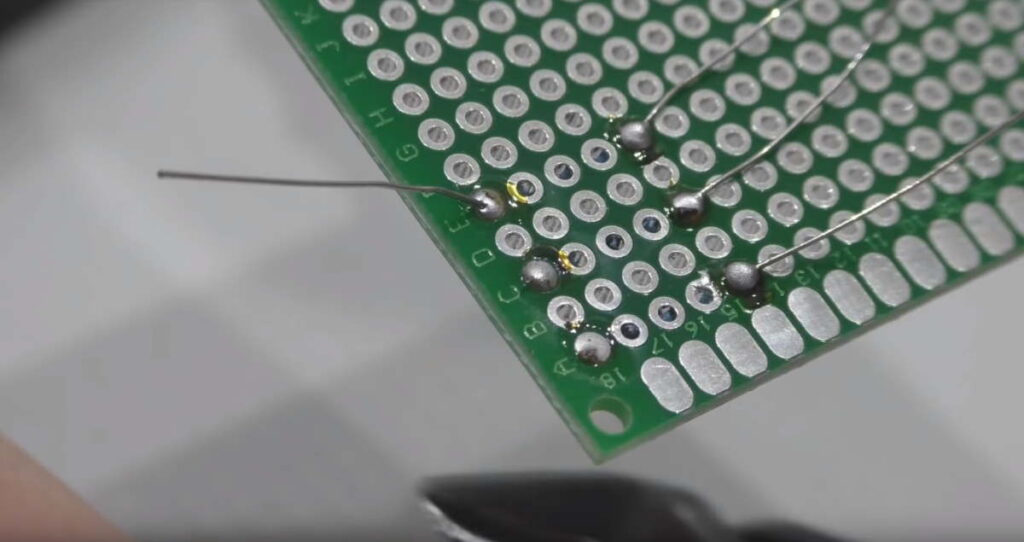 On the other hand, lead-free solders are made from a combination of soft alloys, including tin, copper, silver, and zinc. While lead-free solder is more difficult to use, it is increasing in popularity due to safety and environmental concerns regarding the use of lead.
As we mentioned before, both the lead and lead-free varieties feature rosin fluxes. Rosin melts faster than solder. As such, it is used to reduce the oxidation of the metal surfaces during the melting process. In addition to cleaning the connection areas, it increases the ability of connection points to stick together and create a reliable joint.
You should always use additional flux when soldering electronics, don't rely on the flux built in to the core of the solder.
Now that you understand the basics of solder, let's dive a little deeper. In the section below, we'll explore the different parts of solder in greater detail.
Composition
At this point, you're probably wondering which alloy breakdown works best when it comes to building and repairing electronics.
Solder that is 60% tin and 40% lead is definitely the most common. For one, it is inexpensive and easy to use. It also has a low melting point between 360 and 370 degrees Fahrenheit. As such, it is easy to work with and can be used with inexpensive, low-watt soldering irons.
On the other hand, solder with 63% tin, 37% lead breakdown melts at an even lower temperature. In fact, its melting point is around 361 degrees Fahrenheit. Since this composition goes from solid to liquid far quicker than the alternative, it enables users to finish their projects faster. What's more, it eliminates the risk of melting peripheral metals with a soldering gun.
Best Solder Diameter for Electronics & PCB
It's important to remember than solder comes in varying sizes. Many hobbyists choose to keep a variety of spools on hand to ensure they will be prepared for a wide range of applications. Common solder diameters include 0.062 inch, 0.032 inch, and 0.02 inch. With that said, the 0.02-inch solder is suitable for almost all single-strand soldering jobs. Whereas, the 0.062-inch solder works best on multi-strand wires.
In general, select the thicker solder like 0.0315″ (.8 mm) for larger parts and above, and thinner like 0.015″ (.38 mm) for smaller electronic parts like 0402 resistors/capacitors, mcu pins, etc found on a typical PCB.
You should use:
A 0.015″ diameter solder size for small parts (most SMT parts) like a TekLine T245 No-Clean Solder 63/37 .015″, which I use.

A 0.0315″ diameter solder size for larger parts, like a MAIYUM 63-37 Tin Lead Rosin Core Solder, also on my bench.
Flux
There are also some noticeable differences between the compositions of fluxes. However, rosin is the most popular type of core on the market. With that said, this pine tree-sourced material often puts out a bad odor and/or smoke when melted. As such, some consumers opt for non-rosin, or water-based, or no-clean fluxes.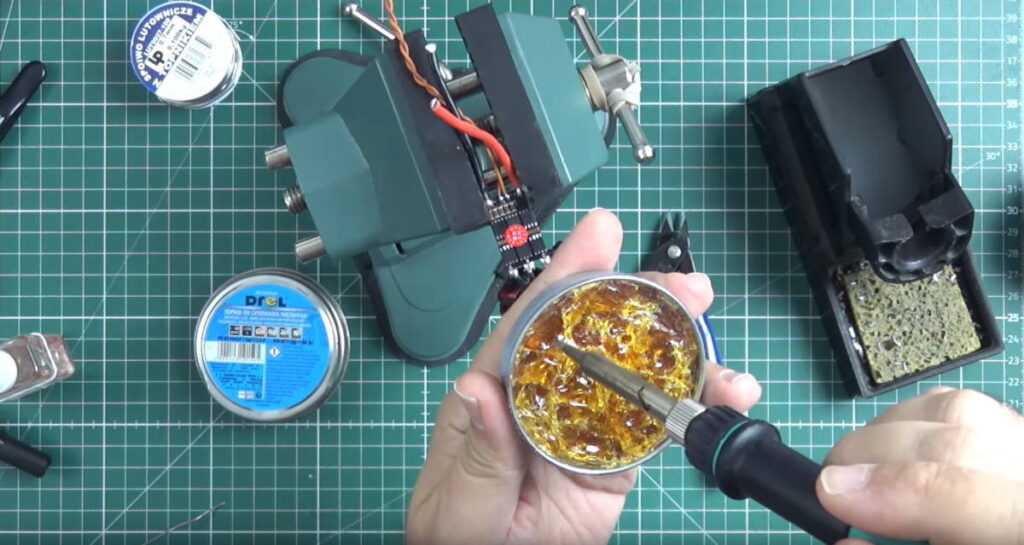 Fluxes also have varying conductivity ratings. The activity levels typically range from 1% to 3%. For most applications, a slight bit of conductivity isn't an issue. With that said, rosin is acidic. As such, if it is not properly removed after soldering, it can cause an electrical current to leak. This may result in circuit board corrosion and/or short-circuiting.
What does rosin do? Rosin flux reduces the number of metal oxides at the soldering points. By removing the metal oxides, the flux improves the strength of the joint.
More About the Alloys Used in Solder
Are you curious about the alloys used in solder? Tin and lead solder varieties the traditional choice when it comes to hand soldering. With that said, health and environmental concerns have caused many consumers and manufacturers to switch to lead-free alternatives or for RoHS compliance.
The most popular lead-free solders are comprised of tin, silver, copper, zinc, and magnesium. These metals melt well. Nevertheless, they are a bit more difficult to work with and they require higher melting temperatures.
Best Spool Size
Believe it or not; solder has a limited shelf life. In fact, a solder's life expectancy is determined by its alloy and flux content. Most manufacturers suggest disposing of lead solder after 6 months and non-lead solder after 1 year. While there's definitely plenty of hobbyists who disregard this little-known fact, it's a good idea to buy solder as you need it.
If you only have a few small repair projects in the near future, opt for a 4 or 5-ounce spool. If you're working on n extensive DIY electronic project, go for the 1-pound option. Just remember that the rosin in your solder may change its composition over time. So, pass your solder on to someone who can use it in a suitable timeframe or discard of it at an appropriate hazardous waste collection.
Video Tutorial: What Type of Solder Should you use
[embedyt]https://www.youtube.com/watch?v=gjG5j-D2kdw[/embedyt]
How to Solder Safely
Soldering isn't difficult to learn, but it is important that you follow all of the necessary safety precautions when working with soldering irons and solder.
Avoiding Lead Exposure
Choose a lead-free solder whenever possible. Lead is a highly poisonous alloy. Exposure to lead can cause serious health problems. Take care not to come in contact with lead. Wear gloves, goggles, and protective clothing when using solder. What's more, limit your exposure to lead fumes by working in an area with excellent ventilation.
Keep in mind, when you use solder, and you see smoke, that is the flux smoking, not lead. Lead is a heavy metal, so it wont just vaporize into the air.
My rule of thumb is, I don't touch the solder, use it on a spool and tweezers to pull it out. I don't breath the fumes, use a fume extractor to pull the smoke and fumes away from you as you work.
Avoiding Rosin Exposure
You should limit your exposure to rosin fumes whenever possible. Rosin fumes can cause serious health problems, including respiratory issues. Try to avoid soldering frequently when using solders with rosin cores. This will give your body time to recover from exposure.
General Safety Rules
Soldering requires high heat and several chemicals. Take all the necessary steps to avoid causing a fire. Work in a well-ventilated area with a clear exit and nearby fire extinguisher. What's more, wear protective clothing and gear. Do your best to keep electric wires and other potential fire hazards away from your soldering supplies.
Proper Waste Solutions
Solder contains several potentially harmful chemical and metal additives. As such, it's important that you collect and properly discard any leftover materials. Keep in mind that solder is considered hazardous waste. As such, it cannot be tossed in a traditional trash receptacle.
Benefits of Soldering Electronics
Soldering an extremely relevant and easy-to-learn skill. When you know how to solder, you can repair and modify electronics at your convenience. A single missed connection in an electrical appliance is all it takes to prevent it from working properly. If you know the basics of soldering, you can repair a bad connection for the fraction of the cost of replacing a broken appliance.
Most DIYers, hobbyists, and repairmen wouldn't consider their workshops or toolboxes complete without a quality soldering gun and solder. With a surplus of electronic gadgets and appliances in nearly every home, it seems foolish not to have a viable repair option on hand.
These tools make electrical mending seem like a walk in the park. You just plug them in, make your connection, and apply a little solder. In no time, your broken electronics can be repaired or modified.
Video Guide: How to Solder
[embedyt]https://www.youtube.com/watch?v=oqV2xU1fee8[/embedyt]
Final Thoughts
Do you have electronic appliances in your home? What would you do if one stopped working? Soldering is a quick, easy, and affordable way to repair your home electronics. However, you'll want to settle on a high-quality solder before you commit to fixing all the gadgets in your home. We've brought you 10 of the best solders on the market as well as some helpful consumer tips. Now, you just need to figure out what is going to be your next project!
---
Also Check Out: