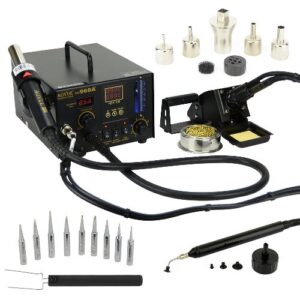 4 in 1 repairing station
Digital display
Built in Air Flow gauge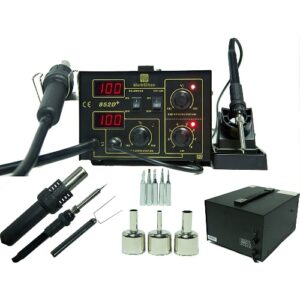 Fast Heat Up process
Sensitive Components
Large LED Displays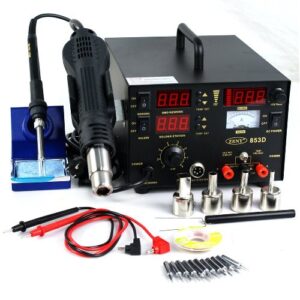 4 Nozzles
1 Sponge to wipe
1 De soldering Wick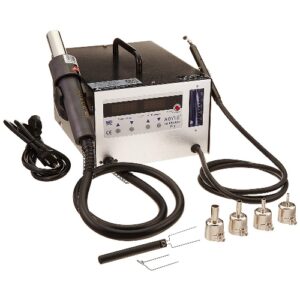 Built in vacuum Pickup tool
500 watt metal heater
Long Life heat Element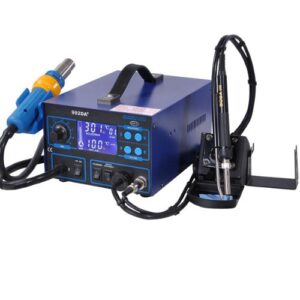 LCD dynamical display
Fume extractor
Digital PID technology
In this review, I offer you to check my top 5 of the best hot air rework (reflow) stations. Surely, you will see a single page of my tests' results that took about 10 days. I tried to cover the most popular and recommended models in the U.S. market – from cheap to more expensive appliances. My focus was to deliver the most useful hot air rework stations with desoldering options. I picked only the most reputable brands for comparison. Here is what I managed to find out:
Aoyue 968A+ SMD – this is a real "beast" among hot air rework stations, a 4-in-1 machine with the digital display and airflow gauge. The price is also very reasonable – under $180;
Mark Ethan + SMD – another 2-in-1 appliance with sensitive components and a large display;
F2C 853d SMD DC – has 4 nozzles and a desoldering wick;
Such all-in-one appliances become very popular among professional electricians and welding hobbyists. I can understand and explain the interest: hot air stations are faster, more versatile and precise. My fellow welding experts agree that any good hot air reflow station can be the irreplaceable tool for reworking PCBs. You've probably noticed that almost all stations come with SMD options for removing/attaching SOICs, QFPs, PLCCs, BGAs and ICs. If you seek more advanced options, the most useful extra features are interchangeable nozzles and automatic/programmable temperature control. Personally, I would also pick the model with a vacuum pump because all jobs will be finished faster and with fewer risks.
Did you find my review of hot air repair stations helpful? I tried my best to test a few popular models, compare their features and compile the unbiased review for you. By the way, I will occasionally update, so don't forget to subscribe.
Video Tutorial: Using a Hot Air Rework Station for Surface Mount Soldering
---