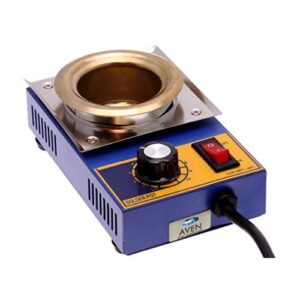 Pot solder capacity: 500g
Liquefies Solder Quickly
Stainless Steel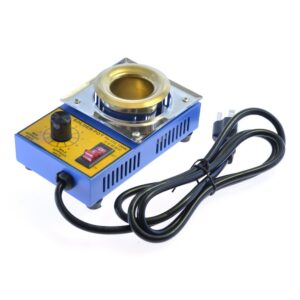 Power: 100W
Melting Time: 3-8min
Max Temperature: 896°F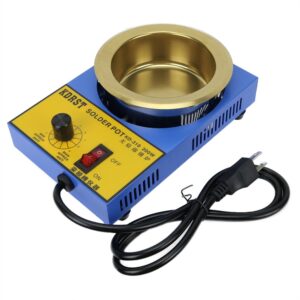 Stepless adjustable T
Stainless Steel Board
Excellent heating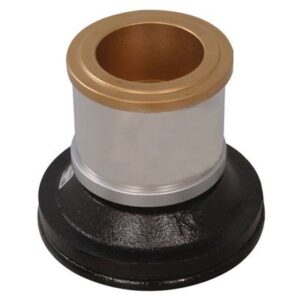 Holds up to 2.2lbs
Stainless Steel
788-842°F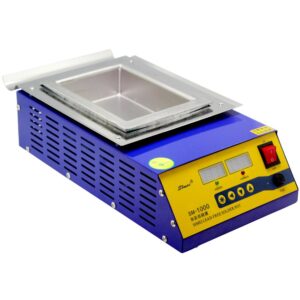 392-932°F
Power: 1000W
With Big Power Heater
---
Choose the Best Solder Pot
Customer's Choice: the Best Rated Solder Pots
8 users answered this survey. Please help us improve this review!

75% of users selected Aven, 0% selected TOMALTIC, 0% selected Twinkle Bay, 0% selected Jameco Benchpro and 25% selected Slmei. Every month we analyze your answers and change our rating.
---
Recently I've started using the special solder pots while working with an iron. Before that, I picked DIY bowls for keeping hot solder out of my working surfaces. However, I recommend using a solder pot because it is specifically designed to heat solder to the required temperature and maintain this temperature for a long time for high-quality soldering work.
Why do you need a solder pot?
Soldering pots have many designs. These accessories are very convenient for work, both for a long time and for use in small workshops for repairing electronic devices. In addition, these pots are special devices that are ideal for short-term soldering jobs that require a stable temperature control.
I know that most friends who are into soldering, pick these pots to use, in particular, for melting solder, for tinning the ends of wires (to protect them from corrosion), when disassembling electronic components from circuit boards and other purposes.
Features to look for in solder pots:
A solder pot does not require special maintenance;
It can be used for many years;
A perfect accessory to solder small-sized elements by immersion;
Thanks to using a pot, you can easily start to solder – you only need to lower an object (for example, a printed circuit board) for a certain time. First, use the flux and then into the bowl with the already melted solder. When the flux evaporates and the seam is filled with the solder material, remove the product from the pot and complete the job.
What solder pots I recommend buying?
When choosing these accessories, it's necessary to consider the specifics of your soldering project. In particular, the required volume of a pot directly depends on the size and weight of the components you are going to use for soldering.
Small pots are used to thin out the ends of small electronic components. They are good for melting the parts weighing only a few tens of grams. At the same time, some models can hold tens of kilograms.
Opt for models that are more expensive. They must be equipped with a temperature controller, a built-in thermometer with digital indication.
Also, make sure you buy a solder pot with such features:
The ceramic material of the heating element;
Simple replacement of the major bowl/tank;
A timer;
Compatibility with different types of solders, including lead-free fluxes;
Ability to maintain a high temperature even during a long working process;
The special container under the rim for waste collection (to keep the workplace clean);
SolderingIronGuide recommends top 5 personal solder pots:
Aven offers a pot solder capacity for 500 g. The pot is made of stainless steel;
TOMALTIC pot is good for enduring the melting time for 3-8 minutes, with a maximum temperature of 896 0F;
Twinkle Bay is another stainless steel based pot, with the excellent heating quality and stepless adjustable T board;
Jameco Benchpro may hold up to 2.2 lbs, another stale pot for very hot solder up to 788 – 842 0F;
Slmei with big power heater (up to 932 0F) is my personal choice for beginners;
Video Tutorial: Using a Solder Pot for wire soldering
What do you think about my choice of solder pots? Do you use them? Please share your feedback about these items. To help beginners, I've attached a detailed video of using a solder pot for wire soldering. Make sure to subscribe if you like the content.
---