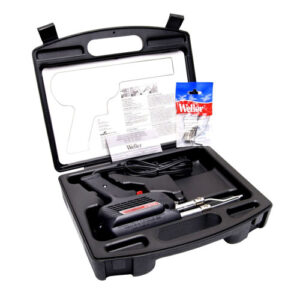 Corded-electric
Material: Carbon
Item Weight: 4.3 pounds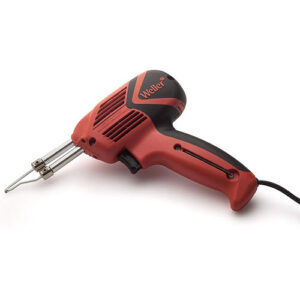 Corded-electric
Material: Other
Item Weight: 3.05 pounds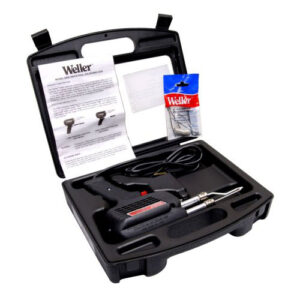 Corded-electric
Material: Other
Item Weight: 0.16 ounces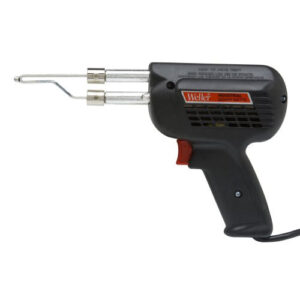 Corded-electric
Material: Other
Item Weight: 0.16 ounces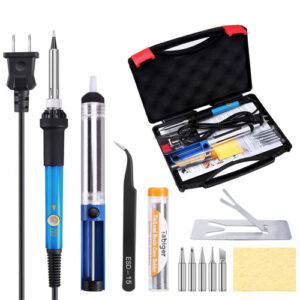 Corded-electric
Material: Other
Item Weight: 14.7 ounces
If you're in the process of purchasing soldering supplies, you've probably come across soldering guns. These handy metal-fusing tools feature a pistol-like shape with conveniently placed trigger controls. While they achieve the same results as traditional soldering wands, they have a few advantages. For one, they typically heat up and regain their temperature faster. They're also more comfortable to operate in less-than-desirable situations.
If you are interested in purchasing a soldering gun, check out our buying guide and five product reviews. We spent several days testing out the top soldering irons. Not only will you discover some great options, but you'll be well prepared to purchase one on your own!
Weller D550PK 260-Watt/200W Professional Soldering Gun Kit – Customer Favorite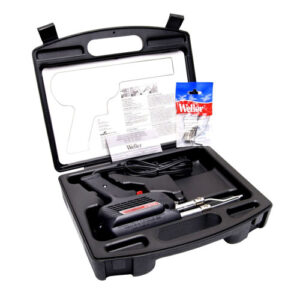 The D550 soldering gun included in this kit is one of Weller's most powerful models to date. It boasts dual power settings, which include 200 and 260 wattages. In addition to offering plenty of power, the D550 heats up in record-fast times. It only takes six seconds for the gun to reach a temperature as high as 1,000 degrees.
Once hot, the gun does an exceptional job of shifting heat to its heavy-duty tin-plated copper tip.
One of the perks of the Weller is its pistol grip, which makes it easier for users to hold onto and control the device. It also has trigger-activated power output. What's more, the Weller has two LED lights that help illuminate a user's workspace. On top of all that, the gun comes with a seven-year limited warranty.
What's more, when you purchase the kit, you receive several soldering accessories. It comes with soldering, smoothing, and cutting tips. Besides, it features a flux brush, a soldering aid tool, and a coil of lead-free solder.
Pros
Dual power settings
200 and 260 watts
Most powerful Weller soldering gun
Two front-facing lights
UL and cUL safety standards
Ready in 6 seconds
Fingertip trigger
Durable casing
Cons
Standard replacement tips are hard to find
---
Weller 9400PKS 120V Dual Heat 140/100-Watt Universal Soldering Gun Kit – Best Soldering Gun for Hobbyists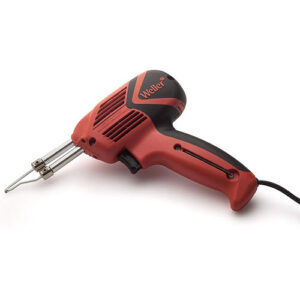 The Weller 9400PKS is the perfect soldering gun for hobbyists looking for an ergonomic setup. The gun's pistol-shaped handle features a soft, slip-resistant grip reinforcement. Meanwhile, the trigger controls make one-handed adjustments. This gun even has a proprietary "rock and roll" foot for stabler soldering sessions.
At just under 2 pounds, the gun is also super easy to hold and manipulate. What's more, three bright LED lights provide users with shadow-free workspace illumination.
As if that were not enough, the gun also has an impressive temperature range. It can increase from zero to 900 degrees in just 6 seconds. With 100- and 140-volt power settings, The gun is reasonably priced and backed by a seven-year manufacturer's warranty. It's perfect for everyone from part-time hobbyists to dedicated professionals.
The kit includes tin-plated copper replacement tips and a durable carrying case. It also comes with a set of specialty replacement tips. The soldering gun also comes with a 3/32 hex key, which is built directly into the handle. As such, you never have to worry about keeping track of your replacement tool. Another cool feature is the power cord's ball guard, which prevents twists and bends during soldering sessions.
We cannot help but rave about this Weller appliance. It heats up fast and offers precise temperature control. We also found it comfortable to use. While the 9600's high output makes it suitable for professionals, we're confident this tone-downed gun would also benefit DIYers. A full-color instructional booklet will help clear up any of your questions or concerns.
Pros
Dual power settings
Three built-in LED headlights offer shadow-free illumination
Two-trigger power positions (100 and 140 watts)
Max temperature of 900 degrees
Heats up in just 6 seconds
Seven-year warranty
Padded pistol grip
Hex wrench stored in the handle
Weighs just 1.8 pounds
Ball guard prevents cord from twisting
Tin-plated copper tips
---
Weller D650PK Industrial Soldering Gun Kit – Editor's Pick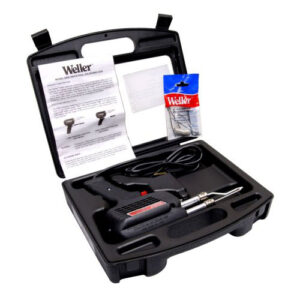 Weller D650PK Industrial Soldering Gun Kit is an impressive professional-grade tool made by one of the nation's top soldering gun manufacturers. It boasts two wattage settings, including 200 and 300 watts. These power settings translate to a maximum temperature of 1,100 degrees.
Since the Weller gun is part of a kit, it also comes with three specialty replacement tips as well as a hard-shell carrying case.
Customers seem highly satisfied with the D650's performance. It has an impressive power output and easy-to-control trigger settings. It also has a soft, slip-resistant pistol grip for better control. Since its rather lightweight, we found it to be suitable for long work sessions.
Due to the D650's power, we recommend this gun to intense hobbyists or those looking for a professional-grade appliance. With Weller's seven-year warranty and impressive reputation, we do not doubt that this soldering gun is built to last a lifetime. For well under $90, you too can own this magnificent soldering tool.
Pros
Comes with nickel-plated replacement tips
Two-wire grounded cord
Heat-resistant housing
Pistol grip with dual power settings
Trigger control
6-second heating time
Comes with a carrying case
Tin-plated copper replacement tips are easy to find
Lightweight
UL and cUL listed
---
Weller D650 Industrial Soldering Gun – Best Budget Pick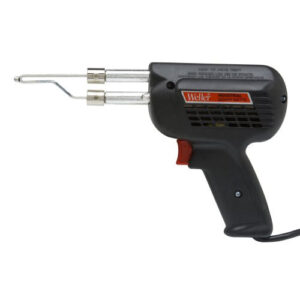 Did you like the look of the last soldering gun but don't have it in your budget? You are in luck! The Weller D650 is also sold as a bare tool. Without the added accessories, it's far more affordable. You can always purchase replacement tips later on.
The gun still boasts dual power settings, with impressive 200- and 300-watt outputs. On top of that, it features the same fingertip controls and soft, slip-resistant grip. At just under 4 pounds, this is one of the few professional-grade soldering guns that won't fatigue your wrist. Thanks to the heat-resistant thermoplastic housing, you never have to worry about this gun burning your hands.
The D650 gets rave customer reviews. Mostly, people seem to agree that this gun offers impressive power at a reasonable price. We found that the D620 was one of the rare products that held up to almost all their marketing promises. Since it is backed by a lengthy seven-year warranty, there's virtually no risk in purchasing this powerful tool. As such, we recommend it to anyone looking for a hardworking yet budget-friendly professional-grade soldering gun.
Pros
Dual 200- and 300-watt power settings
Nickle-plated copper replacement tips
Secondary thermoplastic housing
UL and cUL rated
Soft, slip-resistant pistol grip
Trigger controls
Weighs under 4 pounds
Professional-grade
Budget-friendly
Achieves temperatures as high as 1,100 degrees
Cons
No carrying case or accessories included
---
Tabiger Soldering Iron Kit – Best soldering Iron Starter Kit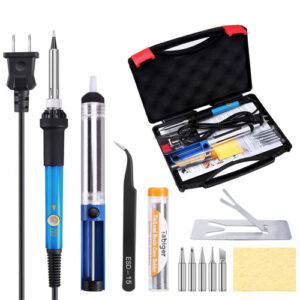 If the thought of a powerful soldering gun makes you uneasy, then it may be best to stick to the basics. A soldering iron is a great entry-level option. The Tabiger Soldering Iron kit offers all the soldering essentials wrapped up into a handy carry case.
Customers get a 60-watt soldering iron with five soldering iron tips. It also comes with a soldering iron stand, soldering wire tubing, anti-static tweezers, a desoldering pump, and a durable carrying case. The iron boasts an adjustable power output that ranges from around 400 to 800 degrees. Still, with plenty of power, there's no need to wait for the device to heat.
We love how easy it is to adjust this soldering iron's onboard temperature dial. The numbers are all marked and boast accurate corresponding temperatures. There's even an onboard LED power indicator that lets you know when the iron is hot and ready to go. Between the adjustable settings and interchangeable tips, there's no limit to what you can achieve with the Tabiger kit.
At just under $15, you'd be hard-pressed to find a more affordable soldering iron kit. It comes with all the accessories you need to get started. It also puts on surprisingly reliable performance. We recommend this soldering iron kit for hobby projects and DIY repairs that need to come under budget.
Pros
Comes with a 60-watt soldering iron
Hard-shell carry case
Temperatures up to 80 degrees
12-month manufacturer's warranty
Soldering sucker with trigger control
Features large vent holes for maximum heat dissipation
Comes with five specialty replacement tips
Costs less than $15
Anti-slip grip
PCBA
Cons
Not suitable for professional soldering applications
---
Buyer's Guide
The essential goal of soldering is to create a reliable bond between two metal surfaces. To do this, you need a soldering gun that satisfies several key criteria.
Soldering guns are a valuable tool whenever you need to solder wires together. Soldering guns will usually be used for larger projects, such as heavy gauge wire. Most soldering guns will have a couple of different heat ranges. On most guns, you'll pull the trigger just partially to get the high heat range and all the way in to get the lower heat range. Whenever you use a soldering gun, the first thing you want to do is tin the tip. And basically what that means is put a little bit of solder on there and clean up the tip before you began soldering joints.
When you solder a joint, the important thing to remember is you want to heat the metal that you're soldering, not just heat the solder. Also, probably the most important thing you can do to get a good solder joint is to use flux. The flux will clean the oxidation off the metal, and ensure you get a good joint. So apply some flux to the wires. Then add heat from the soldering gun, and wait for that flux to melt. And then go ahead and apply the solder from the opposite side and let it wick into the joint. The soldering gun can be used for a variety of different joints.
But again, you'll find a gun will typically work best whenever you're dealing with heavy gauge wire. Now you know how to use a soldering gun.
The factors you need to consider when purchasing a soldering gun include:
Power Output
There are a couple of different power ratings to consider before settling in on a specific soldering gun. First and foremost, you need to consider the gun's wattage. Many consumers wrongly assume that wattage controls the temperature. Wattage regulates the amount of time it takes for a gun to heat and regain its temperature. Some soldering irons feature step-down transformers. These innovative electronic elements reduce a gun's primary voltage to increase its current.
Most soldering guns use between 100 and 250 watts of power. Soldering irons lose some of their heat in the soldering process. So, they need plenty of reserve power. A soldering gun with a high wattage will be able to heat up in just a few seconds. What's more, a soldering gun will be able to regain its set temperature just moments after being used to solder a joint.
With so much power, high wattage soldering guns can be used to create bonds on everything from automotive to appliances. They are particularly helpful during intensive soldering jobs.
Temperature Range
Many guns boast dual-position triggers that allow users to switch between high and low settings. This helps to limit the amount of heat supplied to vulnerable surfaces, such as circuit boards. Traditional solder melts at a temperature of around 370 degrees.
With that said, soldering guns often heat up to temperatures between 800 and 1,000 degrees. Higher temperatures enable you to solder quicker. However, they also have the potential to damage vulnerable surfaces. This is one reason that professionals are usually the ones to opt for soldering guns.
Adjustable Controls
Soldering guns with variable settings are highly preferred. These guns enable users to alternate between high and low temperatures. Most soldering guns boast dual temperature settings that are engaged via a two-position trigger control.
Ergonomic Design
One of the main advantages of a soldering gun is its ergonomic design. A soldering gun has a pistol-like shape with a grippy handle and trigger control. Most weigh just a few pounds. As such, you can easily control a soldering gun with one hand.
When searching for the right soldering gun, ensure that it has a soft, slip-resistant grip. The tip of a soldering gun can reach temperatures as high as 1,000 degrees. As such, it's just about the last item you want slipping out of your fingers.
Wiring
It's crucial to choose a soldering iron that draws power through a grounded connection. You may also want to take the length of a soldering gun's power cord into consideration. While you can always plug your soldering iron into an extension cord to better access remote applications, this can be hazardous and disruptive. Extension cords have the potential to become disconnected in the middle of a job.
Tip Replacement
No matter how well you care for your soldering gun, there will come a time when you need to replace the tip. You may also need to remove the standard tip to install specialty substitutes. Unlike soldering irons, soldering guns boast tips made of a loop of copper wire. This loop is a secondary circuit created by a step-down transformer.
Brand and Warranty
Brands like Weller, Tabiger, and Vastar have long-dominated the soldering realm. These brands and others have worked hard to develop a good reputation with customers. As such, they're always a safe bet when it comes to picking a product. It's also worth noting that many name brands are backed by lengthy manufacturers' warranties.
Lighting
Many soldering guns come with built-in LED lights. These extra elements enable users to work in dimly lit or shadowy areas. When choosing a lighted soldering gun, ensure that the bulbs are installed on the front of the pistol. This ensures that you receive shadow-free illumination at all times.
FAQ
What's the difference between a soldering gun and a soldering iron?
Soldering irons are wand-shaped devices that provide limited power and heat. Meanwhile, soldering guns are pistol-shaped devices that offer rapid heating times and high temperatures. Check out this brief video to learn more!
What are soldering guns used for?
Soldering guns are used to create heavy-duty electrical connections and metal bonds. Popular applications include circuit boards, automotive wiring, and stained glass.
What safety precautions do I need to take when using a soldering gun?
Always wear heat-resistant gloves when working with a soldering iron. What's more, work on top of a heat-resistant soldering mat whenever possible.
Why Choose a Soldering Gun
Many consumers are hesitant to purchase soldering guns. Their high-temperature outputs and pistol-like designs spark fear in the minds of newbie solderers. With that said, their increased power availability and favorable ergonomics make them a top consumer option. If you're looking to create large joints or work on an extensive soldering project, there's no suitable alternative to a soldering gun.
The technologies used in soldering guns help to maximize their energy efficiency. Soldering guns feature step-down transformers, which reduce their electrical voltages. While this may not sound like a good thing, a decreased voltage translates to increased current. A large current is capable of heating a soldering iron tip faster than a small one. So, why wait around for slow soldering irons when you could get instant results with a soldering gun?
When did the soldering gun originate?
The soldering gun was invented by a radio repairman by the name of Carl E. Weller. His frustrations with his slow-to-heat soldering iron led him to develop the soldering gun in 1941.
Video Tutorial: Soldering Gun Repair
Final Thoughts
Soldering guns can be a bit intimidating to newbie solderers. However, they're an essential tool for any home, hobby, or professional tool arsenal. Armed with a comprehensive knowledge of this device, you should now be able to select the perfect soldering gun for your setup.
After testings out several soldering guns, we couldn't be happier with our final selections. The Weller D650PK was comfortable and came with plenty of accessories. Meanwhile, Weller D550PK offered professional-grade power. Of course, the Tabiger Soldering Iron Kit serves as a tone-downed alternative to beefy soldering guns.
---