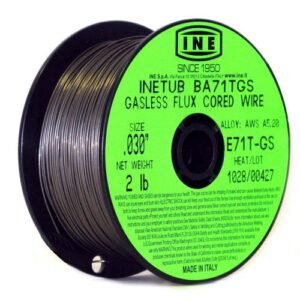 Color: Silver
Size: 0.03
Item Weight: 2.2 lbs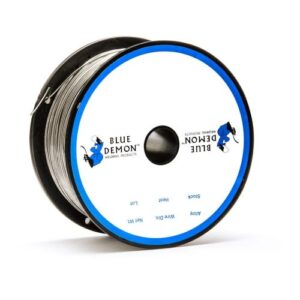 Color: Silver
Size: 0.03
Item Weight: 2.12 lbs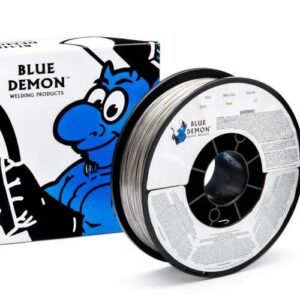 Color: Silver
Size: 0.035
Item Weight: 10 lbs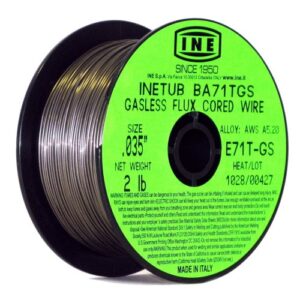 Color: Silver
Size: 0.035
Item Weight: 2.18 lbs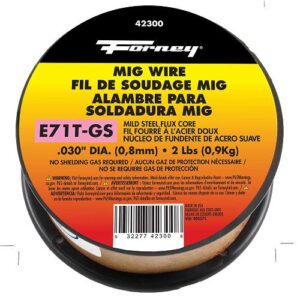 Color: Silver
Size: 0.03
Item Weight: 2 lbs
---
Choose the Best Flux Core Wire
Customer's Choice: the Best Rated Flux Core Wires
126 users answered this survey. Please help us improve this review!

57.14% of users selected INETUB BA71TGS 0.3, 15.87% selected Blue Demon 0.03, 11.9% selected Blue Demon 0.035, 7.94% selected INETUB BA71TGS 0.35 and 7.14% selected Forney Flux Core Mig. Every month we analyze your answers and change our rating.
---
Shopping for fluxed-core wire can be complicated. After all, there are hundreds of fluxed-core wire varieties on the market. Without being able to test the products in person, most consumers struggle to determine if their choices will live up to the marketing hype. Moreover, fluxed-core wire specifications are usually very technical and erupt. More often than not, these metrics fall on deaf ears, creating potentially hazardous welding conditions. For this reason, we've aimed to create a simple and straightforward guide to fluxed-core welding wire. We've included five of our favorite products and a few helpful buying tips. Enjoy!
INETUB BA71TGS Gasless Fluxed-Core Wire – Editor's Choice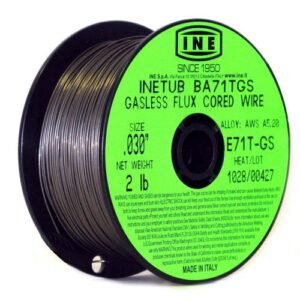 INETUB BA71TGS is a gasless fluxed-core wire with a mild steel core. The spool weighs 2 pounds, and the wire is 0.030 inches in diameter. The arc action on this wire is as smooth as butter. Its high feedability makes it an enticing option for beginner welders who are looking to create lasting bonds in single passes.
The Italian-made formula produces consistently smooth, pore-free, spatter-free beads.
Within minutes of testing this wire out, you will discover that the slag freezes well. This makes it easy for you to weld at virtually all angles. The wire also has a high deposition rate. On top of that, it produces a full and easy-to-remove slag. We recommend this fluxed-core to anyone working with galvanized or zinc-coated plates. It must be used with direct electrode-negative currents. With no need for shielding gas, INETUB BA71TGS is ideal for outdoor and drafty environments.
Pros
Fluxed-core wire that is compatible with mild steel applications
0.030-inch diameter
2-pound reel
Works well on rusty and painted materials
Self-shielded
Cons
---
Blue Demon E71TGS 0.030-inch Gasless fluxed-core Welding Wire – Best Fluxed-Core Welding Wire for Galvanized Roof Metal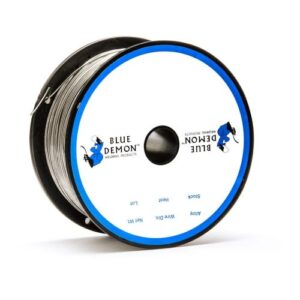 Blue Demon E71TGS is our go-to wire choice when we are working with galvanized roof metal and carbon steel. This product has an unmatched arc action. It is capable of producing a beautiful bead in a single run. The flux eliminates the need for shielding gas. It also moderates the amount of spatter.
Blue Demon recommends this E71TGS for lap and butt welds on galvanized sheet metal. This fluxed-core wire is also a popular choice for automobiles, tanks, and more. It requires a DCEN straight polarity. This wire works well in multiple welding positions. With a tensile strength of 700 ksi, E71TGS is one of the most reliable fluxed-core wire options on the market.
Pros
Suitable for joining lap and butt welds on galvanized roof metal
Can also be used for automobile repairs
0.035 inches in diameter wire on a 2-pound spool
Creates a strong, smooth bead on a single pass
Works well with carbon steel
Do not need a shielding gas (self-shielding)
Cons
---
Blue Demon E71T-11 X 0.035 X 10LB Spool – Best Bulk Wire Spool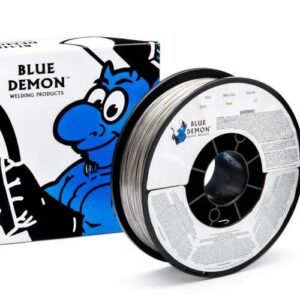 If you're new to welding, it pays to have an extra-large spool of fluxed-core wire. Blue Demon's 10-pound spool of self-shielding fluxed-core wire seems like an unbeatable bargain. It is designed to work well with most carbon steels, like automobile and roofing sheet metals.
It does not require a shielding gas. Moreover, its large diameter produces plenty of filler and easy to remove slag.
We love that we can use this wire for some multi-pass applications. Unfortunately, it produces a bit more smoke and spatters than we prefer. Still, as a self-shielding consumable, E71T-11 is perfectly suitable for outdoor use.
Pros
Suitable for butt and lap welds on carbon steel
Can be used on limited multi-pass applications
Does not require shielding gas
Extra-large 10-pound spool
0.035-inch wire diameter
Cons
Smokes and spatters easily
---
INETUB BA71TGS 0.035-Inch on 2-Pound Spool Carbon Steel Gasless fluxed-cored Welding Wire – Best for Field Welding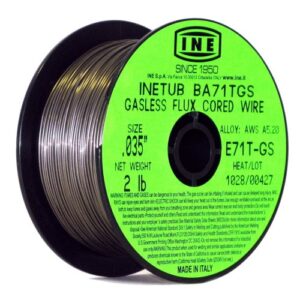 As we come closer to the end of our list, we're happy to share NETUB BA71TGS 0.035-Inch on 2-Pound Spool Carbon Steel Gasless fluxed-cored Welding Wire with you. This incredible 2-pound spool of 0.035-inch diameter fluxed-core welding wire produces beautiful, reliable welding beads.
There's no need for shielding gas. It boasts DC-straight polarity. With an ultimate tensile strength of 570 MPa, it beats some gas-dependent alternatives.
We find that this wire works well in a variety of applications, including field repairs and structural work. If you're looking to tackle some zinc-coated steel, INETUB is a good bet. Another perk is that the slag freezes rapidly. Moreover, you can use this wire from virtually any welding position.
Pros
Offers unbeatable tensile strength
Bead is smooth with no porosity
Slag freezes rapidly
Fills well with minimal spatter
Great for outdoor field work
Cons
---
Forney 42300 fluxed-core MIG Wire – Best for Single-Pass Applications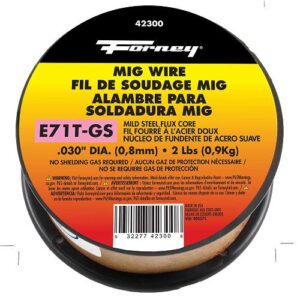 Forney 42300 fluxed-core MIG Wire is one of our top picks for single-pass applications. This 2-pound spool features a mild steel core. As a quality self-shielding wire, it's perfect for dirty, rusty, and even painted metal surfaces.
Forney's fluxed-core wire leaves a smooth, nonporous bead. When used alongside an argon and carbon dioxide gas mixture, it produces very little spatter.
The wire is 0.030 inches in diameter and 2 pounds in weight. With a tensile strength of 79,000 PSI, it produces welds that are far more durable those made with most other bargain-rate fluxed-core wires. This Forney wire's high working temperature will help you achieve rapid travel speeds. Since there is no gas requirement with this wire, it is an excellent option for fieldwork.
Pros
Self-shielding wire, does not require gas to prevent spatter
DCEN (direct current electric negative) straight recommended polarity
Tensile strength of 79,000 PSI
Moderate to low spatter
Cons
Bead has minimal porosity
---
Buying Guide
Now that you've had a look at our top fluxed-core wire selections, how do you know which one is right for you?
Size
When it comes to fluxed-core welding wires, you have a variety of sizes to choose from, including wires with 0.030- and 0.035, 0.045-, and 0.052-inch diameters. Small-diameter wires heat faster. As a result, they tend to have smoother arc actions. Yet, large-diameter fluxed-core wires are better suited for thick carbon steel.
Weight
Some manufacturers offer a price break on larger spools. Still, many welders prefer to test out 2-pound spools, before buying in bulk. You may also choose a larger spool if you need to perform a substantial orbital welding job.
Self-Shielded
The self-shielded wires already contain the elements need to reduce spatter and smoke. Self-shielded wires are preferred for fieldwork, as wind and other weather conditions can eradicate or displace essential welding gasses.
Tensile Strength
Tensile strength is the amount of pressure that a particular weld can handle. It is measured in ksi (kilo-pounds per square inch or Mpa (mega pascals). Tensile strengths range from 60 to 120 ksi.
Deposition Rate
The deposition rate is also an essential consideration when it comes to selecting fluxed-core wire. When it comes to welding, deposition rates are the amount of time it takes filler to deposit into a seam. These calculations are used to determine which welding positions are safe and effective. The deposition rate is also an essential consideration when it comes to selecting fluxed-core wire. When it comes to welding, deposition rates are the amount of time it takes filler to deposit into a seam. These calculations are used to determine which welding positions are safe and effective. They also help welders decide whether a wire is a good match for a particularly difficult metal, such as galvanized or coated steel.
Flux Core Wires FAQ:
Which is better – .030 or .035 flux-cored wire?
Novice welders and hobbyists constantly ask this question. They need to know what size to apply for small electrical works and home repairs. Usually, the discussion is narrowed down to such wire sizes – .030 and .035. Let's clarify this disputable question.
Both flux-core wire sizes are a great option. But if you are just a hobbyist welder, consider sticking the size of .030 (between 22 gauge and 1/8 inch). It is actually the most popular wire size choice. The other popular pick is the .035. These wires are thicker ranging from 16 gauge to ½ inches. It means such wires have more flux and filler inside.
Also, you should consider the machine that you use. 220V and 140 amp stations are powerful enough to handle .035 wires. The 125 amp welders or less can handle only .030 wires. For the machines over 140 amp, consider using .035 as well (unless you are dealing with very thin metals).
Some experts claim that a joint factor should be considered. For welding tight joints without caps, try the .030 wires. Otherwise, the thick wire may weaken the weld.
Is there a flux-cored aluminum wire?
It is important to remember one thing. There are no flux-cored wires available for any aluminum GMAW. Some people occasionally post information about such a wire but do not rush to believe these rumors. Flux-core welders and compatible wires do not work with aluminum alloys. There is no such thing as flux-cored aluminum welding wires. They are not available for sale.
What is the best welding wire?
What to choose – affordable or expensive welding wires? It is better to choose the one that fits your requirements, despite the price. Picking the best flux-cored wires is not very challenging. Stick to the popular brands and you won't fail.
A few flux-cored wires that you may check:
Blue Demon E71TGS; 

LINCOLN ELECTRIC ED030584 NR-211; 

Forney 42300; 

WeldingCity E71T-GS; 

Hobart H222106-R19; 
Besides the brand, you should consider such factors:
Gas-based or gasless wires;

Diameter range – the lower the welder's amperage, the thinner wire should be picked;

Uses – some flux-cored wires can handle welding coating and even dirty plates. Some can weld only clean steel. Carefully check the specs;

The spool size – the bigger the spool, the more profitable the purchase will be. But the reel should fit the welder station;
Is flux-cored welding durable?
Slag is the major problem of flux-cored welding. But only this type of welding can be suitable for weather-challenging jobs. Just make sure to clean the metal, ground and set up the machine. Chip the slag away and you should get a durable weld.
Flux-cored wires are durable because the welders use them for structural steel, bridge construction, heavy equipment, etc.
Can flux-cored wires expire or fail?
Yes, they can expire. The manufacturers usually print the expiry date on the package. Most experts agree that you should not use the wire that has been in a welder for 6 months or more. Make sure to check how the box is sealed before unpacking. If you keep the package unpacked, even if it is sealed, it should not be stored in less than 60% humidity. Typically, the recommended storage temperature is between 50 and 100oF.
Also, the expiry date for flux-cored wires varies from one brand to another. For instance, Blue Demon wires can last up to 1 year (not in the welder). While Lincoln Electric flux-cored wires may last up to 3 years (check the manufacture date) below the 70% humidity.
Besides being expired, flux-cored wires can go bad. Too much moisture in the air and improper storage can make them useless. Also, prevent the wires from plunging into the water. Water-soaked wires won't do any good because of the extra hydrogens. These hydrogens can make the weld bad – with cracks and chips.
Also, the mild steel flux-cored wires can rust badly. The moisture in the air can cause rust, even if the wires are inside a welder station (not a sealed unit). Cold winter and humid summer can easily destroy the wires of this type. So keep them in a dry and dark place.
How flux-cored wire is made?
Since the 1950s the welders have used flux-cored wires. They are available for sale in 2 major versions:
Self-shielded;

Gas-shielded;
Both types are made of an outer sheath filled with flux. Flux is basically a mix of deoxidizers and alloys. Deoxidizers are added to protect the weld from any contamination.
The comparison table of flux-cored wires and solid wires for welding:
| | | |
| --- | --- | --- |
| Flux-cored wires | vs | Solid wires |
| For thicker metals and outdoor use | Use | For thinner metals (sheets) and indoor jobs |
| Mostly for expert welders | Ease of use | For beginners and pros |
| More expensive | Price | More affordable |
| Made of different alloys and deoxidizers | Materials | Made of mild steel typically plated with copper (for increased durability of contact tips) |
| Can work everywhere outdoors | Weather-resistance | Do not handle windy conditions |
Both wire types can result in durable and neat welds if done correctly. 
A few more reasons to use flux-cored wires;
Higher deposition rate compared to other wire types;

Good for outdoor welding in extreme weather conditions (wind, high temperature);

Can make FCA welding easier in any position if the filler materials are great;

If the welding is done properly, you should expect clean and durable welds;
Video Tutorial: How to Flux Core Weld
Types of flux-cored wires I personally find the most important ones
Several models in the rating have various core types, as well as the scope, depending on the metal for welding which they are created. Carbon-free welding wire comes with a few types of core:
Flux – designed for low carbon steels characterized by a high degree of deposition;
Flux – designed for low carbon steels characterized by high-quality compounds in any spatial position;
Powdered – for low alloy steels;
Powdered metal – for low carbon steels;
Powdered metal – for low alloy steels;
My top 3 best flux wires, after 12 weeks of testing:
INETUB BA71TGS 0.3 is one of the most recommended models for novices;
Blue Demon 0.03 is another popular product you may use practically with any metal;
Forney Mig is of nice silver color and can be applied in numerous ways;
Final Thoughts
We hope you enjoyed our fluxed-core wire buying guide! If you're in a rush, check out our editor's choice, the very reliable INETUB BA71TGS Gasless fluxed-core Wire. With no gas requirement, INETUB is an excellent option for fieldwork. It goes on smooth and fast. Moreover, it offers a long-lasting and resilient seal between a variety of well-worn, dirty, and even coated metals.
Even beginners and amateur welders are aware of the pros of flux core wires like skipping any gas-related jobs during soldering/welding. When I compiled SolderingIronGuide I hoped that my resource will assist beginner welders to adjust to this tricky hobby. Doing welding jobs with gas can be dangerous so I decided to recommend budget-friendly flux co wire products.
I want to be honest, my major priority during the preparation of the following review was the compatibility of wires with a broad variety of well-known metals like stainless steel, nickel alloys, etc.
Several factors determine whether a fluxed-core welding wire is suitable for a particular welding application. It's our goal to make that choice just a little easier for you! Thanks for joining us! Stay tuned for more welding-related content!
---