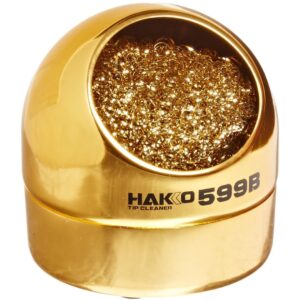 Metal
No water required
Won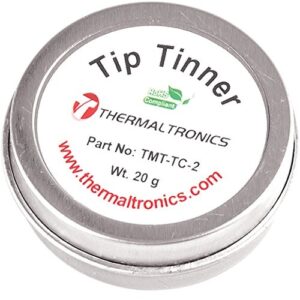 Lead free (RoHS Compliant)
Removes tip oxidation
Minimal residues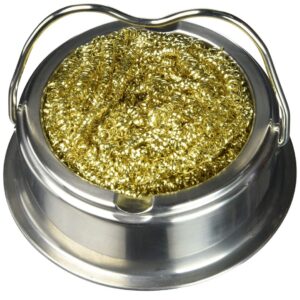 Uses Low abrasive Brass
No water Needed
Works with any tip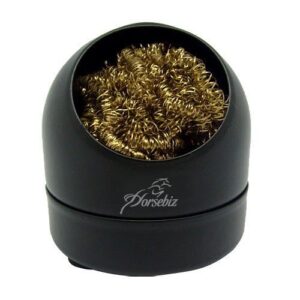 Safe and Clean to Use
No Water Required
Won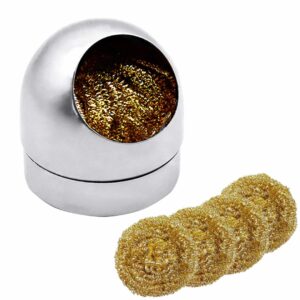 High Quality
Humanized Design
No Water Required
---
Choose the Best Soldering Iron Tip Cleaner
Customer's Choice: the Best Rated Soldering Iron Tip Cleaners
23 users answered this survey. Please help us improve this review!

56.52% of users selected Hakko, 17.39% selected Thermaltronics, 13.04% selected Aoyue, 4.35% selected Horsebiz and 8.7% selected XOOL. Every month we analyze your answers and change our rating.
---
During the process of soldering, the tool's tip is very often contaminated with flux and residue. Special sponges and bars are the best cleaners for soldering iron tips.
These special cleaners are made of natural materials (usually cellulose), which most effectively remove the residue of "solder's waste" from the tip. Basically, they are expensive analogs of ordinary copper stings, which have a multilayer structure, but they also require careful care – it is forbidden to sharpen them and clean only with sponges.
Why are special soldering iron tip cleaners better than standard sponges?
Cleaning with such accessories does not require water – a special cleaner does not reduce the working temperature of the tool. It is used to remove the solder from the tip's surface and to remove the working surface from oxidation products, which prolongs the durability of the instrument.
The best material for these cleaners is high-quality brass and extra-strong stainless steel. A cleaner resembles the ball of spiral-shaped brass fine chips. Brass has a lower density than the solder's tip coating material but is higher than the oxidation products on the tool surface. It is sufficient to immerse the soldering iron's tip in the chips to remove the oxidation. The chips are placed in a separate container or special compartment under the soldering iron stand.
Such cleaners are used for removing solder from the tip's surface and cleaning the working surfaces from oxidation products, which prolongs the life of the tool.
Such cleaners are made of non-corrosive material and do not require the use of water – as a result, do not reduce the tip's temperature of the instrument and does not require additional time the tool's reheating.
One of the main advantages of any professional cleaner is a slight decrease in stinger temperature during the soldering process.
Personal advice: always store the cleaner for soldering iron tip in an upright position.
Make your tool cleaner: check top 5 best soldering iron tip cleaners
After a few tests and reviews, I've picked several models that can cope with cleaning the instrument's tip. Look at my choice of top 5 cleaners for your working stations and tools for soldering:
Hakko is a metal-based cleaner that requires no water;
Thermaltronics is a lead-free cleaner that can remove oxidation and leaves minimal residues;
Aoyue uses low abrasive brass and no water to clean any soldering iron's tip;
Horsebiz is very safe and affordable. Also, it requires no water for cleaning;
XOOL is my personal favorite cleaner due to high quality;
Video Tutorial: How to clean Soldering Tip
Do you find this review useful? I hope that you will apply these cleaners because they can really effectively and gently remove any dirt from the instrument's tip. Share your methods of cleaning soldering irons' tips. Thanks for reading SolderingIronGuide!
---