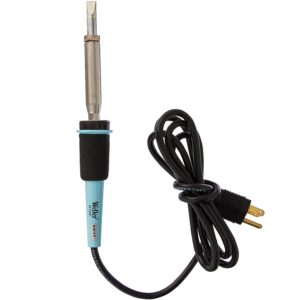 100 Watt
Up To 800° F
Safe
Wattage: 25-75 W
Temperature Range: 850° F
Run Time: 60 min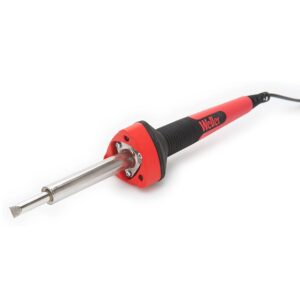 Wattage: 40 watts
Up To 900° F
3 LEDs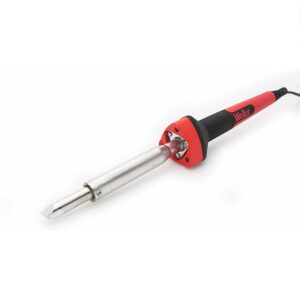 Wattage: 80 watts
Up To 900° F
Cord Length: 5 ft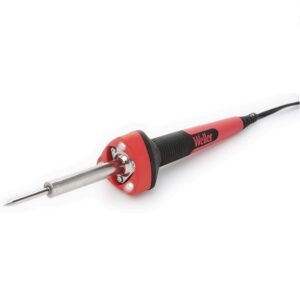 Wattage: 25 watts
Temperature Range: 750º F
Cord Length: 6 ft.
---
Customer's Choice: the Best Rated Weller Soldering Irons
[survey_answers id="110350151″ style="plain" data="score"] users answered this survey. Please help us improve this review!
[survey_answers id="110350151″ style="piechart" legend="true"]
[survey_answers id="110350151″ qid="1″ aid="1″ style="plain" data="answer_percentage"] of users selected [survey_answers id="110350151″ qid="1″ aid="1″ style="plain" data="answer"], [survey_answers id="110350151″ qid="1″ aid="2″ style="plain" data="answer_percentage" init="true"] selected [survey_answers id="110350151″ qid="1″ aid="2″ style="plain" data="answer"], [survey_answers id="110350151″ qid="1″ aid="3″ style="plain" data="answer_percentage"] selected [survey_answers id="110350151″ qid="1″ aid="3″ style="plain" data="answer"], [survey_answers id="110350151″ qid="1″ aid="4″ style="plain" data="answer_percentage"] selected [survey_answers id="110350151″ qid="1″ aid="4″ style="plain" data="answer"] and [survey_answers id="110350151″ qid="1″ aid="5″ style="plain" data="answer_percentage"] selected [survey_answers id="110350151″ qid="1″ aid="5″ style="plain" data="answer"]. Every month we analyze your answers and change our rating.
---
The Weller brand offers premium soldering devices in the world. The company traces its history back to 1940, and the edge-of-the-line stations it manufactures today offer automated readouts, push-button controls and a range of wattages based on your requirement. Weller produces smaller welding stations for a hobbyist or heavy-duty, 240-watt industrial devices for industrial use at plants.
Weller soldering stations are undergoing challenging research and development until they become the mainstay of the manufacturing line. Stations are often subject to strict quality monitoring. The stations are part of Weller's world-class soldering systems, including tips assessed in Germany, high-powered heating coils and ergonomically built iron.
Reasons to use Weller soldering irons:
Portability and compact design;

Handy storage;

Budget-friendly;

Suitable for different uses and jobs;

A large power interface and the buttons to push even when wearing gloves;

Easy, almost all automatic configuration, many presets;

Safety comes first when you use any Weller devices;
Check the comparison table and buying guide for more reviews and tips to choose the best Weller soldering iron for your daily tasks. These top 5 Weller soldering irons will surely feature a lot of useful specifications.
Weller W100PG Weller Farenheit Soldering Iron – the best for stained glass jobs!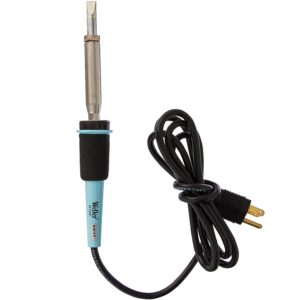 Weller W100PG is quite robust relative to other common soldering irons, and will also serve for beginners and mid-level stained glass hobbyists for a long time until they require updates. It includes three diverse CT6F7 tips.
This functional soldering iron can be ideal for DIY or technical work. The 3 basic tips have a variety of Fahrenheit temperatures for every job with fast productivity. This tool is a nice stained glass soldering iron so you can change its temperature and keep it secure.
Pros
Pros
Portable;
3 diverse tips;
Heats up quickly;
Inline design;
A good wattage range;
A good choice for beginners;
Good for heavy-duty jobs like stained glass projects
Cons
Cons
No temperature control;
Inconsistent heating
The Weller W100PG is yet another choice when entering the mid-range stage, with great 100 watts and a wire woven part. The system guarantees that you and your workspace are completely shielded from excessive temperature.
---
Weller P2KC Professional Cordless Soldering Iron Kit– the best for heating up!
With the cordless Weller P2KC Kit, you receive one of the best pieces of professional equipment when you need to patch almost everything. Thanks to its portability, it is extremely easy to use. You're going to be able to cart it along anywhere you need to go because you're still equipped anytime you require to solder something.
It's probably one of the most powerful full soldering iron kits on the contemporary U.S. market nowadays, and it gives you the best bang for your buck.
Pros
Pros
Cordless and self-igniting;
Convenient Piezo ignition;
Heats up in 40 seconds;
Automatic switch-off;
Can be used as a mini-torn device;
5 tips included;
ESD-safe for protecting sensitive electronics
Cons
Cons
You're going to love how easily the tool heats up; it's going to let you begin soldering within 1 minute. You don't have to think about having errors since you can change this soldering method from 25 to 75 watts so you will have a temperature of up to 85F at any point.
---
Weller SP40NUS Medium Duty LED Soldering Iron– the best for LED lighting!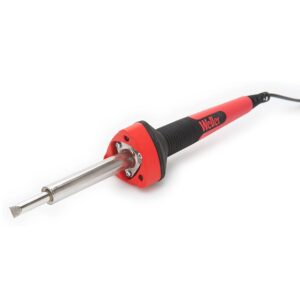 Weller's medium-duty market soldering iron provides good durability and security when soldering. It comes with state-of-the-art LED technologies. This method guarantees that this soldering iron provides adequate light during the night.
There are 3 LEDs in its design. They express excellent precision and lighting. The rectangular handle provides excellent tip placement and precise control. So, there's no risk of losing your hands when you're using it. It's pretty quick to adjust tips.
Pros
Pros
Nice lighting and illumination with 3 LEDs;
Triangular handle for better control;
Ribbed grips;
The tips are easy to replace;
Durable;
No corrosion;
The temperature range is high
Cons
Cons
Not good for sensitive electronics;
Can become overheated;
Slow cool down
Heat-resistant LEDs and sturdy buildings offer a long life cycle. This 40W iron efficiently provides light for a specific use. The anti-slip grip provides optimum protection and reduces the risk of injuries. That's why this safe and stable soldering iron doesn't put the customer at any risk.
---
Weller SP80NUS 80-Watts LED Soldering Iron– the best for different jobs!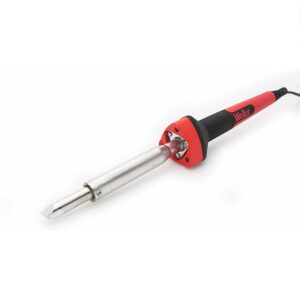 The Weller SP80NUS contains an 80-watt soldering iron with a sturdy holder and a 0.375 "MTG20 chisel soldering edge. The SP80NUS unit is suggested for use with heat sinks, ground plane, metal art and plumbing. It is also appropriate for film, jewelry, electronic, marine and automotive systems.
This Weller device offers comfort and versatility. An oval, gentle grip, non-slip handle shape helps to ease the hand during prolonged use. The round handle conveniently provides a method for rolling and arranging the tip for application purposes.
Pros
Pros
Portable and lightweight;
3 powerful LEDs for better accuracy;
Includes one 10mm tip and a stand;
Long cord – up to 5 feet;
Good for stained glass projects;
Affordable
Cons
Cons
Not good for heavy-duty jobs;
Not quite durable
Another excellent offering from Weller. For stuff like enameled wire, it brings a little extra heat to the solder. It is definitely not an iron for resistors, capacitors nor is it appropriate for plumbing jobs. It is running heavy, but if you're using it for stained glass, the choice could be perfect.
---
Weller SP23L Marksman Lighted Soldering Iron – the best for portability!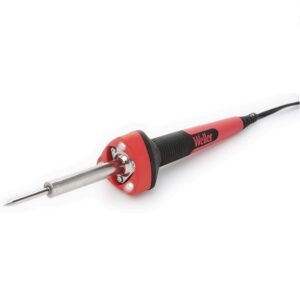 This featherweight iron produces 25 watts of power.
It has a stainless steel part with an impact-resistant grip. It may be the perfect option for sports, packages, radios and gadgets.
Pros
Pros
Extremely lightweight and portable;
In-built LED light indicator in the handle;
Long cord – 6 feet;
Comes with MT1 tip;
Budget-friendly
Cons
Cons
For small jobs only;
The wattage is very low;
Compatible only with Weller tips
This welding iron is actually well made and employs adjustable tips. The indicator light helps you to immediately check that the iron is on.
---
The Buyer's Guide
Basic types of Weller soldering irons
Several forms of soldering irons are accessible. Every model has its various pros and cons. It's important to consider the nuances between these types if you choose one that's perfect for your needs. The soldering iron station has a pencil attached to the power source.
The power station serves as a platform, allowing you a spot to sit your iron while it's not in operation. This decreases the likelihood of accidental injuries. One of the most significant benefits of a soldering station is high-temperature control. Although the end of the iron will sit on the stand, no objects can encounter it.
Wattage (power)
The output of any Weller soldering iron is measured in W (watts). You want to heat up fast to keep the temperature even while using one of these soldering methods. That's why the watt of a soldering iron is one of the most significant characteristics. Most of the models provide the wattage between 20 and 60 watts. A stable model may deliver between 40 and 50 watts. This will mean that you have ample heat for your designs. This higher level of power does not mean more heat.
Conversely, they have more resources at their hands, helping you to fine-tune the consistent efficiency of your tool depending on your needs. Any hobbyists may be tempted to save a few bucks and buy a model that provides less strength. Irons providing lower watts about 20 or 30 could get the job done. Yet they require much time to heat up and lose heat quicker, resulting in loose welding joints.
Temperature range
Any soldering iron gets hot, but you should remember two things in terms of the temperature level. Next, you want to pick a variant with an adjustable temperature. This will encourage you to use the tool for a wide range of projects. You should ensure that the device you are looking at is able to sustain the temperature you chose. Unfortunately, certain simulations are not reliable, allowing temperatures to differ.
This will create complications, as certain projects need unique heat temperatures to obtain optimal performance. That's why it's important to make sure the model you're buying is well-made and provides variable temperature regulation.
What is the best Weller soldering iron for DIYers and hobbyists?
When you know what kind of soldering iron you need to get, it's time to look at a few other considerations. You want a model that provides about 60 watts of power and a vast temperature range. This will mean that it heats up easily and can accommodate a number of ventures. Also, search the feedback and look for a model that manages temperatures well and is made of durable materials.
Finally, consider your budget for a soldering iron purchase. There are very few choices available for versions varying from $10 to over $100. Your best choice is to buy a model at the price point that you're comfortable with.
Final thoughts
When the time comes for you to choose the right soldering iron for DIY household tasks, the Weller devices are by far your best pick simply because they have the least number of drawbacks and a variety of features that perform very well.
With the aid of a soldering iron, you can complete a number of tasks, including small electronics repairs and the production and restoration of beautiful pieces of jewelry. Investing in any Weller soldering iron/station would certainly pay off in order to make the most effective buy possible.
---
[tds_info]
Related Reviews:
[/tds_info]
---
Useful Video: Weller 25-watt LED soldering iron review & test
---