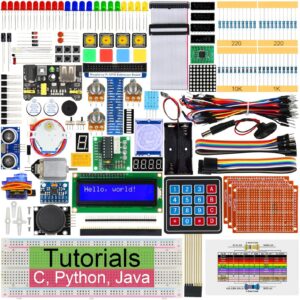 3 programing languages
223 items for 57 project
434-page detailed tutorials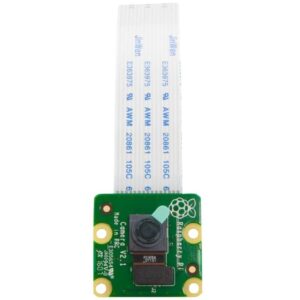 8 megapixel camera capable
1080p
3280 (H) x 2464 (V)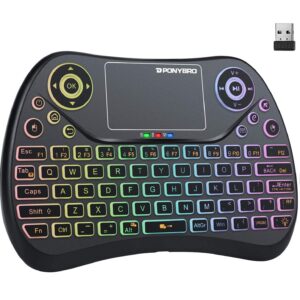 Connection: 2.4G USB
Charging Port: 5V Micro USB
Voltage: 3.7v<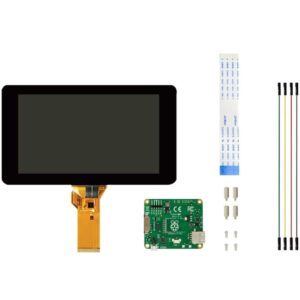 7"
800 x 480
Average Battery Life: 100 years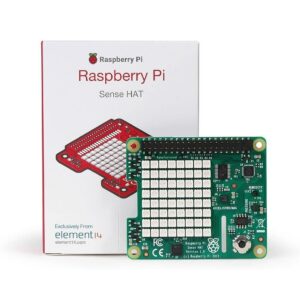 8 LED Matrix Display
Item Weight: 1.48 ounces
Good Quality
---
Choose the Best Raspberry Pi Accessories
Customer's Choice: the Best Rated Raspberry Pi Accessories
21 users answered this survey. Please help us improve this review!

57.14% of users selected Ultimate Starter Kit, 19.05% selected Camera Module, 9.52% selected Mini Keyboard, 0% selected Touch Screen and 14.29% selected Sense HAT. Every month we analyze your answers and change our rating.
---
By its very nature, the Raspberry Pi ecosystem is immensely expansive, and there is a myriad of extra pieces and bits you can get to improve your experience. It might also be intimidating if you're a newcomer and just need a few basic accessories to get started with this versatile ecosystem.
In this guide the experts won't delve too deep into the maker's diverse rabbit hole, but if you're getting a Raspberry Pi 3 for OS Windows 10 IoT Core or other DIY projects, here are some of the best Raspberry Pi accessories to consider. Make sure to check the comparison table and buying guide if you are not sure what accessories you need for your Raspberry Pi. 
Freenove Ultimate Starter Kit – the best for beginners!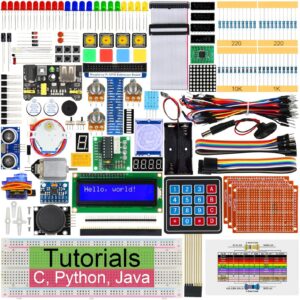 This Freenove kit offers almost everything you'll need to get started with hardware projects: the Ultimate Starter Kit contains over 200 trims for 57 projects. The Raspberry Pi itself is the only item absent in this kit.
A breadboard, stepper motor, joystick cap, keypad, switches, LED lights, cables, and resistors are included in this package. Three programming languages are used in the courses and projects: Python, C and Java.
The components are well-machined and fun to use. The component diversity and quality are outstanding. There are a lot of resistors, transistors and capacitors in this pack, but not as many as in other kits. A little card is included in the package for easy resistor color identification.
The instruction is about 300 pages lengthy and walks you through the process of creating a microcontroller circuit, with all of the necessary components included in the kit.
Pros
Over 200 components for 50 starter projects;
Supports 3 programming languages;
The detailed tutorial with 400+ pages;
Great compatibility and versatility;
Good technical support;
Cons
Jump wires issues;
Only for simple projects;
The outdated tutorials;
It's a great place to start if you want to learn all there is to know about electronics and programming. The parts seem to be of high quality and are simple to code.
---
Raspberry Pi Camera Module V2-8 – the best for the price!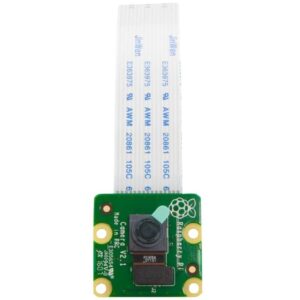 This official 8-MP camera module is one of the most popular and well-liked Raspberry Pi accessories. This V2 module includes a ribbon connector that can be readily installed into the onboard CSI connector.
It provides excellent picture quality, captures video at up to 1080p at 30 frames per second, and is a significant upgrade over the 5-MP OmniVision OV5647 used in the V1 camera.
This is a must-have item for every Raspberry Pi hobbyist. It also comes in a No-IR version, which removes the IR filter to make night shooting easier.
The Sony IMX219 sensor produces 1080p video at 30 frames per second and has a still picture resolution of 3280 x 2464 pixels. In the meanwhile, the camera module uses the Pi's power supply through the ribbon cable. There are 3 of them included: two FFC cables (6 and 19.5 inches) and one FPC for the Pi Zero.
Pros
Budget-friendly;
The video capture resolution is 1080p, 30FPS;
Versatile and compatible with most Raspberry Pi boards;
8-MP camera;
Includes 3 cables;
Sony IMX219 sensor;
Lightweight;
Cons
Doesn't have h.264 encoding;
Tricky to install and use;
This official camera module V2 is the one to acquire if you need a high-quality Raspberry Pi camera but don't want to spend more than $50 on a high-quality module and then have to use your lens.
---
PONYBRO Backlit Mini Wireless Keyboard – the best for remote control!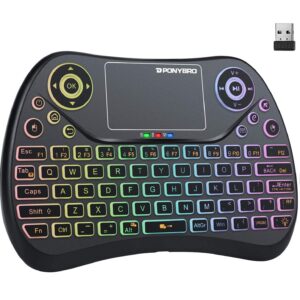 Despite its unoriginal look, the Ponybro Mini Wireless Keyboard 2020 version (with touchpad) is still worth considering. The set has a small keyboard with multicolored lighting that is easy to see in the dark.
It includes two-button clusters at the top, one with 4 scrolling buttons and the other with basic media playback controls.
There are a few more hotkeys for menu navigation, but they don't all function on every platform. The touchpad enables various multi-finger shortcuts, but even at its lowest sensitivity level, it is a bit too sensitive.
This dongle works with practically any Windows, Mac OS, Android, or HTPC device, allowing you a wide range of applications. A rechargeable Li-ion battery powers this keyboard, which is charged through micro USB. When putting this keyboard on the move, the battery compartment also includes a spot to store the WiFi dongle.
Pros
Compact and lightweight;
Great for remote control projects;
Rainbow Led backlit;
Easy media hotkeys;
Compatible with most USB devices;
The sensitive touchpad is easy to use;
Three grades of cursor speed;
2.4G wireless;
Rechargeable battery;
Cons
Sometimes trackpad is over-sensitive;
Won't pair to the devices plugged into the TV;
The battery life is low;
Although the Ponybro isn't the ideal small keyboard for Raspberry Pi projects, it has enough useful capabilities that are great for the price.
---
Raspberry Pi 7″ Touch Screen Display – the best for touch detection!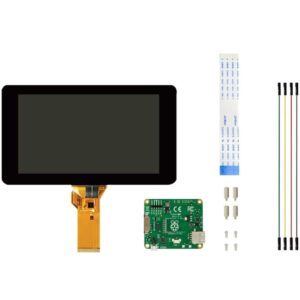 It's an official Raspberry Pi 7-inch touchscreen module. The display comes with everything you need (DSI cable, adapter board and so on) and is very carefully packaged to ensure that nothing goes wrong during shipment.
The display is a nice size at 7 inches, large enough to run GUI apps while being power-efficient (the power supply is 350-390mA at 5V). Everything operates without the need for time-consuming driver loading and configuration. The touch detection is quite precise.
In terms of cost, somewhat equivalent screens are somewhat less expensive, although virtually all of them lack capacitive touch. Furthermore, all other monitors use a large number of GPIOs and/or HDMI connections. It is possible to connect a second LCD to the official 7-inch display.
Pros
Great touch detection (10-finger capacitive multi-touch);
No calibration is required;
Better compatibility compared to other displays;
The wide viewing angle in all directions;
Full-color display;
Cons
The price factor is controversial for some users;
The low resolution;
Not adjustable brightness;
Wide borders;
The DSI cable is too short;
If you're searching for a touchscreen, the official display can be a wonderful option. It's not going to set anyone's trousers on fire for $70, and the 800 x 480 resolution isn't going to set anyone's trousers on fire, but it's a multi-touch 7-inch display with 10 points.
---
Raspberry Pi Sense HAT with Sensors – the best for programming testing!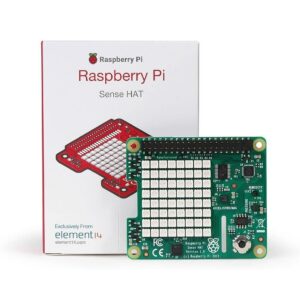 This really handy tool aids in the testing of various programming methods on Raspberry Pi and Linux OS. Sensors for pressure, humidity, orientation, and temperature are included.
This is an excellent entry-level computer for everyone. Furthermore, it is so inexpensive that you may purchase one, use it for a project as a weather station, and then go purchase another for something different. The GPIO (General Purpose Input Output) ports are its most important feature. It features a 40-pin header that the PI can control to connect to real-world sensors and outputs.
For instance, the default OS is Linux, and it contains numerous programming tools for both novices and professional programmers. Python is a popular programming language in this case.
Pros
Supports Linux and Python;
Many sensors to test;
8 LED matrix display;
Tiny joystick;
Small and portable;
GPIO ports;
Helps to learn coding;
Cons
The compass issues;
Pricey;
The temp sensor issues are common;
This HAT device operates as a tiny computer. This little device was created to be affordable enough for any student to have.
---
The Buyer's Guide
The Raspberry Pi is a single-board computer (SBC) that enables enthusiasts, makers, and hobbyists to construct a wide range of projects, from basic electrical circuits (such as a flashing LED) to full-time robots with machine learning and computer vision.
A Raspberry Pi may be purchased for as low as $5 (the Raspberry Pi Zero) or as much as $35 (for the Raspberry Pi 4), but it will need a few other items to operate. There's also a plethora of accessories available to help you get the most out of your Pi:
microSD card
Purchase a microSD card with at least 8GB of storage space, but the best Raspberry Pi microSD cards offer 32GB or more. When you initially install a Raspberry Pi, you must "burn" the operating system onto it using a computer, another Raspberry Pi, or even a phone with a microSD card reader.
Power supply
A USB-C power supply with at least 3 amps and 5 volts is required for the Raspberry Pi 4, whereas earlier Raspberry Pis need a micro USB connection with at least 2.5 amps and 5 volts. 
The Official Raspberry Pi Power Supply with worldwide adapters (UK, US, EU, and AU) and 1.5-meter microUSB lead is suggested, however, with the proper cable, you may use your phone or tablet USB adapter. While the Pi 3B+ consumes far more current than its predecessors, based on what you do with it, your conventional adapter should suffice. The official Raspberry Pi's rating is 5V 2.5A.
Cases
The finest Raspberry Pi cases are stylish, useful, and long-lasting. A case is required to preserve your tiny investment. There is a variety of cases available, ranging from the original case to models that enable HAT (hardware attachment on top), inexpensive see-through cases made of transparent plastic or acrylic, cases with heatsink and fan, and cases that are Lego-compatible. These cases are reasonably priced, so you could consider purchasing a few to use for other projects.
HATs (add-on boards)
Everything from integrating motors to constructing LED light displays is possible with the finest Raspberry Pi HATs.
Breakout Boards
To use a breadboard or to split off the GPIO for easy access. For the latest Raspberry Pi 400, this is a must-have.
Camera modules
The Raspberry Pi has a camera connection, and a whole ecosystem of third-party camera modules can work with it.
Cooling system
The Raspberry Pi 4 versions, in particular, may become rather hot, thus fans and heatsinks come in handy.
Electronic parts
With motors, sensors, transistors, and other electric accessories for Raspberry Pi, you can create amazing projects and have a lot of fun in the process.
Display
The system now supports HDMI output since the Raspberry Pi 3 B+. That is, you can effortlessly hook a TV or display that you already have. Here are several freestanding LCD screens if you'd prefer to have a specialized display for DIY projects without interfering with your family's TV viewing time. These screens, like the Pi, come in a variety of enclosures or cases. Begin with the 7-inch touchscreen LCD and select a casing that complements it.
Other Raspberry Pi accessories you may need for your projects: 
A tablet computer;

A connected smart home kit;

A surveillance camera;

A retro arcade;

A roving robot;
Video Tutorial: First steps with Raspberry Pi Camera Module v2 (installation, photo and video samples)
Final thoughts 
The Raspberry Pi is a very adaptable piece of hardware that can be used to create a wide range of applications. The Raspberry Pi is compatible with a large range of peripherals, allowing it to be used for a broad range of tasks. At the very least, experts and specialists recommend a case and a small keyboard. The Sense HAT and camera add-ons are excellent investments for maker projects, and getting a Raspberry Pi book is a great way to continue your Raspberry Pi education.
---