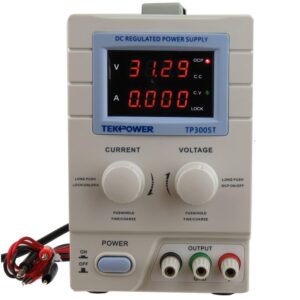 Input Voltage: 110V/AC, 60Hz
LCD Accuracy is within +/- 2.5%
Back-lit LED Display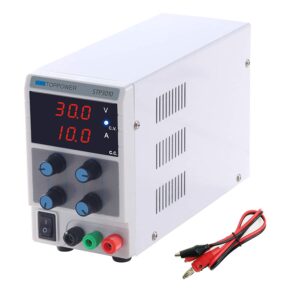 Input 110V
Ripple and noise: ≤80mVp_p
Multiple Protections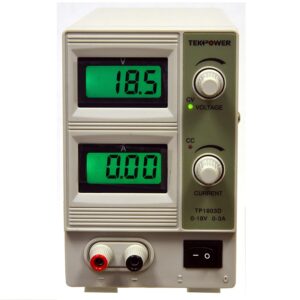 Input Voltage: 110V/AC, 60Hz
Humidity: < 80%
Low Ripple for fine use
Input voltage:AC 110V / 220V
Display accuracy:±1%±1
Efficiency:>85%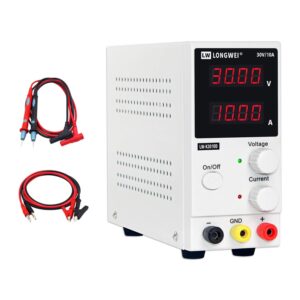 Input voltage:AC 110V / 220V
Display accuracy:±1%±1
Efficiency:>85%
---
Customer's Choice: the Best Rated Bench Power Supplies
[survey_answers id="485115721″ style="plain" data="score"] users answered this survey. Please help us improve this review!
[survey_answers id="485115721″ style="piechart" legend="true"]
[survey_answers id="485115721″ qid="1″ aid="1″ style="plain" data="answer_percentage"] of users selected [survey_answers id="485115721″ qid="1″ aid="1″ style="plain" data="answer"], [survey_answers id="485115721″ qid="1″ aid="2″ style="plain" data="answer_percentage" init="true"] selected [survey_answers id="485115721″ qid="1″ aid="2″ style="plain" data="answer"], [survey_answers id="485115721″ qid="1″ aid="3″ style="plain" data="answer_percentage"] selected [survey_answers id="485115721″ qid="1″ aid="3″ style="plain" data="answer"], [survey_answers id="485115721″ qid="1″ aid="4″ style="plain" data="answer_percentage"] selected [survey_answers id="485115721″ qid="1″ aid="4″ style="plain" data="answer"] and [survey_answers id="485115721″ qid="1″ aid="5″ style="plain" data="answer_percentage"] selected [survey_answers id="485115721″ qid="1″ aid="5″ style="plain" data="answer"]. Every month we analyze your answers and change our rating.
---
Benchtop power supplies usually sit on a workstation and include knobs/buttons on the control panel to change the voltage and current capacity. This enables you to quickly build a temporary power source customized to the project you're working on, allowing you to concentrate on the essentials.
Bench power supplies can be handy for a few reasons: 
Easier to test and configure the power source;

Practical for testing circuits;

Good for various power projects;

Affordable;
The experts review some of the best benchtop power supplies in this buyer's guide. When it comes to picking a bench power supply, there are a lot of things to consider, particularly in terms of your circumstance and what you want to use it for. Please have a look at the in-depth guide before selecting the finest bench power supply.
Tekpower TP3005T Variable Linear DC Power Supply – the best for newbies!
The Tekpower TP3005T bench power supply is a simple and user-friendly choice. With a high current range of 0-5A, it's an ideal lab power supply. Tekpower is a California-based supply that is well-known for producing high-quality power supplies for devices.
The greatest lab power supply is the Tekpower TP3005T, which provides a very steady output with extremely minimal ripples for precision and simplicity of usage.
Enter the finest benchtop power supply, which can supply voltages ranging from 0 to 30 volts and currents ranging from 0 to 5 amps — quite a variety. In contrast, most other electronic power supplies do not have such a consistent output. The tech is overvoltage protected for safety, and its cooling fan immediately operates in the built-in thermal sensor for overheat prevention.
Pros
Great protection;
The cooling fan;
Good DC voltage and current rate;
A versatile tool for testing;
User-friendly;
Cons
Heavy;
A strong smell on arrival;
The lead wires are flimsy;
The beeping is a bit loud;
With its easy-to-use functions and other important characteristics, the Tekpower device is the finest selection if you're seeking a dependable lab power supply. This is the greatest option for novices and amateurs looking for the finest bench power supply.
---
SKY TOPPOWER DC Bench Power Supply – the best for portability!
This Sky TopPower DC bench power supply has a 3-digit display and alligator clip leads. The unit is quite accurate. The safety is ensured by a grounding wire, limit current protection, temperature protection, voltage overload, and short-circuit protection. Also, it has a lightweight design.
The voltage, current, and power levels of the DC Power Supply are easy to use thanks to a comprehensive 3-digit LED screen with 00.1V and 0.01A accuracy. The input voltage can be manually changed to 110V or 220V through the rear switch.
It has a large fan with a smart sensor for temp control and multiple heat radiation grooves on both sides, which effectively extends the fan's life and reduces noise.
Pros
Efficient;
Automatic exhaust;
Precise;
Lightweight and portability;
Good display;
Low noise;
Cons
Not for the humid environment;
May produce the white smoke;
Poor quality;
It may be used to maintain a computer, a mobile phone, or a flat panel display, among other things. It may also be used to test electronic components in the manufacturing process, such as inverters, DC motors, short circuits, inverters, and other gear.
---
Tekpower TP1803D Variable Linear DC Power Supply – the best for lab purposes!
The Tekpower TP1803D supply is a small and inexpensive device that may be used at home or in the workplace. This digital DC power supply can provide up to 18 volts of output voltage and 3 amps of current. The voltage and current settings are controlled via rotary switches.
It's an important instrument for testing, scientific projects, and other applications, and is excellent for laboratories, research institutions, and R&D centers because of its dependability and adaptability.
One of the finest mentioned products for test teams, labs, repair shops, and research institutions is the Tekpower TP1803D supply. It is simple to utilize for the testing project using an input voltage of 110V. It set the product apart from the competition. It is Tekpower's maximum analog DC power supply, which is popular for digital. It is one of the finest for short ranges of voltage and current.
You can select the model for the project to safeguard it from overheating and other circuit problems. It can also automatically adjust the voltage and current, so there's no need to be concerned about control.
Pros
Recommended for home and lab use;
Low ripple;
Precise DC power supply;
90-day warranty;
Easy to use;
Cons
Complicated interface;
The voltage and amperage range is low;
Bad customer service;
The amperage is hard to adjust;
The model's high-reliability DC power supply makes it ideal for use in any home or lab setting. One of the primary features of the meter is its simple construction style and small size. To make it simple to use, they created a handle design that is ideal for transporting.
---
LONGWEI DC Power Supply Variable – the best for display!
LONGWEI DC power supply is a professional device to a regular power supply with a backlit 4-digit LED display that shows voltage, current, and power in crystal clear detail. 00.01V and 00.01A are the most precise measurements available.
It's simple to tune within the ranges of 0-30V and 0-10A. It's long-lasting and simple to see even in low-light situations.
The main selling feature of this power supply is that it can intelligently convert output voltage and current into power. The unit precisely shows the value on its huge screen.
The voltage and current readings, as well as power, are shown on a crisp 4-digit LED screen with 00.01V and 00.01A precision.
With a large fan controlled by a sophisticated temperature control sensor and many heat radiation slots on both sides, the fan life is extended and noise is reduced significantly.
The 5V/2A USB interface may be used to charge a mobile phone, repair phones, and more.
Pros
Precise LED display;
5V/2A USB interface;
Good heat dissipation;
Versatile use;
Accurate;
Cons
Not fully grounded;
Hard to dial;
When you need to fix a car, motorcycle, or electrical item, this device can be an excellent DIY tool. It is quiet and simple to use the tool.
---
LONGWEI DC Power Supply 4-Digital LED Display – the best for precision!
This LONGWEI DC power supply is just 2.7 x 8.6 x 6.3 inches in size and weighs less than 4 pounds. Due to the comprehensive test probes and output cable with alligator clips, it is suitable for lab, home, school, electronic repair DIY, aging test, and other needs.
Voltage, current, and power are shown on a backlit 4-digit LED display. Specially built for scientific research and factory maintenance, product development, labs, schools, and electronic manufacturing lines, with excellent precision and dependability.
This power supply's circuit board has SMT tech, high-grade components, a sensible circuit design, and enough power output.
Pros
Easy to use;
Backlit LED display;
Versatile;
Precise;
Portable;
Good connectors;
Cons
The manual is impossible to use;
Not great for constant current/voltage;
Easy to overload;
This unit is quite easy to use. The coarse and fine adjustment buttons make it simpler and more simple to modify. The rear switch may be used to manually alter the input voltage to 110V or 220V.
---
The Buyer's Guide
Linear vs switching power supplies
Switch-mode (switching) and linear power supplies are also available. The method by which they generate DC power differs. Each has its own set of benefits and drawbacks, although switching power supplies are often smaller and lighter. Linear power supplies, on the other hand, are better adapted for powering delicate analog circuitry due to their reduced electrical noise.
Maximum voltage and current
It's critical to understand how much voltage and current the supply can deliver, as well as if it can power most of your projects. The power supply should follow the current consumed if you're feeding your circuit with voltage. You should check for the power envelope of a bench DC power supply. This diagram shows the various current levels it can draw at various voltages.
A variable yet consistent output voltage may be set using a lab power supply. When purchasing a variable power supply, the output voltage range is crucial. Voltage variations from 0 to 30 volts are common. Since 30 Volts is not often used in most circuits, it is advantageous to purchase a 30 Volt power supply. By connecting two outputs on a dual output lab supply or a couple of devices, you may create +15 V and -15 V instead of 30 V. Operational amplifiers often employ both positive and negative voltages.
Number of channels
The number of channels is typically proportional to the cost of the product. There is just one output port on a low-cost power supply. This implies that a single circuit with a changeable voltage may be connected. You can either purchase a couple of power supplies, then plug them with each other or utilize a dual output supply if you require two output channels. Two output channels, voltage control, and current adjustment are all included in one device with dual output bench supplies.
Coarse and fine adjustment
A knob for fine and coarse adjustment is found on most good variable DC power supplies. Coarse adjustment is used to control the voltage output in a rough manner. The bench supply's output voltage may be accurately set with fine adjustment. A lab bench power supply usually includes two rotary knobs for fine and coarse adjustment. For precise adjustment, some gadgets just feature one knob that may be pushed or pushed.
Limited or constant current
Current limiting is another key characteristic. The current limiting sets a restriction on the amount of DC that may flow. This function aids in the efficient testing of electrical circuits. A current limit set by the user, and the bench power supply makes sure the output current doesn't surpass it. The output channel of a power supply has to withstand a short circuit.
This function is often used to create a continuous current. If you set the current limit to a preset value, such as 1A, and connect a high load (such as a circuit with low input resistance or a short circuit) to the input, the output current will remain constant at 1A. You may imitate a steady current source in this fashion.
Digital interface
USB ports and/or RS232 serial interfaces are standard digital interfaces for programmed sources. There will be no interaction if the lab supply is not programmable.
Because most low-cost power supplies don't have a display, you'll have to use a multimeter to verify the output voltage. Normal supplies, on the other hand, have a display that shows the voltage output and current limit. Both of these numbers are important to keep track of in order to prevent making mistakes with your settings.
Accuracy
The datasheet shows the stability of laboratory power supplies. Because the output voltage is controlled, line regulation values such as 0.01 percent +3mV may be found. For a particular output voltage, the percentage number represents stability. If your output voltage is 5V, for example, 0.01 percent indicates that it is stable up to 0.5mV+3mV=3.5 mV. As a result, the output voltage will vary between 5V and 3.5mV.
The precision with which the desired output voltage is met is referred to as accuracy. The accuracy is again expressed as a percentage value plus a standard offset in millivolts. If your datasheet specifies accuracy as 0.5 percent +20mV, for example, this corresponds to a value of 25mV+20mV=40mV for 5V. By 40mV, you can miss the 5V threshold.
Portability
In certain circumstances, you may wish to relocate your bench power supply. Choose a portable gadget with a tiny footprint and low weight in this situation. Portability should not be a problem if you solely use it at home or in a lab.
Video Tutorial: Adjustable Power Supply Basics and Tekpower TP3005T Functions
Final thoughts 
When it relates to bench power supplies, you have many alternatives. Although they come in a variety of brands and specifications, there are a few premium bench power supplies that stand out and will undoubtedly meet your demands, whether you're using them at home or in the workplace, or for any electronics tasks.
---