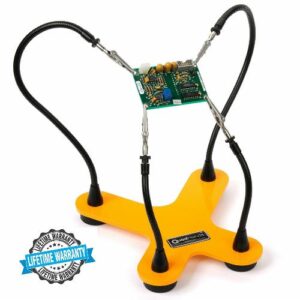 4 extra helping hands
Strong and flexible arms
Precision alligator clamps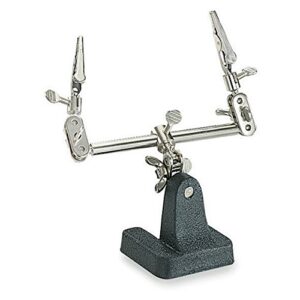 Two alligator style clips
Weighted base
Several points of adjustments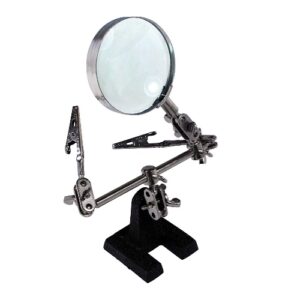 Magnifying Glass
2 alligator clips
4-way swivels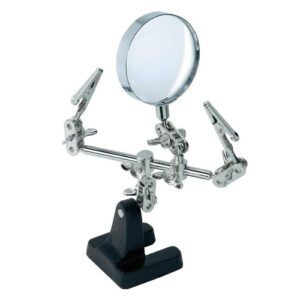 Strong clamps and sturdy base
Adjusting Holding clamps
2x magnifying glass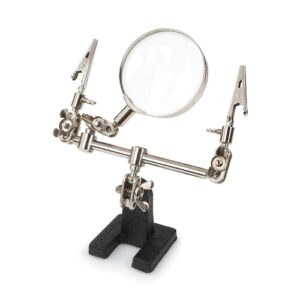 Holds small workpieces
2-1/2-inch magnifying glass
Solid cast iron base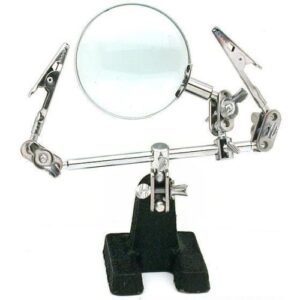 Holds item securely
Built-in magnifying glass
Can hold small components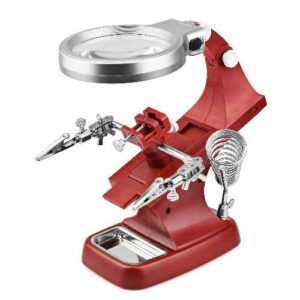 2 x Alligator Clips
USB wire or 3x AAA batteries
Makes your work easier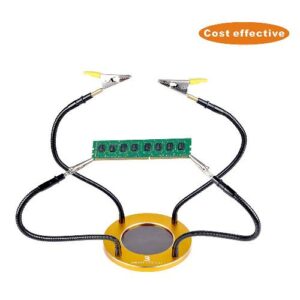 3x stainless steel alligator clips
1x gooseneck magnifying lamp
5V USB fan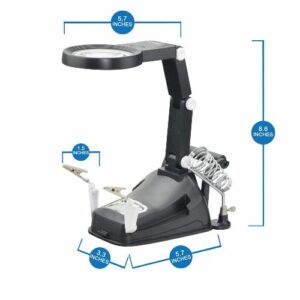 LED Lighted
2 fully adjustable alligator clips
Wire reel holder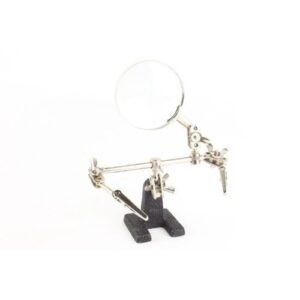 2-1/2" Magnifying Glass Lens
Heavy Cast Iron Base
2 Alligator Clips Mounted
---
Choose the Best Soldering Helping Hand
Customer's Choice: the Best Rated Soldering Helping Hands
734 users answered this survey. Please help us improve this review!

55.45% of users selected QuadHands, 30.38% selected Pro, 4.9% selected SE Helping Hand, 3.81% selected EDMBG HOBBY TOOL and 5.45% selected TEKTON Helping Hand. Every month we analyze your answers and change our rating.
---
Soldering helping hands are the perfect addition to any home
soldering station
. These small stands prop up your soldering projects. Some even come with additional accessories, such as magnifying glasses, LED lights, and soldering stands.
You can solder hands free so that you can focus on the job. While helping hands are typically used for soldering, they are also a great tool for making jewelry and other crafts. In the section below, we share our thoughts on several of our favorite helping hand models.
QuadHands Helping Hands Soldering Third Hand Tool – Customer Favorite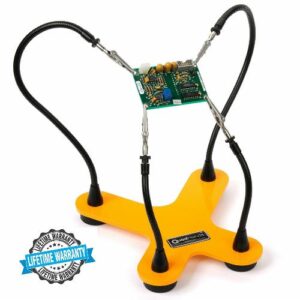 The QuadHands Helping Hands features four fixed yet flexible metal arms and four durable stainless steel alligator clamps. The clamps are held up with the help of an 8-by-8-inch powder-coated stainless steel base. Rubber-coated feet provide optimal stability and surface protection.
The kit includes removable silicone tips. These protective sleeves serve to protect sensitive circuits and other parts.
This circuit-board holder is perfect for professional and home-based soldering stations. It weighs approximately 3.85 pounds. As such, it won't budge from the surface of your workbench. The QuadHands are manufactured in North Carolina. They are remnicent of premium American manufacturing standards.
Pros
Large powder-coated stainless steel base
Four flexible metal goose arms
Four stainless steel alligator clips
Rubber-coated feet
Removable silicone clip tips
Made in the U.S.A.
Cons
No additional accessories
---
Pro'sKit 900-015 Helping Hands Soldering Aid – Best Budget Option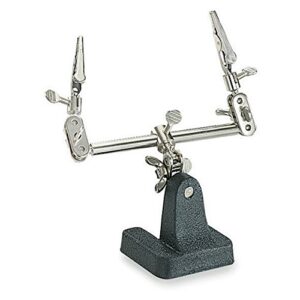 Our next selection is an uncomplicated soldering stand with a substantial metal base and two durable alligator clips. The hands feature several adjustment points, making it easy to tailor them to each job. On top of that, the alligator clips are held on by removable screws, making them both interchangeable and replaceable.
The entire stand weighs just under a pound. It's the perfect weight for small circuit board repairs. You can rest assured that there will be no tipping.
Pros
Interchangeable alligator clips
Heavy metal base
All metal parts
Clips feature metal teeth
Inexpensive
Cons
No additional accessories
Only two clamping hands
---
SE Helping Hand with Magnifying Glass – Super Starter Stand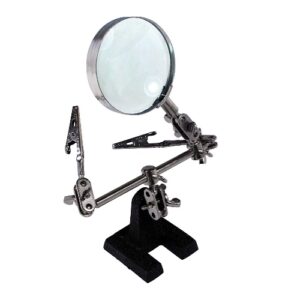 The SE Helping Hands are a great option for small home-based soldering stations. They feature a substantial metal base with two swiveling metal arms and clamping alligator clips. This model weighs a little under a pound, making it perfect for small, lightweight projects.
Ball and socket joints and wing nut screws provide users with optimal flexibility. Meanwhile, a big magnifying glass draws tiny parts into view. At just under $10, you'd be hard-pressed to find a more practical set of helping hands.
Pros
Two metal arms with four-way swivels
Dual alligator clips with teeth
Heavy powder-coated metal base
Built-in 2 1/2-inch diameter magnifying glass
Four-times magnification
Ball and socket joints
Wing nut joints come apart easily
Cons
Base is lighter than expected
---
Edmbg Helping Hands with Magnifying Glass – Best Compact Model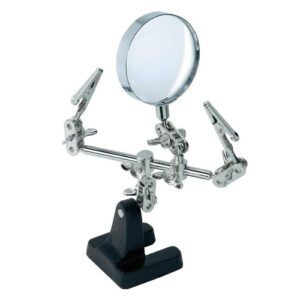 The Edbmg Helping Hands are sleek, affordable alternatives to top-grade helping hands. This model is made from solid steel and cast iron. It will add up the convenience of nearly any soldering station. The two alligator-style clips grasp onto small projects and circuit boards with ease.
This model features two stainless steel arms with bendy joints. It also boasts a magnifying glass for improved visibility. You can even remove the magnifying glass if you want to increase your soldering space.
Pros
Removable magnifying glass
Dual metal arms
Swiveling joints
Durable metal alligator clips
Heavy powder-coated metal base
Cons
---
TEKTON 7521 Helping Hand with Magnifier – Excellent Magnification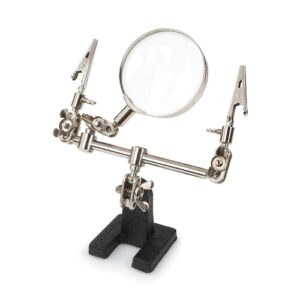 This compact helping hands model is perfect for soldering jobs that require precision and a steady hand. The cast iron platform serves as a firm, secure base. Meanwhile, the metal arms, swiveling ball joints, and steel alligator clips act as a premium suspension system.
Tekton has also included a 2.5-inch magnifying glass with the kit. You can remove the glass to increase your workspace. The entire product weighs 14.4 ounces. It has a hefty hold on any workbench. Better yet, it won't break the bank!
Pros
2 1/2-inch magnifying glass
Two alligator-style clamps
Universal ball joints
Heavy cast iron base
Weighs 14.4 ounces
Compatible with magnetic accessories
Cons
Defected screw threads
Short arms
---
SE's Helping Third Hand with Magnifying Glass – Easiest Helping Hands to Get Used To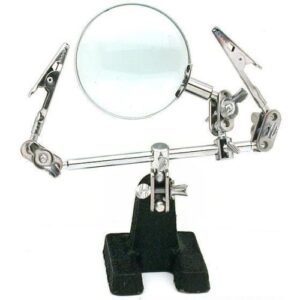 SE's Helping Third Hand boasts a durable stainless steel base and two adjustable metal arms. The holder comes with a built-in magnifying glass. This extra element more than doubles the magnification of tiny parts. The arms are incredibly flexible. Meanwhile, the alligator-style clamps feature broad, powerful openings.
This product is made under strict Canadian manufacturing regulations. We found it to be practical and uncomplicated. The entire piece is 5 inches long and 5 inches wide. It weighs a over a pound.
Pros
Built-in magnifying glass
Made in Canada
Heavy stainless steel foundation
Adjustable
5-by-5 inches
Weighs 1 1/4 pounds
Cons
Pricey
Magnifier threads are defected
---
Helping Hands Magnifying Glass Table by Womdee – Best Soldering Table with Helping Hands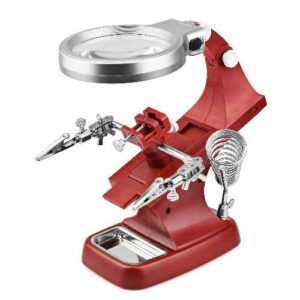 Womdee's helping hands double as a dynamic soldering station. The durable metal foundation is reinforced with a weighted metal sheet. The stand is equipped with dual magnifying lenses, a 10-piece LED light, a soldering iron holder, and a metal accessory tray.
The magnifying glass features two interchangeable lenses. One is 20 millimeters, while the other is 75 millimeters. The stand is painted a deep shade of red. The station can be powered by a USB cord or three AAA batteries.
This product comes with a pair of clingy alligator clips. It is also backed by an extended warranty. It's an excellent stand for circuit boards, metal jewelry, and other creative projects.
Pros
Painted steel foundation
20-mm and 75-mm lenses for dual magnification
10-piece LED light
USB power cord or optional battery power
Two alligator clips
Guaranteed customer satisfaction
Attractive red and white colorway
Cons
Does not feature flexible arms
---
3BAN-TECH's Helping Hands Third Hand Soldering Station Tool – Most In-Depth Soldering Helping Hands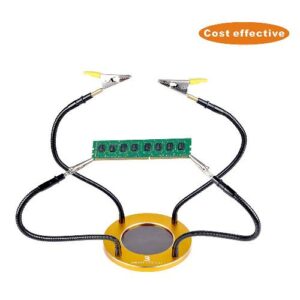 The 3BAN-TECH helping hands provide a solid aluminum foundation for all of your maker space needs. The stand comes with a set of four flexible gooseneck arms and interchangeable alligator clips. You get two 10-millimeter clips and two 20-millimeter clips with your purchase.
A 5-volt USB fan helps keep users' workspaces cool and comfortable. Meanwhile, complimentary shrink tubing serves to soften the edge of the clips. At 1.68 pounds, this is one of the most substantial models on our list. Customers agree that 3BAN-TECH is up for most soldering challenges.
Pros
10- and 20-millimeter alligator clips
Four flexible gooseneck arms
Heavy aluminum foundation
360 degrees of maneuverability
5-volt USB fan
Slip-resistant rubber pad
Screwdriver and wrench included
Shrink tubing included
Cons
Base is lighter than expected
---
YOCTOSUN LED Light Helping Hands Magnifier Soldering Station – Best Lighted Option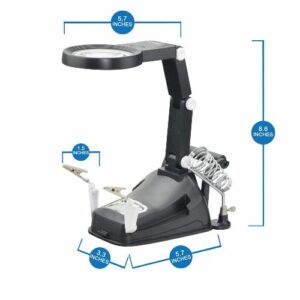 Next up, we have a deluxe soldering station made by YOCTOSUN. This desktop helper is made from durable metal, ABS, and acrylic. It weighs just 1.1 pounds. However, it manages to come with a large assortment of accessories.
These include a primary magnifying lens and zoom lens. It also features an adjustable neck and two adjustable alligator clips.
The station has a wire reel holder, metal tray, tool box, and 10-piece LED light. The element can be powered by three AAA batteries or a USB-connected power source. This stand is perfect for circuit board repairs and basic tinkering. Despite its litany of accessories, it comes at an affordable price. Best of all, it features a solid black colorway that looks excellent on any workbench.
Pros
Ten powerful LED lights
Two magnification options (3 and 4 1/2 times)
Three adjustment points on the neck
Two alligator clips
Soldering iron holder
Includes a wire reel holder
Includes a metal tray and tool box
USB cord and battery options
Suitable for soldering, crafts, and more
Cons
Plastic parts
Tendency to slip and slide
---
EZ Travel Collection's Helping Hand with Magnifying Glass – Perfect for Small Electronics and Jewelry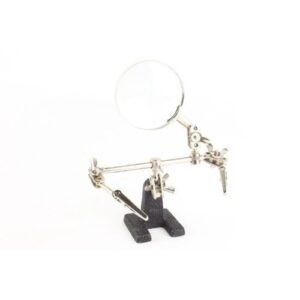 Customers adore this modest yet dependable soldering station. A heavy cast-iron foundation helps this stand cling to users' workbenches and desks. Meanwhile, its hefty 2.5-inch magnifying glass brings tiny circuits into view. A pair of mouthy alligator clips keep circuits from slipping in the middle of a soldering session.
Meanwhile, four-way swivels give users unmatched flexibility and freedom. The EZ Travel Collection circuit board holder weighs 12 ounces.
Pros
2 1/2-inch magnifying glass
Heavy cast iron foundation
Four-way swivel action
Adjustable arms
Dual alligator clamps
Low price
Cons
---
The Ultimate Guide to Soldering Helping Hands
A reliable set of helping hands will keep you from trying to juggle hot irons, circuits, and solder. There's more to these stands are more than a set of alligator clips. For one, they can keep you from burning holes in the top of your workbench. On top of that, they can make it easier to access or even view small parts. In the section below, we discuss the most important elements of third hands. Read along to find out exactly what to look for when making your next purchase.
Foundation
Your helping hands must have a heavy, well-protected base. A robust, durable foundation will provide you with optimal stability as you dive into the soldering process. Solid options include powder-coated steel and cast iron. The foundations should be one or more pounds. The base needs to stay firmly planted on your workbench.
Rubber feet and vice grips increase the stability of circuit board holders. Small details such as these could prevent you from boring a hole in your work surface.
Arms
Helping hands should boast two or more flexible arms. The arms should be made of solid metal. Some feature additional heat-resistant coatings.
The arms should feature multiple adjustment points. Ball joints and jointed metal make excellent options. However, many modern helping hands feature bendy metal arms. These dynamic elements can move in every direction.
Some hands feature removable magnetic bases. Magnetic bottoms make it possible for users to position the arms anywhere along a metal surface.
Helping Hands Clamps
Most hands are equipped with alligator-style clamps. Alligator clamps typically feature grippy metal teeth. Some clips come with removal silicone or rubber covers. These pieces make it easier to solder sensitive parts. Others feature adjustable tensions.
Keep in mind that alligator clips have a limited opening. Some models come with interchangeable tips. Other tips can be replaced with standard hardware store offerings.
Accessories
Many helping hands are equipped with special accessories. Magnifying glasses or loupes make it easier to see the details on small circuit boards. Meanwhile, LED lights provide much-needed workspace illumination. Some stands even feature soldering iron holders and accessory trays. Find a set of helping hands that can help you achieve your soldering goals.
FAQs
Do you need helping hands for soldering?
Yes. If you are doing any kind of soldering work on PCBs, or circuit boards, you will being using one of your hands to hold the soldering iron and the other holding the tweezers.
So, having the helping hands hold the board in the exact position you want is critical.
Video Tutorial: How To Make PCB Fixture Soldering Helping Hand
Our Final Thoughts
We hope you enjoyed our top soldering helping hand selections! These incredible tools will free up your fingers and help you focus on the job at hand. Do you have a trustworthy set of helping hands? Tell us more about them in the comment section below.
---