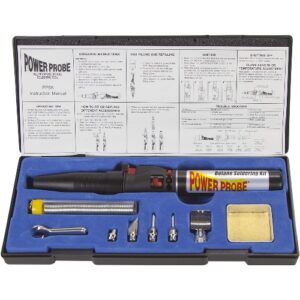 Attachments Included
Organized Durable Case
Butane Fuel Type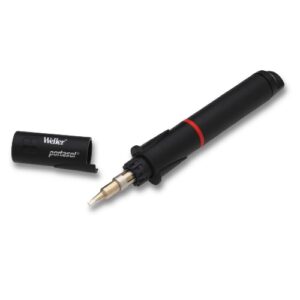 Lightweight
Cordless Butane soldering
ESD safe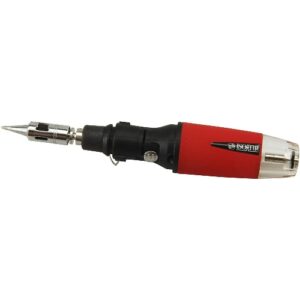 30-70 watts
Comes with soldering tip
Comes with protective cap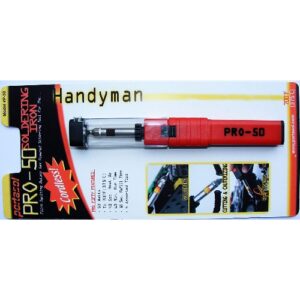 Unique tip system
Butane compatible
Plastics ensure reliability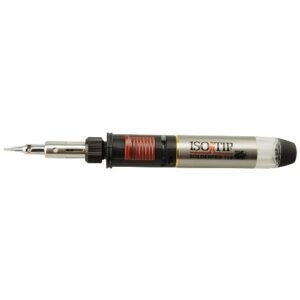 30-125 watts
Ready to use 15 sec
Comes with soldering tip
---
Choose the Best Butane Soldering Iron
Customer's Choice: the Best Rated Butane Soldering Irons
421 users answered this survey. Please help us improve this review!

25.89% of users selected Power Probe, 56.53% selected Weller P2C, 3.8% selected Iso-Tip SolderPro, 9.26% selected Portasol P-50 and 4.51% selected Iso-Tip SolderPro 120. Every month we analyze your answers and change our rating.
---
Butane soldering irons are one of the most versatile and user-friendly tools you can add to your workshop. These incredible pen-shaped devices fit in the palm of your hand and can be tossed in a bag for on-the-go repairs. Still, they are capable of creating incredibly strong, resilient bonds between electrical wires and other materials.
With so many butane soldering irons on the market, it can be hard to find one that meets your needs. In the section below, we've identified five of our favorite butane soldering irons. From budget-friendly prospects to professional-grade options, we made sure to include a variety of butane irons. Below that, you'll find even more information on how to find the perfect butane soldering iron.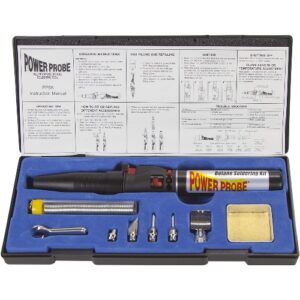 We love that the Power Probe Butane Soldering Kit can reach temperatures as high as 2,500 degrees. With an adjustable flame that can go from 0.5 to 1.25 inches, the Power Probe iron can be used on all sorts of soldering jobs.
The adjustable temperatures are made possible thanks to a temperature output regulator. With so much control, users can safely use the Power Probe iron on fragile jobs, including boards and vehicle wires.
The Power Probe comes packed in a durable storage case. The case is divided into sections that house accessories, tips, and attachments. Everything you need to get started is included in the Power Probe kit. Accessories include rosin solder, a hot knife, a hot point, a heat shrink shield, three soldering tips, adjustment wrenches, a sponge, and a tray. The iron boasts 120 watts of power and 5000 BTU of pure butane flame. With a maximum temperature of 930 degrees as a soldering iron and 2,500 degrees as a torch, this iron is capable of producing enviable heat.
Customers find the Power Strobe to be extremely efficient. Many say they use the iron to work on vehicle wiring. Since the Power Probe works well and maintains a flame at all angles, it's perfect for hard-to-reach repairs. This incredible soldering iron even holds up through wind and rain. Not to mention, its regulated temperature output ensures that you can solder several connections in one go. Topping things off, the Power Probe heats up fast.
We highly recommend this butane soldering iron kit to beginners. The Power Probe kit comes with several soldering essentials. You can use this kit to fix small electronics, automobiles, and even jewelry. Unlike other starter kits, the Power Probe heats quickly and maintains high temperatures. It also has a large fuel storage tank. The fuel tank can easily be restocked with butane.
Pros
Pros
Kit includes all the accessories you need to get started
Includes organized case for iron and accessory storage
120 watts of power
500 BTU
Electronic ignition offers utmost convenience
Adjustable flame
Heats up in 20 seconds
Cons
Cons
Comes with generic accessories
---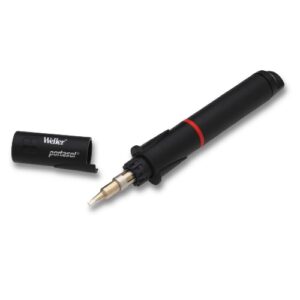 If you aren't looking to purchase an entire kit, the Weller P2C Butane Soldering Iron is a budget-friendly option. This iron is almost as light a conventional pen, making it easy to solder connections at odd angles.
We also love that this tiny butane iron provides a powerful soldering flame without the need for a cord. You don't have to fret about any safety issues. The Weller iron features protection for some of its most sensitive components. In fact, it's certified EDS and SD-safe.
We found the Weller PC2 super easy to use. This cordless soldering has a handy electronic starter. Once you hit the ignition, it only takes around 40 seconds for the iron to melt solder. With such a rapid heat time, this iron is ideal for jobs that require multiple connections. What's more, refueling was as easy as topping off a lighter.
Customers agree that the Weller iron is capable of performing in acclimate weather. Not to mention, the flame works at all angles. While the kit doesn't come with any extra tips, you can go online to purchase inexpensive replacements. Another Weller feature we love is the heat shrink activator. The pen has an exhaust hole that can be aimed at shrink wrap to activate it. We also love how easy it replaces the Weller's tips and fuel.
It's worth noting that the Weller's butane flow rate was super easy to control. Not to mention, it remained consistent from start to finish. While the Weller has perfectly placed toggles, there's no specific temperature indicator. As such, you need to use caution when adjusting the flame.
We recommend the Weller butane soldering iron for individuals on a tight budget. This stripped-down soldering kit costs just over $25. For this low price, you get a reliable unit with an adjustable flame and a hot air output. If you already have soldering accessories on hand, then the Weller is a great option. While the manufacturer leaves out some specifics in its product description, the Weller's consistently positive customer feedback ensure that this is a top-performing iron.
Pros
Pros
Melts solder in just 40 seconds
Refills in less than 20 seconds
Made in the U.S.A.
Works well in acclimate weather
Includes broad and fine soldering tips
Activates heat shrink wrap
Added safety features
Includes a protective cap
Cons
Cons
Does not come with replacement tips
No specific temperature indicators on the flame adjustment panel
---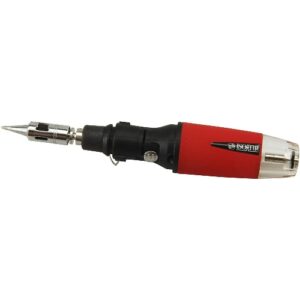 The SolderPro 50 is a heavy-duty 70-watt butane soldering iron. Still, it's lightweight, cordless, and ergonomic. Once you ignite the SolderPro, it takes a mere 20 seconds before its ready for soldering.
If you start with a full fuel tank, you can pull off nearly 30 minutes of uninterrupted soldering before you need to refill the fuel tank. The SolderPro has an impressive temperature range, with temperatures from 410 to 750 degrees. Topping things off, the torch function can reach temperatures as high as 2,400 degrees.
While you'll need to invest in a few soldering accessories to make the most of the SolderPro 50, the kit does come with a few soldering tips and a protective cap. Despite its minimalist design, this iron can be used as a soldering iron, torch, hot knife, and heat tool. To enjoy these additional functions, all you need to do is purchase and install the appropriate aftermarket tips.
If you're used to corded soldering irons, you'll find this cordless tool to be extremely freeing. It can be taken to remote locations for easy on-the-spot repairs. Since it only requires butane for fuel, there's no need for batteries or electrical outlets.
We recommend the SolderPro 50 to DIYers looking for a simple, affordable tool. This butane beast offers enough power to complete multiple strong connections. Not to mention, it heats up instantaneously and maintains consistent temperatures throughout its use. With ample positive reviews to back it up, the SolderPro 50 is has become a customer favorite.
Pros
Pros
Takes just 20 seconds to heat up
Comes with a single soldering tip and protective cap
Holds 30 minutes worth of fuel
Torch function can heat up to 2,400 degrees
Inexpensive
Iron boasts adjustable temperatures that range from 410 to 750 degrees
70 watts of power
Cons
Cons
Does not come with replacement soldering tips
Some customers say the advertised torch tip was not included in their package
---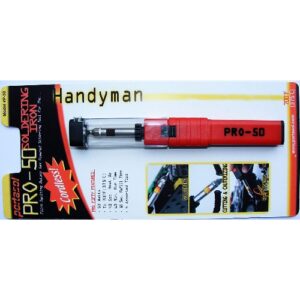 This next butane soldering iron caught our attention because of its unique soldering tip attachment system. The Portasol 010368100 P-50's soldering tips attach to a replaceable heating system. This system helps to eliminate extra costs related to soldering tip replacements.
We also love that this iron boasts a cordless flint ignition system. The 2.4-millimeter chisel tip ignites the flame in just a matter of seconds.
The Portasol 010368100 P-50 is quite the powerhouse. With 50 watts of continuous power and a large butane fuel tank, this iron can support 40 minutes of soldering at a time. At just 4.2 ounces, it's also one of the lightest butane iron options we came across.
Of course, the Portasol 010368100 P-50 also has a few downsides. For one, it's a fairly simple model that lacks a torch function. This isn't a nuisance if you're repairing small circuit boards and other household fixtures. Still, we recommend getting a better iron if you're working on automotive repairs or professional applications.
For those who are on the market for an inexpensive, reliable iron, the Portasol 010368100 P-50 will pull through. It's jam-packed with special safety features that will squash most of your soldering apprehensions. In fact, the gas tank is ultrasonically welded to prevent leaks. Whether your iron is exposed to UV rays, heat, or cold, it is bound to come out on the winning end. On top of that, the iron is made from Butane-compatible DuPont plastics. If anything, it's clear that the designers at Portasol have customer's best interests in mind.
We recommend this impressive soldering iron to customers looking for a safe, simple tool. At just over $14, the Pro-50 has an exceptionally low price. Still, it lights last and offers over 40 minutes of continuous use. If you are looking for a simple iron for occasional repair jobs, the Pro-50 has you covered.
Pros
Pros
Heats up in just 20 seconds
Unique tip system that consists of replaceable heating elements
Completely cordless
Up to 40 minutes of run time with each full fuel tank
Made with butane-compatible plastics
Easy to adjust flame
Cons
Cons
Lacks precise temperature settings
---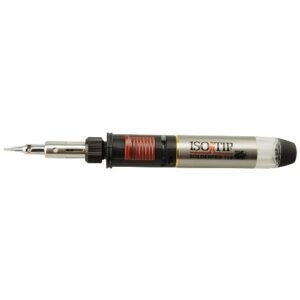 The Iso-Tip #7977 SolderPro 120 Butane Soldering Iron is an incredible soldering workhorse. It boasts power settings that range from 30 to 125 watts. Not only that but the fuel tank can hold enough butane to support 120 minutes of soldering.
With soldering temperatures between 408 and 1,000 degrees, there's no job too big for the SolderPro120. Since the iron is ready to use just 15 seconds after initiation, there's no telling how many connections you can make within a single use.
This iron comes with a soldering tip, a blowtorch tip, and a protective cap. What's more, it boasts a torch function with temperatures as high as 2,400 degrees. Customers seem highly satisfied with the fact that the SolderPro 120's can be used for more than just soldering. While the price is a bit expensive, it's one of the most powerful cordless applications on the market.
The SolderPro 120 is super compact and easy to store. Its small size makes it easy to use in tight spaces. Still, it manages to be the most powerful iron on our list. At nearly $75, this iron may seem a bit pricey for some DIYers. Still, it's worth every penny if you're looking for a tool with fast, effective, and long-standing soldering potential.
Pros
Pros
Temperatures range from 408 to 1,000 degrees
Heats up in just 15 seconds
Comes with two tips and a protective cap
Holds 120 minutes of butane fuel
Easy to adjust flame settings
Up to 120 watts of power
Electronic ignition
Functions as a blowtorch too
Cons
Cons
---
How to Pick the Perfect Butane Soldering Iron
At this point, you're probably wondering how to choose a solid butane soldering iron. In the section below, we talk about the different features of butane irons and explain why they matter.
Power
Soldering irons are used for a wide range of applications. Whether you're looking to make connections on a circuit board or want to weld metal jewelry, it's important to find an iron that boasts an appropriate temperature range.
Wattage
Most butane soldering irons boast a wattage that ranges between 20 and 60 watts. It's important that your soldering iron is capable of producing both low and high watts. After all, some delicate jobs require toned-down power, while others require high heat.
As a general rule of thumb, you can use a low-watt soldering iron when working on electric components. Meanwhile, you need an iron with a higher wattage when dealing with automotive repairs and certain metal jewelry materials. Keep in mind that low-wattage irons loose heat faster. When temperatures fluctuate, connections are often inferior. As such, it's best to opt for an iron that can produce at least 50 watts.
Temperature
It's also important that iron gives you detailed control over its temperature output. Most butane soldering irons have a knob that can be turned in order to increase or reduce the amount temperature. It's important that the control provides accurate and well-regulated control over an iron's temperature.
Functions
Keep in mind that butane soldering irons come with different sets of tips. Many irons boast a variety of narrow and wide-mouthed tips. These tips help shape the flame, making a single iron suitable for both small and large repair applications.
Many butane soldering irons also boast a blowtorch function. Blowtorch functions enable irons to heat up well beyond their conventional soldering temperature. With temperatures soaring well above 2,000 degrees, irons with blowtorch functions can be used to repair leaky pipes, strip paint, and even make creme brulee.
Burn Time
Burn time is a key consideration for users looking to before lengthy operations. While most butane irons are easy to refuel, it helps to plan your soldering time in order to avoid costly interruptions. Most of the soldering irons on our list offer burn times that are 30 minutes or longer. Some of them even boast burn times that are over an hour.
Ignition and Heating Time
Keep an eye out for irons that ignite easily and heat up quickly. With an electrical ignition, it should not take longer than 30 seconds to produce a lucrative flame. Melting time matters too. In fact, most solder melting times max out around a minute.
Comfort
Butane soldering irons are cordless apparatuses. They are usually pen-shaped and only weigh a few ounces. As such, many people prefer to toss them in their pocket for on-the-spot repairs. For better overall function and comfort, it's important to look for an iron with an ergonomic design. Slip-resistant grips, strategically placed ignition and temperature knobs, and easy-to-fill fuel tanks all boost the quality of a butane-powered iron. Keep in mind that butane torches can reach temperatures above 2,000 degrees. As such, avoiding contact with the tip is of the utmost importance.
Safety
You can never be too safe when working with electronic components, combustible fuel, and high temperatures. As such, we strongly recommend opting for a butane soldering iron with strong safety credentials. Whenever possible, opt for EDS-safe products. These products control the flow of static electricity and, therefore, reduce the possibility of electrical shock.
Why Opt for Butane Soldering Iron?
At this point, you're probably asking yourself why many people choose butane irons over the electronic alternatives. In general, butane soldering irons offer a greater and more precise range of temperatures. They're also super easy and inexpensive to refuel. Not to mention, they eliminate cords and other clunky soldering station elements.
The portability of butane soldering irons also makes them a popular choice for individuals working outside or in hard-to-reach places. Without the need for electricity, butane soldering irons allow for hassle-free repairs.
When you consider the lower cost, improved safety, and enhanced control of butane soldering irons, you can easily see why so many consumers choose them over electrical ones.
Best Butane Soldering Irons FAQ
Are butane soldering irons any good?
Gas soldering irons are used, among other things, to join metal materials. They are particularly useful in the field of electrical engineering and electronics. At the front of the soldering iron, there is a heated soldering tip that melts the solder. Then the area to be connected is wetted, cooled, hardened, and thus connected.
In addition, the device can be used perfectly for shrinking and removing soldering points that are no longer required. Most gas-powered devices do a great job when it comes to desoldering. The soldering iron creates a high level of heat. This is not only generated electricity that is available via a mains plug, but only through the combustion of gas. This is usually a butane gas.
The strength of the flame can be adjusted by hand. With the help of different attachments such as different medicinal air nozzles or soldering tips and individual regulation of the heat, a gas soldering iron can be used for a wide variety of tasks.
This work includes soldering electronic components, joining gutters or copper pipes, and brazing. Particularly high temperatures are necessary for brazing. In many cases, devices can be used for fine soldering work with a temperature range between 662 and 752F. If a hot air nozzle has been installed, the temperature may be significantly higher. With a flame nozzle, it is possible to reach temperatures of over 1832F without any problems.
Butane soldering iron or electric?
As with the electric soldering iron, the gas-powered devices are also very easy to hold. A gas soldering iron is not only equipped with a gas container, but also with an igniter. When switched on, this ignites the hot flame that provides the required heat.
Many models can even be lit by hand using a lighter or matches. The intensity of the flames can be regulated with a flame regulator. The main differences between the individual models are in the filling quantity of the container. The volume of the soldering iron can be smaller or larger, depending on the device.
In some cases, the gas is supplied separately. With such a device, the gas is fed directly via a permanently attached hose line. This loses the advantage that wireless operation is not possible. In this way, however, other gas containers can be connected. This allows the operating time to be increased. With a handy, compact device with an integrated tank, however, the operating time is much more limited.
What are the dangers of using a propane soldering iron?
Propane gas is an easily explosive substance. Thus, when you use gas soldering irons it is very important to be cautious and work in proper conditions. Containers with propane do not have to be heated or be close to beating devices. By increasing the heat of the tank, you also raise the pressure inside of it. In the end, it can explode.
Why is my butane soldering iron not heating up?
One of the reasons why your soldering iron does not heat up is because of the tip. It may require proper cleaning. After each soldering session, it is recommended to clean the tip to remove all unwanted residues. This ensures proper conductivity of the heat across the iron tip and you can easily maintain the needed temperature.
Can I solder with a butane torch?
Blowtorches are usually small, handy propane or butane-operated gas burners, which is why they are also referred to as gas soldering torches or soldering torches. Their primary areas of application are brazing as well as plumbing and heating installations. In the meantime, the devices are enjoying a whole range of other possible uses, for example in gastronomy or hobby use. As butane torches can produce high temperatures, you can use them for soldering.
Video Tutorial: How to Use Butane Gas Soldering Iron
Final Thoughts
We hope that you enjoyed our 2019 butane soldering iron buying guide. These incredible devices are one of the most versatile toolbox essentials. Still, many people don't know where to begin when purchasing a butane soldering iron for the first time. If you're looking for a reliable butane soldering iron, any of our expert-vetted picks will do. Of course, you can always use our buying guide to confidently select a soldering iron of your own.
---