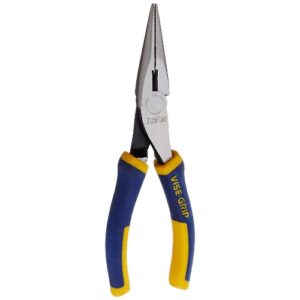 Nickel chromium steel
The ProTouch grips
Machined jaws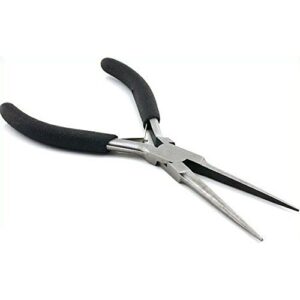 Professional quality
High carbon steel
Double leaf spring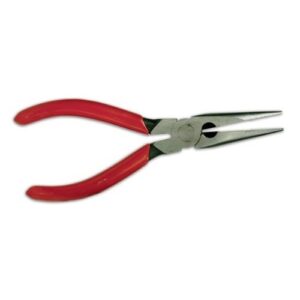 Needlenose Plier
STEEL PLATED
5.6 ounces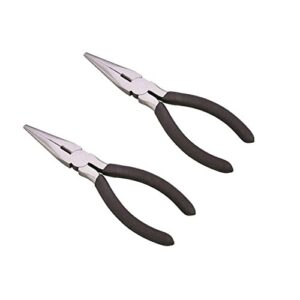 Drop forged hardened steel
Matte non slip grip
Sharpened extra strength
Needle-nose plier
Curved handles fit
More powerful grip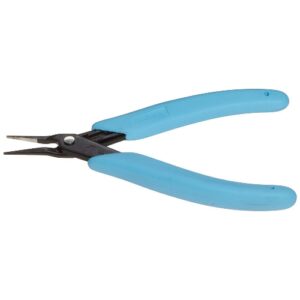 Tweezer-nose pliers
Jaws have fine
Extra holding power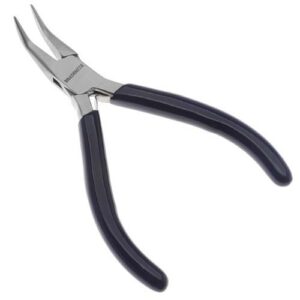 Wrist fatigue
Sturdy box
Leaf spring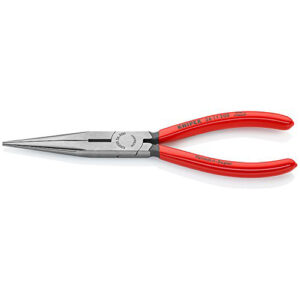 Elastic precision tips
Half round
Long jaws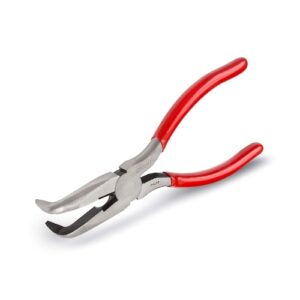 Long, tapered nose
Cross-cut teeth grip
Slim, nonslip grips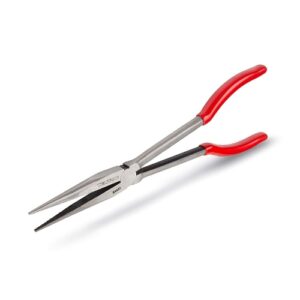 Long, tapered nose
Cross-cut teeth grip
Slim, nonslip grips
---
Choose the Best Best Needle Nose Plier
Customer's Choice: the Best Rated Best Needle Nose Pliers
5 users answered this survey. Please help us improve this review!

20% of users selected IRWIN VISE-GRIP, 60% selected SE LF01 Professional, 20% selected Sea Striker P6, 0% selected Edward Tools and 0% selected E-Z Red KWP2 Kiwi. Every month we analyze your answers and change our rating.
---
Needle nose pliers are a small but irreplaceable instrument that you may find in any toolbox. Especially it is especially widely used by electricians who frequently pill, cut and bend wires. If you need to pick something really tiny and hold it for a while, needle-nose pliers can be also helpful.
The U.S. market is overloaded with different needle-nose pliers. How to pick a reliable and durable tool for the affordable cost? First and foremost, you should check the following 5 instruments in this category. There is no such thing as perfection but these tools can be really great. Also, you may check the comparison table and choose what instrument fits your requirements. Those people who look for the in-depth guide to the world of needle-nose pliers should check the buying guide.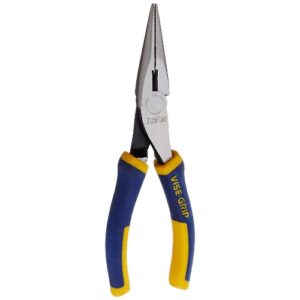 This tool has 6-inch pliers made of durable nickel and steel alloy with chromium finish. The instrument has very comfortable grips for reducing hand fatigue. Due to the design of machined jaws, these pliers are very strong, with sharp knives.
If you need the durable needle-nose pliers with a long reach, think of testing the Irwin Vise-Grip model.
Pros
Affordable
Includes the cutter
Good for cutting the strings
Durable steel is the basic material
Ergonomic design
Rust and waterproof
Meet ANSI specs
Cons
Small handles
The handles are not rubberized
Not good for heavy and precise jobs like jewelry making
Factory rejects are possible
These quite durable pliers offer precision. One of the best features besides the length of the blades is no visual gap when closed. However, you may reconsider using this instrument for complicated tasks and cutting through.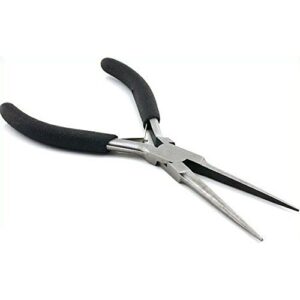 This instrument is available in different sizes of the knives: 4″, 4-1/2″, 5″ and 6″. Also, you may pick the high-end pliers with 6 various noses. The pliers' hardness level is 55 meaning they are capable of dealing with thick materials.
Thanks to the flat nose, you will be able to hold wires and metal pieces with this tool.
Pros
Ergonomic flat-nose design
Double leaf spring
Top-notch quality
Comfortable grips
Compact and lightweight
Budget-friendly
Cons
The tips are blunt
The handle cover is not good
The sturdy round jaws are suitable for cutting through the tiny objects or hold wires without any scratches. Though, they won't help with any serious jewelry-making jobs. Users appreciate these pliers for the powerful grip and the ability to reach small objects.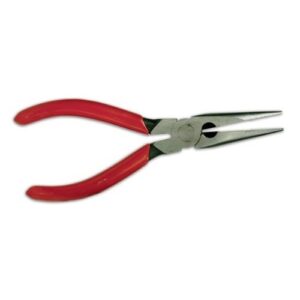 These one-size pliers have a multicolor style because colorful metal objects can attract the fish. The Sea Striker pliers are small but very strong and durable. They may handle any depth or species in saltwater. Experienced fishmongers use these pliers to hold and cut through the fishing net.
Pros
Bright multicolor style
Small but durable
The one-size-fits-all design
Sturdy
Budget-friendly
Cons
A bit bulky
Do not push too hard when using the tool
Rough edges on the jaws
These pliers are not lightweight but they can help with jewelry making. Also, most women like using them because they perfectly fit small hands. Besides jewelry and household tasks, some users use them for removing toothpicks from the baked meats. So, this instrument is quite versatile.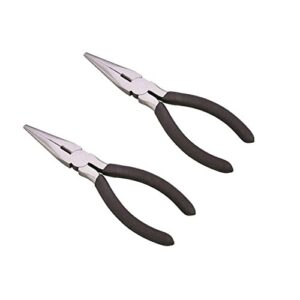 The Edward Tools' pliers with a side cutter are made of forged hardened steel with the rust proof finish. The aligned side cutter provides extra strength and smooth action. You may use it for different tasks. The long nose pliers can be good for jewelry making, side cutting, electrical jobs, etc.
Pros
Very durable
Nice design
Matte non-slip grips
Sharp
Includes a side cutter
Lifetime warranty
Polished finish with the rust-coating layer
Cons
Heavy
Do not use them in salt water
May contain harmful elements
These all-purpose, rust-free long 6-inch pliers can cut and hold any small objects. The jaws are smooth and stiff. They are good for heavy-duty tasks.
The right-angle EZRED KWP2 Kiwi pliers are recognized for the design and construction. Its unique feature is extra visibility achieved by the bent head design. That is why users will be able to access tight spaces at the right angle without blocking the sight.
Unlike most tools, these pliers have comfortable rubberized grips and integrated notches.
Pros
The versatile design with a bent head and better angle
Better visibility
In-built hand notches for a more comfortable grip
Spring-loaded handles
Fully ergonomic and easy to apply
Very versatile
Cons
Extremely lightweight
Not rustproof
Can click when the jaws are fully open
If you seek the best pliers to work within tight places with a bad sightline, check this instrument. The curved hands and bent-head can significantly improve visibility.
The Buyer's Guide
Let's see, the most common question I get is where to use this or that tool for welding. When it comes to pliers, I should say that the range covers anything related to common maintenance or common repairing works. A hand needle-nose plier is awesome for any electrical chores either. The instruments come in a variety of specs, shapes and brands. I created the buying guide to show the diversity of all features in good needle-nose pliers.
Design
Most top-notch needle-nose pliers can be a great choice for heavy-duty tasks. That is why you need to look for an ergonomic design. Only the pliers with safe and ergonomic design and weight balance can deliver the maximum comfort during any jobs.
First and foremost, the needle-nose pliers should be comfortable to carry when you need to:
Grasp the small parts and elements;
Crimp for working with the wiring connections;
Bend the wire, rods, metal cores and thin strips, smoothly bend them at different angles;
Bend wires into single rings of various diameters;
Here are the things worth checking when you choose the design of needle-nose pliers:
Jaws
The high-end jaws must be strong and prevent any slipper when you grasp and hold the objects. The jaws should not rub the surface as well. Check the pliers with the jaws that have the serrated teeth for better comfort when grasping very small objects. Also, the jaws should end with precision tips to bend and cut wires.
Most instruments have the design of straight jaws described above. But some models offer angled jaws if you need to grasp a few objects at the same time. Also, such tools are better for electrical jobs, repair and jewelry-making.
Cutting knives
The most important detail of the needle-nose pliers is the induction-hardened cutting blades/knives. Most electricians choose the instruments for wire-cutting tasks. That is why the cutting knives must be made of durable materials.
Handles
Most experts recommend applying the needle-nose pliers with comfortable, flat and wide handles. If you seek the best right traction, then choose the lightweight pliers with comfortable grips. Non-slip handles will allow working safely even if your hands are wet.
To work with miniature parts, it is better to opt for models with dowsing handles. They are more than convenient. Though convenience is a purely subjective concept, it is better to hold the pliers in your hands. Two-component handles with protrusions may prevent slipping of the hand when performing heavy work, where a steady force is applied to the tool.
Noses
Most pliers have noses with different shapes – from 45 to 90 degrees. If you need a versatile tool then check the length of the noses – from 8 to 12 inches.
Joints and springs
If you seek the hand fatigue in needle-nose pliers, make sure the instrument has a spring-loaded design. Also, long-arm coil springs fitted between handles should open and close very gently at the angles of more than 90 degrees. In such a way, the instrument can have the right tension for effective jobs.
Size
As you might have noticed, almost all top-notch needle-nose pliers are available in different sizes. Users may choose between micro, mini and standard pliers between 5 to 8 inches. You should pick the right size for your tasks to pull and bend copper wires. For instance, to pull a live wire, you should invest in the longest needle-nose pliers with precision tips and rubberized handles.
Material
Like with most household tools and instruments, you should look for the needle-nose pliers made of steel. However, the quality of steel may change drastically. Only forged steel can provide the durability of the cutting edges. They will stay sharp for a long time. If you want to save money, then look for steel coated in chromium for preventing rust and corrosion. You will be able to use such tools in harsh conditions.
What affected my decision on the following top 3
RWIN VISE-GRIP was probably the easiest pick out of all my reviews. It's an exceptional tool made of nickel chromium steel and pro-touch grips;
SE LF01 Professional is another professional instrument at the reasonable price. I picked it because of the double leaf spring;
Sea Striker P6 is just very handy and steel plated;
How did I pick the needle-nose pliers for my review on SolderingIronGuide?
A friend asked me how I create so detailed reviews on such a narrow, and quite boring (for him), theme. My response was simple: I do many tests in my free time. I just like welding jobs, to be honest. Sometimes these tests take from a few hours to a couple of weeks. And since not many people have enough opportunities to do all this boring testing on their own, I think my opinion can be considered as useful, especially for beginners.
Video Tutorial: How to use Needle Nose Pliers
Final thoughts
Now when you know what to look for in the high-end needle-nose pliers you should face any difficulties when buying this tool. Otherwise, you may always use this review as your guide. Look for the versatility, durable materials, ergonomic design and you won't miss.
---