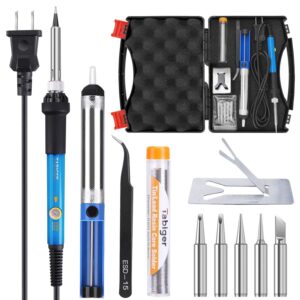 60W
5 solder tips
Max Temperature: 450 °C
A Focus On Safety
Cools down in a flash
Max Temperature: 450 °C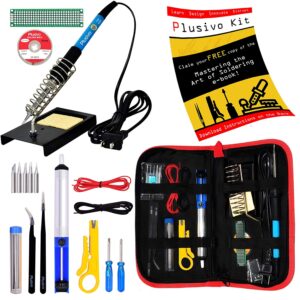 Adjustable Temperature
Heat Time: 60 seconds
Max Temperature: 450 °C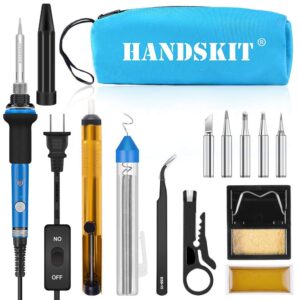 60W
ON/OFF Switch
Heat up Quickly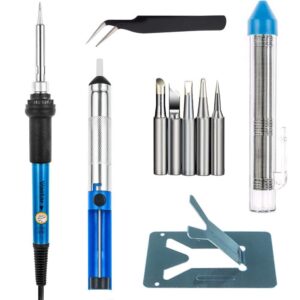 60W
Max Temperature: 450 °C
Heat up Quickly
---
Choose the Best Soldering Iron for Jewelry Making
[modalsurvey id="1433649064″ style="flat"]
Customer's Choice: the Best Rated Soldering Irons for Jewelry Making
[survey_answers id="1433649064″ style="plain" data="score"] users answered this survey. Please help us improve this review!
[survey_answers id="1433649064″ style="piechart" legend="true"]
[survey_answers id="1433649064″ qid="1″ aid="1″ style="plain" data="answer_percentage"] of users selected [survey_answers id="1433649064″ qid="1″ aid="1″ style="plain" data="answer"], [survey_answers id="1433649064″ qid="1″ aid="2″ style="plain" data="answer_percentage" init="true"] selected [survey_answers id="1433649064″ qid="1″ aid="2″ style="plain" data="answer"], [survey_answers id="1433649064″ qid="1″ aid="3″ style="plain" data="answer_percentage"] selected [survey_answers id="1433649064″ qid="1″ aid="3″ style="plain" data="answer"], [survey_answers id="1433649064″ qid="1″ aid="4″ style="plain" data="answer_percentage"] selected [survey_answers id="1433649064″ qid="1″ aid="4″ style="plain" data="answer"] and [survey_answers id="1433649064″ qid="1″ aid="5″ style="plain" data="answer_percentage"] selected [survey_answers id="1433649064″ qid="1″ aid="5″ style="plain" data="answer"]. Every month we analyze your answers and change our rating.
---
Jewelry making is a popular pastime that often involves soldering. The right tools can make this process easier and more enjoyable. We have corralled five of our favorite soldering irons for jewelry making into one arena. After taking a deep look at each of these soldering products, we're happy to share our honest opinion with our readers. In case that isn't enough, we've paired our reviews up with a comprehensive buying guide. Our goal is to streamline the soldering iron buying process by thinning out the inferior products and focus on the strongest contenders.
Tabiger 60- to 100-Volt Soldering Iron Kit – Editor's Pick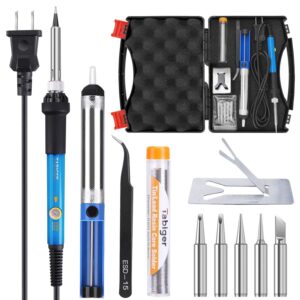 The Tabiger soldering iron is an excellent addition any jewelry making setup. This impressive device can reach temperatures as high as 842 degrees. The iron's well-made ceramic heating element achieves its target temperature in just a few seconds.
The device has large venting holes for enhanced energy efficiency and user safety. It also comes with a high-powered solder sucker. This handy device can be used to remove unsightly mistakes. It also offers impressive suction with the press of a button.
This device also comes with a sturdy plastic carrying case. This portable toolbox boasts a protective layer of dense foam. As such, the contents of the case are protected at all times. In addition to the iron, the case is stocked with a set of six unique soldering tips, a 40/60 solder spool, a soldering stand, and a soldering pump. The entire kit is backed by a 12-month warranty. Overall, the Tabiger iron and accessories are ideal for precision-minded metalwork.
While we recommend this impressive kit for home-based jewelry making, it is also great for electronic repairs and other DIY tasks. It comes with everything you need to get started. You can save an abundance of time and money by purchasing the Tabiger soldering kit.
Pros
Includes five unique soldering tips
Includes metal soldering iron stand with coil and sponge
Soldering wire tube and anti-static tweezers
Reaches temperatures between 392 and 842 degrees
Trigger button for one-handed operations
High-pressure vacuum for removing solder
Durable, heat-resistant aluminum body
Portable tool box with foam padding
Cons
Electric prongs may become loose in standard outlet
Temperatures marked in Celsius
---
Magneto's Soldering Iron Kit – Best Budget Option
The Magneto soldering iron kit is yet another condensed collection of tools that are perfect for jewelry making and metal joint work. The Magneto soldering iron is a powerful pen-shaped tool that offers 110 to 220 volts of power.
It can reach an impressive 842 degrees in seconds. If you aren't looking for extreme heat, you can use the iron's temperature dial to hone in on a lower target temperature. This iron boasts several large heat venting holes for faster cooldowns and improved energy efficiency. It also has an ergonomic, non-slip grip for safer work sessions. Overall, the iron's heating element promises a lifetime of melted solder.
The Magneto soldering iron comes in a soft zippered case. Inside, you will find 28 high-quality soldering accessories. Bonus materials include an assortment of soldering tips, anti-static tweezers, wire strippers, and much more. You can also use the elements in the kit to construct a durable soldering iron stand.
Of course, we love that this iron is made with certified non-toxic materials. It features a smooth pen-shaped form with a heat-resistant grip. It is engineered for safe and precise soldering.
Customers agree that the Magneto is accurate and easy to use. Since the kit includes everything you need to get started, it's a great collection for jewelry makers who are just getting started. Of course, the kit can also be used to perform repairs to circuit boards and small electronics. As such, it is an excellent addition to any home workshop.
Pros
28-piece kit
110 to 220 volts
Adjustable temperature between 200 and 450 degrees
Includes fabric carrying case with zipper closure and elastic holders
Bargain-rate price
Includes a powerful solder sucker
Cons
Not suitable for professional use
---
Plusivo 60-Watt Soldering Iron – Customer Favorite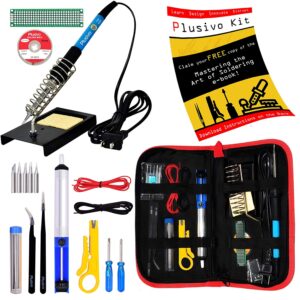 The Plusivo soldering kit is a customer favorite. For less than $15, consumers can score this 60-watt soldering kit with all the essential accessories.
The Plusivo iron, stand, tip set, pump, wick, and tweezers are packed neatly in a zip-up fabric carrying case. The case makes it easier to take this set of small accessories on the go.
While the Plusivo iron can be used in several types of soldering applications, it's perfect for jewelry work and other percise projects. It comes with a dual spring soldering iron stand for safer standbys. It also includes a large assortment of accessories that aid in both soldering and desoldering. Of course, the PU carrying case keeps all the loose pieces together. Most customers agree that the Plusivo offers enough power for advanced soldering projects. What's more, many customers found the free eBook to be informative and fun.
Pros
Maximum temperature of 842 degrees
Standard US plug
Black and red carrying case
Includes several essential accessories
Includes five soldering iron tips and a heat-resistant cap
Bonus eBook included with each purchase
30-day return policy
Cons
Takes 60 minutes to achieve target temperature
---
Handskit Soldering Iron Kit – Most Compact Option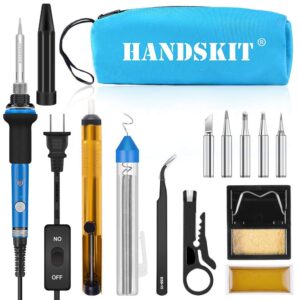 The Handskit soldering iron is a 60-watt device that can achieve temperatures as high as 842 degrees. This small device is perfect for jewelry making and other DIY applications.
The Handskit heats up quickly and maintains its target temperature for an extended period. An onboard thermostat helps regulate the device's adjustable temperature range. The kit also comes with several desoldering essentials, including a high-pressure desoldering pump and a 2-millimeter soldering wick.
All of the Handskit soldering kit accessories are stored in a durable PU carrying case. This storage capsule opens like a trapper keeper, revealing two jam-packed sections of well-organized accessories. The collection is perfect for any hobbyist looking to break into the world of DIY soldering. It provides users with a wide range of accessories as well as a place to store them. If you're a jewelry maker with lots of small parts to keep track of, the Handskit kit is worth a look!
Pros
60-watt soldering iron with adjustable temperature range
Max temperature of 842 degrees
High-powered desoldering pump
Several replacement tips and soldering accessories
Zip-up PU carrying case
Includes soldering stand with spring and sponge
Achieves target temperature within 60 seconds
Cons
---
Vastar Soldering Iron Kit – Best Chip-Fixed Resistor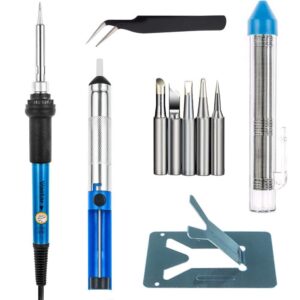 To start things off, we love that the Vastar soldering iron can achieve its target temperature in just 15 seconds. It offers an adjustable temperature range that is perfect for jewelry making, circuit board repairs, and other electric applications.
The iron gets its power from a standard electrical circuit. Nevertheless, this small device has a long power cord and a lightweight body. As such, it's one of the most portable kits we've come across.
The Vastar kit comes with a desoldering pump, a soldering stand, five soldering tips, and anti-static tweezers. Unlike our previous picks, this tool does not come with a carrying case. However, the device's superior heat dissipation system makes it a timeless option. Most customers find it easy to operate the Vastar. It offers adequate soldering and desoldering applications. What's more, it boasts an unbeatable price!
Pros
110 volts, 60 watts
60-inch electrical cable
Achieves max temperature in seconds
Includes five-piece tip set
Includes desoldering pump and accessories
Comes with a tube of solder and anti-static tweezers
Improved heat dissipation
Chip-fixed resistor
Cons
Tends to come loose from wall outlet
No carrying case
---
What to Look for in a Soldering Iron for Jewelry Making – Buyer's Guide
Whether you're making new jewelry or repairing small electronics, a well-made soldering iron will help you achieve all your soldering goals. In this section, we discuss what to look for in a jewelry-making soldering iron.
Wattage
When you are shopping for a soldering iron, wattage should be at the forefront of your decision. Irons with high wattages heat up fast and maintain their temperatures for extended periods. A high wattage also ensures that a soldering iron will adequately regain any heat lost during soldering. When shopping for a soldering iron for jewelry making, we recommend opting for an iron that offers 60 or more watts.
Temperature
When working with different materials, you may need to adjust the temperature of your soldering iron. Irons with adjustable temperatures boast built-in thermostats. These elements are typically controlled by an onboard temperature dial. Most irons have temperature settings that range from 200 to 842 degrees. Keep in mind that many irons are labeled with Celsius measurements. Steer clear of irons with finicky thermostats. Inferior designs may make it impossible to hone in on a specific temperature.
Ergonomics and Safety
Most jewelry makers prefer to use soldering pencils. These devices are perfect for jobs that require nimble fingers and ample precision. Soldering pencils are long and narrow. They can typically be controlled with a single hand. Many soldering pencils come with stands. These additional elements make for safer standby periods. Most soldering stands include resting coils and sponges.
Soldering irons house powerful internal heating elements. As such, it is important to always opt for an iron that boasts a heat-resistant handle. Anti-slip features, such as molded grips, are also vital safety elements. Of course, all irons should feature some sort of heat dissipation system. Venting holes and anti-static protection are just two important soldering iron safety features.
Tips and Soldering Accessories
Jewelry making requires a wide range of soldering iron tips. While these elements can be purchased after your initial purchase, it helps if a soldering iron comes with a starter set. A wide range of tips will help you fine-tune your creations.
Desoldering Accessories
Desoldering tools enable you to remove unwanted solder and perform repairs. Desoldering accessories include solder suckers and wicks. A solder sucker should boast a power suction and durable tube. This will help you remove hot solder without injuring yourself.
Price and Warranty
Most jewelry making soldering kits are priced around $15. This low price often includes a bundle of soldering and desoldering accessories. Some kits even come with complimentary carrying cases. A well-made and reasonably priced soldering kit should offer you a lifetime of soldering applications.
Home or Professional
Many home-based jewelry makers expand into the craft industry. More often than not, a few custom jewelry sales enable crafters to continue their hobbies without succumbing to financial restraints. If you plan on taking your jewelry making hobby to the next level, it makes sense to invest in quality iron. Find a device that heats up fast and maintains its target temperature for long periods. Then, work on setting up a professional soldering station with plenty of soldering and desoldering essentials.
Soldering Irons for Jewelry Making – FAQ
How to solder jewelry with soldering iron?
If you want to either make your jewelry or repair defective pieces of jewelry, you can achieve good results with soldering, especially with silver. Soldering silver is relatively easy with a little experience. You should be patient now and then. Use tin snips to cut the tiniest crumbs from silver solder. Brush the silver parts to be soldered with borax silver solder. Distribute the crumbs of solder on the seam.
Now you can heat the parts to be soldered with the gas burner. Make sure that both pieces heat up evenly and that the solder spreads out as desired. This is followed by the fire test, which is more of a water test. Because you cool the soldered part in a glass of water. If you have not soldered well, the seam will spring open again immediately. 
If everything is perfect, soak the parts in 10 percent sulfuric acid for 10 minutes. This is how you remove the oxide layer created during soldering. First, the silver becomes black and unsightly. With the subsequent polishing, you can create the real silver shine again.
What type of soldering iron should I use for jewelry?
Choosing the right instrument is very essential when dealing with silver soldering. Jewelry is delicate and you should be very accurate in order not to damage it. Speaking about soldering irons, you should consider models with high wattage. It guarantees that the iron tip will maintain the same temperature during the soldering process, and there will not be heat loss. You should consider tools with 60 watts of power output or more to enjoy the jewelry soldering. Besides, you should consider the tip of the very sharp shape. As jewelry, soldering is about beauty and accuracy, the work has to be done neatly.
What Is used as a flux for soldering of gold or silver?
One of the options is to use the flow flux. It is a product often designed based on Borax. It is used to clean the areas to be welded or brazed and to prevent oxidation. Soldering cannot be done correctly if there are impurities and the metal is oxidized at this location. As most fluxes are toxic, it is again very important to have good ventilation, especially where soldering and soldering jewelry is done. To apply it you can just use a brush, preferably real bristles.
On heating, the flow will vitrify. The remaining residue can be simply removed with hot water. However, since the jeweler is used to dipping the jewelry in the scrap after soldering, this also allows the flux to dissolve.
Can I solder silver with a soldering iron?
The short answer is yes, you, can solder silver with soldering iron. However, it is not that simple. You need to have the proper tool. If your iron cannot maintain the required temperature during the soldering process, you may end just damaging your jewelry. It is beneficial to have a soldering station that shows both temperatures. One that you adjust and the actual temperature of the tip in the current moment. Such temperature control ensures properly soldering silver.
Alternatively, you may consider using a soldering torch instead of iron. If you are not sure about the wattage of your soldering iron, it may not reach the needed temperature. That will just damage the jewelry. With a torch, you can deliver enough temperature. Moreover, silver dissipates heat easily, which makes soldering even easier.
What is the difference between easy medium and hard silver solder?
Each metal requires a certain temperature to be melted and to work with. On the internet and market, you can find such descriptions as easy or soft, medium and hard soldering. These three types are about the temperature you need for the solder to melt it, where the hard type requires high temperatures and soft low. Jewelry pieces can be made with the usage of various types. It means that you may need various temperatures to deal with an item. Additionally, you do not want to overdo with temperature and remelt joins that you have made before.
Speaking about silver material it can be of different flow temperatures. Here is what temperatures you will need:
Hard 1425F;

Medium 1390F;

Easy 1325F.
It is necessary to mention that silver solder with a higher percentage of silver melts at lower temperatures. Commonly it is around 45 percent.
What metals can be soldered together?
Not just in jewelry soldering, you can use metal like iron, brass, gold, and silver. To join them the most common filler is solder. It does not require high temperatures to melt. It allows you to solder several metals in one piece, without damaging them.
Will a soldering iron melt gold?
Gold is a metal that melts at high temperatures. If you have powerful enough soldering iron, it can melt it. However, if your goal is not to damage golden parts, you should not worry much. The solder does not require those temperatures. You can easily melt and solder without reaching the point where you may deform the gold.
What flux is used for silver soldering?
While dealing with silver soldering you should always consider using acid-based flux. It will clean the joints you make on jewelry. You should remember that such flux has toxic fumes when it vaporates. Thus, you need to have good ventilation in the room.
Video Tutorial: Soldering Jewelry with a Solder gun
Final Thoughts
We hope you enjoyed our top five soldering irons! These incredible tools will put the final touches on all of your homemade jewelry. Almost all of the kits on our list include accessory packs jammed with soldering goodies. Did you recently start soldering metal jewelry? Let us know what you're working on in the comment section below!
---