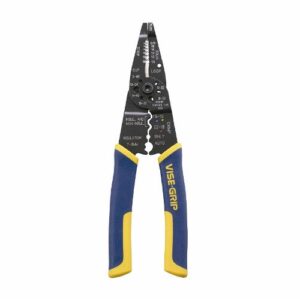 Stays sharp longer
Induction hardened
Crimps terminals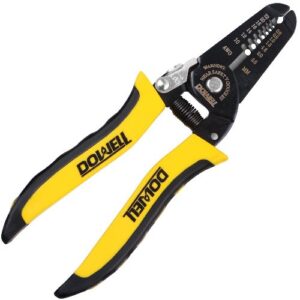 For copper&aluminum cables
PP+TPR material
Optimal force-transmission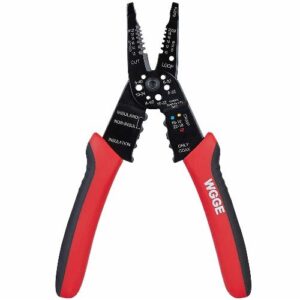 Strong-gripping serrated nose
Ergonomic curved handle
Applied to crimping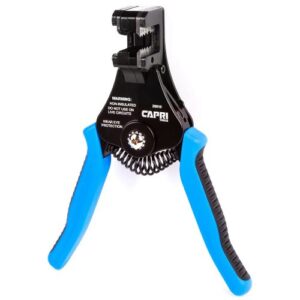 Use the precise setting
Cast alloy chassis
Convenient recoiling design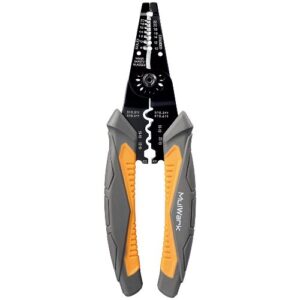 High-frequency blades
Heat treated sharp blades
Cushion-GRIP handle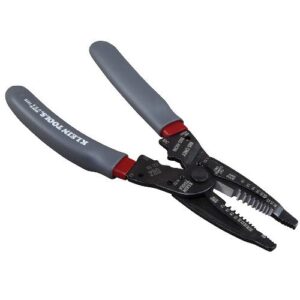 Non-insulated terminals
Insulated terminals
Reinforced head reduces flex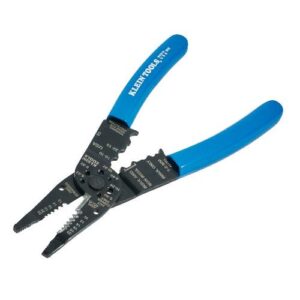 Easily cuts wire
Easily strips wire
Cushioned handles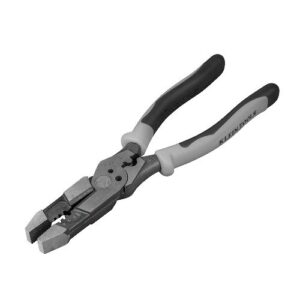 Multi-purpose tool
High-leverage design
Wide knurled head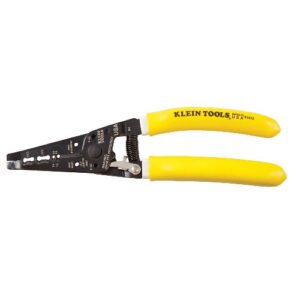 Stripping slots
Easily remove insulation
New lock design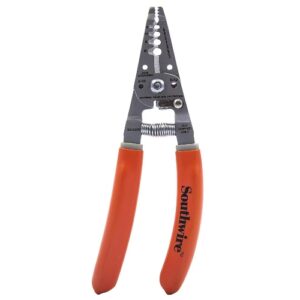 For solid&stranded wire
Multitasking
Easy to use
If you're looking to tackle a few basic electrical projects, you're going to need a pair of reliable wire cutters. These tools are an essential part of every DIYer's toolbox, but not all are created equal. We spend hours checking out popular models, settling on just five top performers to share with you. There's no room for error when it comes to electrical repairs. That's why we focused on finding wire cutters that provide precise cuts while optimizing user comfort. Stay tuned for our top products and a comprehensive buying guide.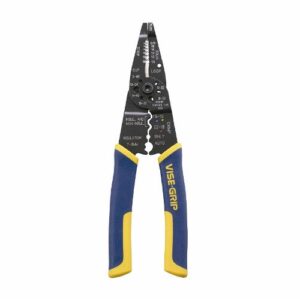 The Irwin Vise-Grip Wire Stripping Tool enables you to cut and strip 10 to 22 American wire gauge (AWG) wires. The induction-hardened iron cutting edge stays sharp even longer. What's more, the ProTouch rubber grips do not slip and slide when hands become sweaty.
The Irwin's plier nose enables you to pull and loop various wire gauges. In case you were wondering, this product is covered by a lifetime guarantee.
Overall, these blue and yellow-gripped wire cutters are some of the most affordable options on the market. Still, they are comfortable enough for all-day use. We found them suitable for a wide range of applications. If you have a few electrical repairs to make, you're sure to appreciate the help of the Irwin Vise-Grip wire strippers. You'll love the scratch-resistant coating and high-contrast markings. You can count on these strippers to eliminate typical hand fatigue.
Pros
Induction-hardened cutting edges stay sharp even longer
Strips and cuts 10-22 AWG wires
Plier nose enables users to pull and loop wire
Bolt cutter leaves unblemished threads
Crimps insulated and non-insulated terminals
Cons
The action is not always smooth
---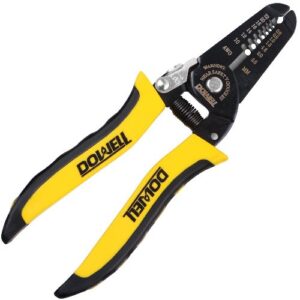 The Dowell Wire-Stripper is a multi-purpose tool that can cut and strip copper and aluminum cables between 10 and 22 AWG. The handle is made from a combination of PP and TPR materials. It offers a super comfortable and ergonomic grip. Users can perform simple tasks with just one hand.
The Dowell pulls and removes wires' outer jackets with the utmost efficiency.
Despite being one of the least expensive wire cutters on the market, the Dowell is a top performer. Our only complaint is that tip-based crimper produces less than desirable results. While we like the idea of a multi-purpose tool, we wouldn't consider the Dowell a viable dual-use tool. It has a compact and attractive design. Overall, it's ideal for small home and automotive electrical repairs. Its wire stripper and cutting functions are enough to earn it a place on out list.
Pros
Serves as a wire cutter and stripper for wires from 10-22 AWG
Ideal or copper and aluminum wires
Yellow and black grips made from PP and TPR
Allows for one-hand maneuvers
Safely eliminates the outer jackets of wires
Cons
Crimping function is not amazing
---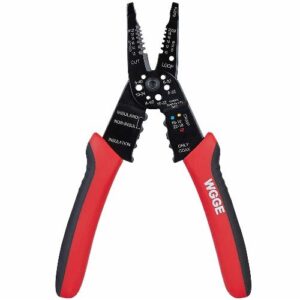 WGGE WG-105 is a budget-friendly professional wire crimping and cutting tool. It is capable of cutting, stripping, and looping wire from 10 to 22 AWG. This tool is suitable for solid copper wire and aluminum cables with 0.6- to 2.0-millimeter diameters.
High-carbon alloy steel with precision cut holes ensures that each electrical job is done correctly. The PP and TPR grip offers optimal forced-transmission and enhanced user comfort.
Customers agree that the WGGE is comfortable enough for everyday use. If you are an avid DIYer looking for a professional-grade wire stripper, be sure to check out this incredible crimping tool. You'll find it easy to find the perfect stripping setting for a wide range of wire gauges. You'll be able to remove insulating sheaths without digging into the alloys below.
Pros
Cuts, strips, and loops wire from 10-22 AWG
Suitable for copper wire and aluminum cables from 0.6-2.0 millimeters
Precise high-carbon alloy steel with precision holes
PP and TPR grip offer enhanced ergonomics and optimal force-transmission
Can also sheer strews
---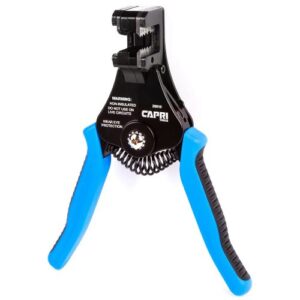 If you're willing to spend a little extra on your new wire cutters, be sure to check out the ever-reliable Capri Tools 200010 Precision Wire Stripper. A recoiling spring gives this tool a quick compound wire-stripping action. It can be used on solid and stranded wires between 8 and 22 AWG.
The cast alloy chassis serves as an unrelenting foundation. While we're not huge fans of the plastic grips, there are strips of slip-resistant black rubber on the sides. Overall, the device is comfortable enough for day-long projects. The extra tension and ergonomic setup make jobs a lot easier and faster.
The one-of-a-kind prototype makes wire stripping more accessible than ever before. You'll spend a little more to get your hands on this high-quality tool. However, you'll reap the benefits of your investment with every job you complete.
Pros
Settings let you strip 8-22 AWG wires with heightened precision
Made from cast alloy
Features a convenient recoiling spring with
Fast, compounding wire-stripping design with tension-loaded grip
Can be used on solid and stranded cables
Cons
Handles are made of plastic over a steel chassis
---
The MulWark 8-inch Wire Stripping Tool boasts a range of essential functions, including stripping, snipping, crimping, and looping wires. The tool is compatible with 8 to 22 AWG wires. It can also cut and heavy-duty electrical bolts and screws. According to the manufacturer, the crimping function works on insulated and non-insulated terminals, wire rope sleeves, and wire butt connectors, and much more. The tool is covered by a lifetime warranty.
The handles are made from durable high-carbon steel with rubber grips. The induction-hardened blades are incredibly sharp and boast high-contrast markings. A plier top makes it possible for users to pull and loop wire with the utmost efficiency. The tool comes pre-oiled. We'd recommend this budget-friendly offering to any DIYer looking to complete a few essential home improvement projects.
Pros
Strips and cuts wires from 10-22 AWG
Suitable on Romex and stranded wires
High-frequency heat-treated blades stay sharp even longer
Integrated heavy-duty screw and bolt cutter
All-in-one wire crimper
Cushion-grip handle
Cons
May leave some strands uncut
---
Wire Stripper Buying Guide
We've compiled our best wire stripper buying suggestions. Follow these guideposts to land yourself a tool that will last a lifetime.
Wire Compatibility
Always choose a wire stripper that is a good fit for the materials you wish to install or repair. You'll notice that wire strippers are compatible with a range of wire gauges. Most strippers are compatible with a range of wires between 10 and 24 AWG. It's also important to check what types of wires your stripper is compatible with. After all, it can be challenging to achieve consistent results when working with various combinations of alloys and casing materials. Finally, you must use the correct wire stripping gauge whenever cutting, crimping, stripping, or splicing wires. Accuracy is paramount when it comes to electrical work.
Materials
Most wire strippers feature a durable metal chassis with plastic or composite handles, rubber grips, and hardened alloy blades. Look for keywords such as induction-hardened alloy and precision milled holes. These details will make it much easier for you to achieve accurate wire alternations.
Ergonomics
Whenever you're shopping for a new tool, comfort and ergonomics should always be at the forefront of your mind. Many DIYers struggle to complete electrical repairs after finding that their wire cutters leave their hands uncomfortable and fatigued. Sometimes, wire locations leave people in vulnerable positions. As such, it's especially important to choose a lightweight and relatively compact stripper.
Your new tool should also boast slip-resistant rubber grips and ergonomic design.
Price and Warranty
Wire cutters are relatively inexpensive tools. Many are even backed by lifetime warranties. You can make the most of your money by investing in quality, vetted products. Look for top-quality materials, extended protection plans, and positive customer reviews.
Video Tutorial: Which Strippers Are Worth Having?
Conclusion
Every DIYer can benefit from having a good set of wire strippers in their toolbox. These electrical repair essentials offer essential wire alternations without breaking the bank. We're big fans of the Irwin Vise-Grip 8-inch Wire Stripping Tool. This 8-inch cutting tool strips and cuts wires between 10 and 22 AWG. Its proprietary rubber handles offer enhanced ergonomics for enhanced all-day comfort.
I like strippers for wires because they help me to repair almost anything. One of these smart appliances helped to fix an iPhone charger for my girlfriend. I saved one hundred dollars, at least. Make sure to read my guide before buying one of the recommended or other tools that can be found in the U.S. market. I can't say that it's the most essential thing for a beginner, but it actually saves a lot of time.
SolderingIronGuide criteria
So, the first things first – the price. A good appliance in this niche will cost you no less than $20, though there are cheaper and more expensive tools. Besides the price, stick to such tips when buying the stripper:
Design and total quality – choose the appliances made of aluminum, steel or other hard metals;
Grips – rubber grips provide greater stability, according to my experience;
Cutting terminals – pick the appliances with diverse American Wire Gauge (a.k.a. AWG) terminals, between 0-40;
The ease of use;
The best wire strippers according to SolderingIronGuide:
RWIN VISE-GRIP – stay sharp for a long time;
DOWELL – perfect for stripping any aluminum or copper cables;
WGGE Professional offers a very handy handle I like so much;
Capri Tools can boast a convenient recoiling construction;
Essential thing you ought to remember: this tool is not the same as a cutter. But a few expensive instruments may also cut any wires. For instance, the Klein Tools 1010 stripper I included to this list can easily strip and even cut any wire – of any length, thickness, with minimum effort.
Who may benefit from using these instruments?
Actually, these tools are pretty much essential for any electrician jobs. They are great if users need to install a light fixture or a ceiling fan, replace an outlet or wire a garage door. In other words, a quite irreplaceable thing for any DIY electrician jobs.
If you have any questions left, feel free to comment. Did you like the review, my choice and the video tutorial in the end? Can't wait for your feedback!
---