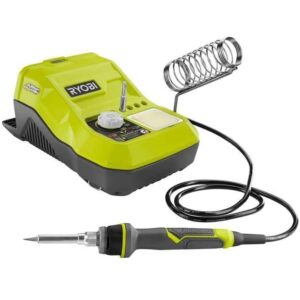 Heats up to 900°F
Hybrid
Battery and charger sold separately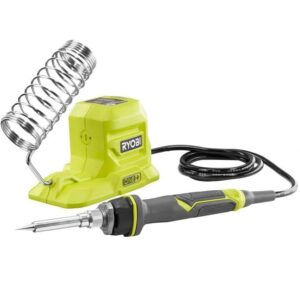 Heats up to 900°F
40-Watt
Battery and charger sold separately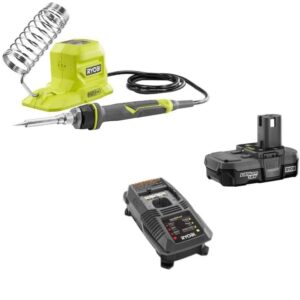 Heats up to 900°F
With Battery and Charger Kit
Battery is Up to 1.5X the runtime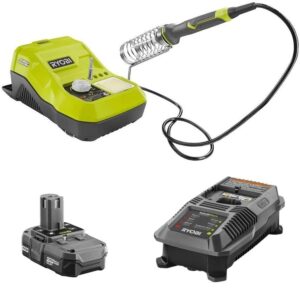 Heats up to 900°F
Hybrid
Battery and charger sold separately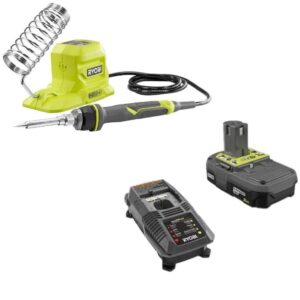 Heats up to 900°F
Lightweight design
Battery is Up to 1.5X the runtime
---
Choose the Best Ryobi Soldering Irons
Customer's Choice: the Best Rated Ryobi Soldering Irons
31 users answered this survey. Please help us improve this review!

58.06% of users selected Ryobi 18-Volt, 29.03% selected Ryobi 40-Watt, 3.23% selected , 9.68% selected RYOBI Renewed and 0% selected Ryobi 40-Watt P3105. Ryobi P3105Every month we analyze your answers and change our rating.
---
Located in South Carolina, this American power tool brand Ryobi offers very decent soldering irons as single units and packages along with useful accessories. 
All the Ryobi products in this review belong to the most popular series of the brand – the 18V One+ system. It means that they support 18V Li-ion batteries despite the power source. Most Ryobi soldering irons/stations have a hybrid design – they can work as corded or cordless tools. 
Reasons to buy Ryobi soldering irons:
Powerful 18V batteries make these devices very portable and on-the-go tools;

Good for any skill level;

Advanced design of classic soldering irons;

Premium materials and accessories;

Power-saving technology

Hybrid design;

A power light indicator;

Great for DIY, repair, plumbing, trimming, edging and mowing;
Are you searching for Ryobi soldering irons? The following reviews of top 5 soldering stations and irons by Ryobi can be quite helpful. Also, compare the major features of the products in the table below. The useful tips are posted in the buyer's guide. 
Ryobi 18-Volt ONE+ Hybrid Soldering Station P3100 – the best for hybrid design!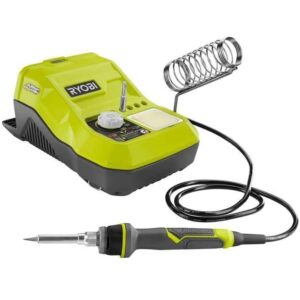 This single Ryobi P3100 soldering station doesn't have a battery or charger, though, it offers a top-notch hybrid design. The station may work on an 18V battery or electricity via the 32-inch cord (sold separately). Like all Ryobi tools, it heats up easily to 900F. The station has a temperature adjustment knob for safety issues.
The first query anyone contemplating purchasing this soldering station would have is what is included. You'll get the soldering station, a fine point tip, a chisel tip, a solder coil, and a cleaning sponge when you order the Ryobi 18-volt ONE+ hybrid soldering device. The battery is not included with the kit. If you already own some other Ryobi ONE+ devices, the batteries are compatible, so you can use the same battery and adapter for this soldering station.
For several soldering ventures, the included fine and chisel tips are essential. Swappable tips are available individually if they aren't what you're searching for.
Pros
Advanced temperature control;
Great temperature range;
A durable iron holder;
Hybrid design;
Fine point tip;
Has a power-saving mode;
LED indicator;
Three-year warranty;
Good for beginners;
Cons
Doesn't include a charger, battery or even an extension cord;
Heats and cools down slowly;
No precision markings on the heat dial;
A good choice for any DIY project or for any homeowner who wants to solder something. This instrument, on the other side, will not be appropriate for commercial usage. Although it will be an excellent device to include in every professional's toolbox.
One of the best features is portability due to the cordless design. Any specialist or DIYer can benefit from using this device for small to medium soldering projects.
---
Ryobi 18-Volt ONE+ Soldering Iron P3105– the best for the price!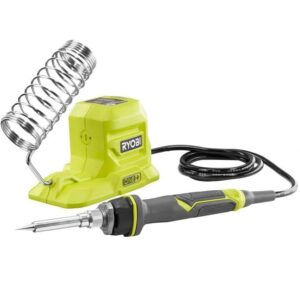 One of the most affordable Ryobi soldering pens. Despite the comparatively small size, it offers a cordless design and temperature range up to 900F. Keep in mind, though, that the battery and charger are sold separately. That is why the tool has such a price tag.
The Ryobi P3105 iron has a built-in iron holder and a 3-foot reach (as compared to cord length). When the instrument is heating up, when it has achieved its optimum temperature, and when it is cooling off, an LED state monitor illuminates. It has a really good edge.
The unit may be used in enclosed spaces as well as in distant areas. It easily heats up, and the lights signal when it has hit the target temperature and when it has comfortably cooled down after being switched off.
Pros
The price under $40;
Safe and convenient to store;
Cordless design;
3-feet reach;
LED indicator;
Cons
The battery and charger sold separately;
Good only for small repairs and DIY;
On a small regular 18-volt battery, this 40W Ryobi iron can solder for hours. Its portability makes it suitable for operating under the hood of a vehicle, and the cord is very long. The steel safety coil/iron holder is brilliant since it helps you to comfortably 'park' the hot iron under the dash without harming it.
---
Ryobi 18-Volt Soldering Iron P3105 with Battery and Charger Kit– the best for portability!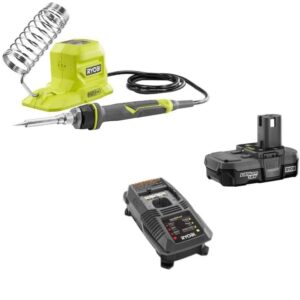 This is the above-mentioned Ryobi P3105 soldering iron that comes in the kit with an 18V Li-ion battery and charger for those users who need a portable device.
This revolutionary tool is ultra-portable, enabling you to carry it back to your workstation. It has an iron holder for secure storage and can easily exceed temperatures of up to 900F. When the tool is heating up, when it has reached its maximum temperature, and when it is cooling down, the LED status indicator illuminates.
This kit's battery includes Li-ion battery cells, which have up to 1.5X more runtime than equivalent batteries. For optimum output, the battery is built to produce less electricity.
The P118 18-Volt adapter is integrated with all Ryobi One+ Li-ion batteries and provides IntelliPort technology to prolong the battery life.
Pros
Lightweight and portable;
Battery and charger included;
Good for fine soldering projects;
Safe iron holder;
The improved battery charger;
Cons
Good only for small repairs, craft and DIY;
The battery charge could be larger;
Some parts are made of cheap plastic;
One of the best Ryobi soldering irons with a fine point tip and the battery/charger kit for portability applications. Affordable and useful for remote soldering jobs.
---
RYOBI 18-Volt ONE+ Hybrid Soldering Station Combo Kit – the best for versatility!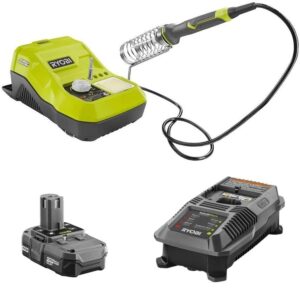 This hybrid soldering station can be used for any One+ battery or by literally connecting it in like a corded instrument, providing you with an infinite run period. This package includes an 18V Li-ion battery and charger.
Onboard tip storage is also accessible at the station. It offers fine and chisel point tips, but there's no news about if other tip sizes or models will be available, or whether third-party tips will operate with it.
The tool has a dial that helps you to adjust the working temperature between 400 and 900 degrees Fahrenheit. Getting power over the heat production is awesome. An energy mode also lets you hold your batteries powered.
It doesn't take long for the instrument to heat up to a functional temperature of 700F. It takes just around 2 minutes to get to that point. The iron's string is 32 inches long, which is a little small.
Pros
Versatile uses;
Heats up and cools down quickly;
Variable temperature control;
Good price;
Includes an 18V battery and charger;
Goof for small electronic repairs;
Cons
Won't melt solder instantly;
The LED indicator may start flashing;
Limited 90-day warranty;
The tip is hard to tin;
This soldering station is suitable for DIYers, crafters, and homeowners. It's also a perfect replacement for every specialist in the case that an electrical socket is inaccessible. The Ryobi 18-Volt One+ hybrid station can provide simplicity and versatility in one portable instrument, whether the consumer is a do-it-yourselfer or an expert.
---
Ryobi Updated Soldering Iron P3105 with Battery and Charger Kit– the best for the power source!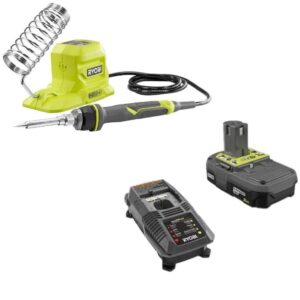 This is an updated version of the popular Ryobi soldering iron kit that includes a P3105 tool, 18V One+ battery and charger. The advanced tech allows to save up to 80% of power during the battery work.
Maximum performance and portability along with the affordable cost are the main reasons to invest in this particular kit.
It includes an iron holder for secure storage and can easily exceed temperatures of up to 900F. When the instrument is heating up, when it has achieved its optimum temperature, and when it is cooling off, the LED state indicator illuminates.
Pros
Good portability;
Improved battery tech;
Charges quicker than previous models;
Durable;
Heats up in less than 2 minutes;
Compatible with all One+ batteries;
Cons
The cord is a bit shorter compared to other devices;
Only for beginners;
A good starter kit that offers portability, cost-effective performance and low price for a number of useful features. Highly recommended for fine electronic soldering, DIY and repairs.
---
The Buyer's Guide
Ease of use
When it comes to purchasing a commodity, convenience is still a focus, and this is no different when shopping for the right device. The height, weight, and form of the handle, among other aspects, will decide how comfortable it is. You may not notice how convenient your soldering kit is for smaller tasks. For more complicated tasks, though, this may imply the distinction between a good result and a heartbreaking disappointment.
Hand or wrist strain may be caused by too heavy iron. This would not only be inconvenient, but it will also have an effect on the accuracy and efficiency of the job. It would also impair your control, raising the odds of making an error and unintentionally burning yourself (or anyone else) with the iron.
You might even find it challenging to place the arm appropriately when using corded versions because the cord prevents moving as you like. This restriction may place excessive pressure on your hand and can impair vision. So, if you are a beginner it is better to pick lightweight and cordless soldering stations. 
Portability
A lightweight soldering iron is smaller, enabling it to fit into your toolbox more conveniently, and some also come with a carrying case to cover the pieces. It can also be suitable for small jobs, since it helps you to perform projects easily and effectively, which is helpful for tiny yet essential fixes. However, since you won't have your full-sized soldering iron and stand with you, you will fail to satisfy greater demands if required.
Compatibility of tips
Soldering irons with a full selection of tip versatility are the most attractive because they offer you more choices while working on various tasks. Bevels, chisels, and conical tips are the most popular tip styles (also known as bits). Each recommendation has advantages. Conical tips, for example, are suitable for dealing with circuitry, while chisel tips are ideal for sheet metal.
Many items contain additional tips in the packaging, but you can still order tips individually if you choose. The devices with more tips are usually more costly, but they can save you time and money in the end.
Modern and high-quality tips can also contain heaters and sensors that help to regulate the temperature of the tip and soldering wire more effectively and allow for better control.
Wattage
A top-notch soldering iron can have a wattage of between 20 and 50 watts. Many people associate this with overall control, which is not the case. Rather, the wattage defines how easily the iron achieves the optimum temperature and returns to that temperature after soldering a piece of metal.
Temperature range
The effective temperature of various soldering irons differs. The name, intent, and consistency of the soldering pen or soldering tool can decide this. The top temperature of the numerous soldering irons we've chosen is over 1000 degrees Fahrenheit (F), but not all soldering irons can exceed this temperature. Some will only reach 480F, while some will hit much lower temperatures. While certain versions do not have the option to adjust the temperature range, you should expect them to achieve a satisfactory temperature to ensure success.
You can conclude that you need to buy the soldering kit with the maximum temperature capacity. 
Many DIYers that have used a soldering iron previously are undoubtedly acquainted with the correct soldering temperature. At 374F, regular solder wire melts. If you want a good and quick solder, you'll need to lift the iron temperature over this range.
Video Tutorial: Ryobi 18v One+ Cordless Soldering Iron R18SOI-0 P3105
Final thoughts 
Have fun when using powerful and affordable Ryobi soldering irons listed in this review. They are versatile, easy to use, adjustable, heat-resistant, and fast to heat/cool. Save a few bucks if you need a powerful soldering tool for occasional repairs and DIY projects. 
---