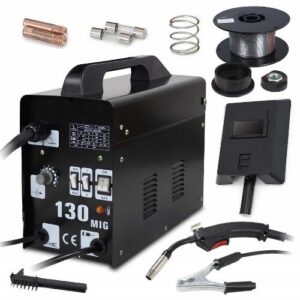 Color: Black
20.2 x 15 x 12.5
Item Weight: 38.1 lbs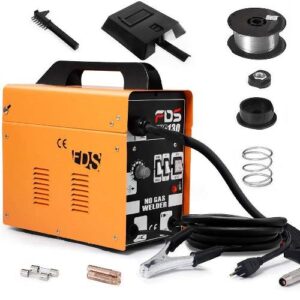 Color: Orange
13.4 x 7.3 x 11.4
Item Weight: 35 lbs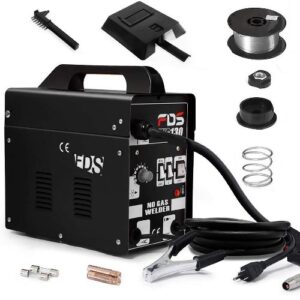 Color: Black
13.5 x 7.5 x 11.5
Item Weight: 35 lbs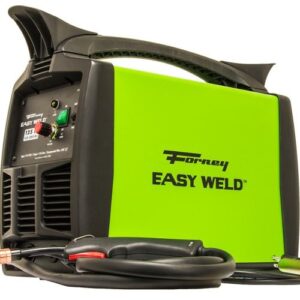 Color: Green
12 x 18 x 24
Item Weight: 51 lbs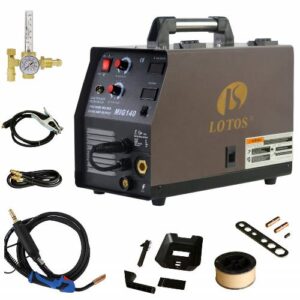 Color: Black / Red
16 x 14.5 x 9.6
Item Weight: 54 lbs
---
Customer's Choice: the Best Rated Flux Core Welders
[survey_answers id="187950854″ style="plain" data="score"] users answered this survey. Please help us improve this review!
[survey_answers id="187950854″ style="piechart" legend="true"]
[survey_answers id="187950854″ qid="1″ aid="1″ style="plain" data="answer_percentage"] of users selected [survey_answers id="187950854″ qid="1″ aid="1″ style="plain" data="answer"], [survey_answers id="187950854″ qid="1″ aid="2″ style="plain" data="answer_percentage" init="true"] selected [survey_answers id="187950854″ qid="1″ aid="2″ style="plain" data="answer"], [survey_answers id="187950854″ qid="1″ aid="3″ style="plain" data="answer_percentage"] selected [survey_answers id="187950854″ qid="1″ aid="3″ style="plain" data="answer"], [survey_answers id="187950854″ qid="1″ aid="4″ style="plain" data="answer_percentage"] selected [survey_answers id="187950854″ qid="1″ aid="4″ style="plain" data="answer"] and [survey_answers id="187950854″ qid="1″ aid="5″ style="plain" data="answer_percentage"] selected [survey_answers id="187950854″ qid="1″ aid="5″ style="plain" data="answer"]. Every month we analyze your answers and change our rating.
---
Flux core welders enable you to turn a spool of wire into beaded metal seams. We wanted to find the most reliable flux core welders on the market. Below, you'll find five of our favorite flux core welders.
Super Deal PRO Commercial MIG 130 AC Flux Core Wire Automatic Feed Welder Welding Machine – Editor's Choice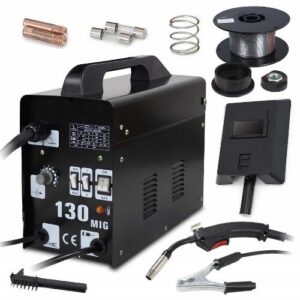 Topping off our list is the incredibly powerful Super Deal PRO Commercial MIG 130 AC Flux Core Wire Automatic Feed Welder Welding Machine. This device features an automatic 130-MIG wire feeder with variable feed speed.
The welder's case is solid black with bright white switches and a neon orange power light. There are four switches and a rotary dial built into the welder's interface. The kit comes with a 1-pound spool of all-purpose flux core welding wire, a protection mask, and a brush/chipping hammer. That's just about everything you need to get started!
The welder has a powerful built-in fan and several heat sinks. The device is compact. It weighs just 38 pounds. The onboard torch has an ergonomic trigger handle, two extra tips, and a long ground wire. If you are looking for a safe, affordable commercial flex core welder, the Super Deal Pro is an excellent option. Keep in mind that the wire is live at all times. The welding trigger only controls the feed function.
Pros
Comfortable grip
Made of high-quality PVC
Uses self-release metal-inert gas during the welding process
Variable feed speed
Includes free mask
Cons
The instructions are poorly written
---
Goplus MIG 130 Welder Flux Core Wire Automatic Feed Welding Machine with Free Mask – Best Budget Option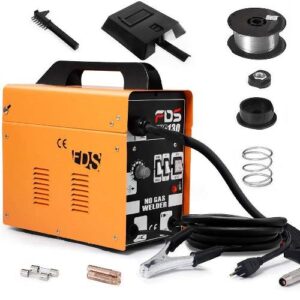 The Goplus MIG 130 Welder Flux Core Welder is an automatic welding machine that's perfect for household use. This little black and orange welder boasts four adjustable speed settings.
Users can adjust the settings with the help of three onboard switches and a rotary dial. The device also gives users 10 wire feeding speeds. We love that this set comes with a wide range of welding essentials, including a ground wire, a 0.55-pound spool of 0.9-millimeter welding wire, a protection mask, and a brush/chipping hammer. We were surprised by the quality beading we were able to produce with the help of this budget-friendly welder. Unfortunately, the wire is always live. The trigger only controls the feed speed.
Pros
MIG gas welder that's perfect for household projects
Four different speed levels and 10 wire feed speed levels
Lightweight with carrying handle
On/off button for safety
Includes a free safety mask and a brush/chipper hammer
Cons
Some power loss when feeding wire at high speeds
You may trip a breaker when using excess power
---
Goplus MIG 130 Welder AC Flux Core Wire Automatic Feed Welder Welding Machine – Best Home Welding Station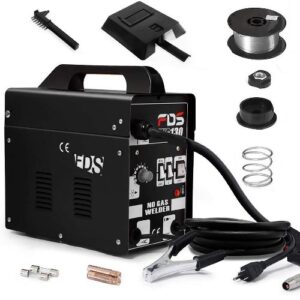 The Goplus MIG 130 Welder AC Flux Core Wire Automatic Feed Welder Welding Machine is an excellent option for newbie welders. This machine is super compact, and it boasts an ergonomic overhead handle.
There are four power settings. Adjustments are easy to make thanks to the onboard switches and clear number markings. Users have their choice for four adjustable welding speeds and four current flow settings. You can also adjust the speed of the wire feed with a quick turn of the rotary dial. The machine has two air vents and a powerful fan. It also features an overhead storage space, a ground cord, and automatic thermal safety protection. It comes with a complimentary safety mask and a brush/chipper hammer.
Pros
Four current flow settings on rotary dial
Carrying handle
10 feed speeds
Dual air vents
Includes complimentary safety mask
Roll of 0.9-millimeter welding wire
Cons
Not a metal-insert has welder
---
Forney Easy Weld 299 125FC Flux Core Welder – Best Design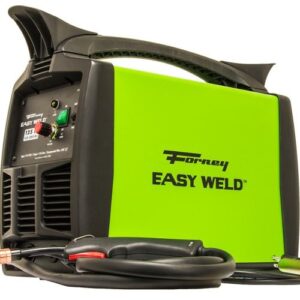 The Forney Easy Weld 299 125FC Flux Core Welder features one of the most user-friendly interfaces. First off, we love the clean green and black exterior of this powerful welder. It has a wing-tipped overhead handle front-facing air vent.
It comes with a ground clamp and a MIG gun. You can use a 0.030-inch flux core wire with this machine. You can easily adjust the machine's setting to fine-tune your welding bead. The Forney's low price and ease of use make it a great option for DIYers. The Forney is backed by a 6-month limited warranty. It comes with basic welding accessories. However, you will need to purchase a protective mask.
Pros
120 volt,125-amp output
Welds 24-gauge wire
Great bright green exterior with ergonomic carrying handle
Creates a smooth, consistent bead
Cons
Gasless flux core welding only
---
LOTOS MIG140 140 Amp MIG Wire Welder – Best Professional Flux Core Welder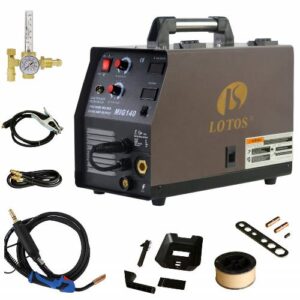 LOTOS MIG140 140 Amp MIG Wire Welder is the priciest welding machine on our list. This impressive device is built for commercial welders. It has a durable aluminum wire feeder with adjustable speed settings.
You can weld stainless steel, mild steel, aluminum, and other metal materials with this incredible machine. You aren't limited to a single consumable with the Lotos. This welder takes 0.025-, 0.030-, and 0.035-inch flux core wire. The machine is backed by a 30-day satisfaction guarantee and a 1-year warranty. It weighs approximately 54 pounds and has an overhead handle. This new and improved model has a 2T/4T switch and a built-in ground cable. It has a speed dial and other controls. It tops out at 140 volts.
Pros
Aluminum wire feeder
140-amp output
110/120 volts of power
30-day 100% satisfaction guarantee plus a 1-year limited warranty
0.42-feet of cubic airflow per minute
Cons
---
What to Look for in a Flux Core Welder – Buyer's Guide
Wire Compatibility
Don't forget to consider your consumables when purchasing a flux core welder. Most welders are only compatible with particular wire sizes. Some machines can only accommodate specific spool sizes. If you're just doing a little DIY welding, you should be good with 0.03-inch diameter wire. Larger wires produce thicker beads. Therefore, wires that are 0.035-inches in diameter or larger are more suitable for commercial applications. If you are welding on a small scale, you don't need to worry about your welder's spool capacity. While some welders are willing to upgrade their small-scale flux core welders to fit larger spools, we don't recommend this.
Most manufacturers also specify the metals that their welders can fuse. Most machines are suitable for steel. You may be able to add on features so that you can use aluminum and other delicate metals. Never use a flux core welder on metal that is not compatible with the system. Inadequate pairings could infringe on your safety and the survival of your welding machine.
Safety Features
Whenever you're working with molten metals, safety should be your top concern. Look for welding machines with automatic heat protection, powerful fans, and plenty of air vents. You'll also need a lengthy ground cord. We prefer ground wires that are 9 feet or longer. Don't forget your protective mask. It's an integral part of any welder's uniform. Many manufacturers throw these accessories into their welding kits.
Your Work
Ultimately, you need to choose a flux core welder that will help you finish your target projects. Amateur welders don't need to worry too much about their consumables and plate sizes, but commercial welders do. You'll want to make sure that your welder is compatible with your metals and wires of choice.
Does your work take you to remote locations? If so, you'll want to invest in a compact, lightweight model. What's more, consider the thickness of the plates that you are welding. Depending on the size of the consumables that your machine uses, you may only be able to weld metal that is a fraction of an inch thick.
Spool Size
Flux core welding wires come with different size spools. Most home welders use one- and two-pound varieties. Meanwhile, commercial welders use even larger consumable packages. Since MIG welding wire is likely to rust, you must use a spool size that you can use up relatively fast. Keep in mind that you may be able to save money by investing in larger spool sizes.
Price and Warrantee
Flux core welding requires a unique set of skills. These are not your run-of-the-mill DIY tools. However, consumers can choose between home and commercial varieties. Think of your flux core welder as a personal investment. Make sure your machine is covered by a manufacturer's warranty.
Flux Core Welders FAQ: 
Are flux-core welders good for regular using?
Flux-core welding (FCAW) can be much better than standard MIG welding. For instance, some flux-core welders are widely applied for outdoor use. Professionals use these devices for welding metals with coatings – including galvanizing, rust or other impurities when MIG welding is challenging. 
Also, unlike MIG welders FCAW machines are easier to handle when you are a beginner. It offers an easy setup. Anyway, flux-core welders can be irreplaceable to any workshop. DIY hobbyists find these machines quite useful. 
The most important factors to keep in mind when buying flux-core welders: 
Plate thickness

must be considered first. Flux-core welders are capable of welding much thicker materials than MIG devices;

Multi-purpose or single appliance

– based on gas or gasless mechanism, the welders can be great for heavy-duty, multi-purpose use;

The metal type

– some welders are good only for welding steel. Most flux-core welders won't be able to fuse aluminum and aluminum alloys;

The type of output

– once again some welders have only AC or DC outputs. Some units are good both for AC and DC networks;
And the last important thing to consider – the type of wires. Check the welder's specs and pick the wires according to them. For instance, basic flux-core welders can work only with standard wires (0.03-inch diameter). 
Here are a few good flux-core welding stations you may check:
Hobart 500559; 

Lotos MIG140; 

Forney Easy Weld 299; 

ARKSEN MIG-130;

Ironton Flux Core 125 115V; 
What can you fuse and weld with a FCAW machine?
You may apply flux-core welders to weld:
Construction elements with chemical and mechanical properties;

Erection of structural erection;

Difficult equipment repair;

Construction of bridges;

Welding of pipes;

Ship welding;

Manufacturing welding;

Underwater welding;
To become a pro in flux-core welding you need some practice. Also, you may want to avoid a few common problems associated with this specific type of welding:
Burnback of the wires can be prevented if you use the proper feed speed. Maintain the 1 and 1.4-inch distance from contact tips to the job site;

Birdnesting (when the wires tangle) can be prevented by using knurled U- or V-grooved drive rolls in the wire feeder;
Is flux core better than MIG welding?
It is subjective and depends on so many factors! It is useless to compare FCAW vs GMAW because these stations are picked for different jobs. 
Unlike MIG welding, flux-core machines operate on the electrodes with the flux materials inside of them. In such a way, the materials make a shielding gas when being burned. Flux-core welders do not include external gas containers to supply the gas for shielding during the job. 
Benefits of flux-core welders over MIG welders: 
You can weld in windy weather outside – even underwater;

Can fuse even rusted metals;

More portable and lightweight (because it doesn't have a gas tank);

Can be used in an upright position or even overhead;
But you should also consider a few drawbacks of flux-core welders over MIG units: 
Requires good ventilation;

Flux core wires are pricey;

During the work such a welder produces slag that you should remove each time;
If you still need a side-by-side comparison, check the following table:
| | | |
| --- | --- | --- |
| Flux-core welders |   vs | MIG welders |
| Expensive wires | Price | Cheap basic setups but requires a pressure gas tank |
| Can weld thick metal at a low voltage | Voltage | MIG welders require higher voltage |
| Look for the DC compatible welders | Polarity | MIG is good for both AC and DC power sources |
| Needs less power | Power supply | Needs more power, especially when fusing thick metals (over 4.8 mm) |
| Good for standard, upright and overhead position | Welding position | Good only for standard position |
How thick can you weld with flux core?
Most flux-core welders are great only for welding medium or thick metal alloys. The materials thinner below 20 gauge may not deliver the best joints with such welders. 
Typically, manufacturers specify the maximum and minimum thickness that can be welded with flux-core units. 
The average plate thickness is 1.4-inch of the steel body – the most recommended specification for the vast majority of flux-core welders. 
Do you push or pull flux core welding?
To cut the long story short, most welding experts recommend using flux-core machines with a drag (or pull) technique. This is a method when the welding gun's tip is pointed back at the weld pool. And it is dragged away from the finished weld. If you have slag, then use drag. 
Is it possible to weld aluminum with flux-core welders?
Absolutely not, especially if the talk about standard flux-core welders. It is prohibited to weld aluminum if you pick steel-based flux-core wires in the FCAW welders. You may damage the unit and the joints won't happen at all. 
From this point, MIG welding is better for welding thin aluminum sheets. Think of 100 percent argon for welding aluminum with MIG machines. 
How do you make flux core welds look neat?
You can make even the thick flux core welds look much neater by following a few simple tips: 
Pick only knurled drive rolls;

Proper ventilation is required;

The polarity must be altered to electrode negative;

For better flat welds, try welding at 90 degrees (with 10 degrees back). Lap joints come neatly at 60-70 degrees without any efforts;

Clean slag after every use;

To prevent any undercuts weld from side to side;

For better horizontal angle welds, the machine should be turned down to 10-15%$

For better vertical joints, you should use only thinner metals (no more 1.4-inch). Also. consider turning the machine down at 10-15%. The same works for overhead welding along with a fast travel speed;
In addition, oxygen will be noticeable at the welding site, which means the formation of oxides will allow cavities in the weld to occur. Check this factor when using flux-core welders. 
Video Tutorial: Flux core welding problems
Conclusion
I'm not tired to repeat over and over again – flux core welders are the best for beginners. You literally need about an hour of practice and a steady hand to become a welder. I can't say that my review of this kind of stations is the best one online, but I sincerely hope that it's sophisticated enough to provide great guidance for novices. These machines may seem not that versatile for sensitive jobs but will perfectly do for gas-free welding.
After a few days of thorough tests, I figured out that certain brands deliver awesome flux core welders.
The best brands of flux core welding machines:
Super Deal PRO – their machine I picked for this review weighs only 38 lbs and costs under $140. Also, their appliances can boast high portability and great efficacy;
Welder Flux Core gadgets are also awesome and effective;
Forney Easy may weigh a lot (almost 51 lbs) but can handle many complicated welding jobs;
Other parameters of these machines:
However, besides the brand's reputation, few other important factors have to be considered before buying the best flux core wires:
Top-notch performance rates;
Various welding qualities like offshore, general fabrication and even shipbuilding;
Limitations specified by the manufacturer;
Ease of use;
Affordable price – under $150;
By the way, don't forget to watch the video tutorial I dedicated to a few major problems you may face during the daily use of these particular welding machines. Please subscribe to stay updated and read the new reviews first.
We hope you enjoyed our top flux core welding stations. We felt that the Super Deal PRO Commercial MIG 130 AC Flux Core Wire Automatic Feed Welder Welding Machine was the best flux core welder on the market. It also featured several adjustable settings and lots of complementary welding accessories. Is one of these welders calling your name? Let us know in the comment section below.
---
Also Check Out: