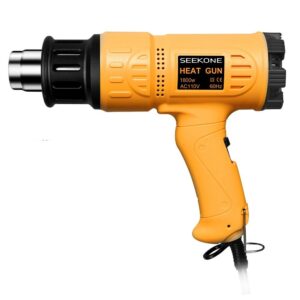 122℉-1202℉
4 Nozzles
1800W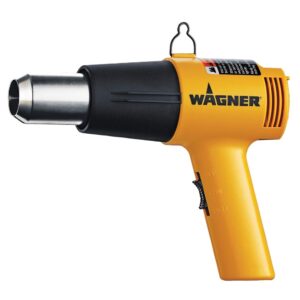 750ᵒF -1000ᵒF
2 Temp Settings
1200 watt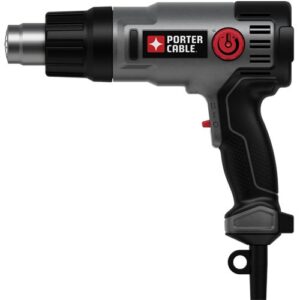 6 Feet high grade cord
2 Speed Fan
1500 Watt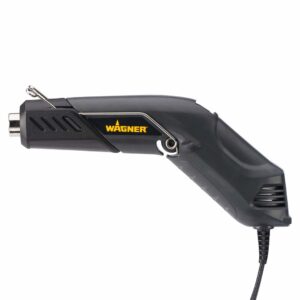 680°F-450°F
Nozzle for precision
6 ft. power cord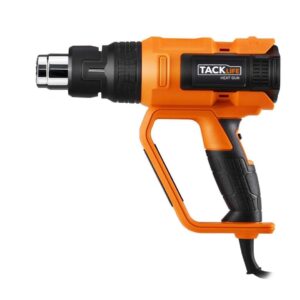 122℉-1112℉
4 Nozzle Attachments
1600W
---
Customer's Choice: the Best Rated Heat Guns
[survey_answers id="1285913671″ style="plain" data="score"] users answered this survey. Please help us improve this review!
[survey_answers id="1285913671″ style="piechart" legend="true"]
[survey_answers id="1285913671″ qid="1″ aid="1″ style="plain" data="answer_percentage"] of users selected [survey_answers id="1285913671″ qid="1″ aid="1″ style="plain" data="answer"], [survey_answers id="1285913671″ qid="1″ aid="2″ style="plain" data="answer_percentage" init="true"] selected [survey_answers id="1285913671″ qid="1″ aid="2″ style="plain" data="answer"], [survey_answers id="1285913671″ qid="1″ aid="3″ style="plain" data="answer_percentage"] selected [survey_answers id="1285913671″ qid="1″ aid="3″ style="plain" data="answer"], [survey_answers id="1285913671″ qid="1″ aid="4″ style="plain" data="answer_percentage"] selected [survey_answers id="1285913671″ qid="1″ aid="4″ style="plain" data="answer"] and [survey_answers id="1285913671″ qid="1″ aid="5″ style="plain" data="answer_percentage"] selected [survey_answers id="1285913671″ qid="1″ aid="5″ style="plain" data="answer"]. Every month we analyze your answers and change our rating.
---
Heat guns are some of the most versatile power tools on the market. These devices blow out various degrees of hot air. Hot air heats shrink wrap, bends plastic, softens construction materials, and loosens rusty hardware.
These powerful tools are used for everything from electronics, hardcore construction projects to arts and crafts. We've rounded up five of our favorites. Read along to find out what to look for when purchasing a heat gun. Then, check out our top selections.
Seekone 1,800-Watt Heat Gun – Editor's Choice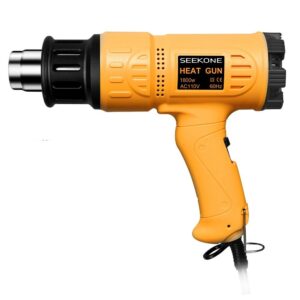 The Seekone Heat Gun provides industrial power for a price that won't hurt your wallet. This 1,800-watt device has two temperature and two airflow settings.
The outputs range from 122 to 1,202 degrees. With such high heat, the Seekone's overload protection is essential. The control dial and easy-to-mount nozzle heads translate to a premium user experience.
We love that the Seekone enables users to control airflow and temperature. The gun's unmatched flexibility makes it a suitable choice for all sorts of projects. The Seekone also comes with a long heat-resistant power cord. You can use this powerful device to thaw frozen pipes, bend plastics, and so much more. Seekone stands behind its customers, offering complete customer service and support.
Pros
Two temperature settings
Includes four novels
Overload protection
Can be used to strip paint, shrink PVC, and so much more
Cons
---
Wagner HT1000 Heat Gun – Best Warranty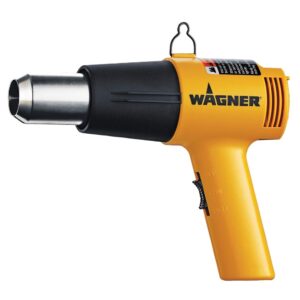 The Wagner HT1000 makes heat gun work look easy. This tool has two temperature settings. The gun's outputs include 750 and 1,000 degrees. The versatile heat settings enable users to complete a wide range of projects.
The gun's corrosion-resistant nozzle and rugged casing provide it with a promising lifetime. A two-year warranty gives consumers even more assurance. This un is a truly durable workhorse.
The Wagner's heat dial is built directly into the handle. You can easily toggle between temperature and airflow settings. The unit also has an integrated storage hook. While this element looks a little goofy during work sessions, it's a real helper when it comes to workshop organization.
Pros
Temperatures range from 750 to 1,000 degrees
Integrated stand
Shrinks heat wrap and removes paint
Loosen rusted bolts
Cons
---
Porter-Cable Heat Gun – Most Reputable Brand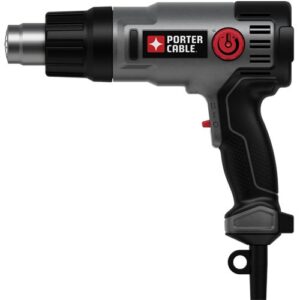 Many people swear by Porter-Cable tools. As such, it comes as no surprise that the company's 1,500-watt heat gun is a consumer favorite. This robust heat gun features two airflow settings.
The fan shoots out anywhere from 10 to 19 CFM. The device also has two adjustable temperature settings.
We love that the temperature dial is situated on the side of the gun. Whereas, the fan dial is built into the handle. The controls make it easy to toggle between settings. Users can easily alternate between two different tasks. Overall, this gun is light and durable. It also has a lengthy power cord. Not to mention, it has an integrated support stand.
Pros
Two temperature ranges supported by fan settings
Weighs just 2 pounds
Remove paint, tiles, and other materials
Weld and shrink plastics
Cons
---
Wagner Spraytech 0503038 Redesigned HT400 – Best Compact Heat Gun Option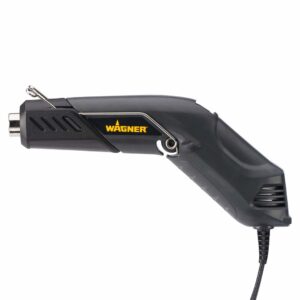 Big, heavy heat guns can be cumbersome during small craft and repair projects. The Wagner Spraytech HT400 weighs just 0.7 pounds. What's more, it has a compact body with cool-touch sidebars.
There is so much that we love about this little device. For one, it has an integrated stand. You can employ the stand during both cooling and hands-free sessions. The HT400 also has two temperature settings. Its temperature settings range from 450 to 680 degrees. This makes it a great tool for small craft projects, such as embossing and heating shrink wrap.
Pros
1,500 watts and 120 volts of power
Two temperature settings
Suitable for many different projects
Hands-free design feature
Cons
No accessory tips included
---
TackLife Heat Gun – Bets Upgrade Option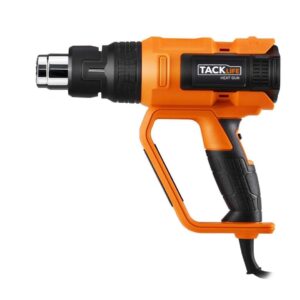 The TackLife Heat Gun offers three powerful temperature settings. The settings range from 122 to 1,022 degrees Fahrenheit. The mica heating element and onboard thermostat offer consistently stable temperatures.
Cooling and annular air modes complement the heat settings. You can use this heat gun to perform a wide range of tasks, including paint removal, plastic wrap shrinking, and barbecue lighting. The kit includes four nozzles, including a spoon reflector, a cone, a fishtail, and a barbecue lighter.
The Tacklife enables users to complete all sorts of projects. Suggested applications include thawing freezing tubs, loosening rusty bolts, bending PCV piping, and removing paint. What's more, the TackLife has an estimated 500-hour life. It weighs less than a pound.
Pros
Pronounced number dial and buttons
Four distinct nozzle heads
Large ergonomic handle
Variable temperatures and fan settings
Cons
Only 500 hours of potential service life
---
The Ultimate Guide to Buying a Heat Gun
How does one go about choosing a heat gun? Let's run through all the most significant product considerations. When you are finished with our guide, you'll be ready to go shopping.
Temperature Settings
A good heat gun enables you to complete a variety of tasks. Of course, an adjustable temperature output is essential when working with a wide range of materials. Most heat gun models have at least two temperature settings. Some models also have adjustable dials. An adjustable dial enables you to fine-tune your temperature output.
Airflow Settings
Some models also enable you to adjust the airflow. A heat gun fan determines its airflow. Airflow has a huge impact on a user's control. There may be times when you want to tone down your airflow to avoid melting sensitive components. On the other hand, you can maximize your efficiency by utilizing a heat gun's highest airflow setting.
Nozzles
Some heat guns come with nozzles and other accessories. These elements help you to fine-tune your heat output. Nozzles enable you to control the direction of your heat output. Common accessories include reflectors, reducers, and deflectors.
Ergonomics
A heat gun's ergonomics play a huge part in user comfort and safety. These devices put out extreme heat. Most heat guns have pistol grips. These grips provide a safe space for users to rest their hands. The pistol grips also tend to have built-in controls, enabling seamless setting changes.
We've also seen models with side- and rear-mounted dials. All these designs work. The key is that the settings don't send your hands anywhere near the nozzle. We've also come across models with integrated stands. Some stands serve to support cooling tools. Other stands transform heat guns into hands-free work surfaces.
Other Considerations
When it comes to power tools and high heat, safety should always be your top consideration. We recommend opting for a model with a thermal cut-off. This safety element will prevent your gun from overheating. Also, opt for a model that has a heat-resistant housing and power cord. Of course, you can't go wrong when choosing a product with a lengthy warranty. Corporate responsibility is everything.
FAQ Heat Guns
How does a heat gun work?
Heat guns are devices that fire heat at elevated temperatures varying from 212F to 1,472F. In addition to home improvement/renovation projects, there are such areas as architecture, mechanics, chemistry, research where you may use heat guns.
Major types of heat guns:
Infrared devices.

This heat gun is so-named because instead of hot air it applies infrared heat to perform jobs. Sizzling temperatures varying from 752F to 1,112F can be achieved by an infrared heat gun. In addition to being inexpensive, if you are concerned about harmful gases that are provided off by traditional devices, an infrared heat gun is also a safe option;

Industrial devices.

These are used since they have above average air capacity for more difficult activities. They cost more than other styles since they're heavy-duty instruments. Any of the major industries using industrial heat tools of this type are aerospace, automobile, manufacturing and retail packaging. They need to use the tools reaching the temperature range as high as 1,800F. With ceramic heating elements and a die-cast housing, this heat gun type is a popular pick for large projects;
Heat guns operate a little like dryers for hair. They have a fan, for instance, that brings cool air into the major aspect of the instrument. The cool air then passes through a heating part that heats the air rapidly and then forces it out via a nozzle. The warm air is pushed to the place where the planned job is being done by a customer.
Are heat guns safe to use?
When using a heat gun you should follow such precaution measures:
Do not set up a heat gun around flammable or combustible products, like exposed flammable liquid tubes, flammable vapors or hoods, etc.;

Be conscious of the heat direction;

Often switching off the heat gun on every surface before setting it down;

When not in usage, unplug the heat gun, especially if the premise is empty;

Keep at least one inch of space between the outlet nozzle and the work surface at all times.

Enable the tool to cool prior to storage;

Never let your clothes or skin contact with the hot metal nozzle;

Never steer the air stream to one's body;

Do not glance down at the nozzle before turning on the device;

Do not inject something into the gun's nozzle;

Never cover the inlet grill or hinder the unit's airflow when in service;

Do not apply an extension cord to control a heat gun because overheating will result in a high current pull and pose a fire or electrocution danger.

If using a heat cartridge, never carry a sample without forceps or you face direct application of the heat to your hand;
What are the best uses of a heat gun?
In the past, heat guns were used primarily only to remove paint or to restore roofs. They are used today for other traditional applications, such as softening putty or old paint, even lead-based paints. You may still use them from previous democratic campaigns to delete outdated bumper stickers!
Usually, for scraping paint and wallpaper, warming and bending plastics and weakening glue and adhesive, people use such devices. They are also good for thawing frozen pipes in the winter and working even better than a regular hair dryer for shrink wrapping.
Can a heat gun start a fire?
A heat gun's hot air flow is less harmful than a naked flame but if it is aimed at the skin/flesh, the device may also cause extremely flammable objects to catch fire, break glass and damage.
Typically, the power switches and fan motors are not spark-free and can pose a significant danger of ignition. Heat gun tools, like open containers with flammable substances, flammable vapors or hoods used to regulate flammable vapors, can never be used with flammable materials for these purposes.
Are heat guns very noisy?
They seem to be loud. Compare the level of noise with an average or much quieter hairdryer. Depending on how solid your gun is that is their estimated noise frequency. Some would have different heat levels, but the higher settings are louder, of course. It could be hard to hear while you're roasting a bean with slight cracks.
Why is a heat gun smoking?
Owing to the burning of manufacturing oils, smoke can occur during the initial startup. The smoke is supposed to fade in less than a minute. When you first use the latest heat tool, there is no reason to be alarmed if your heat tool smokes. Inside the process, it is the product of residual oil. In a couple of minutes, everything should clear up. If after each application, the smoke continues, return it either directly to where it was bought or notify the manufacturer.
How many watts an average heat gun uses?
A heat gun for most and higher watts for commercial usage is a heat gun that produces direct heat up to 1500 watts. Alternatives involve a hair or blow dryer, a domestic iron, a blowtorch typically used for plumbers or heat tape, etc. To release the adhesive on your cell phone you may also need such a device.
What can you use instead of a heat gun?
You may use an ethanol burner, a soldering iron, a butane torch or a 300mw engraving laser instead of a heat gun. Popular household products can also operate, such as hair dryers, matches, lighters, clothes irons, or light bulbs. The option of substitute relies on your DIY project.
Basic devices are often used to dry or remove paint, defrost a freezer, or unfreeze locks and water pipes, both activities that need heat between 350F and 1150F.
Remember! Although hairdryers may be used in a pinch instead of a heat gun, don't expect that they may fully replace these devices effectively, but a hairdryer might operate to defrost frozen pipes or locks.
How to combine a heat gun with a soldering iron?
The soldering process uses heat to melt tin. It can be both for assembling and for dissembling various details. If you have a heat gun, it can be very helpful in this process. In the traditional way, the iron tip gets very hot and touches the places where to perform soldering. During this step, the temperature of the iron gets down. In case you use the heat gun, you can maintain the same temperature without difficulties.
Mini or full-size heat gun?
Performance plays an equally important role in the hot air gun area. The power range for heat guns can be from 500 to 2200 watts. If you only want to do small handicrafts or are active in the field of model making, lower performance is sufficient. So-called mini heat guns are suitable here, the power of which is usually not higher than 500 watts.
For larger jobs, such as removing paint, you should use models with higher performance. You can compare the battery-operated heat guns with one another in terms of their voltage. The range here is usually between 15 and 20 volts.
How to use a heat gun for computer repair?
There are different computer parts that you can repair. Sometimes it happens that inside details do not perform properly due to bad soldering. Users can give their PC and laptops to service centers for repairs or do it by themselves. In the second option, a heat gun is very useful.
It is definitely risky, thus you should know what you are doing. In the beginning, you define what detail malfunctions. Then, it is very important to protect other components from heat using foil. Then you heat you will need to heat the needed detail for around 50 seconds with 932F, which is enough to melt the tin. After that, you let details cool and then can start reassembling process.
Is a heat gun harmful to the motherboard?
In general, motherboards are made of reliable materials to withstand overheating. It allows users to make repairs using heat guns and other heating devices. However, there is always a limit. While heating up the motherboard you still have chances of damaging it by overheating. Therefore, it is very important to know what detail you need to heat and what is enough temperature.
While using the heat gun you need to set the exact temperature is needed for repair. In most cases, it is about soldering proper connection. If you need to remove something from the motherboard, it is better to go to professional services.
Can I use a heat gun for laptop repair?
Yes, you can. A heat gun can be very useful when you plan to repair a laptop. High temperatures are needed when you have to replace circuit boards and other electronics that are soldered. The main benefit of heat guns is the possibility to maintain a constant temperature. During laptop repair, it is very important to control the temperature very precisely.
On the market, you can find various heat guns. You should consider getting with the LED or digital indicator of temperature. Moreover, it should have a possibility to lock the temperature without going higher or lower than needed.
How to use a heat gun for small electronics?
A heat gun, as you would find in a hardware store to burn off old paint, etc. could also be used in some ways for SMD soldering electronics. We recommend those with a temperature controller, but even the simplest variants, which usually only have two levels (with which you can switch both the fan speed and the heating power), are more useful for many purposes than you might think at first glance.
Simply clamp the small electronics and heat them slowly and evenly with the heat gun. Do not work too hot. A little more time for work does less damage to the electronics and components than burning everything at too high a temperature. If you work carefully and find the point at which the component in question can be removed, the method can even be used for repair soldering, i.e. both the electronics and the component remain intact.
For a better tool for soldering, PCB, and electronics repair, check out a hot air rework station
They have much better temperature control and are easier to hold and focus on the circuit board.
What is the best heat gun for phone repair?
While searching for a heat gun to repair phones and smartphones you need something compact but powerful. Most mobiles have very tiny details and with every year they become smaller and smaller. One of the models that you should consider is Chandler Hot Air Embossing Tool – 300 W. This is a heat gun from an American non-generic brand. It has dual seating to control the temperature precisely. It is quite a small tool, which means that you do not have to spend a lot of money on it. Moreover, you will like it due to its quiet performance.
What are the best heat gun brands?
Steinel is a brand specializing in the production of heat guns and other heating devices, such as hot glue guns, plastic welders, etc. It turns out that most heat guns available on the market, such as recognizable brands such as Makita, Metabo, or Bosch, can come entirely or their components can come from Steinel factories. This fact proves the quality and trust in the brand.
Heating devices are particularly vulnerable to damage caused by high temperature, which is their inherent role. Many materials change their properties at high temperatures. Heaters become more brittle and shock-prone, plastics deform. Electronics also do not tolerate high temperatures. Heat guns from the above-mentioned brands belong to this narrow group of devices of high quality and durability.
What is the most powerful heat gun?
If you are looking for a reliable powerful heat gun, you should consider Bosch GHG 660 LCD Professional. Nothing like a Bosch pro tool to work more rhythmically! The Bosch GHG 660 LCD heat gun is the one is recommend to professionals, those who have serious renovations to do, and those who want a material that will serve them for a long time. It stands out from other hot air guns by its very technical character.
The stripper Bosch 2300W may be heated to 112-1120F, adjustable in steps of 50F. Its LCD display shows the current temperature and arrows on each side that flash as the temperature rises. Its breath is also adjustable on 10 levels, regardless of temperature. The advantage of this fine adjustment is really to be able to work with precision. Besides, this Bosch heat gun has a memory function that allows you to save up to 4 settings so that they can be used again under the same conditions without having to repeat the search.
Video Tutorial: How To Install The Fan Nozzle
Final Thoughts
We hope you enjoyed our heat fun product roundup. Most heat guns provide quick and productive solutions for household projects and repairs. These inexpensive devices are a great asset to any home-based or professional workshop. We did our best to include both craft- and industrial-grade models in our roundup. Share your favorite heat gun in the comment section below. Did it make our list? What do you love about it? We want to know!
---