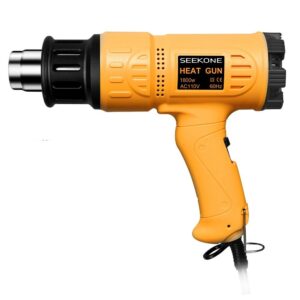 122℉-1202℉
4 Nozzles
1800W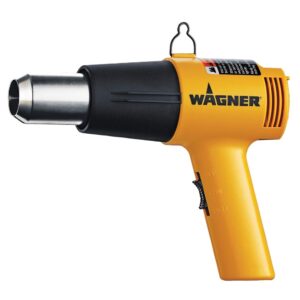 750ᵒF -1000ᵒF
2 Temp Settings
1200 watt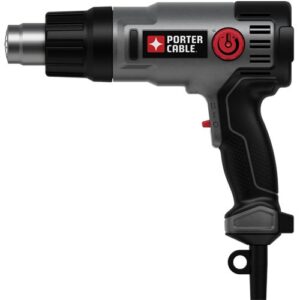 6 Feet high grade cord
2 Speed Fan
1500 Watt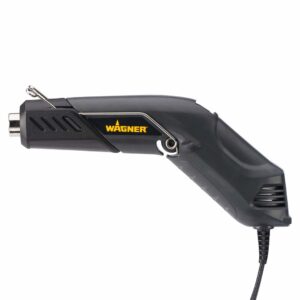 680°F-450°F
Nozzle for precision
6 ft. power cord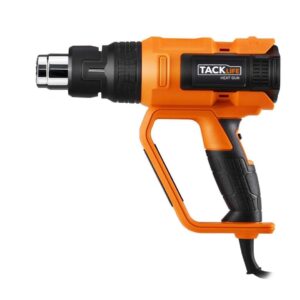 122℉-1112℉
4 Nozzle Attachments
1600W
---
Choose the Best Heat Gun
Customer's Choice: the Best Rated Heat Guns
8 users answered this survey. Please help us improve this review!

75% of users selected SEEKONE, 12.5% selected Wagner Spraytech, 0% selected PORTER-CABLE, 12.5% selected Wagner Spraytech and 0% selected TACKLIFE. Every month we analyze your answers and change our rating.
---
Heat guns are some of the most versatile power tools on the market. These devices blow out various degrees of hot air. Hot air heats shrink wrap, bends plastic, softens construction materials, and loosens rusty hardware. These powerful tools are used during everything from hardcore construction projects to arts and crafts. We've rounded up five of our favorites. Read along to find out what to look for when purchasing a heat gun. Then, check out our top selections.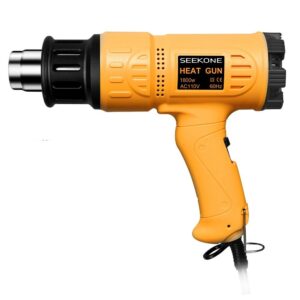 The Seekone Heat Gun provides industrial power for a price that won't hurt your wallet. This 1,800-watt device has two temperature and two airflow settings.
The outputs range from 122 to 1,202 degrees. With such high heat, the Seekone's overload protection is essential. The control dial and easy-to-mount nozzle heads translate to a premium user experience.
We love that the Seekone enables users to control airflow and temperature. The gun's unmatched flexibility makes it a suitable choice for all sorts of projects. The Seekone also comes with a long heat-resistant power cord. You can use this powerful device to thaw frozen pipes, bend plastics, and so much more. Seekone stands behind its customers, offering complete customer service and support.
Two temperature settings
Includes four novels
Overload protection
Can be used to strip paint, shrink PVC, and so much more
---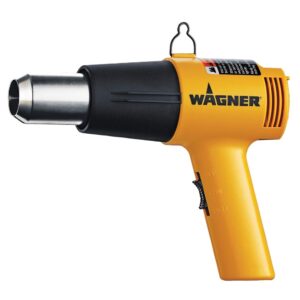 The Wagner HT1000 makes heat gun work look easy. This tool has two temperature settings. The gun's outputs include 750 and 1,000 degrees. The versatile heat settings enable users to complete a wide range of projects.
The gun's corrosion-resistant nozzle and rugged casing provide it with a promising lifetime. A two-year warranty gives consumers even more assurance. This un is a truly durable workhorse.
The Wagner's heat dial is built directly into the handle. You can easily toggle between temperature and airflow settings. The unit also has an integrated storage hook. While this element looks a little goofy during work sessions, it's a real helper when it comes to workshop organization.
Temperatures range from 750 to 1,000 degrees
Integrated stand
Shrinks heat wrap and removes paint
Loosen rusted bolts
---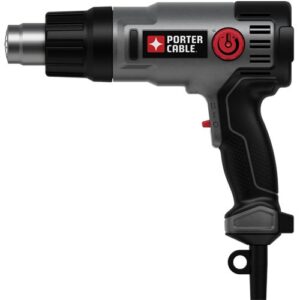 Many people swear by Porter-Cable tools. As such, it comes as no surprise that the company's 1,500-watt heat gun is a consumer favorite. This robust heat gun features two airflow settings.
The fan shoots out anywhere from 10 to 19 CFM. The device also has two adjustable temperature settings.
We love that the temperature dial is situated on the side of the gun. Whereas, the fan dial is built into the handle. The controls make it easy to toggle between settings. Users can easily alternate between two different tasks. Overall, this gun is light and durable. It also has a lengthy power cord. Not to mention, it has an integrated support stand.
Two temperature ranges supported by fan settings
Weighs just 2 pounds
Remove paint, tiles, and other materials
Weld and shrink plastics
---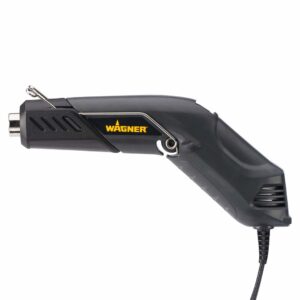 Big, heavy heat guns can be cumbersome during small craft and repair projects. The Wagner Spraytech HT400 weighs just 0.7 pounds. What's more, it has a compact body with cool-touch sidebars.
There is so much that we love about this little device. For one, it has an integrated stand. You can employ the stand during both cooling and hands-free sessions. The HT400 also has two temperature settings. Its temperature settings range from 450 to 680 degrees. This makes it a great tool for small craft projects, such as embossing and heating shrink wrap.
1,500 watts and 120 volts of power
Two temperature settings
Suitable for many different projects
Hands-free design feature
No accessory tips included
---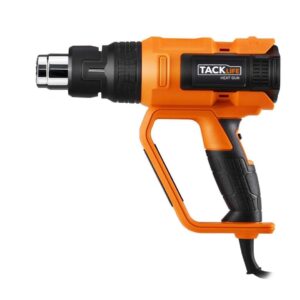 The TackLife Heat Gun offers three powerful temperature settings. The settings range from 122 to 1,022 degrees Fahrenheit. The mica heating element and onboard thermostat offer consistently stable temperatures.
Cooling and annular air modes complement the heat settings. You can use this heat gun to perform a wide range of tasks, including paint removal, plastic wrap shrinking, and barbecue lighting. The kit includes four nozzles, including a spoon reflector, a cone, a fishtail, and a barbecue lighter.
The Tacklife enables users to complete all sorts of projects. Suggested applications include thawing freezing tubs, loosening rusty bolts, bending PCV piping, and removing paint. What's more, the TackLife has an estimated 500-hour life. It weighs less than a pound.
Pronounced number dial and buttons
Four distinct nozzle heads
Large ergonomic handle
Variable temperatures and fan settings
Only 500 hours of potential service life
---
The Ultimate Guide to Buying a Heat Gun
How does one go about choosing a heat gun? Let's run through all the most significant product considerations. When you are finished with our guide, you'll be ready to go shopping.
Temperature Settings
A good heat gun enables you to complete a variety of tasks. Of course, an adjustable temperature output is essential when working with a wide range of materials. Most heat gun models have at least two temperature settings. Some models also have adjustable dials. An adjustable dial enables you to fine-tune your temperature output.
Airflow Settings
Some models also enable you to adjust the airflow. A heat gun fan determines its airflow. Airflow has a huge impact on a user's control. There may be times when you want to tone down your airflow to avoid melting sensitive components. On the other hand, you can maximize your efficiency by utilizing a heat gun's highest airflow setting.
Nozzles
Some heat guns come with nozzles and other accessories. These elements help you to fine-tune your heat output. Nozzles enable you to control the direction of your heat output. Common accessories include reflectors, reducers, and deflectors.
Ergonomics
A heat gun's ergonomics play a huge part in user comfort and safety. These devices put out extreme heat. Most heat guns have pistol grips. These grips provide a safe space for users to rest their hands. The pistol grips also tend to have built-in controls, enabling seamless setting changes. We've also seen models with side- and rear-mounted dials. All these designs work. The key is that the settings don't send your hands anywhere near the nozzle. We've also come across models with integrated stands. Some stands serve to support cooling tools. Other stands transform heat guns into hands-free work surfaces.
Other Considerations
When it comes to power tools and high heat, safety should always be your top consideration. We recommend opting for a model with a thermal cut-off. This safety element will prevent your gun from overheating. Also, opt for a model that has a heat-resistant housing and power cord. Of course, you can't go wrong when choosing a product with a lengthy warranty. Corporate responsibility is everything.
Video Tutorial: How To Install The Fan Nozzle
Final Thoughts
We hope you enjoyed our heat fun product roundup. Most heat guns provide quick and productive solutions for household projects and repairs. These inexpensive devices are a great asset to any home-based or professional workshop. We did our best to include both craft- and industrial-grade models in our roundup. Share your favorite heat gun in the comment section below. Did it make our list? What do you love about it? We want to know!
---