Novice soldering hobbyists do not know what to choose for their projects – soldering irons or soldering guns. The following guide will give a few hints about the uses of two different tools used for soldering.
Make sure to check the technical features before buying a soldering gun vs iron. Let's start with the definition.
Soldering Gun vs Iron: definition
A soldering iron is the most standard instrument used for joining electrical components. The major heating part of a wand-shaped iron is a metal tip and is lightweight, like a pencil.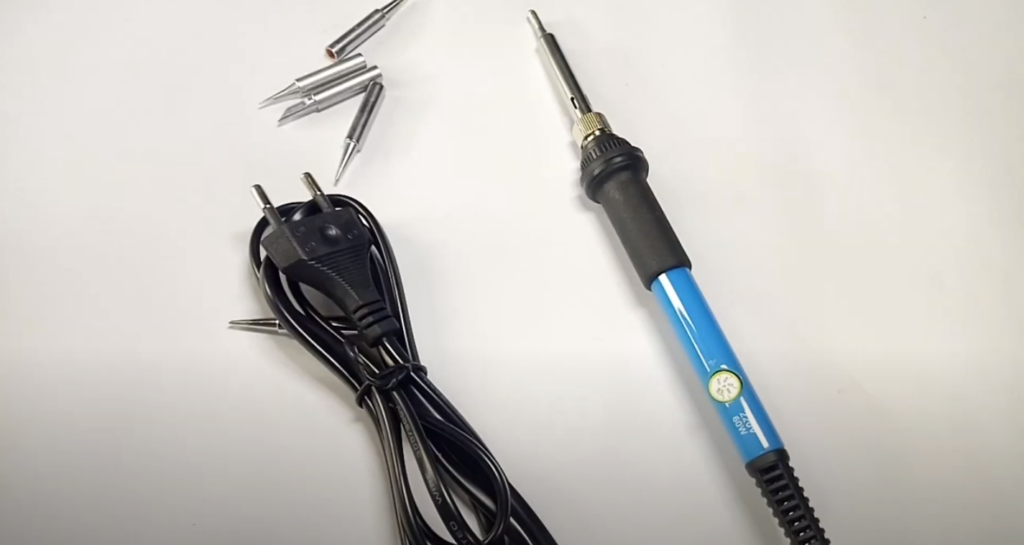 Just like an iron, a soldering gun is applied to joint metal surfaces. Due to the design resembling a handgun, this instrument has a steady handle that you can easily hold with one hand. Has more power and is heavier, like a drill.
I think that you are aware of how a soldering iron works, so I want to focus on the major technical features of soldering guns.
What is a soldering gun and how is it different from a soldering iron?
An electric soldering gun can be confused with soldering irons. Guns have a step-down transformer but do not have a high-frequency converter. The rest of a soldering gun is very similar to a soldering iron. Unlike transformer soldering irons, guns can work much faster and do not need such long breaks as their counterparts.
A soldering gun is used when working with microcircuits and small electrical parts. All small contacts that need to be soldered are done with this tool. Due to its unique mechanism of action, the soldering gun provides excellent conditions for working with similar parts. The production and repair of gadgets, home appliances, radio circuits and other things – these are the major uses of a soldering gun.
The major design of a soldering gun includes such parts:
The tip

is the main working part that contacts with the place you want to solder;

A holder

resembling a gun's handle – a comfortable grip of the tool when working with an instrument;

The heating element

is necessary to heat the tip;

An electric cord

with a plug is used to connect the soldering iron to the power grid;

The small shaft

is part of the device that ends with the tip;
The main heaters in modern models are mostly made of chrome and nickel. It heats up under the influence of electric power. The normal heating temperature is when the solder will melt. The core of a soldering gun is usually made of copper because this metal conducts heat very well and heating takes place as quickly as possible. Most often, the tip looks like a wedge.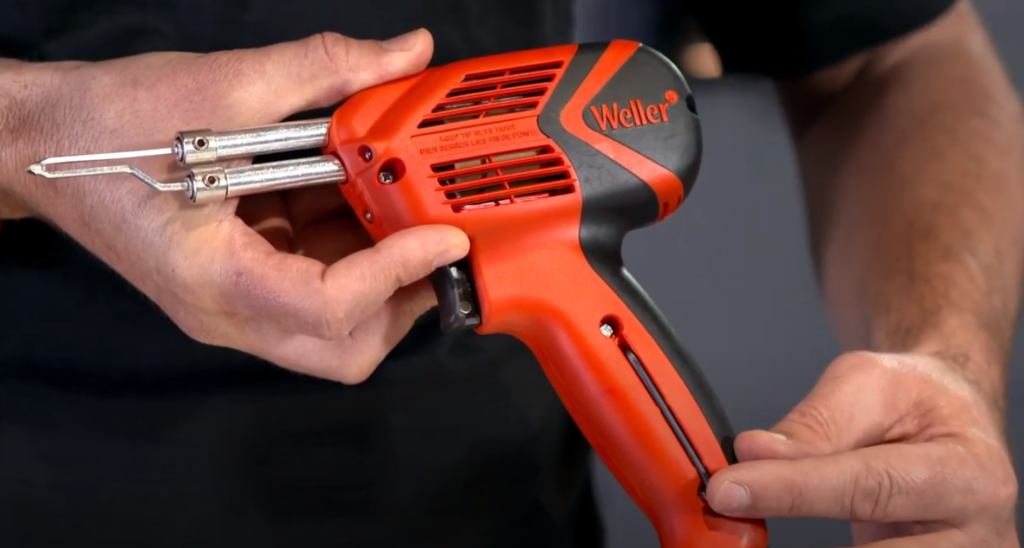 Keep in mind that a soldering gun works at low voltage and has a unique design. That is why it has received a high efficiency. Soldering guns with a ceramic tip can also save the electricity bills. Current flows through the tip only during soldering. This differs from the soldering gun from the usual practice. The remaining differences relate mainly to the presence of a frequency converter.
Soldering gun vs soldering iron: comparison table
Uses
Pros
Cons
Soldering gun

It can connect heavy electrical components like cable lugs. They produce more heat for soldering heavy elements.

Higher power voltage – up to 240 W;

Heat up faster;

Instant cool-down;

The copper wire look can dissolve quickly;

It is heavier than an iron;

Won't be good for connecting smaller parts;

Soldering iron

Great for soldering light electronics. If you don't seek too much heat, choose an iron.

It is lighter than a gun;

Many sizes;

More flexible;

Smoother workflow;

Less effective;

Not enough voltage;

More suited for lower-power jobs;
Important notice! Soldering irons vs soldering guns, irons are easier to handle during the work. So, they are more flexible when it comes to soldering light electronics. Larger guns are great for heavy-duty jobs. Also, the guns work faster, use less energy.
The most important fundamental difference is the method of heating of the tip. In a conventional soldering iron with a chrome-based or ceramic heater, the tip is as isolated as possible from the electric power passing through the heater. In a soldering gun, the tip is a conductor of the electric power that heats it.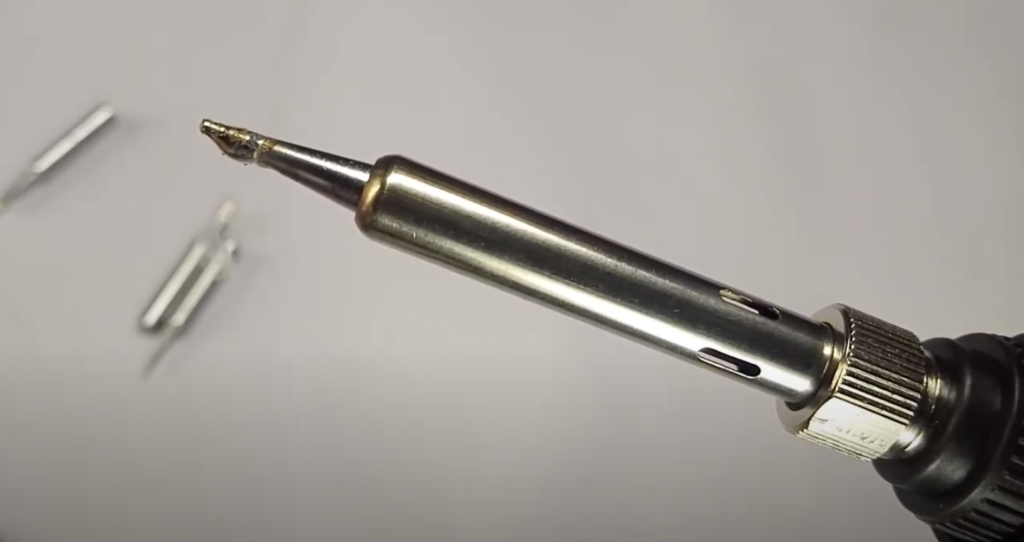 The biggest drawback of a soldering gun is that the tip can give an electric shock. Such a soldering gun can easily disable microcircuits that are sensitive to the high voltage but it is great for soldering standard wires.
One of the benefits of a soldering gun vs soldering iron is quick heating. This factor must be considered when using a soldering iron in the open air or in the cold weather outside. Ordinary soldering iron with a chrome heater will cool down quickly under such conditions and it will not be able to warm the soldering place at an even speed.
Soldering iron vs soldering gun vs soldering station: temperature control
No matter what you choose, beware using cheap soldering tools without a leakage grounding or temperature control. Such instruments can reach 8000 F. If you need to have a stable high temperature, invest in a soldering station that may ground the tip and prevent the leakage from the AC power lines. Also, such stations include a variable transformer to regulate temperature.
Standard leaded solder will melt at 360 F, but some new lead-free solder needs a higher temperature to start melting – about 430 F. A soldering tool's temperature must be regulated at this range.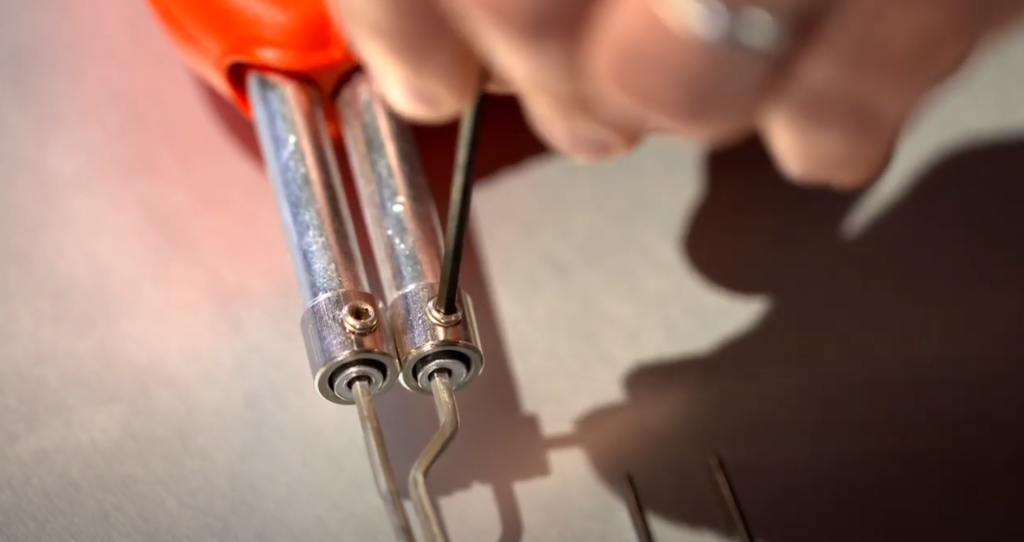 Do not confuse temperature with the heat. Temperature is an intensity of "hotness". Heat is an amount.
You need to increase heat to make the solder melt faster. Soldering stations, unlike guns and irons, allow regulating the heating bits, according to your needs at this moment.
Things to look for in soldering irons and soldering guns
Before selecting a perfect instrument for your soldering jobs, please consider such things:
The wattage range – 20-50 watts for soldering irons is perfect. Wattage affects the heating speed of the copper tip as well as the cool-down mode. The stable temperature during soldering is important and it's provided due to the high wattage.
Replaceable tips. You will have to replace the tips for a tool despite its design, so buy a few ones beforehand;
Temperature control. If you plan to do a lot of soldering, then you need to check a specific temperature. The highest temperatures are provided by soldering station kits or powerful guns;
Price matters. A standard lightweight soldering iron can be bought under $10. But if you want to invest in a soldering gun or station, prepare to spend up to $30. Just make sure that the soldering station has an integrated stand;
The thickness and shape of a tip. Depending on your project, you may need to choose an instrument with a thick or thin tip.
Final thoughts
Now you have the relevant information about the similarities and differences between soldering irons or soldering guns. I hope that most of your worries about the proper choice of a soldering instrument are gone. My recommendations and comparison will assist in making the wise choice between a soldering iron and a soldering gun.
---