Nowadays, a lot of people deal with small details that cannot be welded. Soldering is a popular way to fix very small details and electronic devices. To achieve the best results it is always important to use high-quality tools.
Proper soldering process requires to have the base, iron, and cleaning materials. If you do not have any of these tools there are soldering stations that have everything within one purchase.
---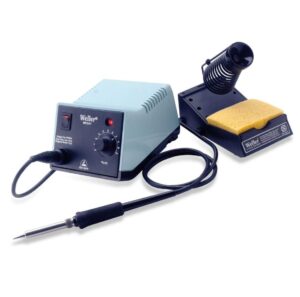 Features of Weller WES51:
Wattage: 50W
Voltage input: 110V
Included Weller screwdriver tip kit
---
Weller WES51 User Manual
Having problem? Download Weller WES51 Analog Soldering Station instructions.
---
Weller WES51 – Wonderful Soldering Station
Weller is a world-known brand that produces various soldering tools. It exists for more than half a century and this company is focused on developing innovative soldering technologies for domestic and professional purposes. 
WES51 is a wonderful soldering station that consists of a soldering unit and cleaning base with a holder. As they are detached, customers are able to place units in a convenient way on their desks. This durable station is suitable for both domestic and professional soldering for a nice combination of price and quality. 
Soldering Base & Pencil 
The soldering base is made of sturdy plastic with an analog control panel. It has a switcher and temperature knob. The soldering pencil attaches to the front side of the unit. As you can deal with various soldering tasks, WES51 provides a possibility to change the iron tip. You can have various soldering tips from Weller and use them when you want.
The soldering pencil is made of sturdy stainless steel and nichrome wrapping. It guarantees fast heat response and simple temperature management. 
The bottom of the soldering base has rubber feet, which do allow users not to worry about it sliding after some pulling the cord during soldering. Moreover, the cord is compatible with high temperatures and it will not corrode. 
Soldering pencils can also be detached. It allows users to easily replace not working parts. It is necessary to mention that finders do not get tired from long soldering as the pencil has a nice foam. It makes the process comfortable even if you have large fingers.
Cleaning Base & Holder
The second part of the WES51 soldering station consists of a base for cleaning and a holder stand. It is also made of reliable and sturdy plastic. It does not afraid of waters and wet cleaning. The sponge places into a section where users pour water. As it constantly remains wet during soldering, the iron tip can be easily cleaned.
At first glance, the holder does not seem very useful, but in fact, it performs very responsible tasks. In the beginning, it protects hands from touching the iron tip when you have turned the station on to heat up the soldering iron. The next one allows you to place the soldering pencil in it without putting it in on the workplace. It is dangerous to place hot soldering iron tip on the table or near other objects as users may accidentally damage or burn them. 
Power
WES51 does not require a lot of power to produce maximum temperature. This soldering station requires just 120V. In case you do use 220V it is necessary to connect the tool via voltage converter. Otherwise, the iron tip overheats and can be easily broken. 
This soldering station aims to serve customers for many years, thus there is an automatic turn-off. If you do not use the soldering tip for more than one and a half it will turn off to reduce electricity consumption and to prolong the life expectancy of the soldering tip.
Temperatures
With WES51 customers can adjust the temperature from 350F to 850F. It is quite enough for most soldering tasks. It does not require a lot of time to heat the tip, thus you should not wait for a long time. The locking feature allows you to maintain one temperature during soldering. If the temperature on the tip does not correspond to adjustments, you should check whether it is clean or not. 
Features
Weller WES51 station has everything that is needed to begin soldering from scratch;

Each detail is made of reliable materials which makes it enough durable for industrial tasks;

LED indicator shows locked/unlocked temperature to be precise in soldering;

Fast heating of soldering tips;

Safe mode turns off the unit in case of inactivity;

Soldering and cleaning bases are made of non-electrostatic materials, which improves safety;

Possibility to use various soldering pencils and tips with one station.
Pros & Cons of Weller WES51
Pros
Soldering iron tips can be cleaned with various means;

Each part of the soldering station is made of reliable materials that will serve for many years;

The holder stand firmly keeps soldering iron tip and heat does not damage it;

The iron tip heats up very fast and the unit allows accurately adjust the temperature;

Each base firmly stays on the work surface and does not slide upon use.

Slim and comfortable pencil with ETA tip
UL and cUL listed and ESD safe to protect sensitive components
Improved plug on the PES51 iron
Included a lot of accessories
Cons
After very long soldering sessions, it may overheat and break. 

A cord too stiff
---
The Buyer's Guide
Here you can find some important points, which customers should know about Weller WES51 soldering station. They help to maintain the device in working order. 
Cleaning Weller WES51 Soldering Iron
It is very important to keep iron tips clean before and during soldering. The WES51 unit comes with a sponge, which you use for wet cleaning. If it is too dry, you will just burn it without cleaning. With a too wet sponge, you can accidentally spill water around by pressing with an iron tip. 
During wet cleaning, you rub the tip against the wet sponge and then wipe it with a dry cloth. After some time when it becomes very dirty, you will need to replace the sponge. However, it is very cheap. 
Dry Brass
In case you do not want to use water for tip cleaning, brass wool is also a compatible cleaning method with Weller WES51. Brass does not stick to the iron tip and does not decrease its temperature. The cleaning can be performed even with one hand as you simply put the tip into it and turn around for rubbing. 
Chemical
One of the most effective ways when you need to clean old oxidation from iron tips. On the market, it is not difficult to get the right cleaning substances. It is very simple to use them. The iron tip has to be hot when you dip the tip into it. Then you also swipe it with a dry cloth. It is necessary to mention that proper ventilation is required. Heated produces chemical vapors, which you should not breathe in. 
Switching Iron Tips
Weller manufacturer has a great variety of iron tips and soldering pencils. With WES51 users are able to use various of them depending on the soldering tasks. Moreover, if something is damaged you do not need to replace the whole soldering base and just the tip or pencil.
Video Guide: How To Use Weller WES51
---