Soldering is quite a popular method of fixing electronic devices and performing tasks similar to welding. It allows users to restore a connection in various cables, wires, and chips. Nowadays a lot of people solder at home for DIY.
---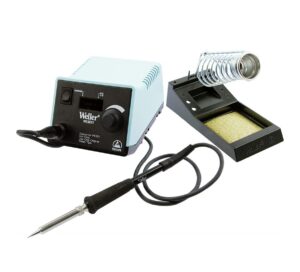 Features of Weller WESD51:
Wattage: 50W
Voltage input: 110V
Controlling heat output
---
If to look a bit deeper people have soldering tools to achieve goals. By choosing a proper soldering station, customers receive reliable instruments. Therefore, among various models, it is better to select products from famous brands. One of them is Weller. With more than 50 years in the soldering industry, it offers a great variety of devices for domestic and professional soldering. This manufacturer constantly grows and develops something new to offer.
In case you do not have any of the required soldering tools, it is a nice time to consider getting a Weller WESD51 Digital Soldering Station. It has everything that beginners need for soldering. In case you are an experienced soldering customer, this model can become your reliable partner for many years.
Weller WESD51 User Manual
Having problem? Download Weller WESD51 Digital Soldering Station instructions.
---
Weller WESD51 Digital Soldering Station
Weller WSD51 Set is a single channel digital temperature controlled soldering station with a power of 80 watts. The programming of the PUD51i power unit included in the kit is carried out using the buttons located on the front panel of the station.
The Weller WSD51 Set digital soldering station is recommended for lead-free soldering. Equipped with microprocessor control it has the ability to connect a calibrator both for reading settings and for recalibration and software updates.
The antistatic design of the housing contributes to an increase in the level of protection against the formation of ESD (electrostatic discharge), applicable for installation and dismantling works with BSEC components. The grounding plug for the Weller power block is located on the front panel.
Soldering Base
The soldering base itself is made of sturdy and reliable plastic, which prevents accumulating electrostatic charges. It has a simple and convenient design, which does not require a lot of space. On the front side, it has an LED display. It shows what temperature the unit has to provide. Moreover, it allows users to adjust the switch between Celsius and Fahrenheit depending on personal preference.
The power cord goes from the backside while the soldering pencil cord goes from the front. It can be easily detached and switched with another soldering pencil and iron tip. It means that if something does not work, you will not need to unscrew the soldering base and do complicated repairing manipulations.
The bottom part is equipped with four rubber feet. They help to keep the unit on the working surface during the whole soldering process, without sliding. 
Soldering Pencil
Soldering pencils from Weller are very convenient. In the place where you grab it soldering, it has a foam coating. It comfortably fits into fingers and does not tire them a lot during long working sessions. The power chord is made of heat resistant materials. 
Together with the soldering station, customers receive a PES51 iron tip. It is made of stainless steel with a nichrome coating. It provides a fast heat response and the possibility to control the temperature at needed values. The iron tip can be easily replaced if you need one of another type. However, it is necessary to mention that only iron tips from Weller are compatible with this soldering pencil and station. Soldering tips from other manufacturers may not provide the proper quality of soldering and proper heating. 
Cleaner Base & Holder
Another part of the WESD51 station is very important for convenient soldering. During work sessions, you always need to have a place where to put a hot soldering iron tip. The holder is made of steel, which is heat resistant. Moreover, you will not need to worry about drops of flux, as they will not stain the working surface. 
Cleaning is an undeniable part of the soldering process. Iron tips have to be without oxidation and ready for soldering. The front part has a section where you put wet sponges. With simple rubbing against it, users can clean tips. Due to reliable rubber pads, the customer is able to perform cleaning with just one hand, without holding the cleaning base with another one. 
Temperature
Temperature control is important in the soldering process. With Weller WESD51, you can adjust it in Celsius and Fahrenheit, within the range of 350F to 850F. The LED display helps to always know what the temperature is even with poor light in the room. 
During soldering temperature of the iron tip always changes as it interacts with various metals. For more precise work, this device allows users to lock the temperature. It will constantly maintain the same level. 
Power
This wonderful digital soldering station requires just 120VAC to provide a nice soldering experience. In case you need a model with 240VAC, you should consider WESD51D. Alternatively, those who have 220V at home, just need to connect the unit through transformation. In such a way, the soldering unit will work properly. 
In case you work on different projects, when you need to leave the soldering pencil aside, it is not a problem to forget about that with WESD51. After some period of inactivity, it will automatically shut down. It helps to prolong the life expectancy of the device and prevent overheating accidents. 
Features
Automatic recognition of the connected tool;

Digital electronic control system;

Waiting time programming;

Temperature shift programming;

Temperature scale switching (Celsius or Fahrenheit);

Locking the set temperature using a password;

General reset of the station to factory settings.
Pros & Cons of Weller WESD51
Pros
Soldering station is suitable for domestic and industrial purposes;

High protection against electrostatic discharge;

Convenient possibility to switch and replaces soldering tips and pencils;

Comfortable pencil design improves satisfaction from the soldering process;

Users can always know the actual temperature of the tip in Fahrenheit and Celsius.

Designed for continuous production soldering
Iron is fitted with a non-burnable silicon rubber cord for safety
New receptacle for easier iron replacement
Tip temperature offset capability
Cons
The quality control from manufacturer and delivery services could be better.

None
---
Buyer's Guide
Compatible Cleaning Methods With WESD51
WESD51 uses wonderful PES51 iron tips for soldering. During various tasks, oxidation will eventually appear and cleaning is very important. It is great that these tips are compatible with all modern cleaning methods. You can select the one that you prefer or one that matches your personal needs.
Dry Brass Wool. Simple and fast cleaning, which does not reduce the temperature of the tip. An additional brass holder is often required. 

Wet Sponge. As this soldering station already has a section for sponge cleaning, it is easy to sweep the iron tip against it. The temperature may get lower a bit, but not very noticeably. 

Chemical. Fast and very effective cleaning methods against serious and old oxidations. The process similar to a sponge but the iron tip has to be hot. Chemical vapors appear, which makes it important to have good ventilation in the working room.
Video Guide: How To Use Weller WESD51
---