Being an owner of SolderingIronGuide and a soldering semi-expert for many years, I know for sure that irons are so hard to maintain. Especially, cleaning soldering iron's tip can be incredibly challenging. People who are new to soldering usually neglect the maintenance of their irons, though it is an obligatory thing to do.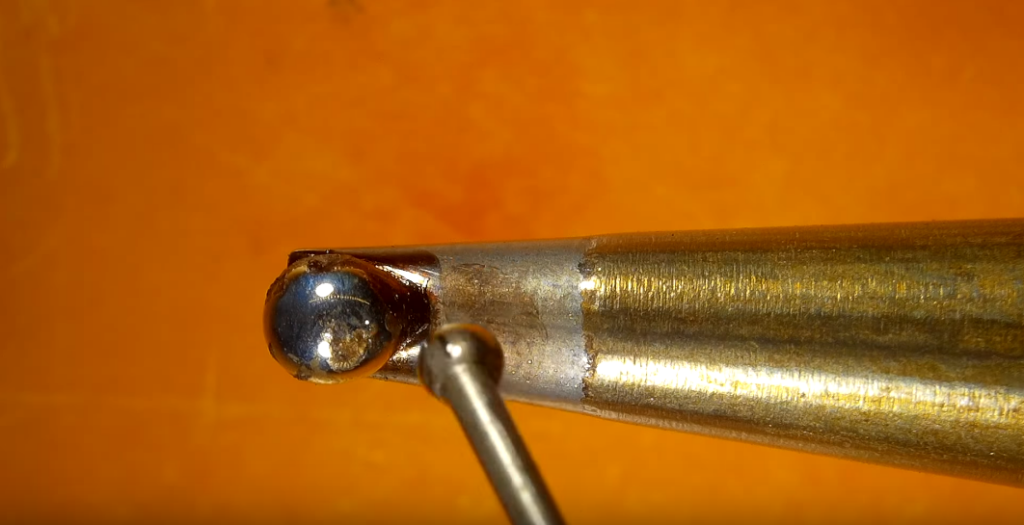 Why do you need cleaning soldering iron?
The tips of these gadgets are very hot. They are the first subject to oxidation affecting the solder. The tips tend to heat and cool a few times during the process. If the iron's tip is robust, you will need to provide a small share of maintenance. So, before starting a new soldering job, please check the tip. It must be very clean and shining. Use a brush or damp sponge to clean the residues of old solder or carbon off.
The step-by-step guide for cleaning the soldering iron's tip
Since maintenance of the tip is the toughest thing to do, in the first place I want to tell how I clean mine gadget before using:
Wait till the iron is completely cool for 15-20 minutes, then turn it off. In such a way, you will be able to clean thoroughly;
Start cleaning soldering iron's tip immediately after cooling down, don't let the solder to build up;
Begin cleaning the tip with a damp sponge (preferably free from cellulose and sulfur). Rub over the tip's – in such a way, you will eliminate the mild buildup of solder. Put it away. Regular sponges won't completely clean off the iron's tip;
Then take the dampened steel wool to eliminate any rust stains from the tip's surface. Otherwise, expect discoloration or tough stains. Use a steel wool pad that is slightly dampened. Scrub over the tip;
Why is it important? To keep the iron's tip in excellent shape, clean it not from time to time, but regularly. Iron's tips often contact with red-hot metals. So the iron's tips are quite vulnerable to rust and corrosion.
What products to use for cleaning soldering irons?
There are many synthetic products or DIY methods for cleaning soldering iron's tip and the whole tool. The effectiveness of cleaning depends on the tip and solder types. Common carbon deposits and chemical oxides are also distinguished. Make sure to use the proper products, otherwise, you can simply remove the top alloy layer, it will be impossible to apply such a tip.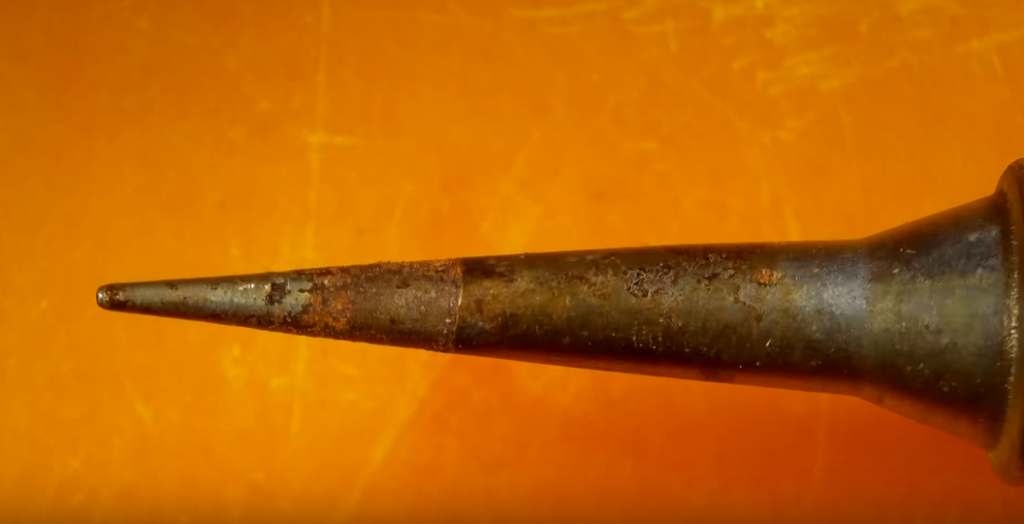 There are 3 major products to clean solder iron's tip:
Chemicals from an oxidizing discharge or activator for tips;
Special cleansing pastes;
Special synthetic sponges;
Before buying any cleaning product check the contents and decide if it's suitable for copper or multi-alloy covered tips. Too aggressive substances along with the destruction of oxide can dissolve the upper layer of solders.
Cleansing pastes are quite different. They get rid of carbon residues very well, but they struggle to cope with oxides. But they are awesome any soldering iron's tip. Additionally to special pastes, there are special boxes with small metal filings. You just place the contaminated tip of a soldering iron and the "cleaning elves" will do their magic. Both carbon and particles of the oxides will be eliminated, due to a chemical reaction with sawdust.
Keep in mind that any synthetic product after cleaning the surface must be carefully removed. Otherwise, it will react with a solder or solder board, and then the tip can become very bad.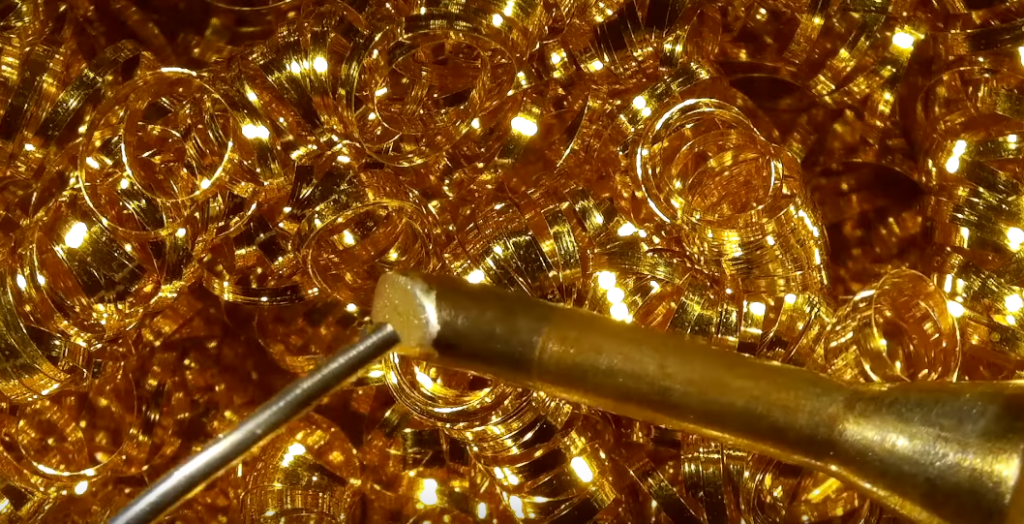 Synthetic sponges, like Xytronic TIP Cleaner for dry cleaning, help to maintain the iron's tip from soot. But in the fight against oxides, they are ineffective. Many soldering users replace these sponges with regular kitchen sponges, but this is wrong. Such a sponge used for a hot soldering iron can smell very bad. Special sponges can be either dry cleaned or dampened before use. Soldering iron tips can be cleaned with sponges after and during the work.
The products you need for cleaning soldering irons:
a variety of sponges – preferably pick special solder-removing sponges;
paper and cotton buds;
sewing needles, files, metal brushes, and nozzles;
polishing pieces and emery cloths;
ink erasers (or just solder eraser);
Any sharp objects like scalpels and needles can be used only for cleaning soldering iron's tip made of copper. Soft polishing nozzles can be selected for multi-alloy tips. The use of paper or cotton wool is only for removing a large amount of solder. This method will not help get rid of oxides or hard buildups.
You can clean the soldering iron tip with the Pluto6631 eraser pencil by Koh-I-Noor. This method allows you to get rid of solder residues and oxides. Be sure to clean only the cold tip, use acetone and rub it well with a cotton cloth.
Make sure to check all the cleaning products on this website before buying. I regularly test and review different soldering irons and cleaning methods. However, you can post your feedback and share your effective cleaning methods.
How can the tinning of an iron help to prolong the duration of use?
As an owner of SolderingIronGuide, I'd also like to share an effective method of "tinning" an iron. This process involves the coating of a tip in a slim and smooth layer of solder. It is necessary for protecting the tip from excessive oxidation and rust. It can be very dangerous to apply the tip without tinning since the chemicals in solders tend to pop. After tinning, the tip is less inclined to popping, though you still have to wear safety goggles/face mask to protect your eyes and skin.
I recommend tinning the soldering iron each time after using to avoid rust. Also, make sure to wear gloves when tinning the iron's tip. The process is not that complicated:
A small amount of fresh solder must be applied to the tip. Previously melt a small blob of solder over the iron's tip in a slim layer;
Try to apply as smoothly and evenly as possible. In such a way, the heat flow won't get high and eventually the tool won't be covered in rust;
I use an alloy cleaner to keep the solder where I need it. After letting the soldering iron cool down and turning it off, apply a very small layer of alloy cleaning products. Use a microfiber cloth for this. You will prevent the dust buildup and reduce the risks of oxidation.
Quick maintenance of soldering irons
If you don't have enough time for cleaning soldering iron, use the following method I regularly apply:
Always use top-notch solder. Using the cheap product can seem more tempting due to the price but, in the long run, it may damage your soldering iron. Impure solder will easier buildup on the iron's tip and will prevent it from heating. I recommend picking 60/40 or 50/50 products (the first number shows the percentage of tin in solders);
Don't be lazy to remove the residue of solder after every use. Turn off the device and wait for 20 minutes till it's cooled down. Then remove the tip (if removable) and tap the barrel to get rid of any debris. In such a way, the debris buildup won't clog over time. The efficiency rate will be really high;
Don't forget to check the tool's cord for any cracks or burns. Such cords are usually prone to burns due to the constant high heat but if you notice damage, immediately hire an expert electrician for the cord replacement. Otherwise, it will be dangerous to use a tool;
Between strokes don't forget cleaning soldering iron's tip. The work will go much faster. Wipe a damp sponge across the tip after every stroke. Avoid any residue building up on the iron's tip;
Wipe the iron from time to time to make it work longer;
You see, even if you don't have much time for proper cleaning of soldering iron, you still can do something to prevent the nasty buildup of solder and the following rust. Make sure to follow the safety rules during all the procedures.
What methods do you use for cleaning soldering iron? Please share and don't forget to subscribe to follow the website's updates.
---