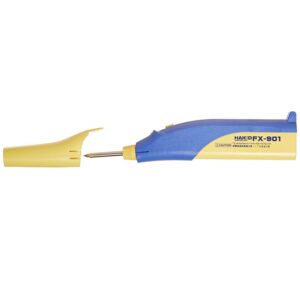 120 continuous minutes
Integrated ON/OFF switch
Long-life battery power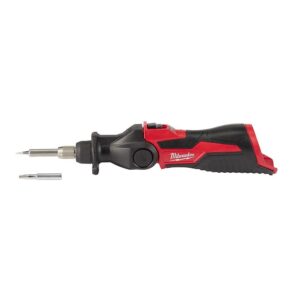 Heats quickly
Tool-free tip change
18 second heat up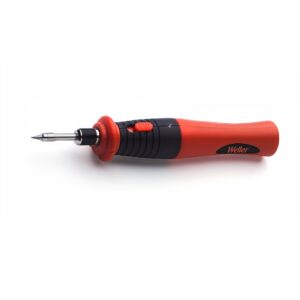 45 minutes continuous
Round, co-molded handle
35 second heat up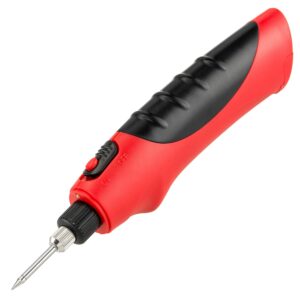 Heats to 1050° F
LED illumination
7 second heat up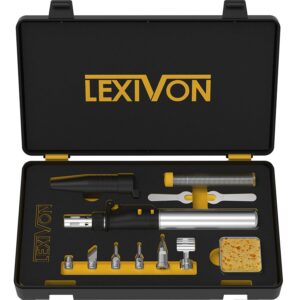 75 minutes continuous
Temperature up to 2400° F
Sponge For Easy Cleanup
---
Choose the Best Cordless Soldering Iron
Customer's Choice: the Best Rated Cordless Soldering Irons
267 users answered this survey. Please help us improve this review!

55.06% of users selected Hakko FX-901/P, 13.86% selected M12, 10.11% selected Weller BL60MP, 4.12% selected Tooluxe 40420L and 16.85% selected LEXIVON LX-770. Every month we analyze your answers and change our rating.
---
When your soldering project requires exceptional maneuverability, a cordless soldering iron is the best option. These amazing tools get their power from a variety of electricity alternatives, including butane and batteries. They enable users to take their soldering irons outside their workshops to sure up joints on items such as automobiles and alarms. We've taken a long, hard look at several portable soldering irons. Now, we're excited to share the five top-performing models.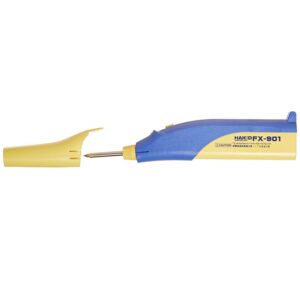 The Hakko FX-901 is a battery-operated iron that enables users to perform remote soldering jobs. It has an easy to remove battery magazine that requires four AA batteries.
This tiny power capsule gives the device enough juice for 120 minutes of continuous soldering. Despite its small size and limited power reserves, the Hakko heats up to temperatures as high as 600 degrees Fahrenheit. Not to mention, it has an ergonomic shape that makes extended soldering sessions more comfortable. Unlike most butane irons, the Hakko will never give off potentially hazardous flames and sparks.
Whether you are working on electrical repairs or metal crafts, the Hakko has you covered.
Most customers love the Hakko's one-of-kind blue and yellow body. The iron has a slight curve that makes it very comfortable during long or awkward sessions. While the Hakko's max temperatures aren't very high, they are more than adequate for most craft jobs and small electronic repairs. Since the device boasts a power switch, protective cap, and LED indicator light, it's one of the safest soldering irons for beginners.
Pros
Powered by four alkaline or nickel-metal hydride AA batteries
Protective cover
On/off switch
Battery magazine
Reaches 600 degrees Fahrenheit
120 minutes of performance with each battery set
Cons
---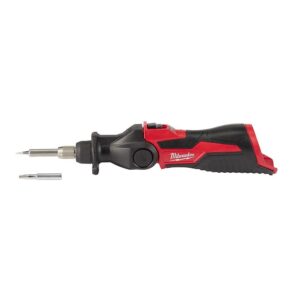 The M12 is an ergonomic soldering iron that houses a powerful lithium-ion battery. It has a large, slip-resistant grip that makes for incredibly safe heat-based applications.
This iron pivots into three unique positions. It also heats up very fast. In fact, it takes a mere 18 seconds to reach its maximum temperature. An onboard indicator light lets you know when the temperature is right for soldering. It also indicates when the iron is cool enough to put back into storage. Another convenient feature is the iron's tool-free tip change function. This element enables users to alternate between different tips with ease. The only downside of this incredible package is that it lacks its required power element. The Redlithium battery must be purchased separately, as this M12 is sold as a bare tool. A comprehensive kit, which includes a Milwaukee battery, charger, and soldering tips, is also available. However, the comprehensive kit is much more expensive.
Still, Milwaukee is a trusted American toolmaker. The M12 also happens to be the first soldering iron powered by a rechargeable battery. The iron's rapid heating time and high maximum temperatures have blown most of the competition out of the water. If you're someone who does occasional soldering work, you'll enjoy the unmatched freedom offered by this revolutionary cordless soldering iron.
Pros
Heats up in 18 seconds
Heats to 750 degrees Fahrenheit
Tip indicators
Pivoting head
Tool-free tip replacement
Powered by a Redlithium battery (sold separately)
45 minutes of power per charge
Cons
---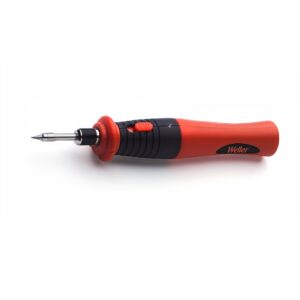 The Weller BL60MP is yet another cordless soldering iron. This device has a simple, lightweight body that fits comfortably in the palm of your hand. Despite its small size, it heats up to an impressive 950 degrees.
Few joints are off-limits. Its temperature spikes rapidly too. It can reach 536 degrees in just 35 seconds. It can also maintain that temperature for up to 45 minutes. We love that the Weller comes with a powerful lithium-ion battery as well as a durable battery charging station. We also see the iron's LED light as an important safety improvement, as it provides impressive workplace illumination.
Both customers and the manufacturer seem satisfied with this impress iron. The Weller iron even comes with an almost unheard of 7-year warranty. The iron enables users to create up to 100 joints in a single charge. It's completely portable. Not to mention, it is small enough to fit into tight crevices. Use this iron to put the finishing touch on your jewelry or seal up loose electrical connections. You will not find more power and precision elsewhere.
Pros
45 minutes of continuous power
Round molded handle for continuous comfort
LED illumination
Reaches 950 degree Fahrenheit
Heats up in 35 seconds
Cons
No onboard temperature control
Only includes one BL10 conical tip
---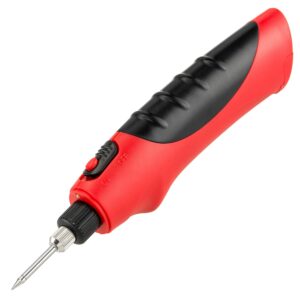 The Tooluxe 40420L Cordless Soldering Iron is a low-priced device that does not require an electrical outlet. It has a standard pencil-shaped design with a textured grip.
The rubber coating keep it from slipping out of your hands. This portable device can spike to 1,050 degrees Fahrenheit in just 7 seconds. Despite its impressive stats, it costs a fraction of the price of similar soldering irons. As such, it's an excellent option for users who want to execute a quick fix without digging deep into their wallets.
Pros
Heats to 1050 degrees in just 7 seconds
Cool design and protective cap
Molded grip
LED illumination
Requires four AA batteries for power
Cons
Batteries are difficult to install
No temperature control
---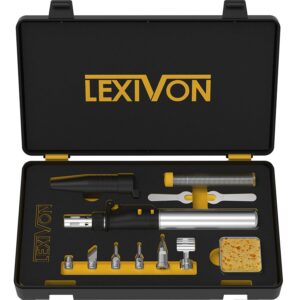 If you're looking for a quality portable iron, check out Lexivon's comprehensive soldering kit. This mighty box contains a powerful self-igniting soldering iron as well as several professional-grade accessories.
The iron boasts 125 watts of power, reaching over 2,000 degrees Fahrenheit. The iron's refillable fuel tank is made from high-quality leakproof metal. The iron and 13 other accessories are packed neatly into a hard carry case.
Customers love that the Lexivon soldering iron can hold enough fuel for up to 75 minutes of continuous soldering. They also seem pleased with the Lexivon's extensive accessory pack, which includes several specialty tips, a protective cap, a sponge, wrenches, solder, and tin. Most consumers also agree that the Lexivon torch is capable of reaching very high temperatures. Easy to read instructions and well-made accessories make operations easy. What's more, the butane fuel provides users enhanced freedom. Since the device can be used with and without tips, you can use it to pull off a lovely crème brulee as well as some amazing electric work.
Pros
Flame reaches 2,400 degrees
Reaches over 1,000 degrees with tip
Includes six specialty tips
Includes solder, sponge, and tin
Protective cover and case with a fitted insert
Large fuel tank
Cons
Trigger is difficult to maneuver
---
Buying Guide – What to Look for in a Portable Soldering Iron
Many people are skeptical about portable soldering irons. However, most of these devices offer plenty of power without the need for an electrical outlet. In this section, we'll discuss which features to look for when shopping for a cordless model.
Source of Power
Cordless soldering irons depend on batteries (either disposable or rechargeable) or butane. How do you know which fuel pack is right for you?
Disposable Batteries
Disposable batteries require regular replacement. Many cordless irons take a set of four AA batteries. One set of batteries may only offer an hour or two of uninterrupted soldering. While disposable batteries can be quite a nuisance, they also enable users to finish a soldering job with minimal interruptions.
Rechargeable Batteries
Rechargeable batteries will also spare you from having to seek out an electrical outlet. Lithium-ion batteries tend to offer lengthy power cycles with limited power. Fortunately, these batteries can be recharged after each session. As such, you won't have to worry about stocking up on disposables. It helps if an iron features a power level indicator.
Butane
Butane is an affordable fuel source. If you opt for a butane-powered soldering iron, be prepared to handle a hot flame and free-flying sparks. What's more, make sure that the iron has a fuel tank with a large capacity. Otherwise, you'll spend half your soldering session refueling.
Temperature
Most solder has a melting point just below 400 degrees. A soldering iron needs to be even hotter than that if you want it to produce joints in a reasonable timeframe. Soldering irons with adjustable temperature dials offer users the most control over their output.
Operating Time
While cordless irons are extremely versatile, they also boast a limited lifespan. Make sure that your iron is capable of performing long, tedious tasks.
Ergonomics
Both corded and portable irons should boast comfortable, non-slip grips and triggers. A proper grip can prevent unpleasant accidents. Make sure that you can perform most maneuvers with one hand.
Accessories
Ensure that your iron comes with quality tips. Soldering iron tips come in a variety of shapes and sizes. Some soldering irons come with kits that include replacement tips and tools for soldering tip removal.
Keep in mind that most cordless soldering irons require fuel. Make sure you are comfortable stocking up on AA batteries or bulk butane. The only exception to this rule is rechargeable irons that include a lithium-ion battery. Finally, be aware that products advertised as bare tools do not come with a battery.
Many irons also feature user-friendly elements, such as LED lights and toolless tip removers. Elements such as these can have a dramatic effect on your soldering experience. Always be on the lookout for small improvements that make a big difference. Sometimes these elements are the only thing that sets a soldering iron apart from the competition.
FAQ Cordless Soldering Irons
What is the best cordless soldering iron?
Cordless soldering irons are quick to use, convenient, stylish and cost about the same as a soldering gun of decent quality. There are hundreds of electric and gas cordless soldering irons. The most reputable manufacturers have lineups of cordless soldering irons – think of Weller (BL60MP), Milwaukee Electric Tools (M12), Levixon, Hakko (FX-901/P)
Things to consider when picking a cordless soldering iron: 
Power source.

Cordless soldering irons are mostly powered by batteries or butane. The better alternative is a Li-ion battery-powered device because fuel is more expensive;

Run time.

The second most significant factor that you'd think is the iron's overall run period. The majority of modern cordless irons provide a run time of approximately 40 minutes or so. Yet high-powered (butane) computers can also have a higher operating time;

Accessories.

Cordless irons often come with a few attachments. The LED focused light for better readouts  in dark areas is one of the most influential accessories they come with;
How should you use a cordless soldering iron?
Where there is a shortage of electricity supply to use a basic iron, cordless soldering irons are required. In addition to repairing electrical equipment and constructing circuit boards, these handy methods are applied for creating jewelry and art designs. The operating temperature of these irons is not explicitly regulated; by altering the gas flow, gas irons may alter power setups.
Gas-powered irons can have interchangeable tips for applications such as shrinking heat shrink tubing, miniature blowtorches with a hot flame option, a hot knife for cutting plastics, and tiny hot air blowers.
But despite all the pros of cordless soldering irons, these devices can only be used as auxiliary tools for hobbyists and DIYers. These low-power irons are mostly used in the jewelry industry, dentistry and other niches where portability and precise soldering are required. Also, such irons can be recommended for soldering wires in vehicles. 
Are battery-powered soldering irons good?
A premium cordless soldering iron can become a perfect solution when your soldering project demands maneuverability. All the electric models are powered by batteries (usually lithium-ion), whereas fuel-based models burn butane to produce enough heat for constant melting temperature. 
Why should you invest in battery-powered soldering irons: 
It may also be found in vehicles without a power supply or in plants where it is difficult to use gas-type gadgets;

Portable and lightweight;

Soldering may be achieved with a few inexpensive AA batteries at any time. You may still use rechargeable batteries because they are economical;

With an LED on the front, they can illuminate every project brightly; 

Can reach the melting temperature up to 600-700F in a few seconds. When new batteries are applied, you will operate immediately;

It is secure to hold because the switch is secured with a cap;
In the case of cordless iron driven by batteries, the issue is energy and heat. With certain models lasting just minutes, batteries will die mighty soon. In comparison, the iron rarely gets just as hot as you plug in anything. That is why such devices can be recommended for simple projects on the go. 
Are butane soldering irons good?
The power for melting the solder falls from the burning of butane gas while a compact butane iron is applied for soldering. Butane-powered irons are compact and can be shipped and used in places where there is no energy. They are often easy to refuel and the individual heat ranges or chords do not place any limits. Butane-powered soldering irons offer a number of other advantages:
Many sources of energy/power

. The refillable butane gas tanks (or battery packs) may be applied as a power supply for heating the tip. Lightweight butane soldering iron. By regulating the gas flow, the temperature of the tip can be regulated;

Versatile.

Many conventional butane driven irons often come with modification features such that the soldering iron can be mounted to several different shapes, forms, and tip sizes. A variety of steps may also be done and various tasks may be achieved by a standard soldering iron;

Good for beginners

. There are several situations where the power cord trail will not be appropriate for the scenario. The butane-powered iron has quick access and can enter the most challenging and remote places. They also operate in places where (permanent or temporary) power is not available;

The butane fuel is quite cheap

. The refilling of solder iron with butane gas is very cost-effective. Butane is a gas that is very cheap and readily accessible, and can also be obtained at good savings when you call reliable retailers to buy a soldering iron;

Heat up quickly

. As butane-powered ions are used the soldering phase is completed in less time. For an urgent power supply, the quick combustion of the gas provides and a butane-powered iron can't require more than 10 seconds to be prepared for soldering;
Most specialized (and expensive) butane-powered irons often come with additional features, like snap-on tips, stands, sponge cleaning and many more. To make a safe and trustworthy order, call a trusted retailer when you want to purchase a welding iron.
How should you solder properly?
To use a cordless soldering iron you should follow such steps: 
Heat the attachment for a couple of seconds with the tip of the soldering iron, then add a solder product. The tip should heat, not the solder paste;

Keep the soldering iron at the base of the handle like a pen;

To build a good solder joint, both sections that are being welded must be hot;
New soldering iron tips appear to have unique coatings, which is beneficial since they resist oxidizing. This coated layer is the reason you can never file or sand your tip to clean it because the tip will be worn out very soon.
What temperature should you set your cordless soldering iron to?
Taking enough time to plan before soldering will eliminate errors that might potentially become a health threat. This is why it is necessary to suggest choosing the proper soldering temperatures and choosing your soldering iron.
Much of the solder's melting point relies on the alloy composition. About 355-375F, lead soldiers usually melt. There is also a precise melting point of certain 'eutectic' alloys. However, since 2006 the usage of lead-based solders has been universally prohibited in the commercial sector because lead is harmful, collects in the body for a prolonged period and can be removed only very slowly.
There is a greater melting point when it comes to lead-free alloys. However most lead-free solder products only have the melting drawback of 420F and beyond. This suggests that there has to be a much greater heat production for the soldering iron. And the hotter the iron's tip, the greater the chance of your fingertips burning when caution is not taken. In comparison, you will overheat the components even more readily if you keep the iron tip in one position for too long.
Most manufacturers provide the maximum temperature range that their cordless soldering irons can reach. For instance, Weller Pyropen WP 60 has a temperature range from 930 to 2370F. While Weller WHS MC iron has a limited temperature range from 210 to 750F. 
Video Tutorial: Hakko FX-901
Final Thoughts
We hope you enjoyed our look at the top five portable soldering irons. These incredible tools make it easy to perform soldering jobs in hard-to-reach and remote locations. Rechargeable batteries and large fuel tanks have taken these devices to the next level, enabling them to stand up against their corded contemporaries. Use our buying guide to add a portable piece to your home soldering setup.
---